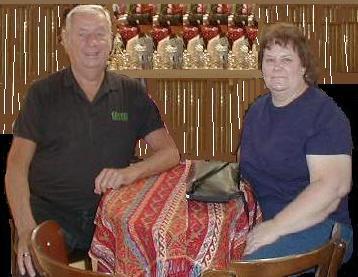 Extraordinary Indochina, so much liked, so much song, for the wonders with which nature is endowed with generosity as for the heads with work of art that man was born to create.

The timeless beauties of HaLong Bay and majestic banks of the Mekong River are decorated by the refinement of the Hue Mausoleums and the various temples of Angkor of the Khmer.

On the way from Vietnam to Cambodia you will go from rapture to dazzling and have unforgettable memories about Indochina.

Here's Chuck & Barbara in Istanbul in 2004. In 2005 we were in Costa Rica. Little did we know we would be in Vietnam and Cambodia in 2007!
Space.
Click on this link to view some of our Vietnam Photos taken in January & February of 2007!
Space.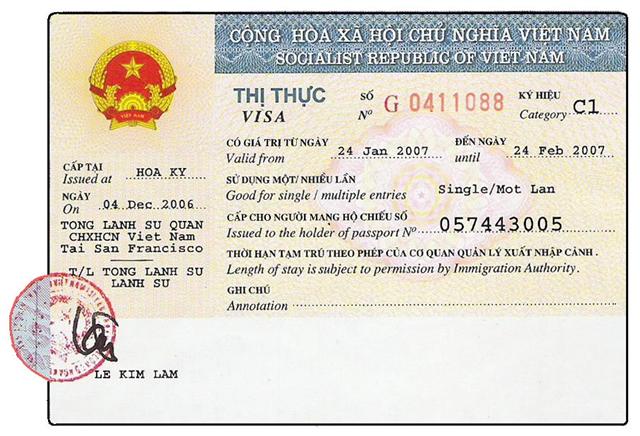 Chuck's Itinerary & Barbara's Itinerary!
Space.
Over View of the Vietnamese Trip!
Space.
Wednesday - January 24th - 2007 - Taipei ~ Flight from San Francisco to Taipei Taiwan
Space.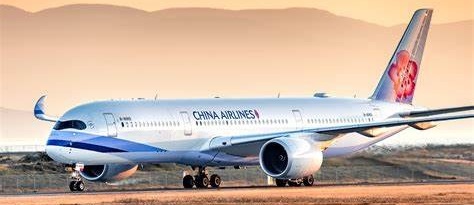 My flight from San Francisco to Taipei started out at 12:15 AM and the couple next to me said I looked tall and as soon as the plane took off, they moved and let me have the entire row, three seats! So I was able to sleep about six hours. The flight was over 13 hours long! China Airlines was great.

We took off and they came with hot wet towels and then a nice dinner. Seven hours later a lunch and just a few hours before landing in Taipei, they served breakfast along with hot towels again.

All in all, a great flight and good food. What more could one ask for, plus a nice couple giving their seats to me so I could be comfortable!
Space.
Thursday - January 25th - 2007 - Hanoi ~ Flight from from Taipei to Hanoi - Walking Tour Around the Hotel
Space.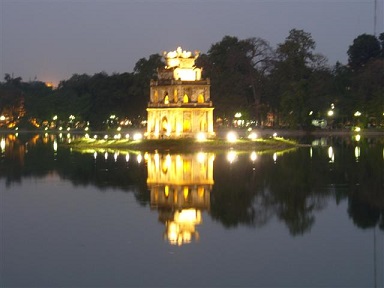 We got in around noon and went to the hotel and settled in. First we went to the Hanoi Hilton, the infamous jail where Mc Cain was incarcerated. Then we walked around the area and the lake. The story there is a turtle came to shore and the Emperor gave the turtle his sword and prayed that the turtle would take the sword into the lake and then there would be harmony and peace on earth. And the turtle did take the sword and people think the sword may still be at the bottom of the lake. They built a temple in the lake with a stuffed turtle in a glass case. Now the water is so polluted I doubt anything lives in it! We had coffee by the lake and then got a cab and drove to Ho Chi Minh's Mosuleum and walked around as it is only opened a few hours a day. We took a cab back and found a restaurant and had dinner and a beer and then time to go to bed as the next day was going to be busy! This photo was taken on our last night as we tried our time exposure to capture the ruined Pagoda located in the center of the lake!
Space.
Friday - January 26th - 2007 - Hanoi ~ HoAlu Day Tour of Bich Dong Temples and a River Boating Trip in Tamcoc.
Space.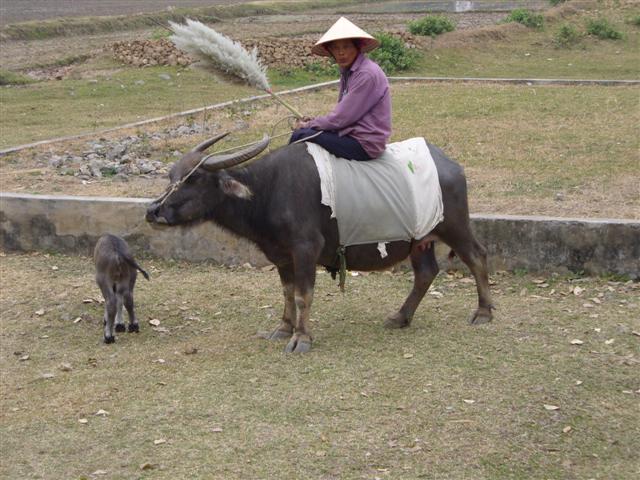 We got up early and the bus picked us up and we sat by a couple from Australia and their daughter. We rode for about two hours and had a nice talk. Then we did two temples and finally we went to the river and spent an hour going down the river and another hour coming back. The women rowing the boats eventually started using their feet!

I had complained that I never got a photo of a water buffalo and guess what, here there were buffalo in almost every field. They were used to pull the old fashioned plows.
Space.
Saturday - January 27th - 2007 - Hanoi ~ Travel to HaLong Bay & Junk Boat Trip in Bay.
Space.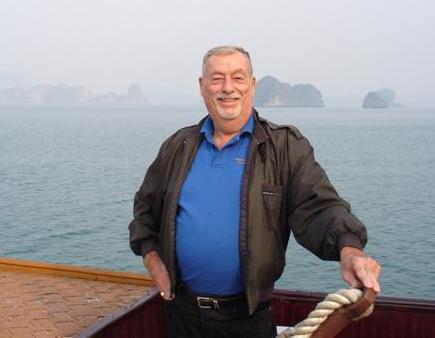 Another long bus ride, three hours and then we met the Junk and boarded around noon. We sailed around the bay and took a small motor boat to a small bay and a cave carved out of the base of the mountain. We then went to a hill with a look out about half way up with a great view.

That night we had a fantastic dinner. The ship only has four cabins so only eight people were there. The chef was great and made lots of sea food dishes plus special veggie decorations, one was a replica of the Junk with carrot sails!
Space.
Sunday - January 28th - 2007 - Hanoi ~ Morning Cruise to Sung Sot Caves and Return to Hanoi
Space.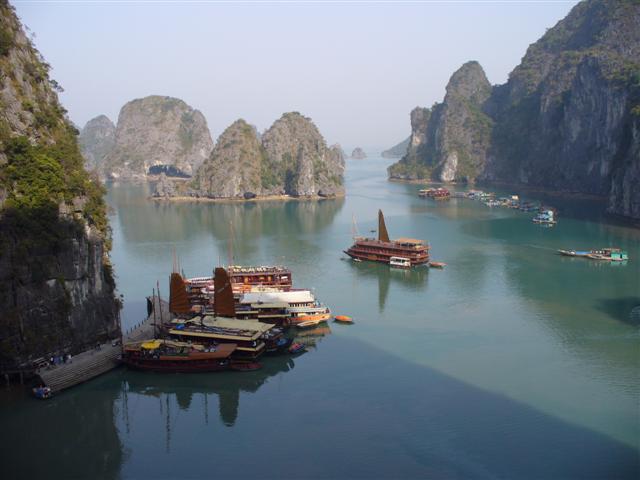 Today we sailed to Sung Sot Caves and had to climb a high hill to get inside. We had a great time but actually, the best was the fantastic view from the entrance to the cave.

We then had lunch on the deck of the Junk and sailed into town around noon. We disembarked and took another three hours bus ride back to Hanoi.

Out to dinner again at our favorite restaurant, Zen.
Space.
Monday - January 29th - 2007 - HoiAn ~ Flight from Hanoi to HoiAn - Explore City
Space.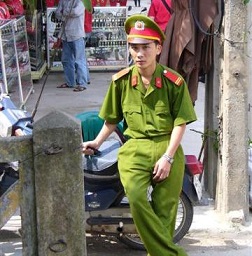 We flew to HoiAn and got to the hotel around noon. A very nice hotel and our room looked over a rice paddy.

We took off and shopped around the town. Hundreds of shops and the town now is mostly touristy. Some wood carving and paintings and so on.

We did discover a place that served great fruit milk shakes that we decided we had to have all over Vietnam. They are made with a fruit, yogart and ice, blended together to make a cool refreshing drink.

I took this photo and a man ran over and said, "Aren't you going to get in trouble photographing military personnel?" Barbara came over and said the same thing. I said, "I asked him if I could take his picture and he smiled and said "Yes!".
Space.
Tuesday - January 30th - 2007 - HoiAn ~ Day Tour of My Son ~ Hindu Temple & River Trip
Space.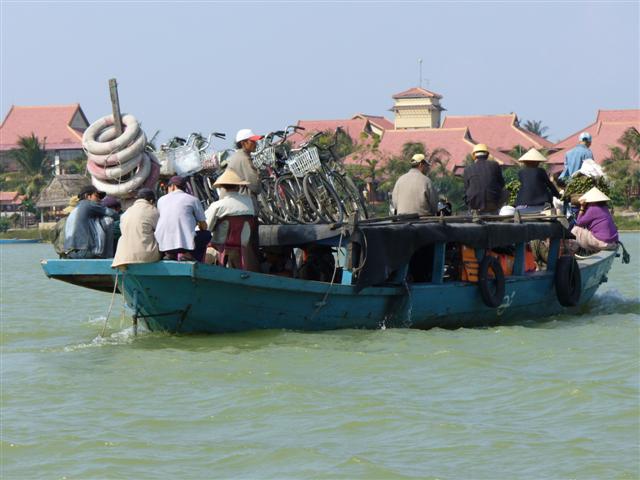 We took a bus ride again to the World Reserve of a 400 CE Hindu Temple complex made out of bricks and stone.

Then we took a boat ride back to the dock area in HoiAn. Along the way we stopped and saw a herd of cattle being herded across the river, looked like an old western movie.

Stopped at an old workshop with wood carvers and I bought a small caving of an apple with a stem and leaf. Then back to our hotel and later, dinner out on the town!

I did have a pair of sandals made for me, took five hours and cost - $10.00! What a deal!
Space.
Wednesday - January 31st - 2007 - Hue ~ Bus to Hue - Visit Imperial Citadel - Pagoda - Mausoleums
Space.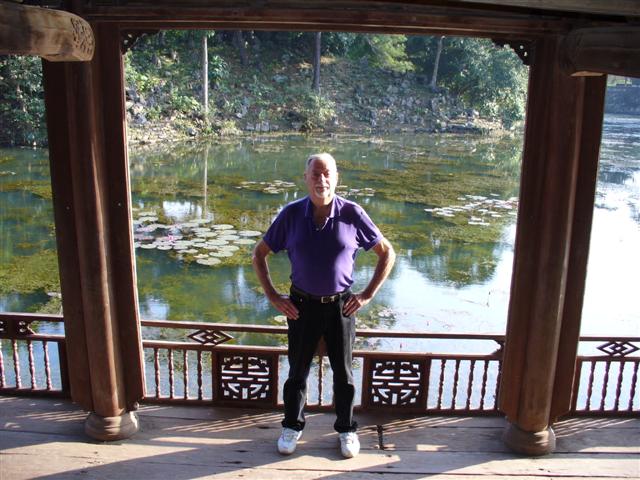 We took a bus to Hue over the mountains and there was a tunnel cut through that must have been at least four kilometers long!

We visited the Imperial Citadel but it actually is a complex for the Emperor to enjoy himself. It is a huge complex designed somewhat like the Imperial Palace in Beijing!

We also visited a Pagoda and two mausoleums. One was fantastic, huge with a full scale statue of the Emperor covered in gold sitting on a golden throne. He was the last of his line.
Space.
Thursday - February 1st - 2007 - Saigon ~ Early Morning Flight to Ho Chi Minh Day Tour
Space.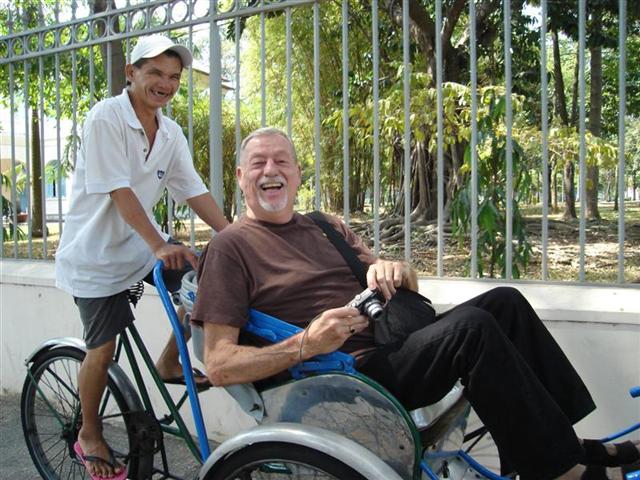 We decided to play tourist and take the bike ride around town. Scary as they just rode through traffic, even going against traffic.

They took us to the Jade Temple but we didn't see any jade. Then to the American Embassy but only a high wall and nothing to take a photo of!

We also went to the Unification Palace and toured the inside that now is used for meetings and various government functions

Then shopping at the huge bazaar!
Space.
Friday - February 2nd - 2007 - Saigon ~ Day in Vinhlong Cruise on the Mekong Delta
Space.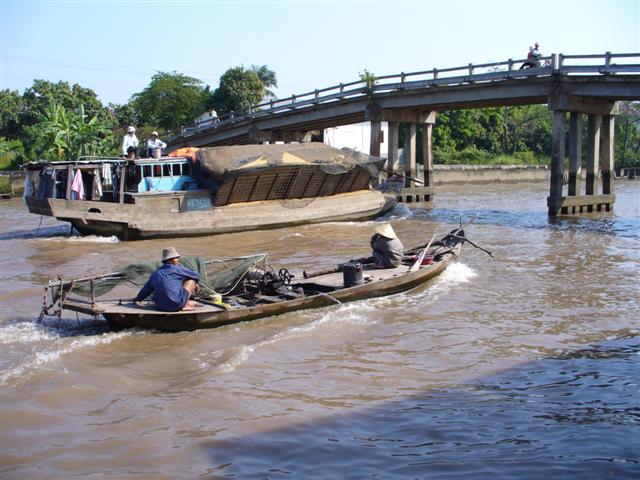 Another long bus ride and then a long ride on a small boat to view people making different products. Some women were making a coconut candy. Another man was making puffed rice. The large metal container had sand in it and the sand was boiling hot. They threw in the rice and it puffed like popcorn. They then scooped it all up and put it into a sieve and shook out the sand. We also saw a woman making rice paper and we got to taste it.

We then went up a channel and rode motor bikes to a restaurant where we created our own sandwiches made from rice paper and fish and veggies!

Another long bus ride back to Saigon, getting in around eight PM.
Space.
Saturday - February 3rd - 2007 - to Siem Reap ~ Tour the War Museum - Lunch - and Flight to Siem Reap
Space.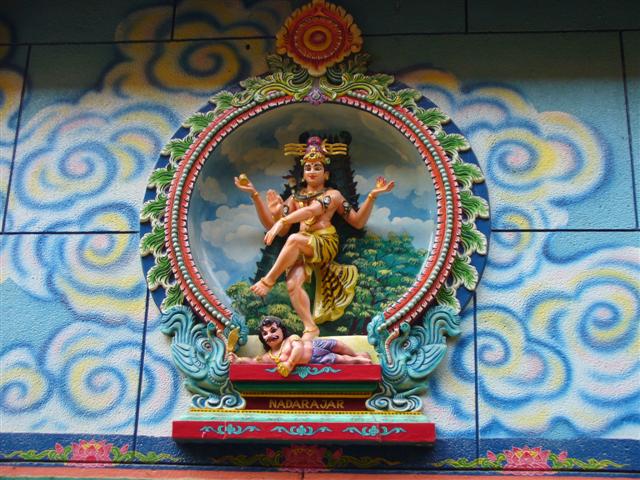 Today we decided to go to the War Museum and saw many tanks, planes, and a movie about the chemicals dropped on Vietnam by the U.S. Lots of photos taken during the war and some from Look Magazine.

We did some more shopping and saw a Hindu Temple so we went in to check it out.

Then it was late and time to get a cab to go to the airport and fly to Siem Reap Cambodia!
Space.
The following are some photos of various types of labor along the rivers in Vietnam!
Space.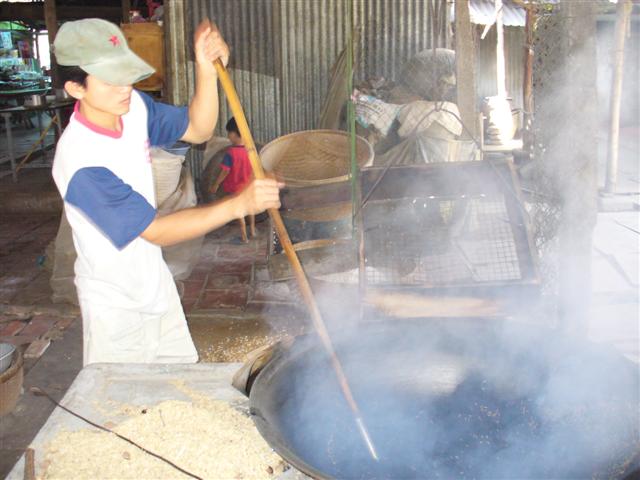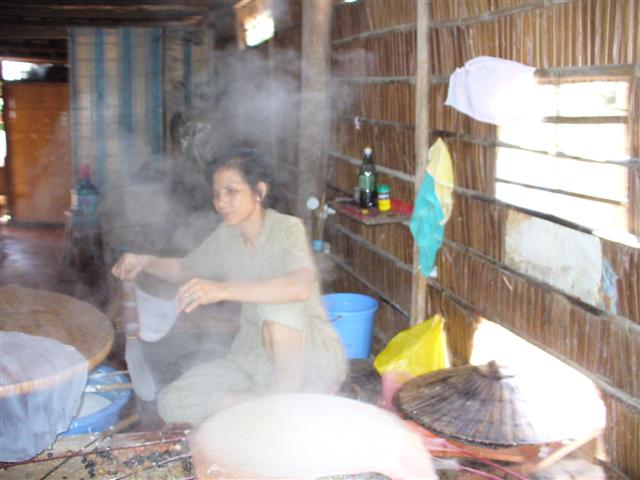 Making Popped Rice
&
Making Rice Paper
on the Mekong Delta!
Space.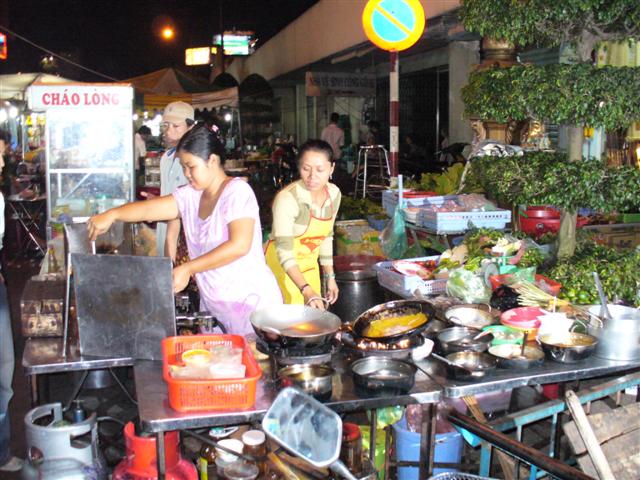 Dinner Time at the Saigon Bazaar. We had no problems eating at the local market along with the locals and tourists. I complained about the soup and the waitress smiled and came back with a bowl of great broth to cover the meat and vegetables!
Space.