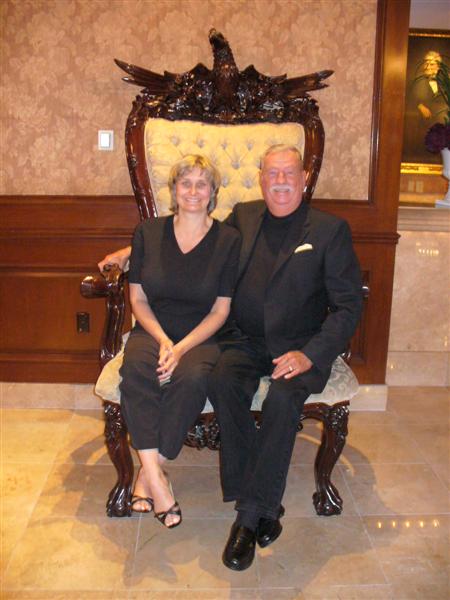 We heard Sterlings Seafood and Steakhouse in the Silver Legacy was the best around. We posed in the big chair first, and then was ready for top notch service.
Viviane ordered a bottle of champagne and the waiter opened it and put it in the ice bucket after pouring some for her to taste. It was warm! Mon Dieu! The waiter said all their champagne and white wine was in the cooler and that was it. I tasted it and talk about terrible. The waiter screwed around and left and came back and said that was all they had, we could sit there for 15 minutes while the champagne cooled on the ice and of course, lose the bubbles.
We had lunch and dinner at the Cafe Sedona around the corner and they had ice cold champagne and even gave us a free glass of champagne. Now couldn't the waiter go over and get a cold bottle there?
We got up and left and asked where to go, someone told us to go to Roxy as they were very good and located in the Eldorado Hotel Casino.
We went in, the maitre de was great and our waiter was wonderful, plus, the food was almost the best we have ever had, even in Beverly Hills. Go figure!