---
.

I decided to go to Puerto Rico for my next big birthday, 72. Last year I went to Panama for my 71st birthday and one year I celebrated my birthday in Cambodia, once in Hawaii, once in New Orleans and another time in Washington D.C. Check out the photos of me on my 'special' birthdays!

.

.

A Point of Interest:

Since I am interested in astronomy, the one place I would love to visit is the largest radio telescope in the world, the Arecibo telescope built into a natural depression in the ground. Check out some facts about the Arecibo Observatory in Puerto Rico!

Overview of Puerto Rico:

Populated for centuries by aboriginal peoples, the island was claimed by the Spanish Crown in 1493 following Columbus' second voyage to the Americas.

In 1898, after 400 years of colonial rule that saw the indigenous population nearly exterminated and African slave labor introduced, Puerto Rico was ceded to the US as a result of the Spanish-American War. Puerto Ricans were granted US citizenship in 1917.

Popularly-elected governors have served since 1948. In 1952, a constitution was enacted providing for internal self government.

In plebiscites held in 1967, 1993, and 1998, voters chose not to alter the existing political status.

Also check out this link to view the overview of the Capital - San Juan.

Space.

Itinerary

.
.
Fast Deals -

R285465

Receipt Number: 384747

Price Includes: 1 Room and 1 air tickets

Resort:

Sheraton Puerto Rico Hotel & Casino

Location: Puerto Rico/San Juan

Depart: February 2, 2012

Check In: February 2, 2012

Check Out: February 8, 2012

Adults: 1 Kids: 0

Room Description: Traditional City View

Please call 800-998-6925 to call an agent.

Sheraton Puerto Rico Hotel & Casino - 4 Star

10 minutes from airport

Superbly situated amidst the Puerto Rico Convention Center District facing the Bay of San Juan, the Sheraton Puerto Rico Hotel & Casino is a truly remarkable landmark in the district. The hotel is just 10 minutes from the international airport and five minutes from historic Old San Juan. The Convention Center is immediately adjacent and the San Juan Marina is easily accessible as well.

This town has something for all ages. A must-see is the impressive Spanish fort El Morro located on the north side of the islet. Old San Juan itself consists of narrow streets encompassing over four hundred years of history and tradition—and Sheraton Puerto Rico Hotel & Casino is just five minutes from this exciting historic section. Dine in one of the celebrated establishments on Fortaleza Street, party in San Sebastián until dawn, or simply stroll along the charming, storied avenues and thoroughfares. As in Europe, a local tradition in Old San Juan is to people-watch, and there is no better place to indulge in this activity than from one of the several plazas that are located throughout the city.

Plan your event in paradise! The outstanding conference center offers over 35,000 square feet of flexible meeting space for up to 1,800 meeting attendees, business colleagues, or close friends and family. A lavish 57,000-square foot outdoor sundeck is four stories high and adorned with tropical landscaping, charming cabanas, and complemented by a large infinity swimming pool and an al fresco planned function area. The new, eclectic guest rooms are designed for your comfort and convenience. For an additional level of comfort, the exclusive Club Lounge offers special services and amenities to please the most discerning traveler. The Link@Sheraton experience with Microsoft will keep you connected to what's important and the business center will keep you connected to the office even when you're miles away.

With several great dining options, an exciting lobby bar and lounge, a pulsating casino with 448 slots and 16 table games, and a first class spa and fitness studio, there are plenty of onsite activities to keep you busy. Fabulous shopping abounds, with name brand shops and charming boutiques right in the complex.
02.02.2012

| | | | | | | | | | |
| --- | --- | --- | --- | --- | --- | --- | --- | --- | --- |
| San Francisco, CA (SFO) - Terminal 2 - OPQJCK | 2/2/12 | 10:30am | | | 2/2/12 | 3:55 | | American | 1536 |
| Dallas TX - OPQJCK | 2/2/12 | 4:45pm | | San Juan, PR (SJU) | 2/2/12 | 11.10pm | | American | 606 |

Sheraton Puerto Rico Hotel & Casino Caribbean - 200 Convention Boulevard

.
---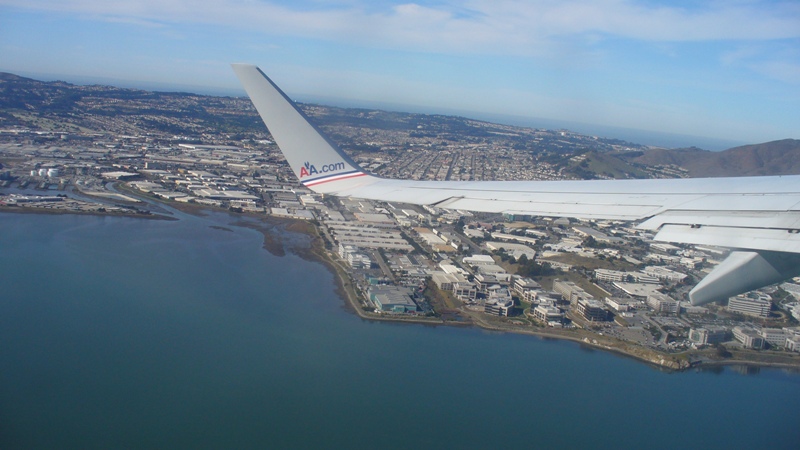 10:30 A.M. American Flight from San Francisco International Airport to Huston.
I left the house early this Thursday Morning and when I got to the BART (Subway System), the train was just pulling in so I got on and off to the airport! My flight was at 10:30 A.M. and we boarded the plane on time! I settled town and after ten minutes the plane was completely filled, over 200 people and lots of luggage. I was almost in the last row so not too happy as there was only an hour between flights at the Huston Airport and it was going to take time to get off the plane. Suddenly the captain said there was maintenance problems and we sat there and he said, it will take 15 more minutes.
Then he said 15 minutes more and then 15 minutes more and then an hour had gone by. Then he said it would take 15 minutes to get the paper work in order. Just great!
So we were flying into Houston and the captain said many of us probably missed our flights. I was not amused. One good thing, a cabin personnel came around with an I-Pad and told me to get off the plane, rush over a block turning left to the escalators up to the air tram that ran around the airport and get off at D21, Houston is very large, spread out all over. She said the plane coming in was late and I had 25 minutes to get there. Well we landed and it took forever to get off the plane, people screwed around forever. I finally yelled out in my very nice voice, Move It! Well it didn't work and everyone laughed.
So off the plane and ran to the Air Tram. Can you believe it. It stopped at A-22 to 39, then B-22 to 39, then to B-01 to 21 and on to C and D, it took seven stops to get there. I dragged my bag down the escalator and was the last one on the plane. Phew! I was happy.
We sat there for ten minutes and can you believe it, the captain said they had maintenance problems and were sorry about the delay. I was happy as I made it to the flight.
The man next to me said he worked for a company in San Juan, reusing old tires. Ground them up for road paving, fixed up for play ground swings and so on. Someone heard him and laughed as the captain said they were having problems with the tires. He suggested the man next to me get out and kick the tires
We took off after an hour and only got in about an hour late so I got to the Sheraton San Juan and Casino Hotel around 1:00 A.M. Time to check in and get my suitcase opened and then get in bed for a first full day on Friday.
---
02.03.2012

Setup my tours to the caves and the Arecibo Observatory and the Rain Forest tour at nine a.m. the first morning I was there.

Then I caught a bus and down to Old San Juan and met two couples and we had lunch at a local restaurant and then I toured the first fort. We took the free shuttle around the peninsula and couldn't find the restaurant. It was on San Francisco Boulevard and we finally got off the shuttle and asked a local. We were about four blocks away but had an enjoyable walk up a steep street to the restaurant. There we had pork sandwiches, French Fries and coffee, about $11.00.

Then I decided to go tour the first fort and found out of all things, Queen Elizabeth the First sent Drake to Puerto Rico to try and steal it from the Spanish. He failed and ended up getting sick and died on the ship after it left Puerto Rico. The Dutch also tried to take Puerto Rico from the Spanish but that failed also.

.
---
A tour around the town.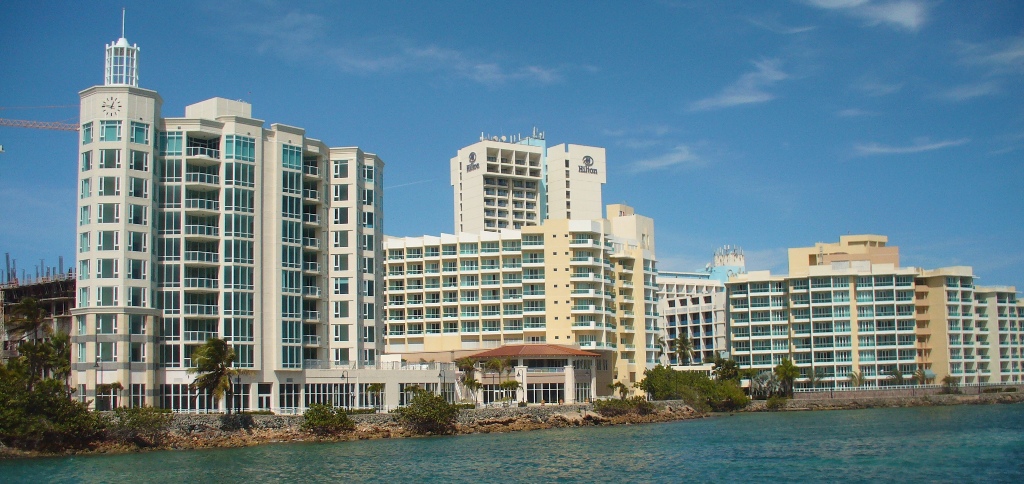 Condos starting at $300,000.00.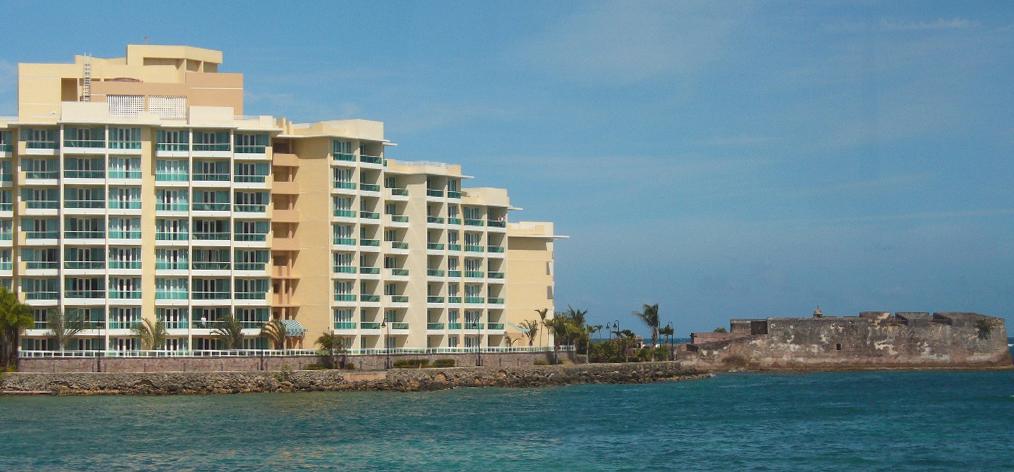 Beautiful Hotels on the Private Beaches
| | |
| --- | --- |
| Restaurants on almost every street. | Beautiful Streets and Plants |
| | |
| --- | --- |
| Apartment along the Ocean Drive. | Steepcobble stone streets down to the shore - a cruise ship in the distance. |
| | |
| --- | --- |
| Beautiful buildings - Art | Greek style buildings |
| | |
| --- | --- |
| Very loud Puerto Rican music on the public square. | Horse and Carriage rides around Old San Juan. |
A Famous Restaurant ~ Bombonera
| | |
| --- | --- |
| | |
| We finally found the San Francisco Boulevard. | A famous local restaurant. |
| | |
| Enjoying the local coffee and a pork sandwich! | As you can see, lots of local patrons. |
---
Touring Caves and the Observatory - Birthday Dinner
| | | |
| --- | --- | --- |
| . | | |
Parque Las Cavernas Del Rio Camuy
Our colorful tram to the caves.

Chuck and two new friends, one from Mexico and one from Florida!

Entering the cave.

This tree is growing upside down!

Roots dropping down over 40 feet from a roof cave in!

Mineral waters creating the formations.

When this river floods the entire caves are flooded and sections carved out.

Chuck at one of the collapsed sections of the ceiling.

Space.
The Arecibo Radop Telescope Observatory

Arecibo Observatory

This screen is one of the 38,778 aluminum panels in the dish!

Massive equipment floating over the dish, the equipment inside can be rotated to access radio waves from differing locations.

The cone holds two dishes and a multitude of electrical equipment to analyze the radio waves bounced off of objects.

Chuck after seeing the Mars Meteorite in the observatory museum.

30 story towers to hold up the instruments over the dish!

Florida friends and in the back a Northern Mexico friend and me!

Space.
---
| | | |
| --- | --- | --- |
| . | | |
---
About an hour or so from San Juan.

Chuck with the heavy mist over the mountains.

Great views to the ocean.

Lots of fern trees and other plants, bananas, ginger and so on.

The worlds smallest orchid, looks like a leaf!

Water flow depends on the amount of rain on the mountain tops.

Space.
---
Touring the Forts and Dinner and More Wine from the Hotel!
02.06.2012
Today I toured the fort at the end of the peninsula. Just as I was finishing the rain came down in buckets for half an hour but then the sun came out and it was great. Walked round the streets and shots and found a great coffee shop by the cruise ship terminals.

Tonight I had dinner with the man from Mexico, he works for a pharmaceutical company located in Puerto Rico and is flying back and forth a few times a year on business. The server heard it was my birthday so I got a nice piece of cheese cake to celebrate.

And later a hotel employee came to my room and I had to laugh, another bottle of red wine. He said it was for my birthday again but I said could I have Chardonnay instead of red wine. He said of course you can! So I ended up with two bottles of wine!

.
---
Touring the Forts
Old San Juan and the ocean in the distance.

Steep Walls protecting the citadel.

Steep Steps to the top of the Fort

Views of the Fort.

Living and Storage Rooms

View to the tip of the Pennisula.

Celebrating my Birthday Dinner at Eight!

| | |
| --- | --- |
| | |
| Sheraton San Juan & Casino | Nice rooms and views. |
| | |
| Chardonnay compliments of the Sheraton! | First day a bottle of red, second day a bottle of white! |
| | |
| Cocktail Lounge by the lobby! | Second dinner on the Sheraton with Cheese Cake for my birthday! |

Touring the Bacardi Factory & the MS Bounty

02.07.2012
Today went to the Bacardi Factory for a tour. I met a couple at Terminal 2 for the ferry to the other side of the bay. The cost of the ferry was 50 cents!

We had a great guide and found out they pay 245 million dollars in taxes a year. They started out in Cuba but were kicked out in the 1960s and move to Puerto Rico. The bat is their emblem. When Bacardi first started his business they rented a warehouse and he and his wife went in and bats flew out. Bats are a good omen and his wife suggested they use the bat as their emblem.

In the afternoon I went to view the HMS Bounty, built in 1962 for the movie Mutiny on the Bounty starring Marlon Brando. The ship was sailed to Tahiti and then back to Puerto Rico. It is 1/3 larger than the original. So the ship was actually very small.

.

Bacardi Factory Tour

| | |
| --- | --- |
| 50 Cents! The Catano Ferry from Terminal 2, Old San Juan | Beautiful grounds - A banyan tree! |
| | |
| Entrance to the factory. | One of the many buildings to manufacture the rum. |
| | |
| The bat represents the Bacardi Rum emblem. | Used Whiskey barrels are used to ferment the rum. |

| | |
| --- | --- |
| | |
| Nice out door location for lunch and TWO Free Rum drinks! | Coconut Rum! |

HMS Bounty Tour

This replica of the HMS Bounty was built in 1962 and sailed to Tahiti for the film Mutiny on the Bounty starring Marlon Brando. It is 1/3 larger than the original so one can see how really small the original ship was and how dangerous it was to sail across the oceans.

| | |
| --- | --- |
| On the main deck. | Ready to Sail! |

It was easy to compare the sizes of the two ships. This is the Holland American Line - the Eurodam.

Coffee Shop on the last Morning!

| | | |
| --- | --- | --- |
| 02.08.2012 | Today I shopped and went to the Post Office to mail 24 post cards. I ended up walking all over Old San Juan and went to my favorite coffee shop on the shore. | |

A great coffee shop by Terminal 2, next to the HMS

Chuck and his latte!

Huge cruise ships docked next to the coffee shop.

Flying Back to San Francisco

I finally got back to the hotel around two p.m. and off to the airport for a 5:30 p.m. take off and then home.

Everything was fine until I got to San Francisco around 11:30 p.m. and some of us ran to BART but it left three minutes early so I had to take a cab home. I got home around 1:00 a.m. and took out the contents of the suitcase and finally went to bed around 2:00 a.m. Tired but a great trip where I saw everything I wanted and also met so many nice people.

---

| | | | | |
| --- | --- | --- | --- | --- |
| | San Juan PR (SJU) | 2/8/12 5:30 pm - Miami FL (MIA) | 2/8/12 7:30 pm - American 2202 | |

---

| | | | | |
| --- | --- | --- | --- | --- |
| | Miami FL (MIA) | 2/8/12 8:25 pm - San Francisco CA (SFO) | 2/8/12 11:35 pm - American 2202 | |

---

---

| | | | | |
| --- | --- | --- | --- | --- |
| Created on: 2012.01.15 | --- | | --- | Updated on: 2020.09.07 |

---

---