My friend Barbara and I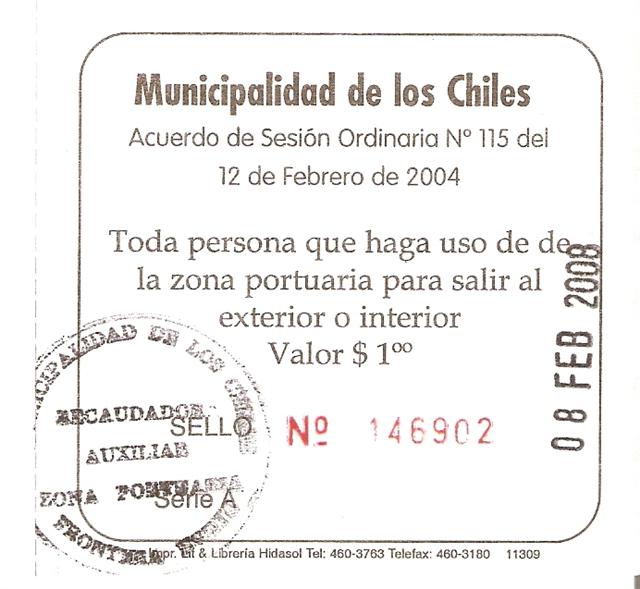 decided to take a trip to Nicaragua this year. We both have been to Guatemala and Costa Rica and decided the next Central American country we would visit would be Nicaragua since it is off the beaten path! Here are our immigration stamps for Costa Rica and Nicaragua.
We entered Costa Rica in Liberia and took a boat on the San Juan River to San Carlos and received our tourist card for Nicaragua there.
Space.
Nicaragua - Ometepe Volcano - 2008

Costa Rica - Arenal Volcano - 2005

Guatemala - Tikal - 2003

Space.

Note: Use this link to check out some of the photos I took in Nicaragua.

Space.

Read about our great trip and the many interesting people we ran into and their stories about life in Nicaragua. Check out the map and the brief description of Nicaragua on this link! This link details some of the medications one might need to prepare for the trip!

Space.
Feb. 06

Delta Air Lines # 7784 Operated by: Expressjet Airlines - Please check in with the operating carrier - San Francisco International (SFO) to Los Angeles International (LAX) - Departure (SFO): February 6, 7:50 PM PST (evening) - Arrival (LAX): February 6, 9:08 PM PST (evening) - Delta Air Lines # 9693

Los Angeles International (LAX) to Liberia (LIR) - Departure (LAX): February 6, 11:30 PM PST (evening) to Costa Rica.

Space.
Feb. 07

Arrival (LIR): February 7, 7:00 AM CST (morning)

.

We arrived at the Liberia Airport and instantly took a cab to town to Terminal 1 and caught a bus to our first stop which took two hours to Canas. Many of the buses in Nicaragua are actually old school buses with little room to sit so many ended up standing, some for hours! We caught the second bus and rode for two hours to Upala. Caught a third bus and rode for an hour to Cano Negro and then we were dumped at a park and told the next bus was due at six o'clock! Well it was only 1 P.M. and we would get into Los Chiles at eight and it would be dark - how would we find a hotel! So Barbara saw a small off the road vehicle and flagged it down. A German man and two women agreed to take us to Los Chiles and we paid $20. It was well worth it as they drove us all over town and we all checked out the hotels and ended up staying at the same one, the Hotel Cabinos Carolina. Very clean and it had air conditioned!

We then decided to check out the town and close to our hotel we saw a bar and a woman came out and sat us down and talked to us for over an hour. She introduced herself as Elizabeth and sat us down at a table outside the bar! Of course she spoke Spanish and we, English but found out her husband died 10 years ago and she owned most of the properties along the block. The pharmacy next door was owned by her and one of her sons was a pharmacist! One daughter was married and living in Italy! She pointed out her 'lover' next door with his crew and pickup truck cleaning up the area. She called him over and squeezed him and said lover! We checked out the town by walking all over, found the immigration office we needed to visit before going taking the boat to San Carlos. We then found a small restaurant and had dinner and finally after a long day went to bed as the next day would be another long one going to El Castillo!

Space.
Feb. 08
We got up early, dressed and put on the back packs and off to the immigration office. We got here as they opened and had our papers filled out and were on our way. Except the boat didn't leave until around 12:30 P.M. so we sat at the dock and people watched. We finally got on the boat and off we went. About half way to San Carlos we were stopped by the Nicaraguan military and papers were checked and off we went to San Carlos. This trip took about two hours. We landed on a very small wooden board walk in San Carlos and waited in line for our tourist papers. We then rushed to another boat that took us to Es Castillo. This trip took about three hours.

I asked if I could stand on the bow of the boat as we cruised down the San Juan river and I was able to get several great views of the fort on the hill as we came into El Castillo. El Castillo was built by the Spanish in 1673 to repel pirates that were going up river and looting Granada. We landed and went to the Richardson Hotel for a room. No air conditioning but a ceiling fan and of course, mosquito netting! We then toured the town and ended up having a beer on a second story bar lover looking the rapids. We then found a house with two tables in the rear and had a drink there. The family was having dinner at the table and the wife asked if we wanted dinner there! We said yes and after about an hour, we had wonderful chicken that was roasted on a wood fire along with rice and a salad. Very good!

Space.
Feb. 09
We got up early and had breakfast at the hotel and made an effort to see the fort early in the morning. We hiked up the hill and started going through the ruins and the museum. Suddenly it started to rain and we enjoyed the cool air for about an hour. Then it cleared up and was warm again but not bad enough to make one feel like lying down! Check out this link for more information about the fort of El Castillo.

We then walked around town again taking photos and had a drink at one place over looking the town. Next we stopped at a place we had seen with a pool table in the front and one table in the back over looking the river. After about half an hour the owner asked us if we wanted the special! We asked what it was. A river shrimp the size of a lobster! Well it was $12 dollars a plate. We decided to try one plate as a share. There were two shrimp and plenty of rice and other side dishes so we were happy with the arrangement!

It was hot so we went back to the hotel and visited with the family that owned the hotel. The wife's sister was visiting with her four year old son who was a darling. He was practicing with his net like a fisherman and wanted to show me how he could swing the net out on the grass like a real fisherman. I got several good photos of him doing his thing.

After our siesta, I actually took a nap in the hammock hanging in the living room! We looked for a place to eat and many places were closed due to the fact it was Sunday. We also found out if we wanted to get the early boat out of El Castillo and back to San Carlos, we needed to sign up at the Vanessa Restaurant. We signed up for the high speed boat and then had dinner there. Finally back to the hotel for a good night sleeps as we had to get up around four A.M. to dress and catch the boat!

Space.
Feb. 10
Today was the worst day of the trip. We got up at around 4 A.M. and got ready and walked to the dock by 5 A.M. The high speed boat left at 5:15 and off we went to San Carlos. Every time the boat did a swerve on the river, the water sprayed over the people sitting on the side seats, I was sitting in the middle for a change and was happy about that fact.

We then got on the bus at San Carlos and the proceeded for a nine hour trip to Managua. The first four hours were on gavel roads with some holes five feet deep! We wondered what happened in the rainy season! Then four hours on concrete!

Then in Managua we traveled by bus to Rivas but it was slow. The road was terrible and we didn't get there until nine P.M. It was very dark and we were dumped on the edge of town! Mon Dieu! A cab driver came by and we said, Take us to a Hotel! He said there were two, low cost and high. We said the high priced one - the Nicarao Inn! Well it was a very nice hotel and we stayed there and then proceeded to go to dinner at a club next door with a great waiter who we had a wonderful time kidding. We had a wonderful chicken with a rich cream sauce on it. Then to bed and air conditioning to get ready to take the ferry to the volcanic island in Lake Nicaragua!

Space.
Feb. 11
Today we got up early and caught a taxi to the port and there we boarded a ferry to Ometepe. This link details the Ometepe Island and volcanoes. We landed on the island and caught a taxi to our hotel, the Charco Verdi, situated on the beach beside the active volcano. We never actually saw the top of the volcano due to all the clouds.

The first day we walked around the lagoon and checked out the birds and the howler monkeys. We actually had a bungalow with two regular sized beds and a twin. It was very large with a huge bathroom and air conditioning and fans.

The bar/restaurant looked over the beach and the coast line and the sunsets were magnificent. We decided to get a good nights sleep because the next day we wanted to visit the petroglyphs on the other side of the island plus do the walk around the lagoon again.

This first evening I started to talk to a local guide as we watched a fabulous sunset over the lake. Harold, and I soon became good friends. He talked about the difficulty of trying to be in business for ones self and I made some suggestions as to setting up a web site and so on. The next evening Barbara and I had a long talk with him.

Space.
Feb. 12
The next day we had an early breakfast and checked out the howlers again. We then decided to take a bus and travel to the other side of the island and check out the petroglyphs. They were created by the local natives around 1,500 years ago. They were representatives of monkeys and other animals plus a version of the twin volcano island.

We did another walk around the lagoon and then went to dinner and afterwards Harold joined us for a drink. We had multiple wine coolers and he had multiple beers and then dinner! He told us about his role as a guide and his specialty is taking people to the top of the active volcano. It is a six hours trip to the top and a four hour hike to the base. By the time he pays a taxi driver to pick up the people and also supplying a lunch for each person and, if this tour is made through a hotel, they take their cut and he as a tour guide, is left with basically a pittance of a salary.

So I said I would make a mock up of a web site for him. We shall see what transpires. Here is his name and email address and telephone number in case you know anyone who might be visiting Ometepe.

Harold Tijerino - bullsharktours_29@hotmailcom - Telephone - 505.950.2511

Space.
Feb. 13
Today we caught a taxi to the port and took a smaller boat to the mainland. There we caught a bus to Granada and stayed at the Asialatina Hotel. I said it sounded like a gay bar and the receptionist laughed and said the owners were gay! The 'white' man was from Manhattan and his lover was a black Nicaraguan.

We found out the prices were at least $10 a room higher and maybe even more! We were told they were having of all things, an International Poetry Recital in the Main Square and all the rooms in town had been rented so we were lucky to get a room in a nice area of town.

We did go to the Main Square that night and there were several thousand people in the square and a big podium in front of the main cathedral and office building and the first poet read her poem but, she read it in Chinese and about five people clapped out of a thousand! Each poet spoke in their language, French, Polish, Chinese, and so on. Very strange to say the least. (A side note. I went to the YMCA today, the 21st, and told a woman in the senior center I had just come from Nicaragua. She asked me, "Did you go for the Society of Poets Convention there?" I had a good laugh, even someone in San Francisco knew about the poetry recital in Granada. Go figure the odds on that!)

Here is a photo of the street where our hotel was on and as you can see, the streets were very clean and the buildings maintained with bright colors. We ate at many of the restaurants and had drinks at various places during the day.

We had a long talk with the receptionist and he told us when he was four years old, his family escaped over the border into Texas in the early 1980s. He said Nicaragua was so dangerous and in Texas, they were kept in a camp for over a year. He and his father were in one camp and his mother and sisters in another camp.

President Reagan passed a law to allow Nicaraguans in danger, to get a green card to allow them to live in the U.S. without problems. So basically his family moved to the Seattle area and live there. He decided to move back to Nicaragua and said even he has problems understanding some of the Spanish after living in the U.S. for so many years.

Space.
Feb. 14
Today was very busy. We first took a bus to Masaya, the active volcano just outside of Granada and Managua. We told the bus driver to stop at the front entrance and then we paid the fee for a truck to take us the three kilometers to the top of the volcano. We hiked up the one volcano that was inactive and then I climbed 170 steps up to the top of the highest hill overlooking the volcano and into the smoking cinder cone being built up! This volcano erupted around 1700 and lava flowed for miles around the volcano. In 2001 the volcano had a big burp and large rocks flew out of the crater and onto the cars in the parking lot by the rim. No one was hurt at least! We also went to the museum to see how volcanoes work and also some of the animals the are in the area.

While I was on the top of the high hill, a tourist guide came along and was very nice. We talked and I introduced him to Barbara later on and we asked about a tour on the lake and the islands next to Granada. He said he was available the next afternoon and we hired him on the spot for a tour the next day!

Barbara told me she was sitting in a view spot when a woman came by and said she recognized Barbara. She said she saw her on the ferry to Ometepe. She and her husband were on the same boat but he and I were on the top deck, they were in the hold. She said she was in the back being sea sick! Well guess what, we did see her again the next day. Read all about it on the 15th!

Next we went back to Granada and there we took a nap and suddenly heard a lot of noise. We got up and went outside and didn't see anything. So we walked around and suddenly on a side street, saw a parade. We saw a man who was from Ireland and had bought a store front across from our hotel and asked him what was going on. He laughed, said it was the parade of the poet society! They stopped every so often and someone would read their poetry. There were lots of great costumes and children were having a great time. We followed the parade to the wharf and there they had fire works and lots of groups dancing in local costumes.

Space.
Feb. 15
Today we went shopping and lounged around. We had seen most everything and were looking forward to the lake trip but the receptionist at our hotel said the time was rather late in the day. We were hoping the guide, Denis, would come earlier than 3:30 or 4:00 P.M. Well we were going out around three and Denis came by and asked if we minded having two people join us for the tour on the launch. No we said, two more is fine. So he took them to the boat and came back and got us. We had to laugh, the couple was the same ones that were on the ferry to Ometepe several days before. I recognized the husband from the ferry. Talk about a small world.

We toured the islands, visited a small Spanish fort and saw many expensive homes built on private islands. There weren't many birds as it was the dry season plus they said since global warming and pollution of the lake, many birds had disappeared. We stopped for a beer at a famous bar/restaurant and then proceeded back to our hotel and dinner. Another great day!

Space.
Feb. 16
We got up and had breakfast at the Asianlatina and the receptionist was so nice, how nice, he suddenly said, "Bad news, your room is booked and you have to leave!" We had asked the day before about staying an extra day and he said fine.

Well so much for that. Suddenly we were packing our bags and hiking over to the main square to catch a bus to Leon. Actually it worked out all right as we had seen most everything and were going to Leon anyway.

So it took about three hours and we caught a cab to the hotel and it was fabulous.

Hostal "La Casa Leoncsa"

It originally was a house and had been bought around 1990 and converted into an eight room hotel, the owner also lives in the house. Fabulous antiques and wicker chairs, a small pool to swim in and air conditioning!

Space.
Feb. 17
Today we walked all over town and took photos of the many churches and cathedrals. We visited the main square and shopped there. We then went back and took a nap and had a long conversation with the owner. She escaped from Nicaragua in the 1970s and went to Alabama! There she married a German man and raised her children there. They all live there in Alabama today! Her husband passed away and in 1990 she came back to Leon and bought this house. It was in very bad shape, people let the property fall apart because the Sandanistas would come in and take property away from anyone if they wanted it. She redid the roof, put caning on the bottom, then a lining of zinc, on top of that, the red tiles. The floors are fabulous tiles and she has a lot of old German furniture.

She said she was Vice Mayor for a few years but there is so much corruption and many people we talked to indicated the taxes just disappear in the pockets of the politicians.

That night we went to the Hotelito El Cedro as we had heard the chef was Canadian and had a special on Sunday night! It was garlic mashed potatoes and roast beef and a green salad. Well for $6.00 we had a huge plate of potatoes and meat! Talk about a treat! Several people would tell us when we saw them, we would have to have the special at El Cedro and we would laugh, been there, done that!

Space.
Feb. 18
Today was very hot, as was yesterday. It was around 95 degrees or 30 degrees Celsius! We went shopping for souvenirs but the main market was for foods. We saw a woman cutting up beef and on the table were two hooves of a cow or bull! Tasty! Another woman had a basket full of live iguana and she took one out and shook it by the neck for us to take a photo. So tasty! There were tons of fruits and vegetables and then we went to another market but it mainly had dozens of shops carrying bras and women's panties. We didn't find many things for gifts so hit the streets again and went to the main square to find some items on the side walk tables.

We then went to the Museum of the Revolution and the man right off the bat, took a pointer and started his talk about the revolution. Of course he didn't ask if we spoke Spanish so he went on for 20 minutes pointing out the mimeographed copies of articles and photos, all in poor condition. The good thing was we could see dates on the articles and photos so we had a good idea as to the time and places and people involved.

He then took us up to the top floors and then he took me to the roof where I had a good view of the city and the surrounding five active volcanoes by Leon. Leon was originally on the lake and in the 1600s was devastated by a volcanic eruption! You can see the volcanoes, very high and perfect shapes, a perfect cone!

So we went back to the hotel to rest up and take a quick swim. We then went back to the Hotelito El Cedro for our last dinner in Nicaragua before taking a taxi the next morning, to Managua and the airport.

Space.
Feb. 19

LACSA # 716 Operated by: Sansa For Lacsa - Please check in with the operating carrier. - Managua Augusto C Sandino (MGA) to San Salvador Comalapa International (SAS). - Departure (MGA): February 19, 12:05 PM CST (afternoon). Arrival (SAL): February 19, 1:15 PM CST

Delta Air Lines # 276 - San Salvador Comalapa International (SAL) to Atlanta Hartsfield-Jackson ATL (ATL)
Departure (SAS): February 19, 2:00 PM CST (afternoon) - Arrival (ATL): February 19, 6:28 PM EST (evening)

Delta Air Lines # 1591 - Atlanta Hartsfield-Jackson ATL (ATL) to San Francisco International (SFO)
Departure (ATL): February 19, 9:59 PM EST (evening) - Arrival (SFO): February 20, 12:21 AM PST (morning)

Space.
Space.
Space.
---
---
---
Charles Walter Buntjer


San Francisco California
Created on: 2008.02.22


Updated on: 2016.04.10
---