| | | |
| --- | --- | --- |
| | | |
Tour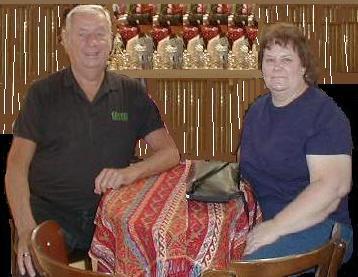 Extraordinary Indochina, so much liked, so much sung, for the wonders with which nature is endowed with generosity as for the heads with work of art that man was born to create.

On the way from Vietnam to Cambodia you will go from rapture to dazzling and have unforgettable memories about Indochina.

Chuck & Barbara in Istanbul in 2004.

In 2005 we were in Costa Rica. Little did we know we would be in Vietnam and Cambodia in 2007.

The last day in Angkor Wat I had a Dental Problem, check it out!
---
---
---
We decided after some thought, to go on a day by day basis in traveling in Cambodia and Angkor Wat rather than take a planned tour. As you can see from the following listing, we are going to a great hotel and as time goes by, other new adventures will be thought up while visiting Angkor Wat.
The Cambodian Visa can be obtained at the local airport in Cambodia or at your local consulate. Check out the one I got entering into Cambodia at the airport!

This link displays the yearly Temperatures and Rainfall in Cambodia!

This link describes the Money used in Cambodia!

This link details the History of Cambodia.

Select for the History of Angkor Wat.

Here is a link to our fabulous Bopha-Angkor Hotel only three kilometers to the ruins!

This link displays the Cambodian Map.

Check out this link for my flight schedule!

And can you believe it, on February 4th I celebrate my 67th Birthday in Angkor Wat! What a treat!
Ten men sat at a long counter and passed our passports and photos along the line, stamping away!
Then we went through customs where they took another photo of us!
They also photographed us when we left.
This happened in Vietnam also.
Sunday - February 4th - 2007 - Arriving at Siem Reap ~ Our Hotel ~ Views from our Hotel!
Space.
We were surprised at the 5 Star Hotels along the road to down town Sien Reap. Our hotel was delightful and we had interesting views as we walked along the streets outside the hotel!
---
Driving to our Hotel in Siem Reap
---
| | |
| --- | --- |
| Siem Reap International Airport | Vietnam Airline from Ho Chi Minh and on to Taipei Taiwan! |
| Fabulous Five Star Hotels all Over the Place! | Majestic Angkor Hotel! |
---
---
Bopha Angkor Hotel
| | |
| --- | --- |
| Entrance to the Hotel and Dining Room | New Swimming Pool, Just a Year Old! |
| Dining Room with a Great View of the Gardens! | Our Room with the Ubiquitous Mosquito Netting of Course! |
---
---
Siem Reap Village People - Views along the River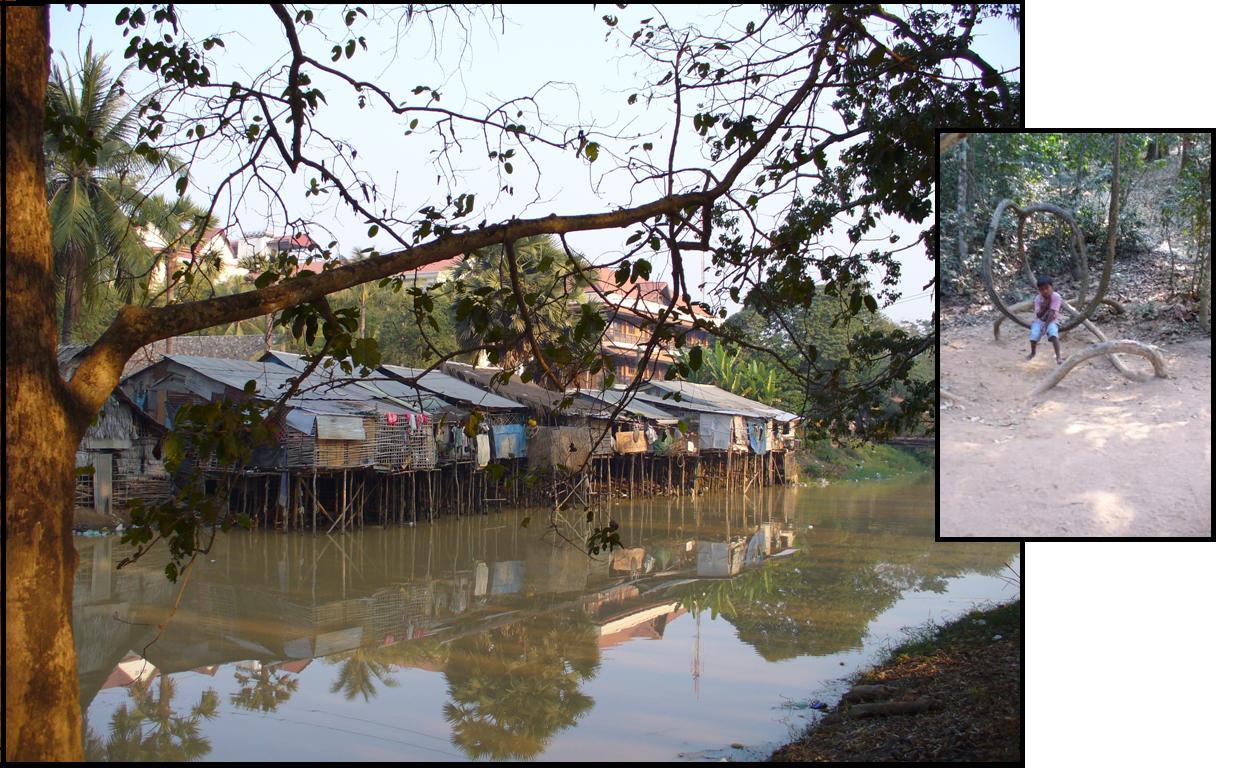 River Housing & Boy Playing on a Vine!
| | |
| --- | --- |
| Early Morning | Fisherman and his Wife and Child |
---
---
---
---
Sunday - February 4th - 2007 - Siem Reap ~ Angkor Wat Temples - Chuck's Birthday!
---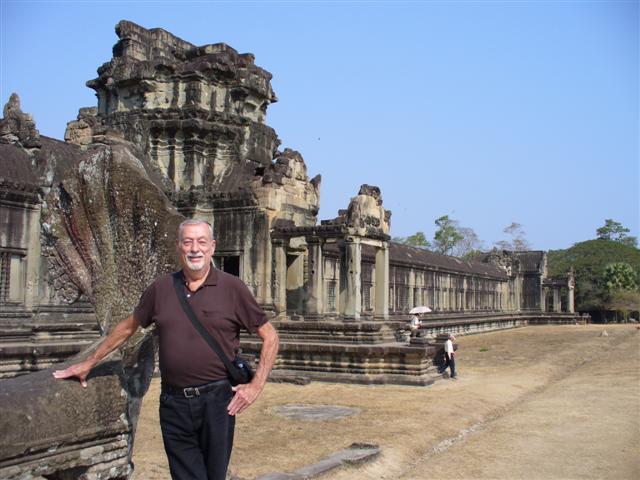 We got up early and had breakfast and hired a Tuck Tuck run by Mr. Lim. He was very nice and took us to the huge Angkor Wat Temple. It first was a Hindu Temple but suddenly the King walled off areas and turned the temple into a Buddhist Temple.

We decided to climb to the top and there we discovered on each of the four sides, huge areas about six feet deep that we were told were filled with water so there were four pools for religious purposes and use by the King.

The steps are very sharp and very tall and we climbed up facing the steps and not looking down too often. Coming down was fun, we decided to use a metal railing instead of just walking down the steps, just in case we slipped and fell on the sharp stone! To our surprise, our driver was still waiting for us after over six hours!

That night we went out and had strawberry Daiquiris downtown in Siem Reap and then dinner at our hotel, Bopha Angkor!
---
Entering Angkor Wat
Today is My Birthday and What a Way to Celebrate - at Angkor Wat in Cambodia - and Perfect Weather!

Space.

On Our First Day of Touring, We did the Tourist thing and Hired a Tuck Tuck and Our Driver was Mr. Lim.

And Here am I, Ready to Tour Angkor Wat and Perhaps, Climb the Highest Steps to the Tower!

Space.
---
Angkor Wat and Friezes
| | |
| --- | --- |
| Entrance | One of Four Sides |
Friezes - Elephants in Battle!

Friezes - Dancers
---
Small and Steep Steps
| | | |
| --- | --- | --- |
| Small Steps and Sharp! | Here I am on the Top! | Hang on Baby - Coming Down! |
---
Venerating Buddha!
---
| | | |
| --- | --- | --- |
| Buddha! | Colorful Umbrellas! | The Back Wall! |
---
---
---
Monday - February 5th - 2007 - Siem Reap ~ Angkor Wat Temples - Overgrown by Jungle - Chuck's Birthday!
Space.
Monday - February 5th - 2007 - Siem Reap ~ Angkor Wat Temples - Overgrown by Jungle
Space.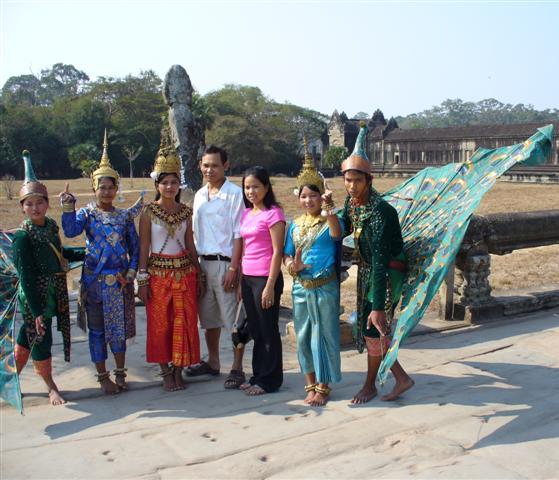 Today we hired a driver with an air-conditioned car and a guide. They were very helpful but the guide had a speech ready for each location and he just stopped and stood there and gave his spiel. Sometimes there wasn't any other people at the site but he just stood there and talked. We wondered if he could walk and talk at the same time. Obviously not!

We stopped at the famous ruins that weren't uncovered and the buildings were covered by large trees with roots that looked like snakes twisting around the walls and temple complexes.

We went to several other temple complexes and saw huge walls full of friezes denoting the religious ideals of the Buddha and also of the Indian Hindu religion.
---
Temples Overgrown With Trees!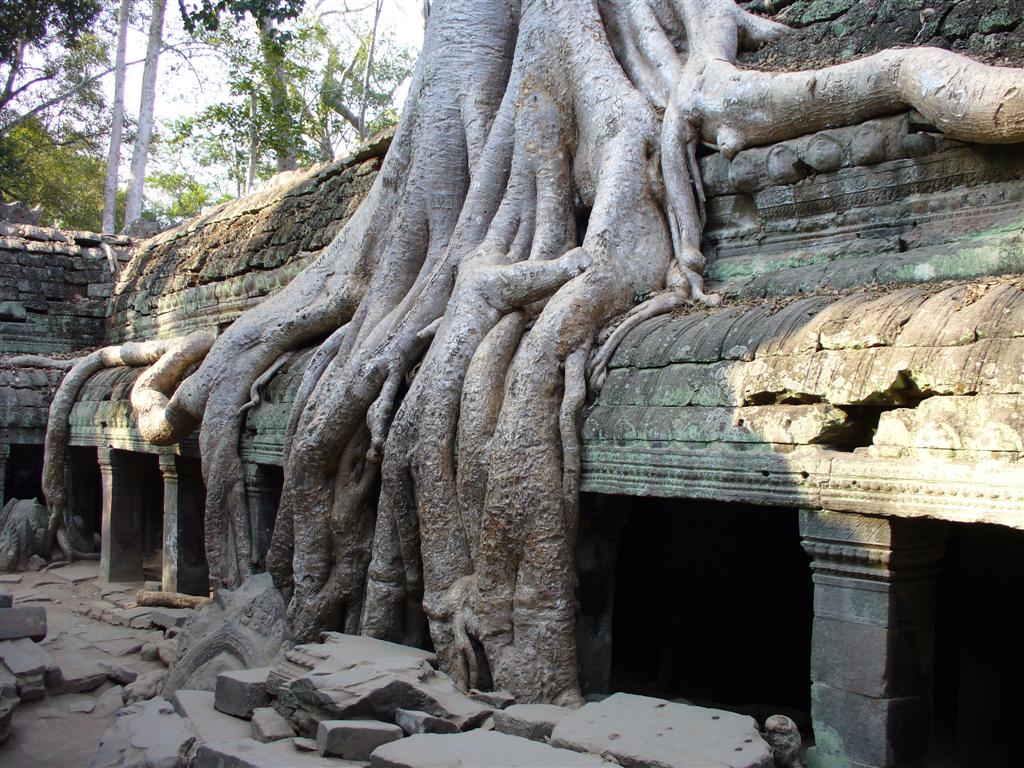 Temples Overgrown With Trees!
| | |
| --- | --- |
| Buddha Before the Entrance | Dancing Ladies! |
---
Giant Heads and Carvings!
---
| | | |
| --- | --- | --- |
| Famous Heads on Entry Gat | Dancing for Buddha | Courtly Woman |
| | |
| --- | --- |
| | |
| Archery | Monks |
---
---
---
Tuesday - February 6th - 2007 - Siem Reap ~ Hindu Temples!
Space.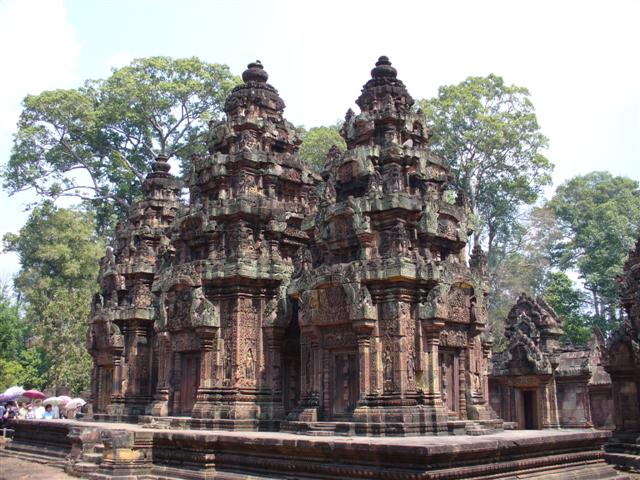 Today we were picked up early and drove a long ways to several temples. One had about 50 towers and many different friezes.
We then drove miles through the country side seeing how the average Cambodian lived. Many houses were built high above the ground and we thought it was due to the rains but our guide said when a son was married, they could build an additional room below for the wife and son to live in.
We then went to the best preserved Indian Hindu Temple complex in Cambodia with fantastic friezes. These buildings were made of brick and the friezes were dramatic and included the Monkey King and other deities.
---
Hindu Temples and Carvings
Farthest Temple Complex at the Site

Small but Beautiful!
| | |
| --- | --- |
| Carvings in stone. | Carvings in Brick. |
---
Local Houses as We Drove Around the Area!
| | |
| --- | --- |
| Cows in the Front Yard | Lumber to Make Charcoal |
| | |
| --- | --- |
| Fruit for Sale | The Old Homestead! |
---
---
---
Tuesday - February 7th - 2007 - Flight from Siem Reap to Saigon to Taipei to San Francisco!
Space.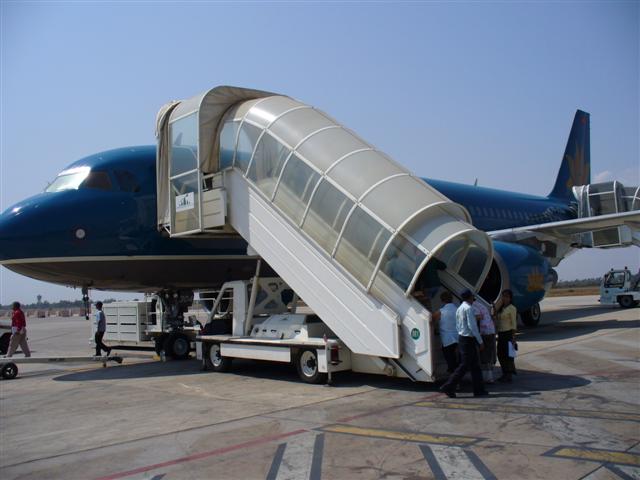 We got up around nine AM and packed and had breakfast. After two weeks, the temperature suddenly soared to over 90 degrees and the humidity was starting up! We had been spoiled, either cooler weather or hot but dry. We wondered what it is like when the temperature is over 100 degrees and the humidity is also 100 percent!

So I had breakfast in Siem Reap at ten AM, flew to Saigon around three PM and had lunch there. Then to Taipei and stayed there for about six hours and had dinner. Then a nine hour flight from Taipei to San Francisco with breakfast over Honolulu. Needless to say, I was worn out and Barbara wrote to me and said the same thing, hard to get a good nights sleep after all our travels and the time change.

But all in all, a fabulous vacation and I would recommend the trip to all of you!
---
Farewell Breakfast
| | |
| --- | --- |
| | |
| Breakfast Before Flying Home! | Usual Breakfast - Very Nice! |
---
---
---
Charles Walter Buntjer



San Francisco California
Created on: 2007.01.204



Updated on: 2020.10.21
---