Space.
Here we are again after our Las Vegas trip celebrating my 70th birthday on February 4th - 2010, planning another trip, this time to Yellowstone Park. I have never been there but Gail has so she knows all the best spots to drive to for the best sightseeing and hopefully Champagne! Below is a short history of Yellowstone and the GrandTeton National Parks. And after the short histories you can read about our itinerary and our daily adventures while visiting Yellowstone and theTeton National Park in the daily diary I kept during the trip!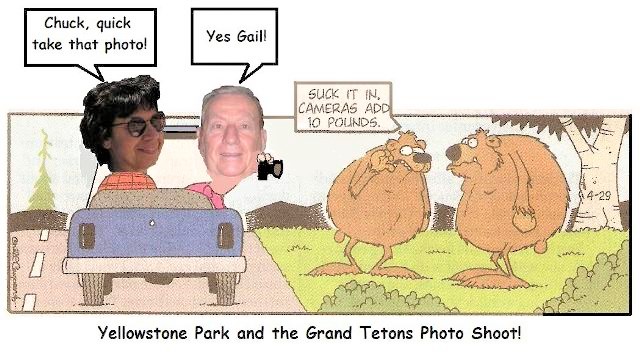 Yellowstone Park - a short history:
Established by the U.S. Congress and signed into law by President Ulysses S. Grant on March 1, 1872, is a national park located primarily in the U.S. state of Wyoming, though it also extends into Montana and Idaho. The Yellowstone was the first national park in the world, and is knownfor its wildlife and its many geothermal features, especially Old Faithful Geyser, one of the most popular features in the park. It has many types of ecosystems, but the subalpine forest is dominant.

Indigenous Americans have lived in the Yellowstone region for at least 11,000 years. The region was bypassed during the Lewis and Clark Expedition in the early 1800s. Aside from visits by mountain men during the early to mid-1800s, organized exploration did not begin until the late 1860s. The U.S. Army was commissioned to oversee the park just after its establishment. In 1917, administration of the park was transferred to the National Park Service, which had been created the previous year. Hundreds of structures have been built and are protected for their architectural and historical significance, and researchers have examined more than 1,000 archaeological sites.

Yellowstone National Park spans an area of 3,468 square miles(8,980 km), comprising lakes, canyons, rivers and mountain ranges. Yellowstone Lake is one of the largest high-altitude lakes in North America and is centered over theYellowstone Caldera, the largest super volcano on the continent. The caldera is considered an active volcano; it has erupted with tremendous force several times in the last two million years. Half of the world's geothermal features are inYellowstone, fueled by this on going volcanism. Lava flowsand rocks from volcanic eruptions cover most of the land area of Yellowstone. The park is the centerpiece of the Greater Yellowstone Ecosystem, the largest remaining, nearly intactecosystem in the Earth's northern temperate zone.

Grand Teton NationalPark - a short history:

The park is a United States National Park located in northwestern Wyoming, south of Yellowstone National Park.The park is named after the Grand Teton, which, at 13,770 feet (4,197 m), is the tallest mountain in the Teton Range. The name "Tetons" originallywas intended to describe several hills near the town of Arco, Idaho. They were named by a French trapper who thought that they resembled the female body. (Ergo tétons,the French word for "nipples" or "teats".) Many years later the name was mistakenly applied to the mountains of present day Grand Teton National Park due to the poor map-making and map-reading standards of the time.

Grand Teton National Park was established on February 26, 1929. The park covers 484 square miles(1,250 km) of land and water. There are nearly 200 miles (320 km) of trails for hikers to enjoy in Grand Teton National Park.

Jenny Lake - a short history:

Jenny Lake, formed by melting glaciers about 60,000 years ago, is a beautiful blue mountain lake set in the heart of Grand Teton National Park, at the base of Teewinot Mountain. On the west side, the lake touches the Teton Mountain Range. The lake is about 260 feet deep at the deepest point. Jenny Lake is the starting point for numerous hiking trails in the area, including Inspiration Point and Hidden Falls. There is a 6.6-mile long trail that winds around the entire lake.

Begin your trip at Jenny Lake Visitor Center, which has a large parking lot. Once at the Visitor Center, you can decide to follow the trail around the lake or take the shuttle boat to the other side. Jenny Lake is one of the most visited spots in the park, so you should expect at least a short wait at the boat dock. The shuttle boat landing is at the Cascade Canyon trail head which also leads to Inspiration Point and Hidden Falls.
Maps and Roads in the Park
These maps are for the Yellowstone and Grand Teton roads you can take to see the major sights. If you stay at West Yellowstone in Montana, you are about a mile away from Yellowstone. The west entrance take you to Mammoth Hot Springs, a favorite of mine, and on to the Tower Falls and further on, the Upper and Lower Gorge Falls.

If you take the south road you will see the Old Faithful Inn and Old Faithful. We followed Route 20 to go to theTetons and I circled the roads we took to get to the Tetons. We were surprised that we left Montana and drove into Idaho and eventually back into Wyoming! There are road repairs in certain areas so we found we could by pass the park and take Highway 20 south and end up in Jackson hole or take a side road directly to the Tetons where we had lunch at the Teton Village and drove on to see the mountains. We by passed Jackson Hole which was a good thing as one needs to stay over night to really see everything. So we decided as we had to drive from nine a.m. until six p.m. to see the mountains, it was better to drive straight through unless you have time to stay longer than one day.

At the bottom is the lay out of the West Yellowstone townand some of the restaurants one could go to. As you can see,the town is very small and easy to get around in!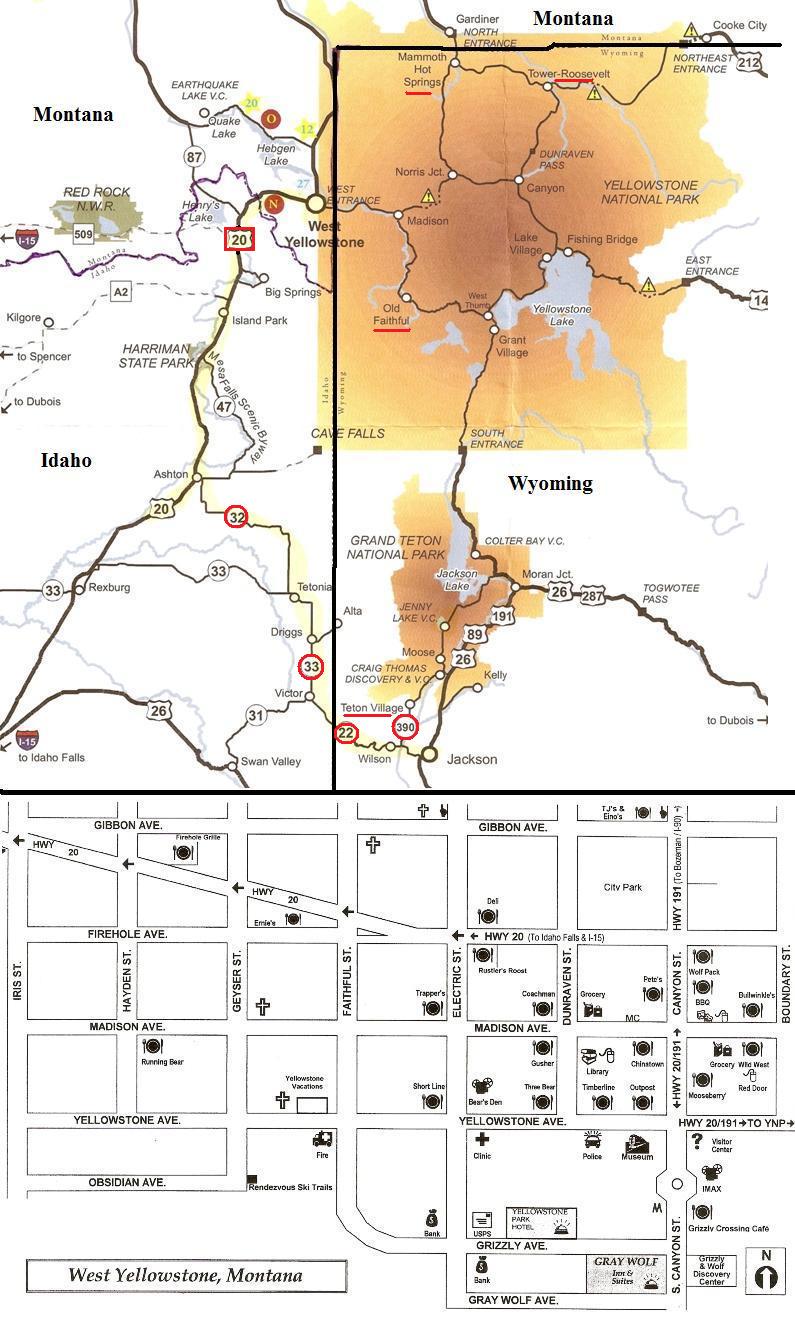 Gail wrote me the following itinerary on February 18th, 2010: We had to fly Skywest (an Embraer 120 jet that seats 20 people) from Salt Lake City to West Yellowstone. The only afternoon flight leaves SLC at 4:50 p.m. and arrives WYS at 6:14 p.m. Reservations have to be made through Delta (I can do that). Price is $247.50 each round trip and that won't change. At this point, Southwest, Delta and United all fly SFO to SLC and LAX to SLC. Price now is approx. $200 each, but I'm sure that will get lower in a month or so. We can meet up at SLC in the afternoon. The car rental is $246 for the 4 days ($123 each) and hotel is $536 for 4 nights ($134/night or $67 each per night). It appears to me it will cost us each approx. $1,000 for the trip (about the same as the Vegas trip). I made both reservations today, February 22nd, 2010. Car reservation is the same price quoted, $246.56, but I forgot to ask the taxes for the hotel room (2 queen beds). They are 10% (wipes out the 10% auto club discount for the room) making the daily total $148.51 ($74.26 each).
March 14th, 2010: Gail checked Southwest, Delta and United this morning to see how flights are shaping up. Southwest doesn't have any non-stops from LAX to Salt Lake, so I'll fly Delta. You could take Southwest through Denver. United doesn't have great times for you. You'd either have to leave SFO early morning and spend most of day in SLC or take an afternoon flight that doesn't leave any time for flight delays. Delta has better times but is more expensive. Think it's going to be $500 plus for both of us. Just some food for thought -
San Francisco to Salt Lake City and on to West Yellowstone
June 14, 2010
Day 1: I leave San Francisco airport SFO on South West Airlines to Salt Lake City SLC and from there, fly Skywest (an Embraer 120 jetthat seats 20 people) from Salt Lake City to West Yellowstone - WYS. Gail leaves from Los Angeles, LAX airport and meets me in Salt Lake City. Flight from SCL to WYS is scheduled for 4:50 P.M. departure and arrives around 6:00 P.M. Airline reservations have been made as follows:

Southwest Airlines: Leave San Francisco (SFO) at 7:45 A.M. Arrive in Phoenix at 9:40 A.M. Arrive in Salt Lake City at1:30 P.M.

Skywest Airlines: Leave Salt Lake City (SLC) at 4:50 P.M. Arrive in West Yellowstone (WYS) at 6:00 P.M. Pick up car rental.

We went to the hotel and then found a nice restaurant and sports bar. We had our first dinner there with our first champagne and found out they were going to have the Lakers and Celtics game on Tuesday and Thursday nights.
Space.

Skywest - Salt Lake City to West Yellowstone

Gail and Chuck

The pilot received permission from the controllers to fly over the Teton Mountain and I got this photo from the plane!

Downtown West Yellowstone

Shopping for local goods!

Our favorite sports bar and restaurant!

Our first champagne dinner on our first night - only one bottle!

Space.
Yellowstone Park & Animals
June 15, 2010
Day 2: We went to the geysers and were lucky as it was sunny and warm. We also saw herds of buffalo and elk but no moose! We went to the Old Faithful Inn and had a great lunch and then proceeded to the second story balcony to view Old Faithful.

Just as we were ready for the big production number it started to pour but we were lucky as there was a roofed in area on the deck.

We went to the sports bar for dinner and three bottles of champagne and the Lakers won!
Geysers and Hot Spots!
Space.

Thermal Pools

Lots of Sulfur Steam

A smaller Old Faithful

Hot water next to a river of cold water!

Bare Landscapes

A Witches Brew!

Space.
Buffalo and other Animals
| | |
| --- | --- |
| | |
| Buffalo all over the park! | Cute babies! |
| | |
| Female Elk | Daddy Elk |
| | |
| Grizzly Bears and Huge Ravens | Wolfs |
Old Faithful and the Inn
Space.

Old Faithful Inn

Lobby

Dining Room - Great Service

Luncheon at the Inn

We were on the second story balcony and suddenly a very strong rain storm hit but we were under a roof - Old Faithful!

We had Three Bottles of Champagne!

And the Lakers won the Sixth Game!
June 16, 2010
Day 3: Today we woke up to snow flurries but they were light and we drove all day to see the Grand Teton Mountains.

The morning was clear but gradually it clouded up and in the afternoon after our lunch at the Teton Village, we got caught in a terrible thunder and lightingstorm but in between squalls we did some photos of the mountains but, it wasn't worth going to Lake Jenny.

Tonight we ate at a local restaurant and had 'pulled pork' and French fries and just a glass of chardonnay!
Space.

Morning View

Broken down Bridge

Teton Village

Luncheon at a German Restauant

View before a huge Thunder & Lighting Storm - Lots of Rain!

The Teton Mountains Disappeared in the Heavy Clouds!

We got this photo before the storm came back in force!

Chuck along the road side!

More Thermal Hot Spots!

Space.
Mammoth Hot Springs & Water Falls
June 17, 2010
Day 4: Today we visited Mammoth Hot Springs and loved the location, lots to see. Hot Spring Cones and water falls of sulfur and minerals. Then we proceeded to see the Tower Falls and on to the Lower and Upper Gorge Falls.

All great views plus the volcanic action we viewed as driving along.

Tonight was our last night and we had another three bottles of champagne and the Lakers won!
Space.

On the road to Mammoth we saw this fantastic volcanic form - a thousand feet of lava - ten feet of crystallized rock and another 400 feet of lava!

This formation is a dormant hot spring cone - Liberty Cap.

A new hot spring cone being built!

Steps of sulfur created from the volcanic waters!

Close Up of the New Cone!

Chuck enjoying the sights!

Space.
Yellowstone Waterfalls and Other Points of Interest
Space.

Below Tower Falls

Tower Falls

The Lower Gorge Falls

Chuck in the Light Snow Flurries!

Yellowstone Upper Gorge Water Fall

Rock Formations in the Upper Gorge by the Water Fall!

One of My Favorite Shots of the Upper Gorge Falls!

Three More Bottles of Champagne to End our Last Night!
West Yellowstone to Salt LakeCity and on to San Francisco
June 18, 2010
Day 5: Today we fly back to San Francisco and Los Angeles! Our flight from WYS is scheduled to leave West Yellowstone and arrive at 1:00 P.M. in SLC. Airline reservations have been made as follows: Skywest Airlines: Leave West Yellowstone (WYS)at 11:40 A.M. Arrive in Salt Lake City (SLC) at 1:00 P.M.

Southwest Airlines: Leave Salt Lake City(SLC) at 3:50 P.M. Change planes in Las Vegas. Arrive in San Francisco at 8:20 P.M.

I almost didn't make it home as the winds in the mid-west were so strong that flights were two hours or more late. Later I heard the Willard Tower, used to be the Sears Tower in Chicago had windows blown out of it! I did make it home on a different flight and when I got off of our subway system, BART, I was almost blown away from a terrible freezing wind. Go figure, it was warmer the day before in Yellowstone with snow flurries!

But all in all, a great trip with Gail!
| | | | | |
| --- | --- | --- | --- | --- |
| Created on: 2010.06.14 | --- | | --- | Updated on: 2020.09.27 |
---