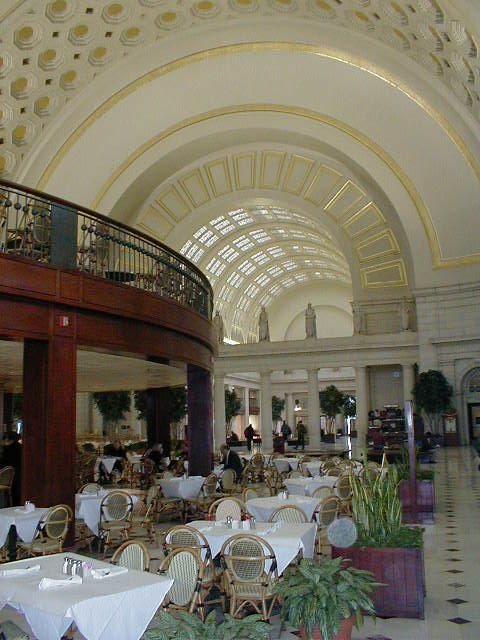 The lovely Union Station houses shops, restaurants, and a cinema, as well as the railway, and is used by all: movie going teenagers, office workers doing errands at lunch, dining dealmakers, commuting bureaucrats, and tourists.
Worlds largest Architect Daniel H. Burnham lived up to his motto, "Make No Little Plans," when he undertook the consolidation of DC's several train lines early in the last century. Burnham's vaulted, white marble, Beaux Arts Union Station was the largest train station in the world when it opened in 1907. Today, it is one of the most visited spots in Washington, the destination for up to 23 million people each year. Renovated and reopened in 1988, it now houses a huge variety of restaurants and boutiques. There are nine movie screens, and it is both an active train terminal and a Metro stop.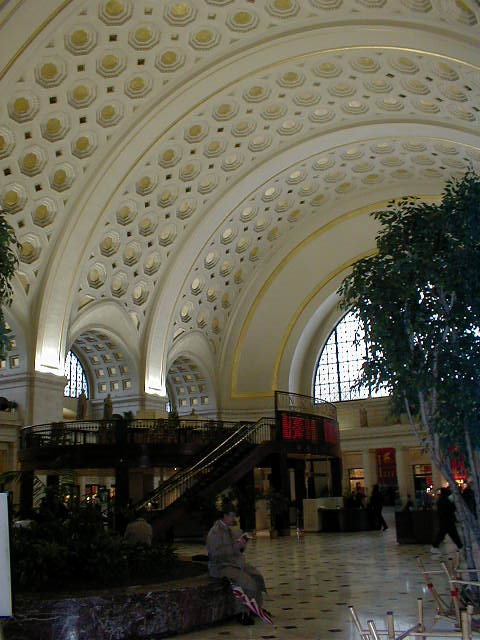 More than trains Inside, thousands of travelers pass under a cavernous 29 meter (96 foot) high coffered ceiling, embellished with gold leaf and guarded by 46 Augustus Saint-Gaudens statues of Roman legionnaires. The original Presidential Waiting Room is now a restaurant. The market-like East Hall has stalls selling items from around the world. Outside, a grand memorial to Christopher Columbus by Lorado Taft fronts the massive Doric colonnade, and allegorical neoclassical sculptures depicting fire, electricity, and mechanics set off the skyline.