National Geographic Society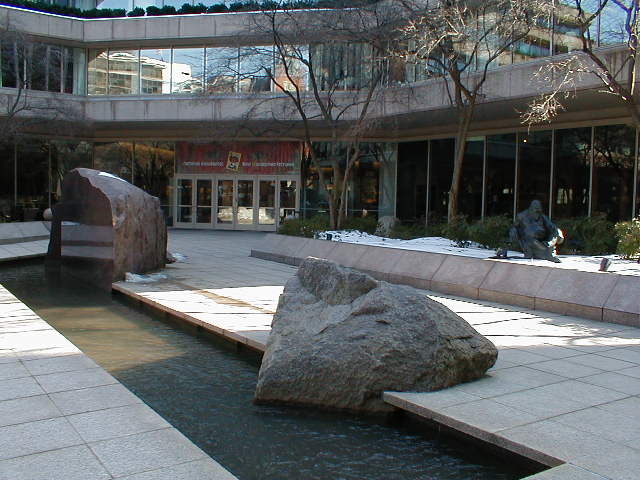 Gilbert Hovey Grosvenor, who founded the National Geographic Society magazine in 1888, brought geography alive for his readers by his use of stunning photography, and the Society continues this tradition of breathing life into a subject in its splendid exhibits.
Architectural history Since 1888 the Society has increased and diffused geographic knowledge as directed by its charter, in part via the familiar yellow monthly National Geographic magazine. The national Geo buildings - 1902 Beaux Arts original, 1964 Edward Durrell Stone's dominant 10-story tower, and the 1984 Skidmore and Merrill angular terraced ziggurat - create an enclave of 20th-century American architecture.
Living world Explorers Hall is on the first floor of the society's glass-and-marble building which was designed by Kennedy Center architect Edward Durrell Stone. Geographica, a high tech, celebratory exhibit installed for the centennial in 1988, lets you touch a tornado, explore the Martian landscape, test your knowledge of early human development, investigate undersea archaeology, and learn trivia about space. The worlds largest freestanding globe is 10.4 meters (34 feet) in circumference, which shows the earth on a scale of 1 inch to 60 miles! There are short films and an interactive amphitheater. You may experience simulated orbital flights that look down on the earth from space! Stunning images also enhance every exhibit.
(The Society is located on 17th and M Street, NW, just a few blocks from Dupont Circle on the Metro Red Line! They change the exhibits on a timely basis. This time, February 4th, 2004, on my birthday, it was about the Mars Landers!)