National Archives
This is a view of the National Archives building taken from the National Gallery of Art's sculpture garden and a winter ice skating rink. Next to the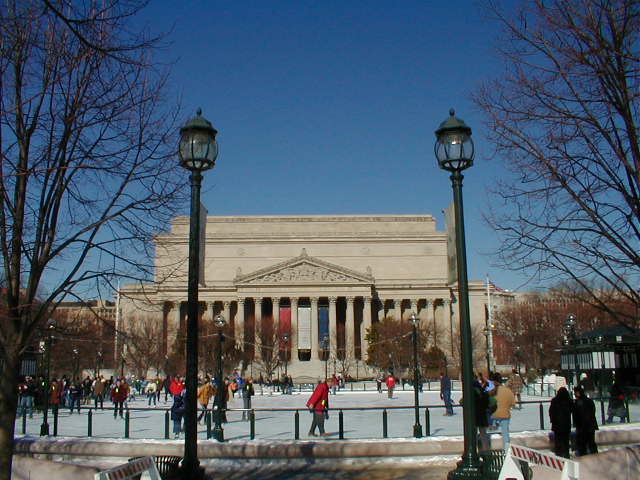 skating rink is a great cafe for lunch and coffees!
Then walk through the building's colossal bronze entrance doors, up the sweeping staircase, and witness the US through official archives: the Charters of Freedom, the gun that shot J.F.K., the Watergate tapes - it's all here.
Millions of documents John Russell Pope's Beaux Arts building has served as a repository for all the nation's valuable official records since 1935. At last count it contained 3.2 billion (US) textual documents, 1.6 million maps, 14.9 million photographs, and enough film and video-tapes to encircle the globe many times!
Charters of Freedom After passing through a metal detector, you are lead towards a throne like structure in a domed rotunda with a Corinthian portico. Raised and enshrined at the center if the structure are the Declaration of Independence, the Constitution, and the Bill of Rights, sealed in a bronze helium-filled cases covered with green ultraviolet filters. At the end of the day, when visitors are gone, the staff lower the throne and the Charters into a bomb-proof vault beneath the exhibition floor. Also on display are murals by Barry Faulkner entitled The Declaration of Independence and The Constitution. The displays are changed regularly as there is a vast collection of letters, photographs, and posters.