Hirshhorn Museum & Sculpture Garden
The museum is named after th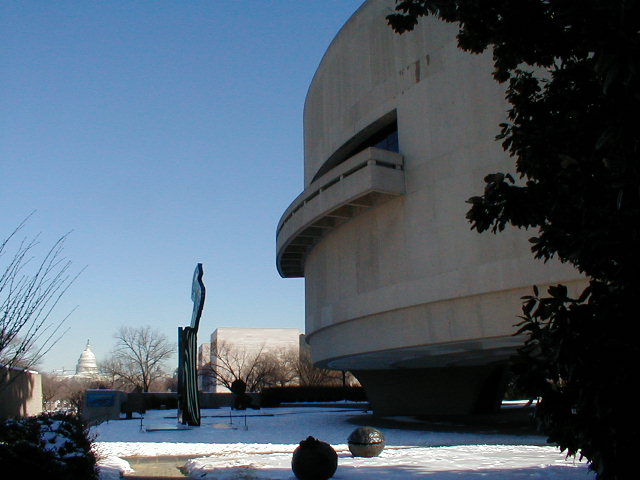 e American collector of modern art Joseph H. Hirshhorn (1899 - 1981) and consists of Modern and Contemporary Art. His gifts and bequest to the nation of more than 12,000 works form the core of this dynamic art collection. Open since 1974, the Hirshhorn keeps current through changing exhibitions and frequent acquisitions, which include gifts from many donors. Research, publications, interpretive programs, films, and community outreach generate an informed awareness and lively dialogue about modern and contemporary art.
The museum offers a compelling ambiance for viewing art, indoors and out. The elevated drum-shaped building on the National Mall, midway between the Washington Monument and the Capitol, is surrounded by more than four landscaped acres for sculpture. Redesigns of the Sculpture Garden in 1981 and the Plaza in 1993 increased their accessibility and enhanced the placement of sculpture with additional greenery.
The origins of modern art are found in the nineteenth century, where the collection begins. Auguste Rodin's Monument to the Burghers of Calais, 1884-89, sets the stage for sculpture's evolution to the present day. Inside, in an intimate setting overlooking the fountain, glass enclosed ambulatories also present sculpture from two centuries. Artworks are depictive and abstract and Realism, Cubism, Surrealism, and Abstraction are on view in the galleries.