Bureau of Engraving & Printing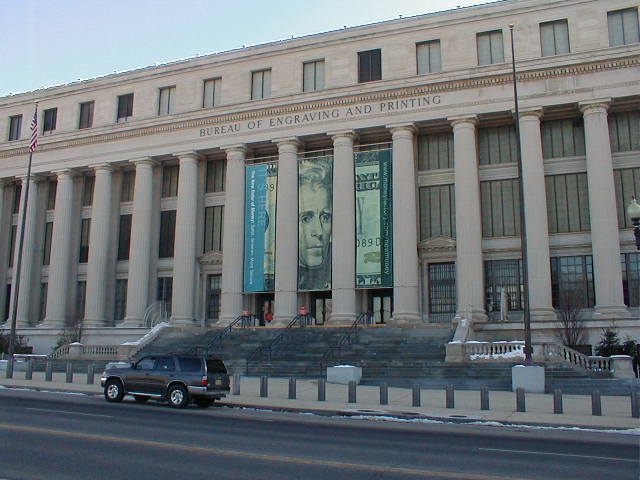 Usually when visiting a new city you don't make a beeline for a nondescript government building. But here children and adults alike delight in watching powerful printing presses turn out more than $20 million every day!
Dollar bills It was in 1914 that the bureau moved to this site from the redbrick Auditor's Building on a nearby corner. Today all US currency, stamps, and military certificates are printed on the site. Federal presses produce a staggering $100 billion (US) annually, nearly all of which replaces currency already in circulation, in addition to 30 billion (US) postage stamps. Even slightly imperfect bills are summarily shredded. You may also redeem damaged currency due to flooding, fire, or laundry!
Printing Presses After a film on the history of currency, you file past processing rooms where the bills are produced. The printing room turns out giant sheets of currency made not from paper, but from a cotton/linen fabric, each holding 32 dollar bills at a rate of 8,000 sheets an hour. The sheets are checked for any imperfections, trimmed, then stacked into bundles or 'bricks' of 4,000 notes ready for distribution to Federal Reserve Bands across the nation. The 35-minute tour ends at an exhibition hall filled with informative displays on the history of currency, counterfeiting, and stamps. Outside, you will find yourself near the Tidal Basin, one of the loveliest spots in the city. Close by is the Jefferson Memorial, a ten minute walk! (Check out the link for the Jefferson Memorial for some great pictures!)