Colonia del Sacramento
(formerly the Portuguese
Colónia do Sacramento
) is a city in southwestern Uruguay, by the Rio de la Plata, facing Buenos Aries,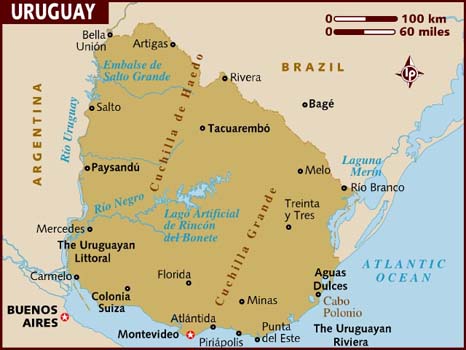 Argentina. It is the oldest town in Uruguay and capital of the
departamento
of Colonia. It has a population of 21,714 (2004 census).
It is renowned for its historic quarter, a World Heritage Site. Modern Colonia del Sacramento produces textiles and has a free trade zone, in addition to a polytechnic center and various government buildings.
Founded in 1680 by Portugal as Colónia do Sacramento, the colony was later disputed by the Spanish who settled on the opposite bank of the river at Buenos Aires. The colony was conquered by José de Garro in 1680, but returned to Portugal the next year. It was conquered again by the Spanish in March 1705 after a siege of five months, but given back in the Treaty of Utrecht. Another attack during the Spanish-Portuguese War, 1735-1737, failed.
It kept changing hands from crown to crown due to treaties such as the Treaty of Madrid in 1750 and the Treaty of San Ildefonso in 1777, until it remained with the Spanish. It then transferred to Portuguese control again, and later to the Brazilians after 1816, when the entire Banda Oriental (Uruguay) was seized by the Rio de Janeiro government and renamed the Cisplatina province.
Now part of the independent country of Uruguay, Colonia del Sacramento has expanded to the north and east, but the original Barrio Histórico (historic quarter) retains its irregular, terrain-fitting street plan built by the Portuguese, contrasting with the wider, orthogonal calles in the newer Spanish area.