---
---
---
---
---
---
---
---
---
---
Chuck and Viriginia on our cruise in 2018 with a stop in Algeria on the Viking Star.

We celebrated my 78th Birthday while on this cruise from Rome, to Sicily, Sardinia, Algeria and Velencia Spain!

We had a cruise planned over a year ago after we visited Dubai, Amon, India and Sri Lanka but it fell through due to the pandemic. The money we had put down was used to help pay for this cruise visiting the southern Caribbean Sea! We did the eastern Caribbean a few years ago visiting Jamaica and the Grand Caymon Island.

We were going on February for my 83rd birthday but the cruise was changed to start on February 28th so I had to make other plans for my birthday.

We decided since we had never been to Tampa, we would fly there two days early and see if we could book a day tour of the city.

Then we would go to the ship and the Caribbean Cruise.
---
---
Personnal Travel Agent - Gerard Ramos - Vacations to Go
---
G

erard has been our travel agent for many years as we have cruised around the world to the Caribbean, the Atlantic Ocean, Indian Ocean, the South Pacific and more cruises.

He is is so helpful and responds quickly to questions one might have about traveling, especially in a time of uncertainty as far as Covid is concerned.

Gerard Ramos

Master Cruise Counselor

Vacations To Go

gramos@vacationstogo.com

My office hours: Tue-Sat: 8am-5pm (US Central Time)

US and Canada: 1-800-338-4962 ext. 7487

Feel free to tell Gerard you viewed his business as a travel agent on my website.
---
---
---
---
Can you imagine my surprise when I looked out the window of my apartment before leaving San Franciso and saw a double rainbow that extended from the Mission District to the north side of town? I have had several people ask if they could use my photo in their monthly magazines and attribute it to me!
---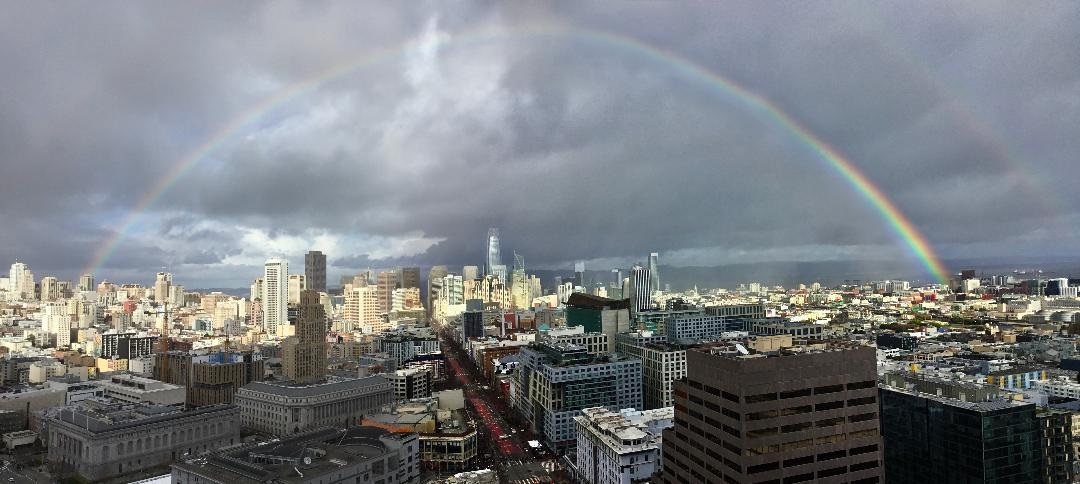 ---
---
---
---
---
Celebrity Cruise Lines and others now want passengers to download an App and do all of the requirement needed to be completed before boarding. This includes passports, vaccinations, emergency contacts and so on plus tours and special selected dining options.
---

---
---
---
Alaska Airfare & La Quinta Hotel
---
For some reason we didn't have Gerard make our plane and hotel reservations. I went over to Virginia's and we had a good laugh. United Airlines, seats available, aisle, $65.00, window $80.00 and so on. Hotels are also a hassel, especially when trying to find out if the bathroom is setup for handicapped customers. So we decided to let Gerard do all the work, hotel and airfare. Much easier to use a travel agent!

From and to San Francisco and Tampa on Alaska Airlines
---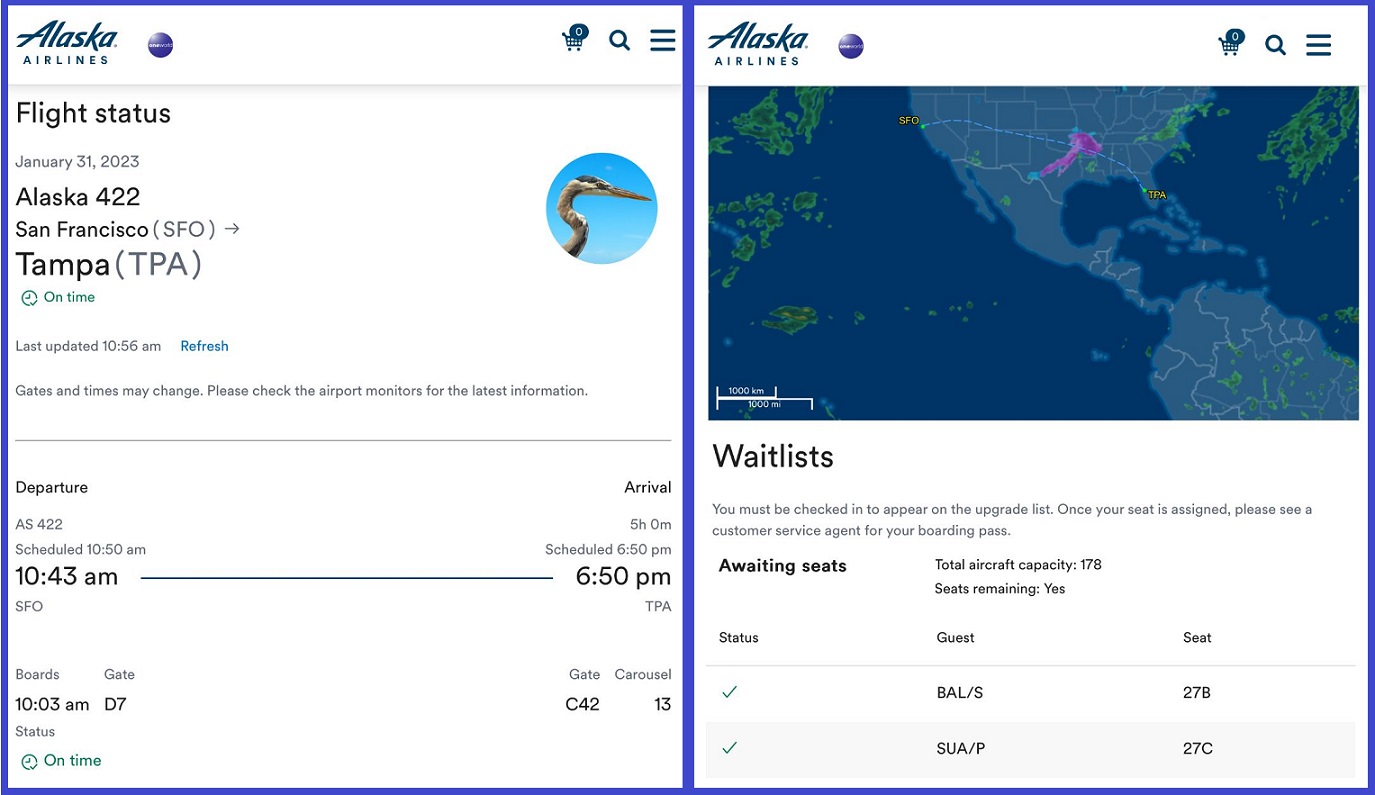 ---
---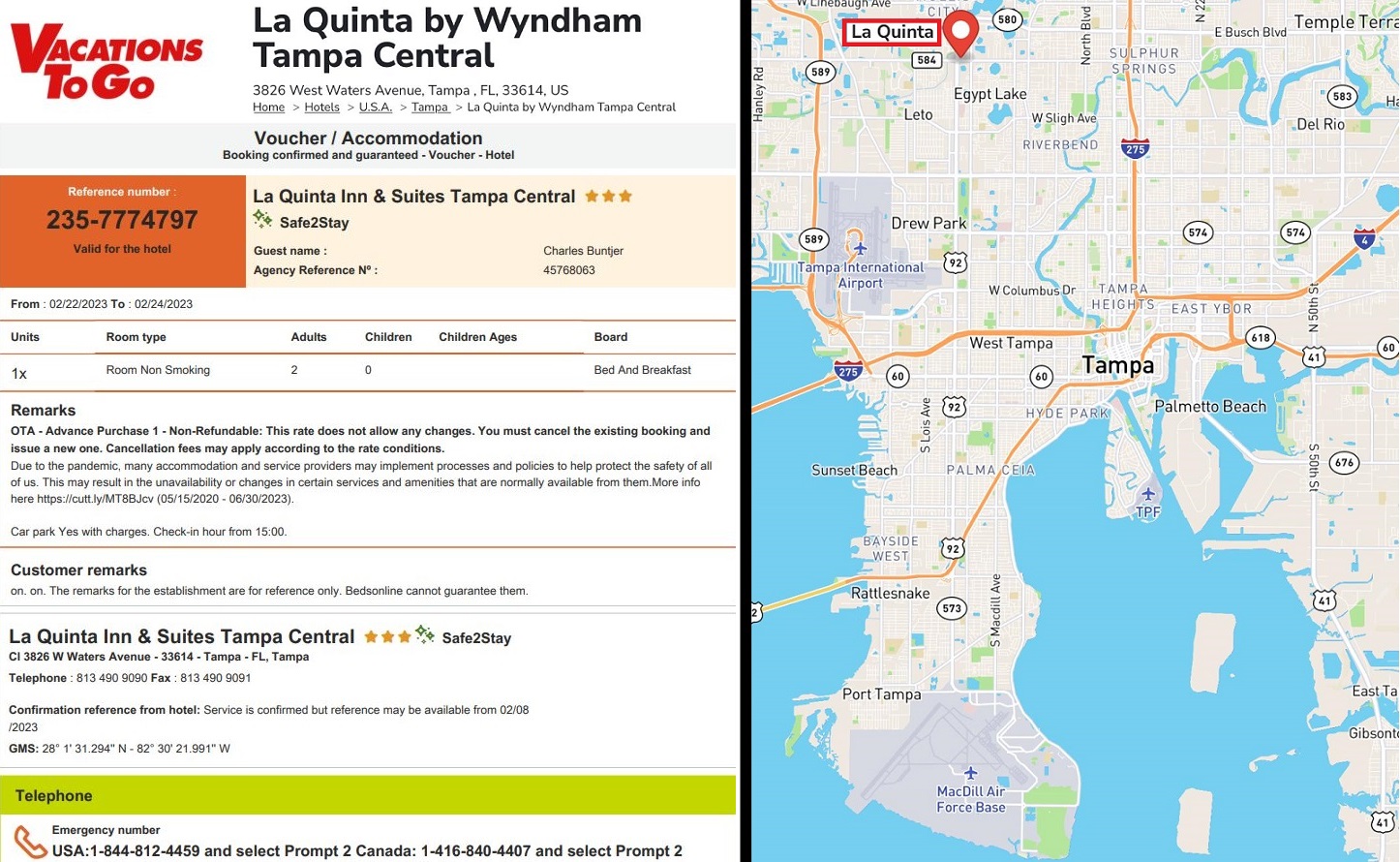 ---
---
---
---
Many flags have flown over Florida since European explorers first landed here in the early sixteenth century. Among these have been the flags of five nations: Spain, France, Great Britain, the United States, and the Confederate States of America. Numerous other unofficial flags also have been flown on the peninsula at one time or another. Only a written description remains of some of these banners.

A joint resolution of the legislature in 1899, approved by state voters in 1900, made out current State Flag the official banner of Florida.

Between 1868 and 1900, Florida's state flag consisted of a white field with the state seal in the center. During the late 1890s, Governor Francis P. Fleming suggested that a red cross be added, so that the banner did not appear to be a white flag of truce or surrender when hanging still on a flagpole. Reminiscent of Alabama's State Flag and the red "X" of the Confederate States of America, the Florida State Flag displays two diagonal red bars on a white field.

The State Seal on the flag features a Native American Seminole woman scattering flowers, a steamboat, a cabbage palmetto tree and a brilliant sun. Florida is thus represented as the land of sunshine, flowers, palm trees, rivers and lakes... "la Florida"

The official specifications for the flag can be found in Chapter 15.012 of the Florida Statutes. "The State Flag shall conform with standard commercial sizes and be of the following portions and descriptions: The seal of the state, in diameter one-half the hoist, shall occupy the center of a white ground. Red bars, in width one-fifth the hoist, shall extend from each corner towards the center, to the outer rim of the seal". The Department of State is the custodian of the State Flag.

The current design of Florida's state flag was adopted in 1900. In that year, Florida voters ratified a constitutional amendment based on an 1899 joint resolution of the state legislature to add diagonal red bars, in the form of a St. Andrew's cross, to the flag.

Between 1868 and 1900, Florida's state flag consisted of a white field with the state seal in the center. During the late 1890s, Governor Francis P. Fleming suggested that a red cross be added, so that the banner did not appear to be a white flag of truce or surrender when hanging still on a flagpole.

In the rewriting of the Constitution in 1968, the dimensions were dropped and became statutory language. The flag is described in these words: "The seal of the state, of diameter one half the hoist, in the center of a white ground. Red bars in width one fifth the hoist extending from each corner toward the center, to the outer rim of the seal."
---
---
Spanish explorer Ponce de Leon first arrived in the Tampa Bay area in 1513, but the Spaniards focused their attention on settling eastern Florida and left the western areas alone. In 1824, only two months after the arrival of the first American settler, four companies of the U.S. Army established Fort Brooke to protect the strategic harbor at Tampa Bay.

Development of the Tampa Bay region began after the territory became part of the United States in 1845. In spite of the blockade and Federal occupation during the Civil War, the area grew steadily. Henry B. Plant's 1884 railroad extension to the Hillsborough River provided access to new areas, and he built lavish hotels along his rail line to attract visitors.

Tampa owes its commercial success to Tampa Bay and the Hillsborough River. When phosphates were discovered nearby in the late 1880s, the resulting mining and shipping industries prompted a boom of growth and wealth that lasted through the 1890s. Tampa's port is now the seventh largest in the nation; today phosphate shipping is supplemented by trade in shrimp. A pleasure cruise line operates as well.

n 1886 Vicente Martinez Ybor established a cigar factory in Tampa. From the steps of Ybor's factory, Jose Marti, sometimes called the George Washington of Cuba, exhorted the cigar workers to take up arms against Spain in the late 1800's. Hispanic culture enlivens Ybor City, which covers about 2 square miles between Nebraska Avenue, 22nd Street, Columbus Drive and East Broadway.

The military has also had an ongoing role in Tampa's development. The city was the primary outfitting and embarkation port for U.S. troops bound for Cuba during the Spanish-American War. Today the U.S. Central Command and U.S. Special Operations Command are headquartered at MacDill Air Force Base.

In 1914 Percival Ellicott Fansler introduced the world's first scheduled commercial airline service with the St. Petersburg-Tampa Airboat Line. Piloting the airline's Benoist "flying boat" was Tony Jannus, the namesake of the Tony Jannus Award presented each year by the Tampa Chamber of Commerce for achievement in commercial aviation.

The main Tampa downtown business district has grown phenomenally since the 1960s. Major banks and an increasing number of other corporations occupy large glass, steel and concrete buildings that tower high above the bay. The Tampa Convention Center, overlooking the Hillsborough River, offers meeting facilities and features access to the Riverwalk.

Thus Tampa has evolved into a multi-cultural, diverse business center with sustainable communities for its citizens. People of all ages arrive here to escape the worries and winters of wherever they came from, and an increasing number of them stay.
---
---
---
Tampa Photos - Places to Visit
---
| | |
| --- | --- |
| Tampa Zoo | Dinasaur World |
---
| | |
| --- | --- |
| Bush Gardens | Glazer Childrens Museum |
---
| | |
| --- | --- |
| Dali Museum | Tampa Riverwalk |
---
| | |
| --- | --- |
| Seminole Hard Rock Casino | The Florida Aquarium |
---
---
---
Tampa Bay Cruise Terminal 2 - Celebrity
Channelside Drive to the Tampa Bay Cruise Terminal 2.
---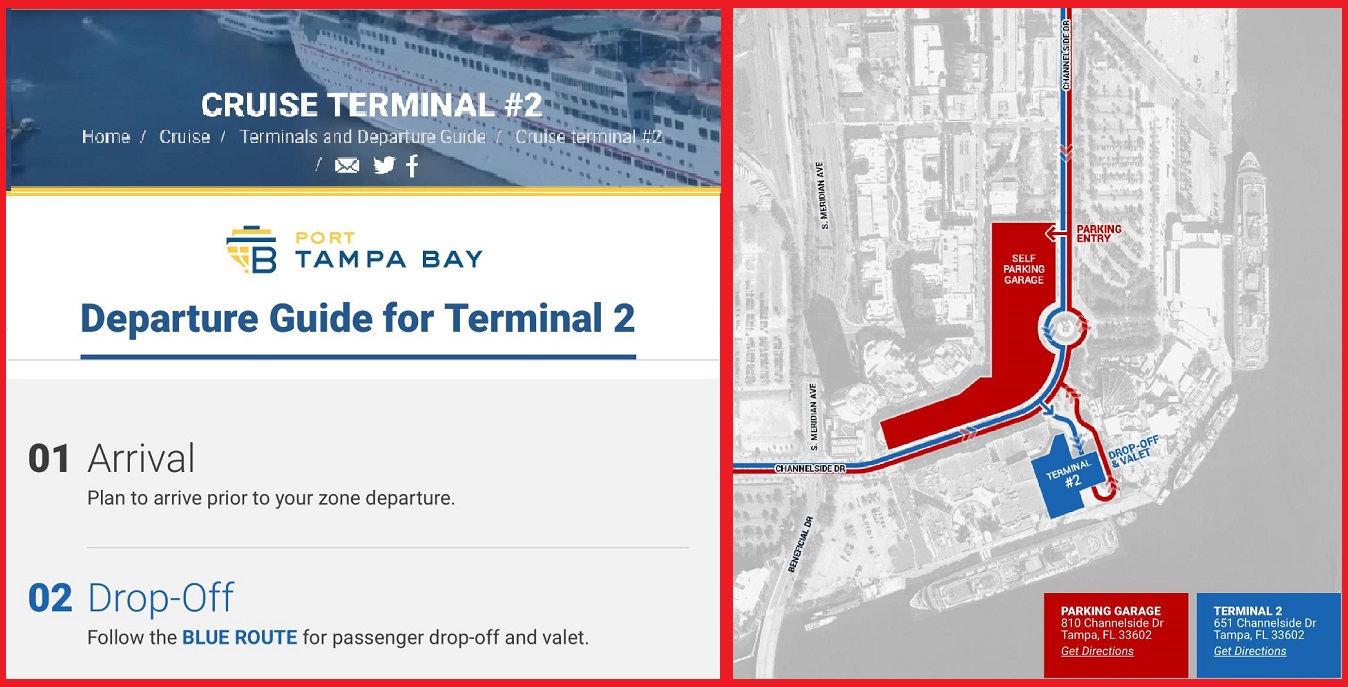 ---
---
---
Celebrity Constellation Preboarding Pass & Luggage Tickets
Preboarding Pass & Luggage Tickets
---
---
---
---
COVID Tests Before Preboarding the Celebrity Constellation
Preboarding COVID Vaccinations Status
---
---
---
---
Passport Preferred for Travels
Charles Walter Buntjer - Passport - Experation Date: 08 Mar. 2024
---

---
---
---
Emergency Phone and Addresses for Travel Emergency Contacts.
---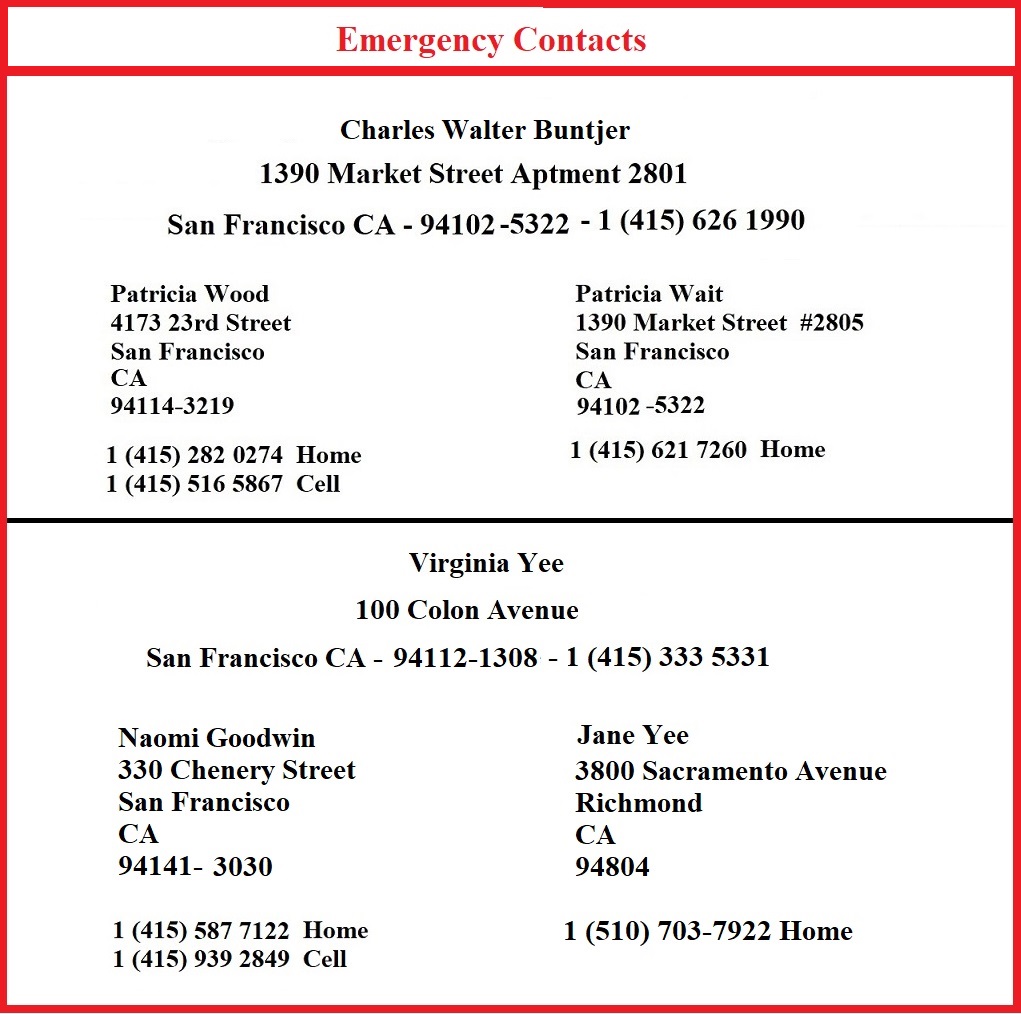 ---
---
---
Celebrity Constellation Booking Invoice
Booking Invoice - Flights - Hotel - Tours - Insurance - Ship Itinerary - Covid Restrictions
---
---
---
---
Celelbrity Constellation Overview
We took the Celelbrity Constellation from Dubai to Amon and on to India and Sri Lanka to celebrate my 80th birthday!
---

Affectionately known as "Connie" by its fans, the 2,034-passenger Celebrity Constellation debuted in 2002 as the fourth and final ship in Celebrity Cruises' Millennium Class. Over the years, the ship has developed a host of admirers and repeat cruisers who are drawn to its value, comfort, above-average food and drink offerings, friendly crew, spotless facilities and intriguing itineraries.

Constellation, and the Celebrity line as a whole, attract older cruisers looking for an experience that offers value and a bit of luxury. In both price, quality of food and service, and general ambience, Connie strives to balance the intimacy offered by smaller ships and the leisure, entertainment and dining perks offered by bigger ships. Passengers have access to nine bars and lounges; French, Italian and sushi alternative restaurants; a large casino and nightly Vegas-styled entertainment.

The staff is friendly and helpful, and senior officers, including the captain, are very visible and accessible. All go out of their way to chat with passengers on their frequent walks through the ship and at shipboard events.

GTS Celebrity Constellation is a Millennium-class cruise ship of Celebrity Cruises. She was originally named Constellation, but renamed in May 2007. Her three sister ships are the Celebrity Infinity, Summit, and Millennium.

She was built at the Chantiers de l'Atlantique shipyard in St. Nazaire, France. The ship is powered by a COGAS power plant of gas turbines and a steam turbine providing up to 60 megawatts for the electric systems and two 19 MW Rolls-Royce/Alstom MerMaid azimuth thrusters for propulsion. In 2007, an additional diesel engine was fitted as a fuel-saving measure. The ship can run on any combination of the gas turbines or diesel. In port, she generates electrical power from the diesel.

In 2007, Condé Nast Publications reported that Constellation had come top of their Traveler Cruise Poll six times in seven years. During the summer period the ship sails to the Mediterranean and the Caribbean (winter).

Celebrity Constellation is scheduled to undergo a dry dock in May 2020.
---
---
---
Fine Dining on the Celebrity Constellation
---
Fine dining preordered online before boarding the ship. On our last cruise people signed up for special dining months in advance and locked others out when they tried to sign up iafter boarding the ship.

---

Day1 at Sea. - Celebrity Select Dining at 06:00 PM
Day 2 at Sea - Tuscan Grille Dinner at 06:30 PM
Day 3 at Sea to Puerto Rico - Le Petit Chef at Qsine at 06:00 PM
Day 9 at Sea back to Tampa - Sushi on Five at 06:30 PM
---
---
---
---
---
---
---

Feb. 28 St Maarten - Rum Distillery, Maho - 10:45 A.M.
Mar. 01 St Kitts - Brimstone Hill Tour - 9:00 A.M.
Mar. 02 St Thomas - Shopping and Sightseeing - 8:30 A.M.
Mar. 03 Dominican Republic - Damajagua Waterfalls Adventure - Ship Arrival
---
Rum Distillery, Maho - 10:45 A.M.
---

Brimstone Hill Tour - 9:00 A.M.
---

Shopping and Sightseeing - 8:30 A.M.
---

Damajagua Waterfalls Adventure - Ship Arrival
---
---
---
---
---
---