---
---
---
---
---
---
---
---
---
---
Chuck and Viriginia a the beginning of our cruise in 2022 on the Celebrity Beyond, currently the most expensive ship ever built!

We visited Barcelona, Malaga and Cadiz in Spain. Then stopped in Lisbon Portugal and on to the Azore Islands. We ended up in Newark after crossing the Atlantic.

The weather was wonderful the first six days of the cruise, 70 degrees and no wind. Then we hit bad weather, rough seas and strong winds, the Atlantic sea currents were running both north to the south and east to the west.

As the waves hit the ship, at times it actually vibrated. The Captain said it was very strange for this to happen!

We had a cruise planned over a year ago but it fell through due to the pandemic.

The money we had put down was used to help pay for this cruise visiting the southern Caribbean Sea!
---
---
---
Personnal Travel Agent - Gerard Ramos - Vacations to Go
---
Gerard has been our travel agent for many years as we have cruised around the world to the Caribbean, the Atlantic Ocean, Indian Ocean, the South Pacific and more cruises.

He is is so helpful and responds quickly to questions one might have about traveling, especially in a time of uncertainty as far as Covid is concerned.

Gerard Ramos

Master Cruise Counselor

Vacations To Go

gramos@vacationstogo.com

My office hours: Tue-Sat: 8am-5pm (US Central Time)

US and Canada: 1-800-338-4962 ext. 7487

Feel free to tell Gerard you viewed his business as a travel agent on my website.
---
---
---
---
The flag of Saint Kitts and Nevis consists of a yellow-edged black band containing two white stars that divides diagonally from the lower hoist-side corner, with a green upper triangle and red lower triangle. Adopted in 1983 to replace the flag of Saint Christopher-Nevis-Anguilla, it has been the flag of the Federation of Saint Kitts and Nevis since the country gained independence that year. Although the flag utilises the colours of the Pan-Africanist movement, the symbolism behind them is interpreted differently. The three islands later became part of the West Indies Federation in 1958; after this dissolved four years later, they were granted the status of associate state as Saint Christopher-Nevis-Anguilla.

However, Anguilla decided to secede from the federation in 1969, owing to fears that their population, which was already small, would be further marginalised in parliament. This was eventually formalised in 1980, and a new flag for the remaining parts of the federation was needed, since the symbolism of the previous flag centred on the concept of a union of three.

A national competition was held in the early 1980s to choose a new flag. The winning design by student Edris Lewis was one of 258 entries. It was first hoisted one minute after midnight on 19 September 1983, the day Saint Kitts and Nevis became an independent country
---
---
---
St Kitts Island's History
Saint Kitts and Nevis, officially Federation of Saint Kitts and Nevis, also called Saint Christopher and Nevis, state composed of two islands of the Lesser Antilles in the eastern Caribbean Sea. Their combined area is 104 square miles (269 square km). The capital is Basseterre on the island of Saint Kitts.

Saint Kitts is 23 miles (37 km) long and 5 miles (8 km) wide, is oval in shape, and has an area of 68 square miles (176 square km). A volcanic mountainous ridge down the centre forms a semicircle around a plain in the southeast. Mount Liamuiga (formerly Mount Misery), with a lake in its forested crater, is the highest point (3,792 feet [1,156 metres]). The soil—except in the mountains—is light and porous. Most of the beaches are of black volcanic sands. The island is well watered and fertile, with warm summers and somewhat cooler winters. The average summer temperature is about 86 °F (30 °C) and the average winter temperature about 81 °F (27 °C). The annual precipitation averages 55 inches (1,397 mm), and the rainy season is from May to November.

Nevis, surrounded by coral reefs, lies 2 miles (3 km) southeast of Saint Kitts across a channel known as The Narrows. The island is circular, and it consists almost entirely of a mountain, Nevis Peak (3,232 feet [985 metres]), which is flanked by the lower Round Hill (1,014 feet [309 metres]) on the north and by Saddle Hill (1,850 feet [564 metres]) on the south. Its area is 36 square miles (93 square km). The soil of Nevis is clay studded with volcanic boulders. The climate is similar to that of Saint Kitts. Both Nevis and Saint Kitts lie in a tropical hurricane (tropical cyclone) belt; hurricane season is between August and October.

The United States recognized St. Christopher and Nevis (St. Kitts and Nevis since August 3, 1988) on September 19, 1983, the same day that country declared independence. Ambassador Milan D. Bish headed the American delegation at the independence ceremonies.

The population is largely black, with a small mulatto (of mixed African and white heritage) minority. There are also very small South Asian and white groups. More than two-thirds of the population lives in rural areas. The official language is English. The main religious denominations are Anglican and Methodist, with a smaller number of Roman Catholics. Both Saint Kitts and Nevis have traditionally had high levels of emigration, offsetting natural increases and enabling the islands to maintain a fairly stable population. About two-thirds of the population is between the ages of 15 and 59.

The cultivation of sugarcane—once a nationalized industry and the mainstay of the Saint Kitts and Nevis economy—ceased in 2005 following a decline in overseas markets. It was replaced by tourism as the most-important economic sector. Crops now cultivated include vegetables and fruits, chiefly coconuts.

Saint Kitts and Nevis: Major import sources: The Eastern Caribbean Central Bank serves as the country's monetary authority, and the Eastern Caribbean dollar is the official currency. Light industries in Saint Kitts and Nevis produce items mainly for export from imported materials. Products include electronic equipment, batik-dyed fabrics, and other clothing and furniture. Remittances from emigrants form an important source of foreign exchange. The United States, the United Kingdom, and Trinidad and Tobago are the principal trading partners. There is a deepwater port at Basseterre, and each island has an international airport; Robert L. Bradshaw International Airport, is on Saint Kitts, and Vance Amory International Airport, is on Nevis.
---
---
---
---
Our third stop after leaving Tampa Florida is St Kitts.
---

---
---
---
Sailing with 80 Degrees and a Cool Breeze
---
49 degrees in San Francisco and snow in southern California!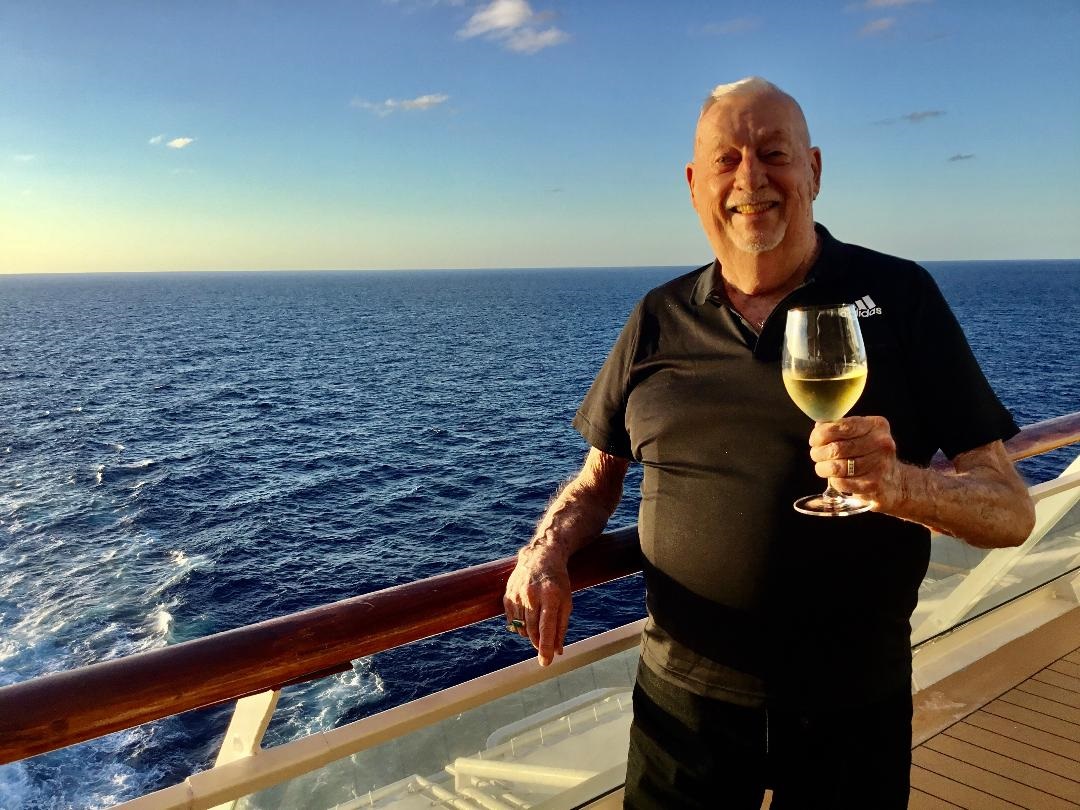 ---
---
---
---
On most island tours they take you to the highest point where you can view the surrounding areas and the seas. After you have done this a few times they all seem to be the same but still fun to do!

---
---
---
Celebrity Constellation - Upgraded to Concierge
---
We were upgraded to Concierge and invited to a party given by the Captain. Entertainment and prizes were given to raffle ticket holders. Of course, free cocktails also!
---
---
---
---
---

---
---
---
---
Rommey Manor & Gardens

Romney Manor was the great house for a plantation that was once owned by the great, great, great grandfather of Thomas Jefferson. It came to be called Romney Manor in the early 17th Century when it was acquired by the Earl Of Romney.

In 1834, the estate became the first plantation to free all of its slaves.

Today, a portion of the estate has been transformed into a beautiful garden mixing elements of the Caribbean with its tropical plants and European gardening with its manicured lawns and romantic displays.

A visit to Romney Manor is sometimes added on to shore excursions to other St. Kitts attractions such as Brimstone Hill. It is not an extensive site and can be toured in an hour.
---
| | |
| --- | --- |
| | |
---
| | |
| --- | --- |
| | |
---
| | |
| --- | --- |
| | |
---
| | |
| --- | --- |
| | |
---
| | |
| --- | --- |
| | |
---
---
---
Brimstone Hill Fortress

Brimstone Hill Fortress National Park is a UNESCO World Heritage Site, a well-preserved fortress on a hill on the island of St. Kitts in the Federation of St. Christopher (St. Kitts) and Nevis in the Eastern Caribbean. It was designed by British military engineers, and was built and maintained by enslaved Africans. It is one of the best preserved historical fortifications in the Americas.

The complex of fortifications were constructed on Brimstone Hill, a very steeply sloping hill situated close to the sea on the Western, Caribbean coast of St. Kitts.

In 1711 and 1731, lightning destroyed the gunpowder magazine. By 1736, the fort had 49 guns. Since 1795, 40 members of "The St. Christopher Corps of Embodied Slaves" served at the fort, armed with pikes and cutlasses.

By 1780, the fortress was considered impregnable, (The Gibraltar of the Caribbean). On 11 Jan. 1782, the French under Admiral Comte Francois Joseph Paul de Grasse and Francois Claude Amour, marquis de Bouille, laid siege to the fort. During the siege, the adjacent island of Nevis surrendered, and guns from Fort Charles and other small forts there were brought to St. Kitts for use against Brimstone Hill. British Admiral Hood could not dislodge de Grasse, and after a month of siege, the heavily outnumbered and cut-off British garrison surrendered. However, a year later, the Treaty of Paris (1783) restored St. Kitts and Brimstone Hill to British rule, along with the adjacent island of Nevis. Following these events, the British carried out a program to augment and strengthen the fortifications, and Brimstone Hill never again fell to an enemy force. The French navy tried to recapture the fort in 1806 but failed.

French Admiral Edouard Thomas Burgues de Missiessy raided the island and succeeded in blowing up the powder magazine in 1805. Following the end of the Napoleonic Wars, the local militias throughout the Caribbean were disbanded in 1838.

The fort was abandoned by the British in 1853, and the militia disbanded in 1854. The structures gradually started to decay through vandalism and natural processes.
---

---

---
| | |
| --- | --- |
| | |
---
| | |
| --- | --- |
| | |
---
| | |
| --- | --- |
| | |
---
---
---
Black Sand Beach

Experience the unique black sand beach at Dieppe Bay, located on the northern coast of St. Kitts, where the Caribbean and Atlantic Seas meet. The contrast of dark sand and azure seas with palm trees lining the coast creates a beautiful and serene backdrop.
---
---
---
---
---
Celebrity Constellation - Fine Dining
---
We did have to laugh as a woman next to us indicated she was ordering a second helping of Lobster Tail. I asked her if she wanted to pay an extra $16.00 and a 20 percent coverage fee, so an $18.00 Lobster Tail. She said no way!
---
---
---
---
Martini's at the Rendevous Bar
---
Virginia decided to order a Martini Flight, four small martinis. Cost, $45.00. Again, no thanks!
---
---
---
---
Our Wonderful Cabin Steward
---

Our cabin Steward was wonderful. Now get this happening!

One day I was telling Virginia about a new pillow being offered on TV. It is about six feet long, shaped like a candy cane! One sleeps on their side with legs and arms around the pillow. Your head is placed in the curved section, suppose to help keep your spine inline!

So, I came to the cabin one afternoon and saw this on my bed. Excuse moi! Why is it on my bed I asked. I put it on Virginia's bed and put chocolates on it/his for eyes. Virginia came in and cracked up, said she aske our Steward if he had a pillow like the one I was talking about. He came up with this. I wanted Virginia to put her arms around the pillow and give it/him a hug. She said no way, no sense of humor!

We rolled it inbetween our beds where there was a six inch wide space between our beds. Better safe than sorry!
---
---
---
---
Tampa Florida Airport Cocktails
---

We had a ten hour wait at the airport before boarding the Alaska Airlines for a direct flight to San Francisco.

We had a specialty drink with rum and guava juice. Too watery for us!

We looked at the Flamingo watching us as it looked down under the water. Had we been drinking too much? Good thing we were going home in a few hours!
---
---
---
---
---
---
---