---
---
---
---
| | | |
| --- | --- | --- |
| | April 1999 - A Chance Meeting in Chile & Tierra del Fuego | |
---
---
---
Sometime in the beginning of 1999 I saw a good price for a cruise from the tip of Chile to Argentina through the Magellan Straits (Tierra del Fuego) and a tour through Patagonia. I was excited and there was a great group of people on the tour. A few nights after we sailed from Punta Arenas Chile the ship's Captain had a cocktail part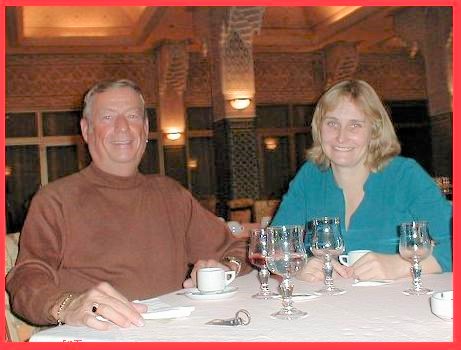 y and dancing. I saw someone that looked like she would like to dance so off I went, Mr. Personality. I found out her name was Viviane and she informed me that she was busy, didn't dance and was chatting up the Captain. I of course, was irritated. So off I went and decided we were not going to be an item.

A few days later we stopped at Puerto Williams and that evening a young boy asked if a few of us would like to go on a private tour with him. I said yes and so did Viviane. Well we had a great time checking out the beaver dams and woods and so on. Then we finished the evening with drinks at the local pub owned by the young man's aunt.

A few days later the ship stopped by a mountain and one of the guides was a woman who said she had gone to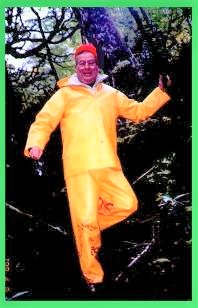 Monterey California to learn the science of Oceanographic and the oceans and heard Viviane and I were from California. So she decided we could lead half the group while she took the other half down the coast. I was in charge with Viviane following me with the others. We hiked to the top of the mountain and crossed a waterfall and then down the other side, sliding in mud and fallen tree branches and so on. We got back and the woman guide couldn't believe we had go to the top and across the falls and back down. They all had a good laugh and named the falls of me, the 'Chuck's Falls'.
We ended up in Ushuaia Argentina and did a tour of Patagonia. We also stopped at islands with breeding penguins and of course, walked along the base of huge glaciers. Something always to be remembered!
So Viviane and I for some reason decided we were after all going to be friends. That December she called and asked if I wanted to go to Vienna for the Millennium New Year? Of course I said, so off we went for two weeks. The next year we went to Morocco for the real Millennium New Year.
Viviane decided to buy a Senior Residence and asked me to be an administrator and run the business when she had other duties to perform. I took the classes and ended up with a certificate to be an Administrator, got a First Aide Certificate and of course, finger printed.
Then I met a friend of Viviane's, Gail. We hit it off and ended up doing trips and enjoying going around Los Angeles hot spots. We took a cruise to the Netherlands and ended up eating at the Captain's table. Later on we took a two week tour of Zambia and South Africa.
Viviane eventually sold her house in Beverly Hills and moved to Austin Texas where I visited her in 2011. Talk about a brief encounter that ended up as so far, a 12 year friendship.
Viviane had to remind me that we actually met again in 2016 in Cancun when my other traveling companion, Barbara and I, went to Cuba. We had to go to Cancun to transfer into Cuba, bypassing the U.S. lock down of Cuba. Viviane was on a business trip and we almost flew down on the same flight!
As I update this webpage in 2020, we have been friends for 21 years!
---
---
1999.04 - Tip of South America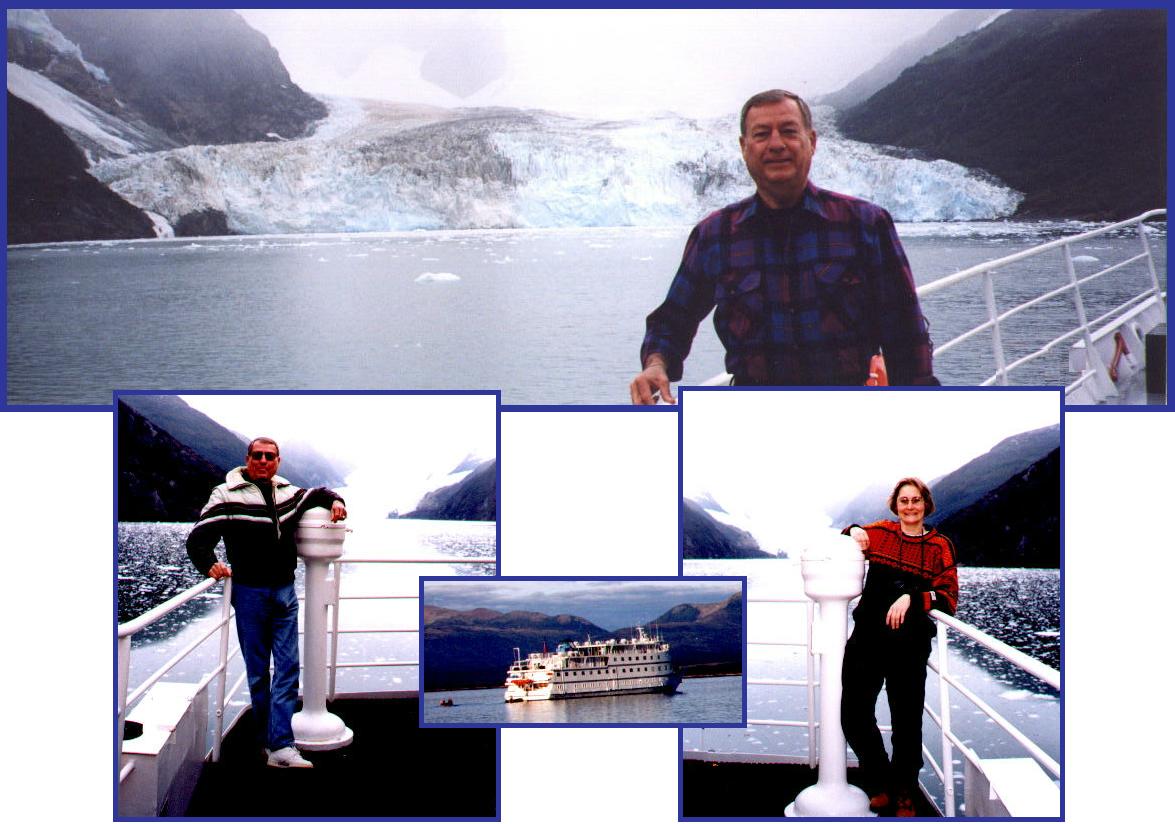 ---
---
1999.12 - Vienna New Years Celebrating the Millennium New Year

Viviane called me at the beginning of December and said no one wanted to do anything as far as celebrating the New Year and would I like to go someplace. I said yes of course. We got one of the last rooms at a bed and breakfast and the woman who owned the hotel got us tickets to all the various activities that should have been sold out. We went to the symphony, the newest leading show in Europe and toured all over the city. We ended up on New Years Eve drinking champagne in front of City Hall! Then a few days later we took the train to Budapest and spent the day touring and spending time at a world famous hotel with hot geyser pools to soak in. More champagne and finally back home in 2000.
---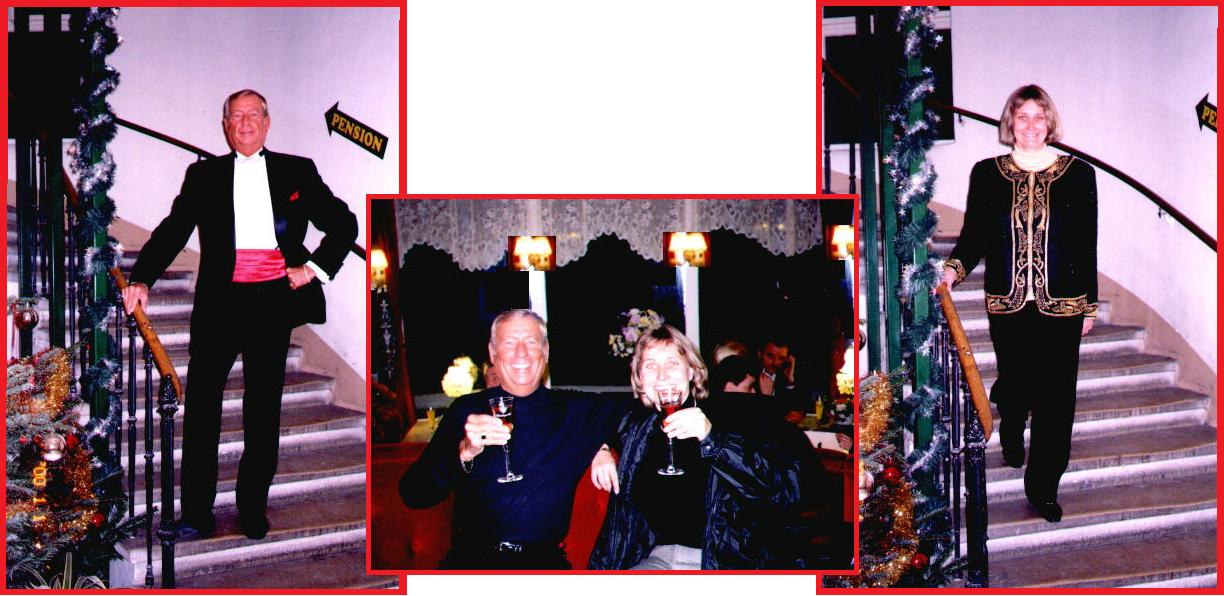 ---
---
---
2000.03 - A Beverly Hills Handy Man

Viviane had me visit and asked if I would help her work on the back yard. Wondered if I could do some terraces and plant some flowers. I love to garden so that was a treat. Of course later we would have lunch on the deck beneath the fantastic Palm Tree. Later in the evening we soaked in the Hot Tub with champagne of course! Note: Viviane use to laugh, she said she was the only one who had a gringo gardener while everyone else had a Latino gardener!
---
---
---
2000.2001 - The Real Millennium Celebration in Morocco

We decided we needed to go to someplace special for the real Millennium New Years so off we went to Morocco, traveling all over on our own. We got to the capital, Rabat, and that night called a cab to go to a famous restaurant Viviane had heard about. The cab driver looked at us very strangely, we wondered why? He said it is Ramadan and everything is closed! Mon Dieu! So back to the hotel and a dinner of very tough chicken and a young waiter who couldn't get the champagne bottle open. It is a good thing the hotel was great looking! In the center photo we are in an old harem building in Fez that is now a Moroccan rug business. We had green tea while viewing the carpets and were even taken to the roof to over look the city! We ended up in Marrakech on New Years Eve and got a fantastic hotel room, and it was the last one available. Talk about being lucky! overview
---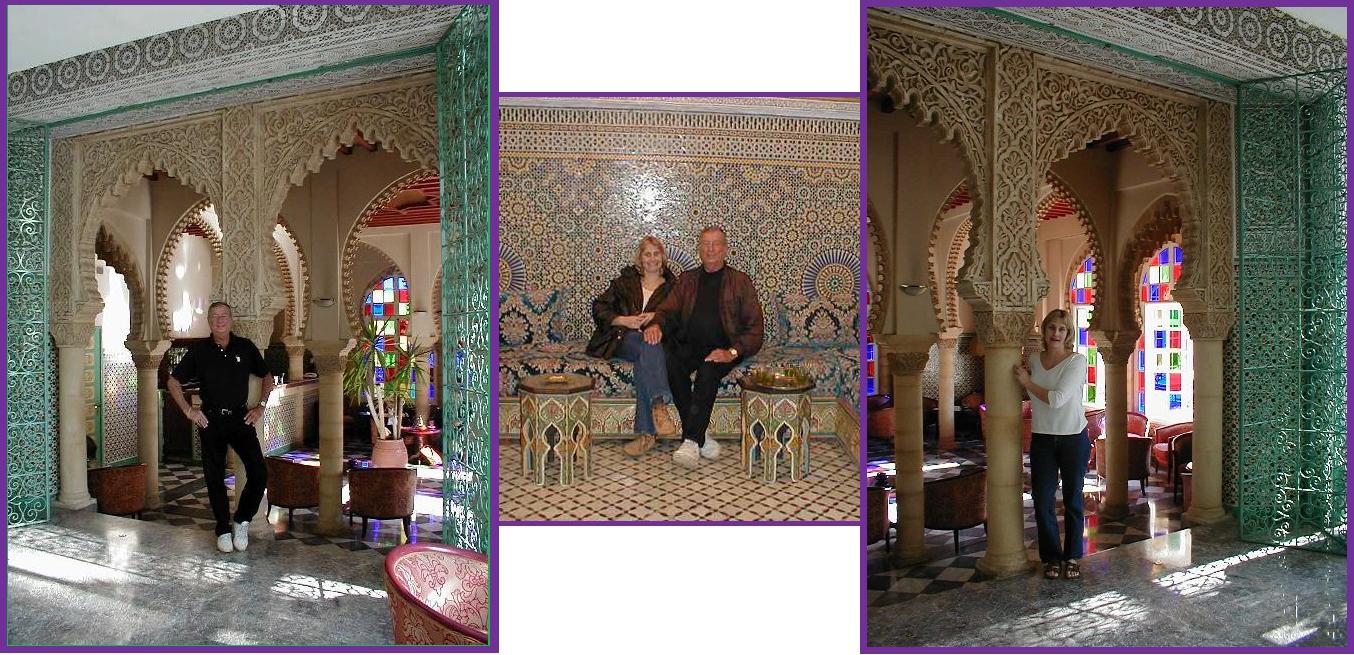 ---
---
2002.04 - New Getty Museum

Viviane had a Jaguar convertible so we used to drive all over and feel 'important'! She eventually sold the Jag for an SUV to carry her boys and others to soccer practice, as you can imagine, I was not amused! We had a great lunch on the roof top and of course, our favorite, champagne!
---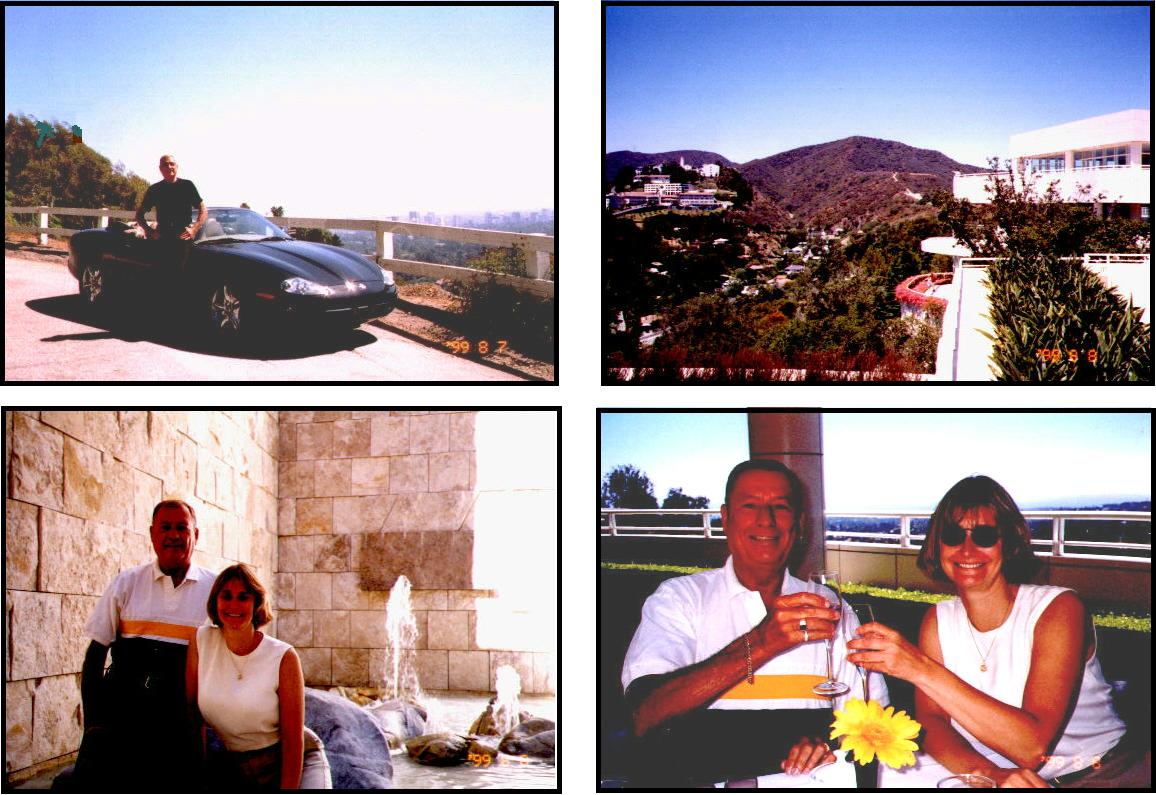 ---
---
2003.02.04 - Beverly Hills Hotel Luncheon for my birthday

We attended a luncheon for travel agents and afterwards Viviane asked me to take a photo of the men's room to see if it was as nice as the women's rest room. I did and it is as nice, beautiful mirrors and lighting, so Beverly Hills! And here we are on the right at the world famous Las Angeles Union Station having a cocktail and checking out the train schedules!
---
---
---
2003.06 - Astoria Senior Residence in Woodland Hills

One perk, classes in such places as Reno Nevada! Viviane asked if I wanted to work with her in a senior residence and since I was retired I thought why not! So I had classes to pass a state test to get an Administrative license, a first aid license and so on. Here I was retired and suddenly had an Administrative license to run a senior residence. Who would have thought that would happen? overview
---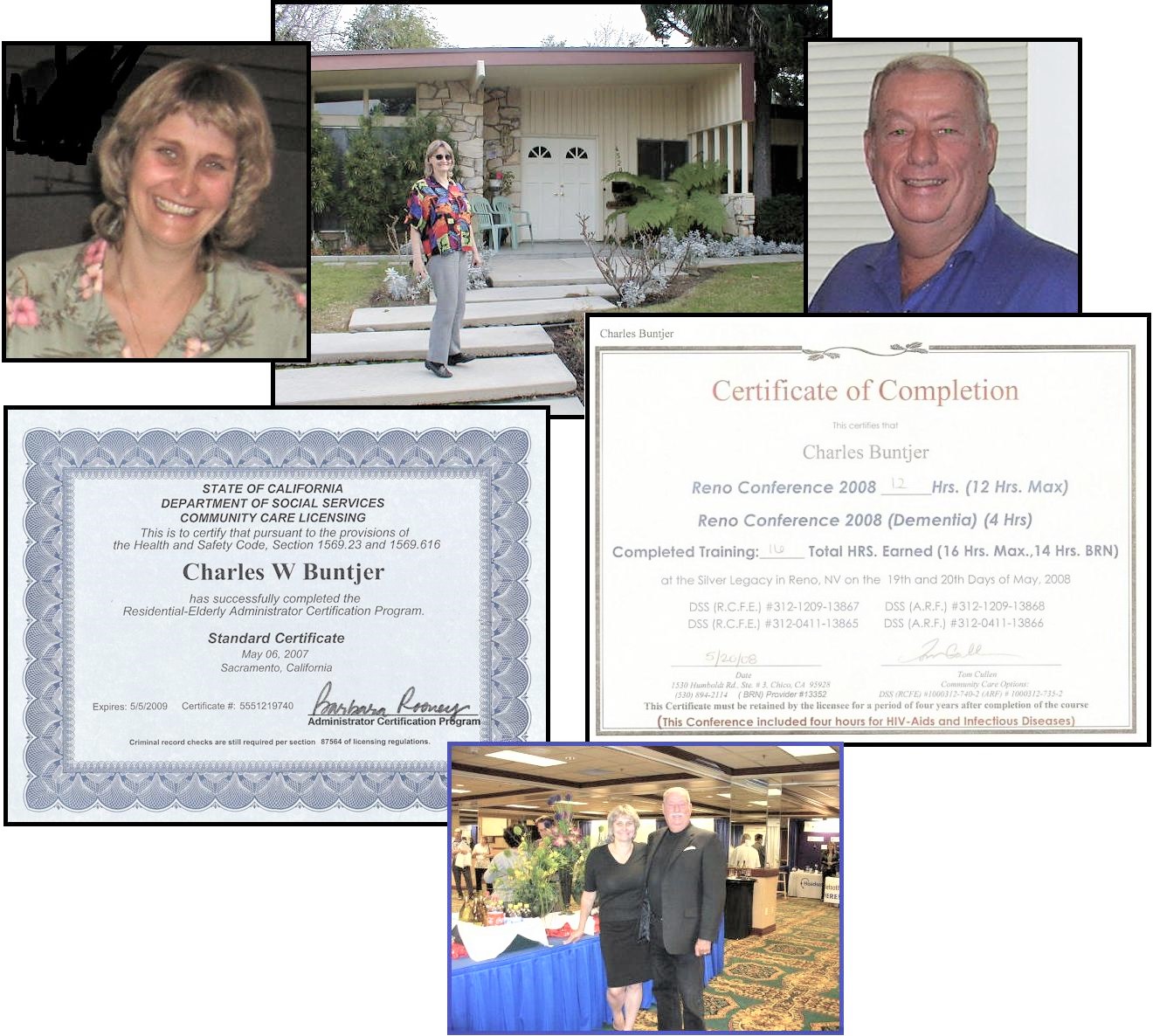 ---
---
2003.10 - New Walt Disney Concert Hall

This replace the old Chandler Concert Hall in the middle of downtown L.A. It opened in October 2003 and we visited it just after it opened. It is famous for Frank Gehry designed it and it cost 130 million dollars, the parking lot cost 110 million dollars, go figure.
---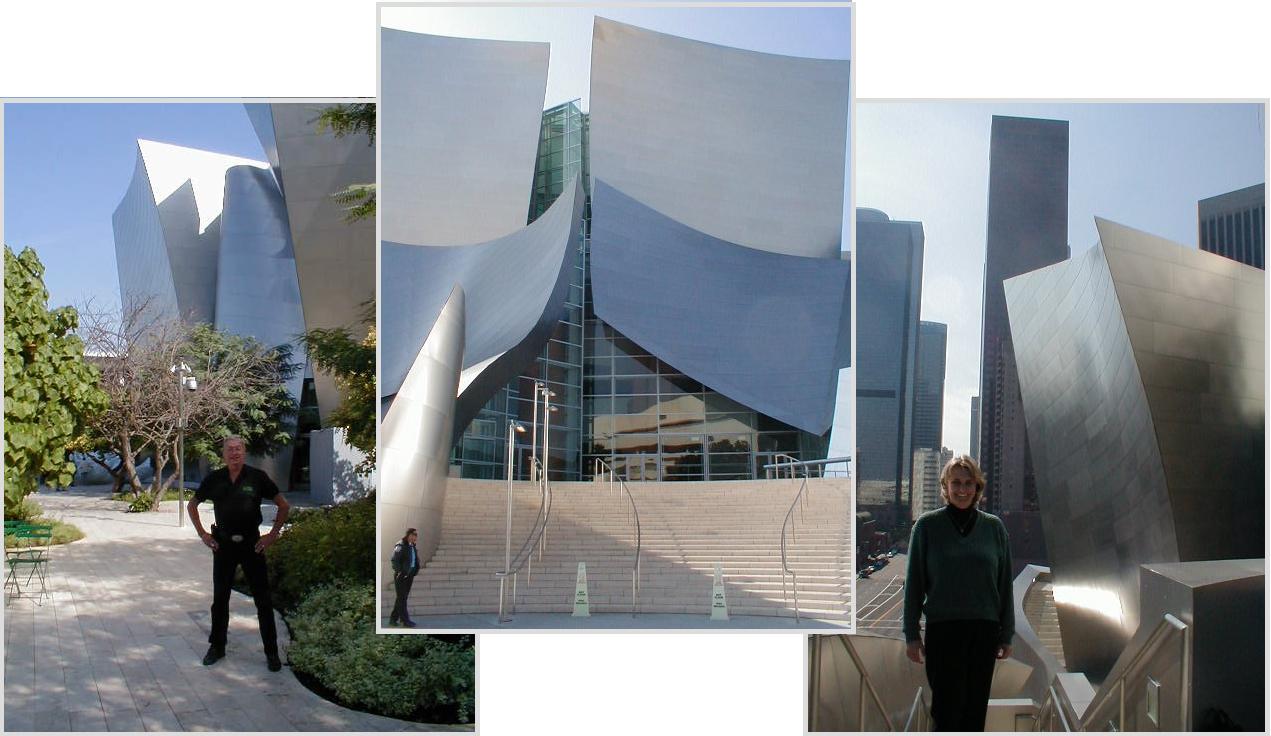 ---
---
2003.12 - Christmas in Woodland Hills at the Astoria Senior Residence.

On the left is Viviane, Chuck and my sister Yvonne! I hired a car in Tucson where my sister lives and we toured the southwest and on to Woodland Hills so she could meet Viviane and several of our employees at the residence. The business was sold in 2010 but we had a great time over the years and a good reason for me to visit Viviane and see L.A. and visit with other friends!
---
---
---
2004.01 - Chuck and Gail on a cruise around the Netherlands

Gail is a friend of Viviane's and she asked me to take a cruise around the Netherlands. We had a great time and ended up every evening sitting in the cocktail lounge on a love seat drinking champagne. We were the talk of the ship. After a few evenings as soon as we sat down on the love seat the waiter brought a bucket of ice and a bottle of champagne. One time we were laughing about the rumors and I slid my arm over the back of the love seat and Gail said "Don't even think about it!" Can't a girl take a joke? We even ate at the Captain's table!
---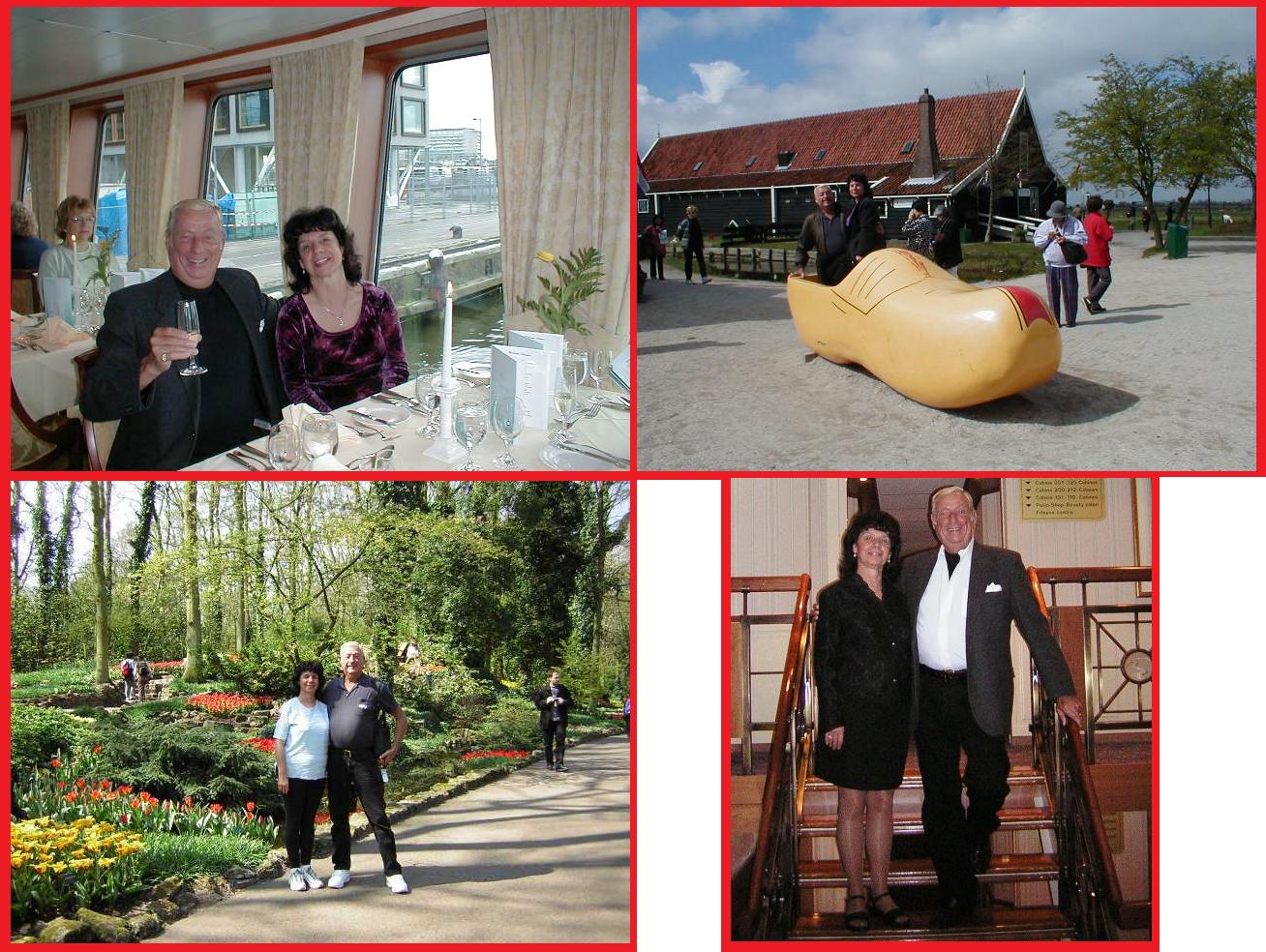 ---
---
2005.04 - Venice Beach Luncheon and the Santa Anita Race Track

Gail and I loved the race track. I guess we looked like old timers as we had several people come and ask advice as to whom to pick to win! Well we did lounge around like we owned the track!
---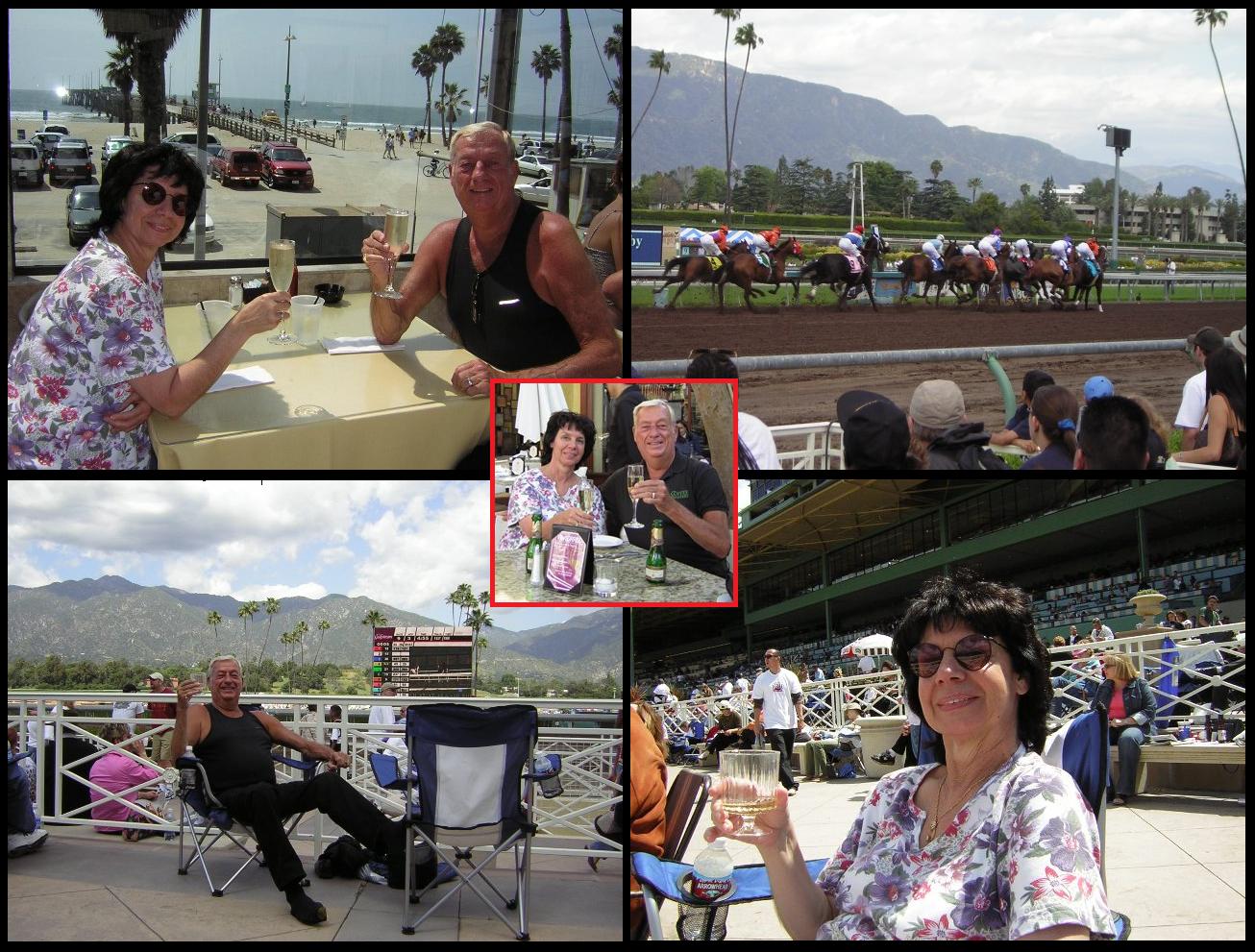 ---
---
2005.06 - Chuck and Gail's week in Las Vegas with Celine Dion!

We spent this trip at Caesar's Palace and we loved the pool area. We also went to the top of the tallest building in Las Vegas one evening to have champagne. It is the 1,149 foot tall Stratosphere Las Vegas Hotel. Talk about a fantastic view!
---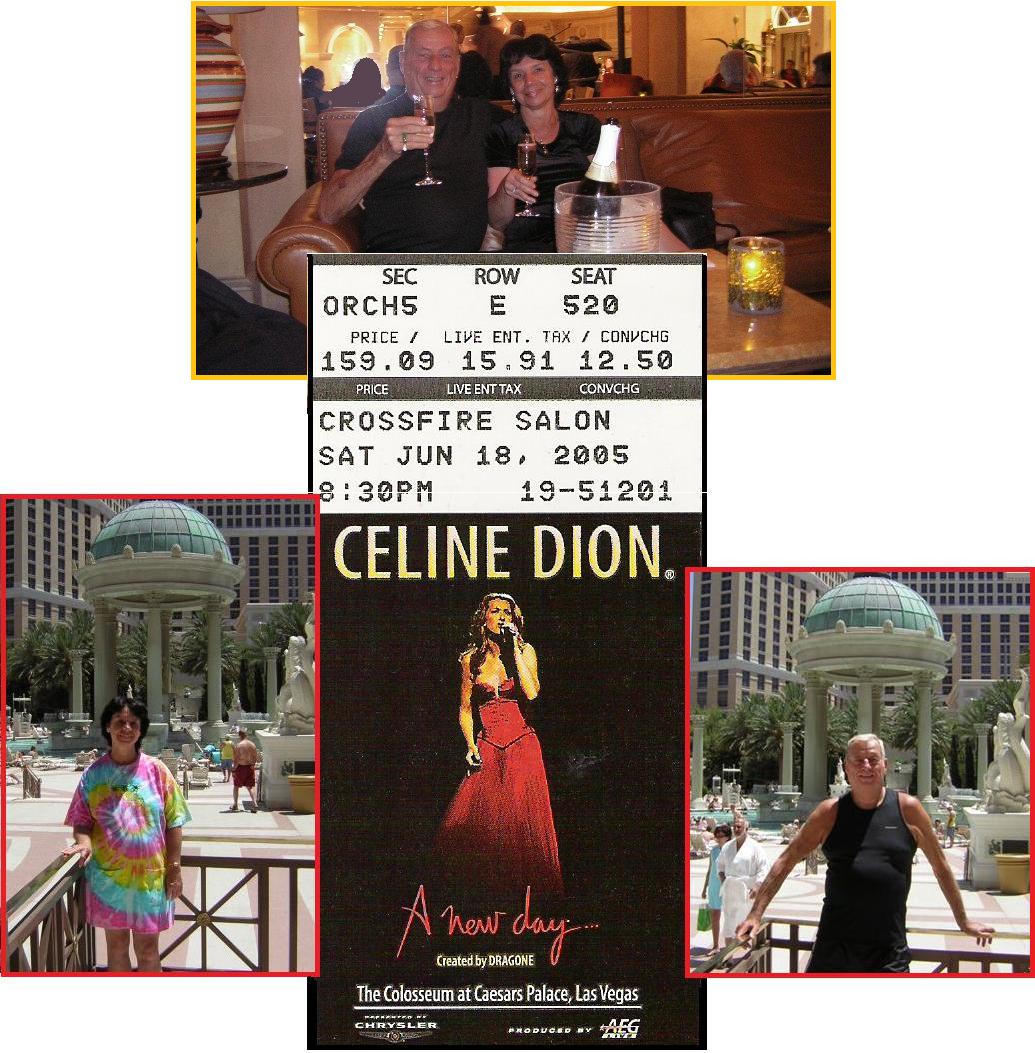 ---
---
2005.08 - Viviane and Chuck at the King Tut Exhibit at the LACMA in downtown L.A.

We both love Egyptian history and art. Over the years we went to several exhibits on Egypt at the Las Angeles County Museum of Art and also in San Francisco at the de Young Museum.
---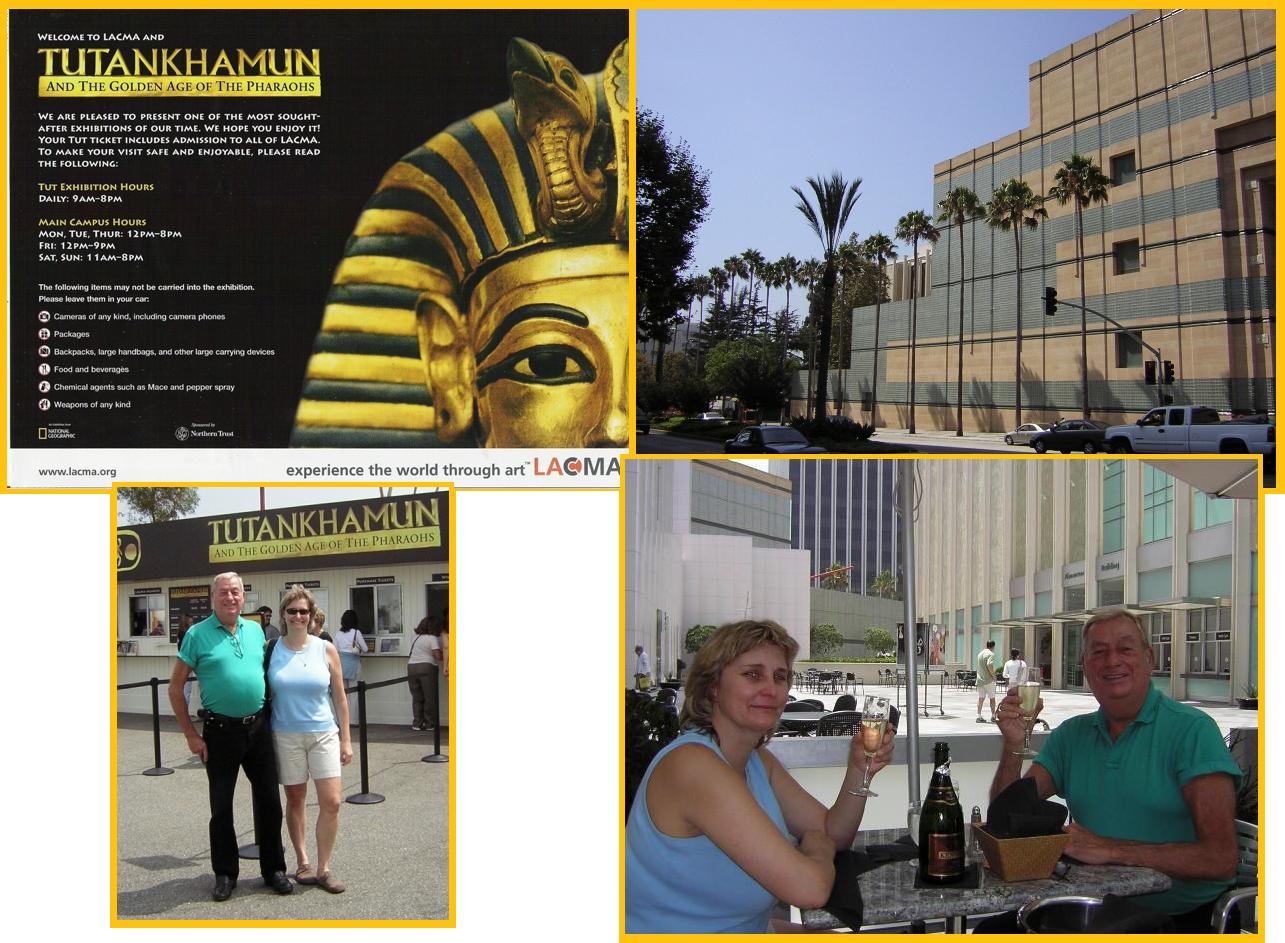 ---
---
2006.02 - Gail and Chuck in Zambia and South Africa.

We decided to go to Zambia to see the world famous Vitoria Falls. We had a five star hotel to stay at. Then we flew back to Johannesburg and off again to Leopard Hill, a private reserve where we had a private bungalow in the jungle! We got to have private tours around the reserve. We then rented a car and drove along the eastern coast of South Africa along the Indian Ocean. We ended up in Cape Town and toured the area seeing elephants and penguins and other interesting animals.
---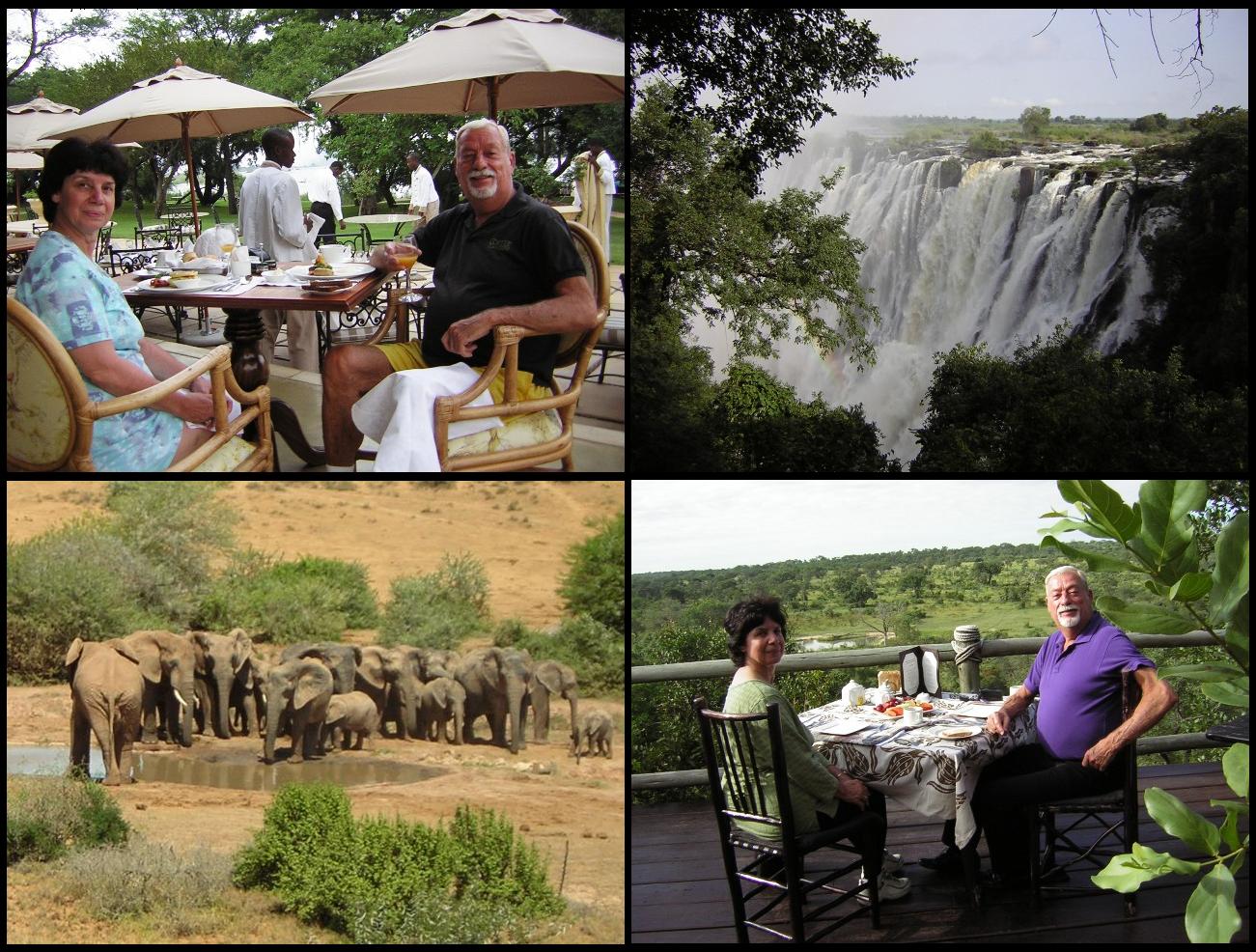 ---
---
2007.05 - Rodeo Drive

Cocktails at the newest 'in' place with Viviane in the afternoon! Dinner with Gail in the evening in Woodland Hills, so busy!
---
---
---
2007.11 - Viviane visiting San Francisco with Chuck!

There was another Egyptian exhibit in the City so Viviane came up to see it. We had champagne at the de Young Museum and one evening I took her to the Hyatt Regency Hotel where we had King Tut Cocktails rimmed with gold leaf!
---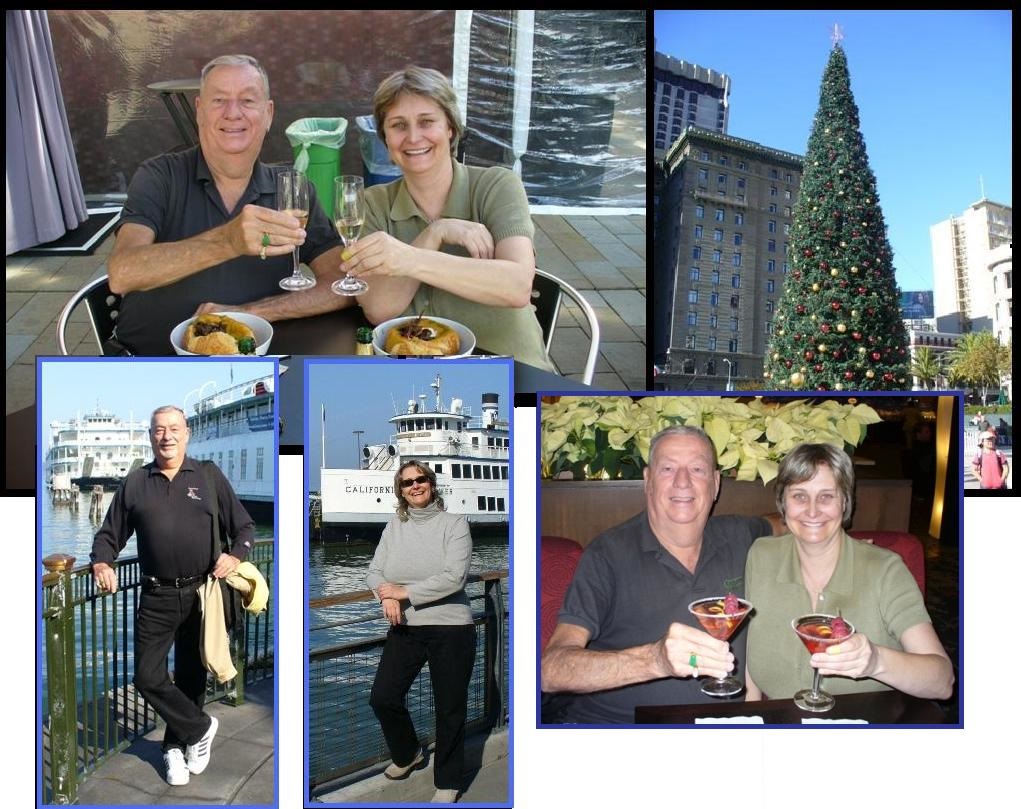 ---
---
2007.12 - Christmas Dinner in LA

Chuck, with Viviane and Cindy at another 'in' place - Lawry's The Prime Rib in Beverly Hills. This was Cindy's birthday and afterwards we drove around Beverly Hills to see the decorations.
---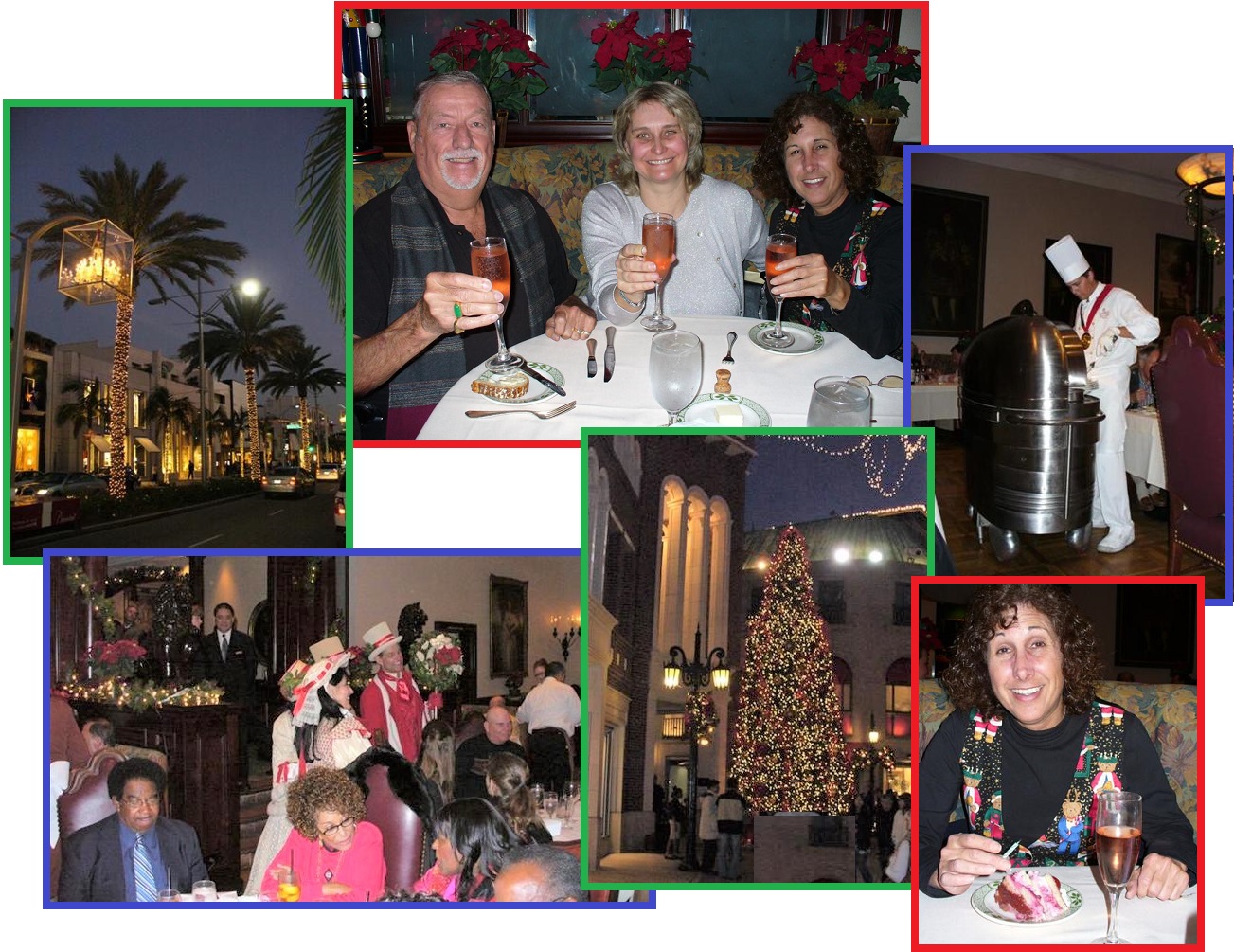 ---
---
2008.05 - Lake Tahoe

Senior Residence Classes and my Special Belated Birthday present from Viviane, a sail plane ride over Lake Tahoe! - We were rather dressed up for the conference cocktail party before the classes started. And dinner at the Silver Legacy with our favorite again, champagne!
---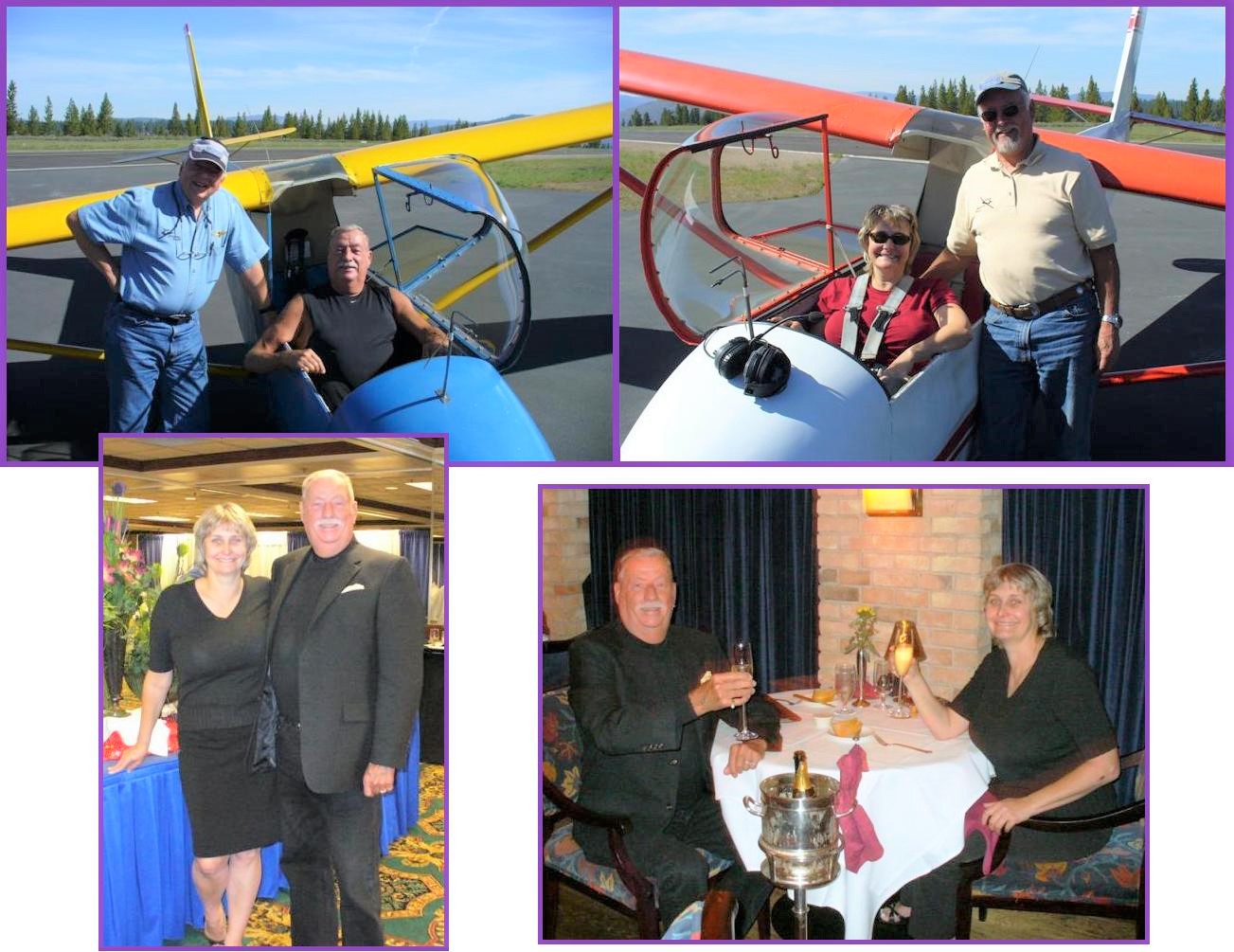 ---
---
2008.10 - Art Galleries

A special invitation to visit a gallery and then a visit the new Modern Art building at LACMA and of course, Champagne!
---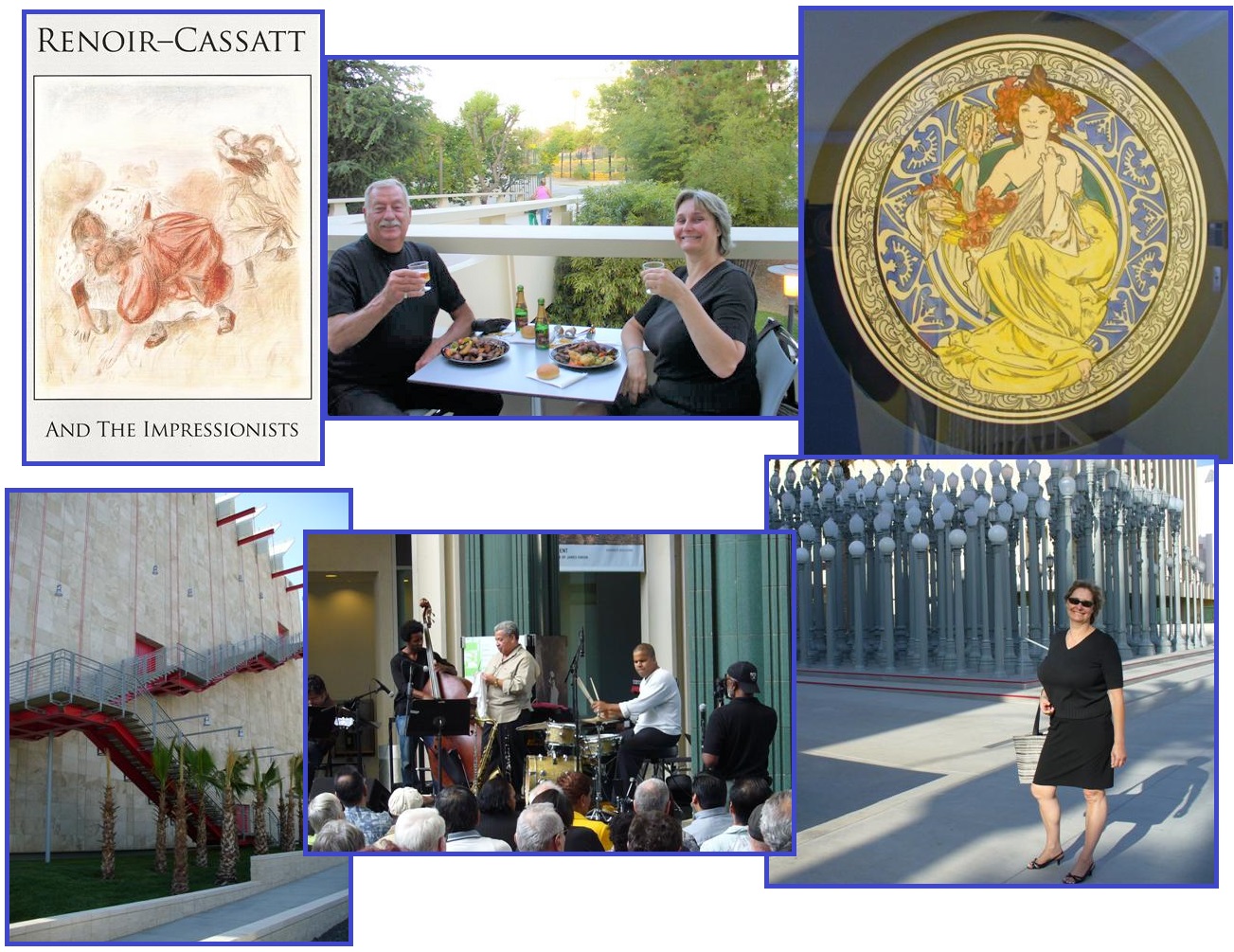 ---
---
2009.06 - Beverly Hills House Renovations

Chuck and Viviane Fixing up the House in Beverly Hills, better for showing to potential buyers! I even did a painting for Viviane to remember the good times we had in the house! We painted the columns that were this bluish green to a beautiful brown. Of course once the new owners took over, they demolished part of the house to remodel but it was still fun cleaning up the old paint job.
---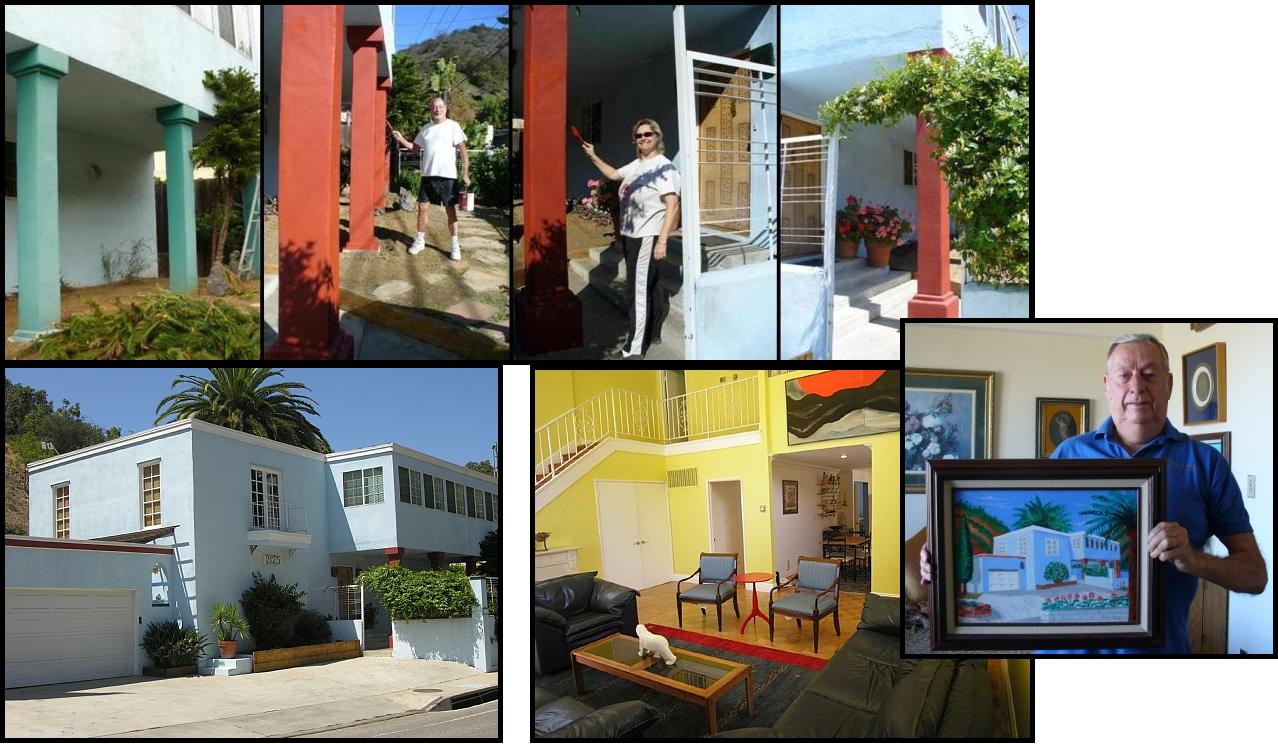 ---
---
2009.07 - Wine Tour

Gail and Chuck touring Napa and Sonoma and having lunch on the Wine Train Tour!
---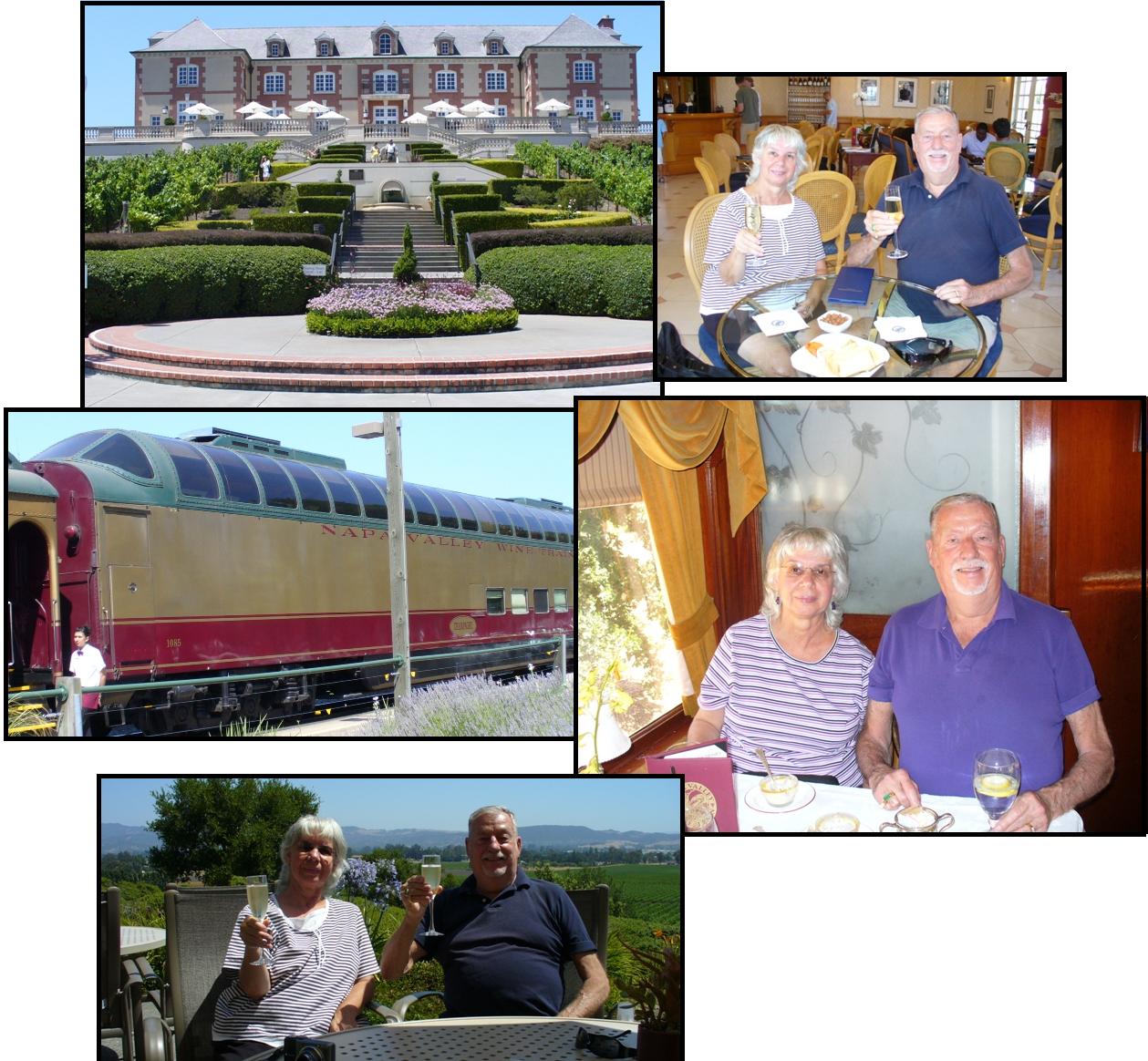 ---
---
2010.02.04 - Chuck's Birthday in Las Vegas

Gail and Chuck celebrating my 70th birthday in Las Vegas at the Bellagio. Gail had a surprise for me, she had reservations at the famous Bellagio restaurant. We walked in and low and behold, they had a 'special' table set up in the window overlooking the fountain. We checked the menu, Gail said she would buy dinner. Well the waiter said the Kobe steaks were great, let's see, $250 or more a steak? We didn't think so! We needed the money for champagne later!
---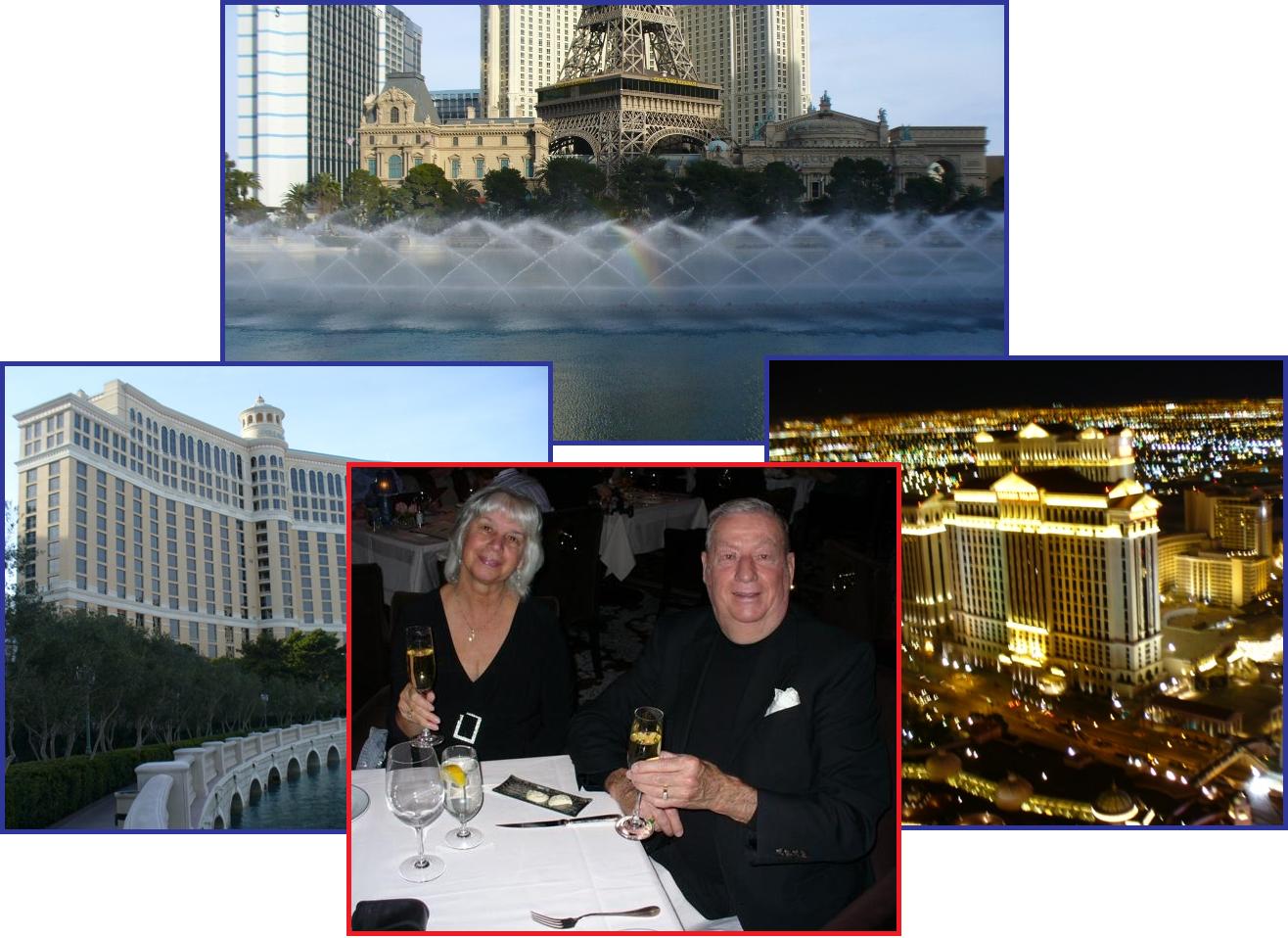 ---
---
2011.05 - Visiting Viviane in her new home in Austin Texas.

Dorothy, it isn't Kansas or Beverly Hills but it is nice! We had a great time, I got to tour the capital and we visited many of the local galleries and points of interest.
---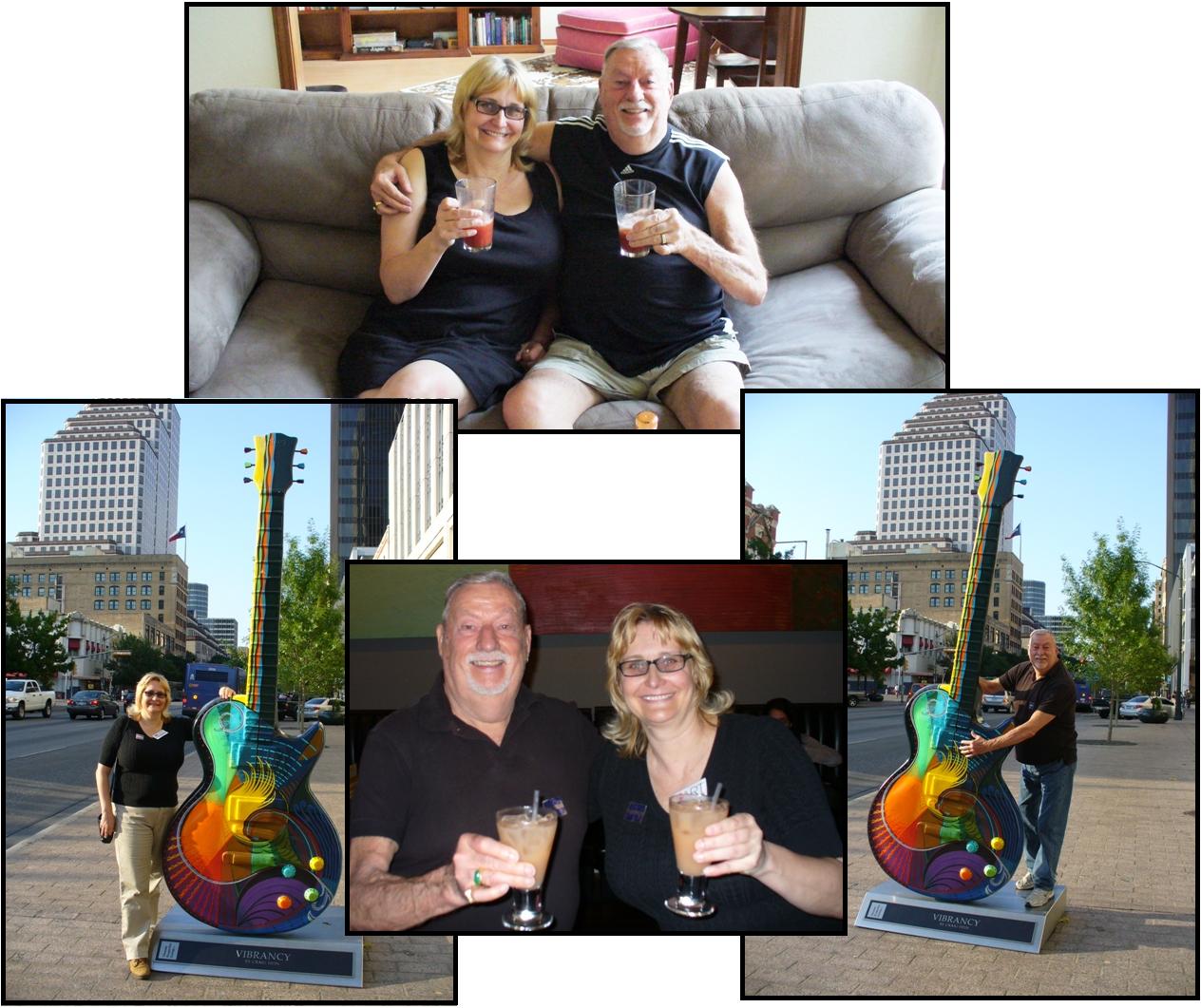 ---
---
2016.07 - Meeting in Cancun of all Places!

I met my friend Viviane in 1999 while on a cruise on the Strait of Magellan at the southern tip of South America. The area is called Tierra del Fuego and is an archipelago off the southernmost tip of the South American mainland, across the Strait of Magellan. Viviane was in the travel business and other endeavors and eventually we went to Austria for the Millennium New Year in 1999/2000 and then to Morocco in 2000/2001 for the real Millennium New Year! She was living in Beverly Hills at the time and moved to Texas a few years ago, first in Austin and now in Houston. She told me her travel company was sending her to Cancun to check out the hotels and other interests the future travelers with her company might be interested in.

Viviane set up my birthday vacation trip this year for my 76th birthday in Portugal. It was a great trip and lots to see, all done in a timely manner. If you are interested in reading about my trip, select the Portugal link to view some of the great places to visit!

We laughed as she is flying to Cancun on May 31st and I and Barbara will be flying to Cancun on June 1st. We almost ended up on the same flight, just 24 hours difference. We hope to meet that afternoon in Cancun before Barbra and I fly to Havana the next day! And we did get to meet and have a few cocktails!
---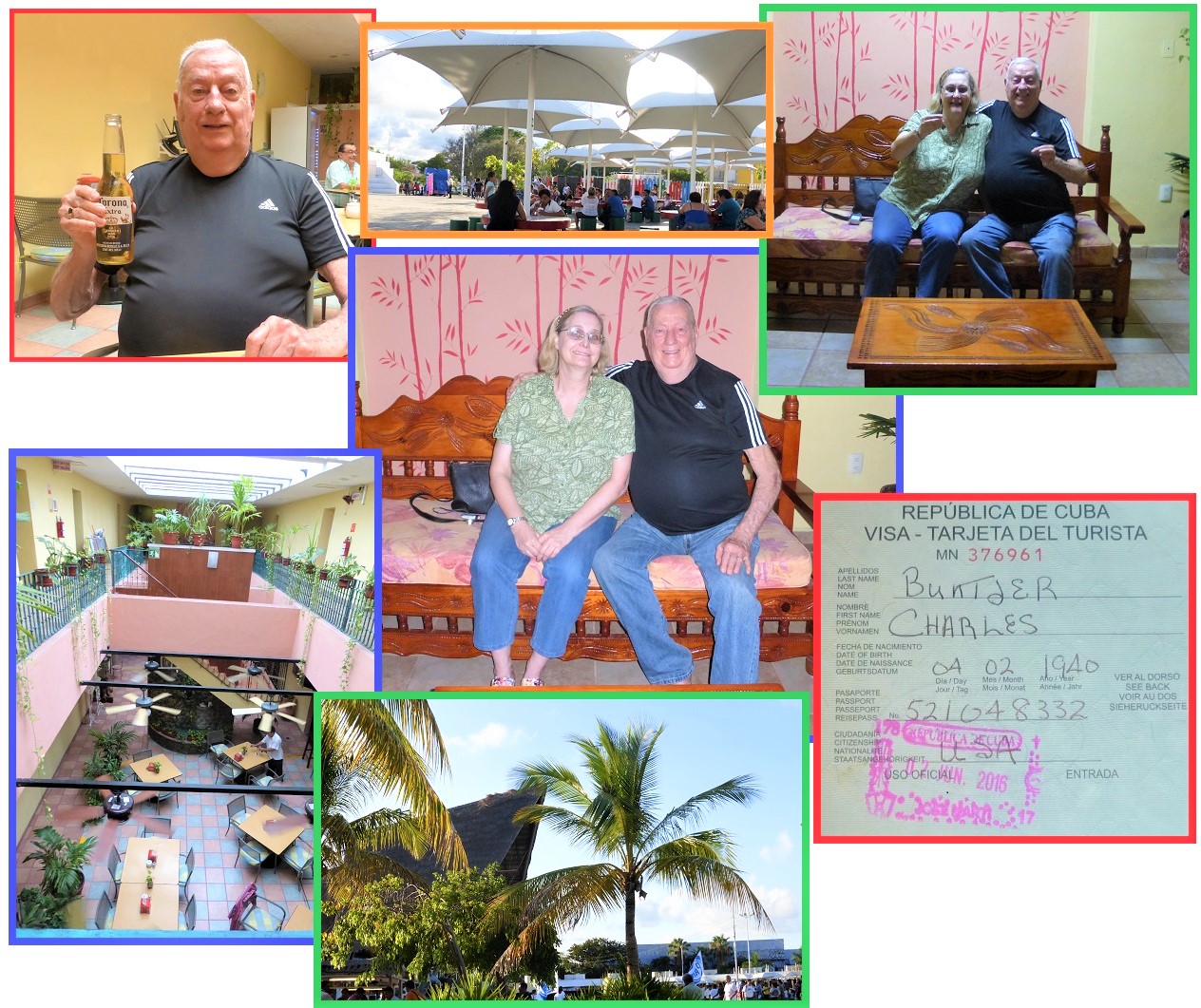 ---
| | | | | |
| --- | --- | --- | --- | --- |
| Created on: 2012.02.06 | --- | | --- | Updated on: 2020.08.20 |
---