---
---
| | | | | |
| --- | --- | --- | --- | --- |
| Trip Planning | Travel Agent | History of Scotland | Best Tourist Destinations | Photos of Scotland |
---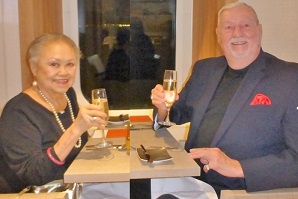 Virginia told me she had relatives in Glasgow Scotland and we might be able to stay with them if we visited Scotland. I suggested we could rent a car and drive all over the country, staying at inns when possible.
She called me on the last day of April, 2018, and told me we had been invited to visit her relatives in Scotland! We have tentative plans to visit them in May of 2019! We will be in Switzerland, Germany and the Netherlands in November of 2018!
Here we are in Algeria celebrating my 78th birthday on a Mediterranean cruise in February of 2018.
Check out our photos from our trips........
---
My Personal Travel Agent - Setting up trips to Morocco, Portugal, Sicily and many other destinations. A top Travel Consultant.
My travel agent suggested the following when I told her we might be going to Scotland.
Scotland is one of the "in" destinations right now. Start following some of the low cost airlines to get advance notice of sales. For some of the flash sales you only have 24 hrs to book and pay but the rates are way really good. You may get a lower airfare to London than to Edinburgh. Then take the train, it's a nice ride about 4½ hours.
Please contact Viviane Tondeur for help in setting up trips and getting the best deals possible. Check her out!
.......................Read More........................
---
Located in northwest Europe, Scotland is one of the four countries that comprise the United Kingdom. Spanning more than 30,000 square miles, it takes up the northern third of Great Britain, and is bordered on the south by England. Surrounded by water, Scotland is bordered by the North Sea on the east, the Atlantic Ocean on the north and west, and the North Channel and the Irish Sea to the southwest. In addition to the mainland, there are 790 islands that make up Scotland. Scotland's waters, which contain some of the largest oil reserves in Europe, are known to be some of the region's richest fishing grounds.
---
Top Spots to Visit while in Scotland
This link will detail some of the best and most interesting places one can visit while in Scotland.
---
This link will display the major roads in Scotland and in the lower left cornor are some figures as to the miles to various locations.
---
A History of Hadrian's Wall
Hadrian's Wall (Latin: Vallum Aelium), also called the Roman Wall, Picts' Wall, or Vallum Hadriani in Latin, was a defensive fortification in the Roman province of Britannia, begun in AD 122 in the reign of the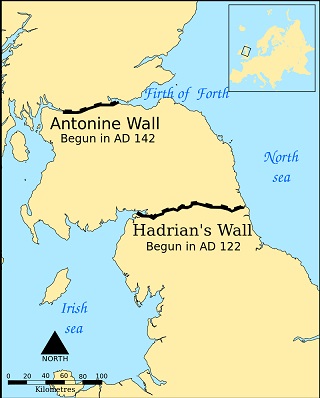 emperor Hadrian. It ran from the banks of the River Tyne near the North Sea to the Solway Firth on the Irish Sea, and was the northern limit of the Roman Empire, immediately north of which were the lands of the northern Ancient Britons, including the Picts.
It had a stone base and a stone wall. There were milecastles with two turrets in between. There was a fort about every five Roman miles. From north to south, the wall comprised a ditch, wall, military way and vallum, another ditch with adjoining mounds. It is thought the milecastles were staffed with static garrisons, whereas the forts had fighting garrisons of infantry and cavalry. In addition to the wall's defensive military role, its gates may have been customs posts.
A significant portion of the wall still stands and can be followed on foot along the adjoining Hadrian's Wall Path. The largest Roman artefact anywhere, it runs a total of 73 miles (117.5 kilometres) in northern England. Regarded as a British cultural icon, Hadrian's Wall is one of Britain's major ancient tourist attractions. It was designated as a UNESCO World Heritage Site in 1987. In comparison, the Antonine wall, thought by some to be based on Hadrian's wall (the Gillam hypothesis), was not declared a World Heritage site until 2008.
It is a common misconception that Hadrian's Wall marks the boundary between England and Scotland. In fact Hadrian's Wall lies entirely within England and has never formed the Anglo-Scottish border. While it is less than 0.6 miles (1.0 km) south of the border with Scotland in the west at Bowness-on-Solway, in the east it is as much as 68 miles (109 km) away.
---
Chance Meeting on Easter Island - 1999 - Patricia from Glasgow
I first traveled to the tip of Chile, boarded a ship and sailed to Argentina and the Patagonia Park. After that I stopped in Santiago to visit friends for a few days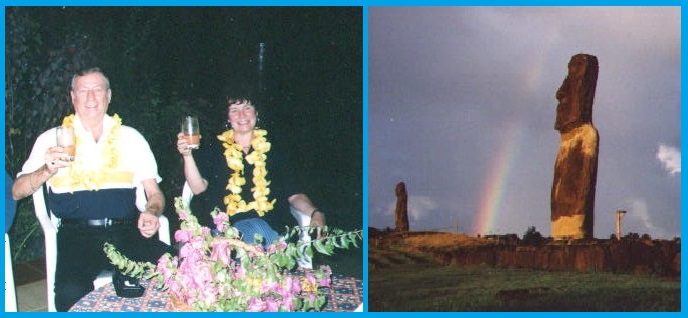 so I figured as long as I was in Santiago and so close, 2,000 miles, I might as well go to Easter Island!
I didn't realize that Patricia M. Malcolm, who lives at Jordanhill in Glasgow - G149NL - Scotland - United Kingdom, was on the same trip to the tip of South America and ended up on the same flight from Santiago after the Tierra del Fuego cruise finished.
She over heard I was going to Easter Island and told my new friend from Beverly Hills, we met on the cruise, that she wanted it to be a surprise as we might both end up on Easter Island, She found out I was staying at the Hotel Okai and wanted to surprise me there.
As fate would have it, her Lan Chile airline seat was right behind me, we both were surprised! So we had five days to go around the island and we have kept in touch for 20 years!
---
| | |
| --- | --- |
| Day 1 | First Day to Scotland |
Perhaps a train from London to Scotland

Early Morning over San Francisco as we leave the City!
---
| | |
| --- | --- |
| Day 2 | Doings along the way - XXX |
Blurb..... Then photos.....
xxx
xxx
xxx
---
| | |
| --- | --- |
| Day 3 | Trip to Castle- XXX |
Blurb..... Then photos.....
xxx
xxx
xxx
---
Blurb..... Then photos.....
xxx
xxx
xxx
---
Blurb..... Then photos.....
xxx
xxx
xxx
---
Blurb..... Then photos.....
xxx
xxx
xxx
---
| | |
| --- | --- |
| Date | Sixth Port of Call - XXX |
Arrive at City A.M. - Depart at P.M.
Blurb..... Then photos.....
xxx
xxx
xxx
---
| | |
| --- | --- |
| Date | Seventh Port of Call - XXX |
Arrive at City A.M. - Depart at P.M.
Blurb..... Then photos.....
xxx
xxx
xxx
---
| | |
| --- | --- |
| Date | Eight Port of Call - XXX |
Arrive at City A.M. - Depart at P.M.
Blurb..... Then photos.....
xxx
xxx
xxx
---
| | |
| --- | --- |
| Date | Ninth Port of Call - XXX |
Arrive at City A.M. - Depart at P.M.
Blurb..... Then photos.....
xxx
xxx
xxx
---
| | | | | |
| --- | --- | --- | --- | --- |
| Created on: 2017.08.11 | --- | | --- | Updated on: 2018.06.27 |
---