S
ardinia is a very ancient land mass, perhaps the oldest of all Italy, going back to the Cambrian period, 570 million years ago. With the periodic fluctuation of the sea level, caused by the coming and going of the periods of glaciation,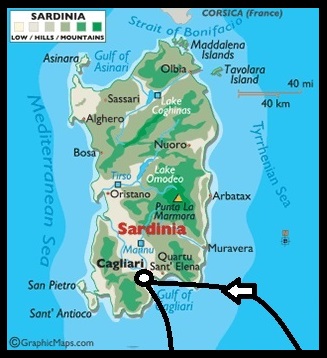 the island of Sardinia had at times a land link to the rest of Italy.
During these periods, beginning two million years ago, many animals crossed the land bridge from Tuscany, through Elba and Corsica, then across the Bonifacio Straits into Sardinia. Of course in the interglaciation periods, Sardinia became an island once more. These animals, being cut off from any possibility of refreshing their genetic patrimony, slowly evolved into species quite different to their original ancestors.
Curiously, the tendency was to decrease in size, perhaps for lack of space and food and we therefore find that the elephants in Sardinia (the climate was tropical at the time) had shrunk in size to that of a dog!
In the recent Pleistocene and in the more recent Olocene, between 10,000 and 20,000 years ago, the first man ventured across the same land bridge and was similarly trapped on the island. Today, genetically, the Sardinians are very different from all mainland populations and are in fact a breed all of their own. Read More........