---
I was checking my weekly Travelzoo web page and discovered this trip to South America for a good price. I e-mailed this to my friend Barbara in Seattle to see if she was interested. She phoned me to say she was and would do some checking up as to the dates and flights. After she did some checking she contacted me and thought it was a good price for so many countries to visit and so many things to do!
In 1994 I visited Cusco Peru and Machu Picchu and then flew from Iquitos Peru into western Brazil and the town of Tabatinga where I did a weeks cruise on the Amazon River back into Peru. The Amazon river was at flood stage so it was quite a trip needless to say Check out the photos on the Amazon River on the right side of this page!
I always wanted to see Rio de Janeiro in the eastern side of Brazil so this seemed a perfect way to tour the city plus a trip to Iguaçu Falls since I have seen Niagara Falls in Canada and Victoria Falls in Zambia.
I visited Argentina in 1999 and did a cruise through the Strait of Magellan from Punta Arenas Chile to Ushuaia Argentina and visited the Pargue Nacional Tierra del Fuego of Argentina.
Check out the photo on the right where I am having a whiskey with a large ice cube made from glacier ice on the border of Chile and Argentina in Tierra del Fuego!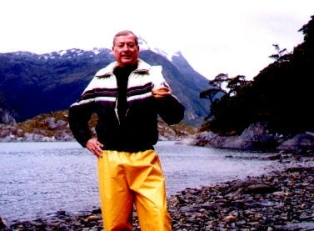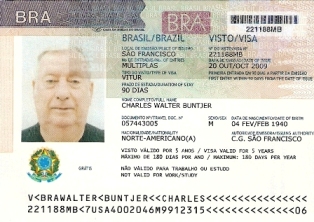 Since I have been to the southern tip of Argentina, this trip also seemed like a good idea for me to see Buenos Aries!
Barbara sent me her passport to get her visa, excuse me, $130.00 for the visa and $20 extra as I took it in and she didn't, for a grand total of $150.00. I went to the Brazilian Embassy in downtown San Francisco after my Carnival Cruise to Cabo San Lucas Baja California on October 6th, 2009. I should get it on the 21st, in time for our departure from the San Francisco International Airport. I needed my passport for the cruise to Cabo San Lucas at the tip of Baja California!
I normally put photos on individual web pages for each country I visit but this time I will put on one set of web pages for all the photos from the countries we visit on this trip!

You can read about our adventures visiting major cities in Brazil and Argentina plus the world famous Iguaçu Falls and Colonial, a World Heritage city in Uruguay in the daily diary I kept during the trip!
San Francisco to Miami to Rio de Janeiro - October 29, 2009
Barbara will fly to San Francisco from Seattle and meet me at the SFO airport. We will fly from the San Francisco International Airport to the Miami airport and in the evening, fly on to Rio de Janeiro, getting into Brazil the morning of the 30th. Then from Buenos Aries to Miami and on to San Francisco! Barbara missed her flight and flew directly to Miami where we met and continued on to Rio!

We sat in the two seats by the window, Barbara had the aisle. The two attendants came by after about two hours to serve dinner. The cute one asked if we wanted a drink and I started to whine, I would like a chardonnay but, I don't want to pay $6 for it, blah, blah, blah. He finally said he would give it to me just to make me happy. After dinner Barbara complained that he didn't offer her a free wine. So she asked the other attendant about a Bailey's whiskey and he asked why should she get one free. She said I got a wine so he said,"Why don't you ask Food Boy!" Food Boy! So the attendant from San Diego came back and we told him the other attendant called him Food Boy. He said he would talk to the other guy. Next thing, the other attendant came by with four bottles of Baileys. So Barbara got two and I got two bottles and I ended up getting $18 worth of drinks for free. Such a deal!
San Francisco to Rio de Janeiro and Our Special Tour Group!

View from Chuck's apartment as he flies from San Francisco on October 29th, 2009 to Rio de Janeiro and Beyond!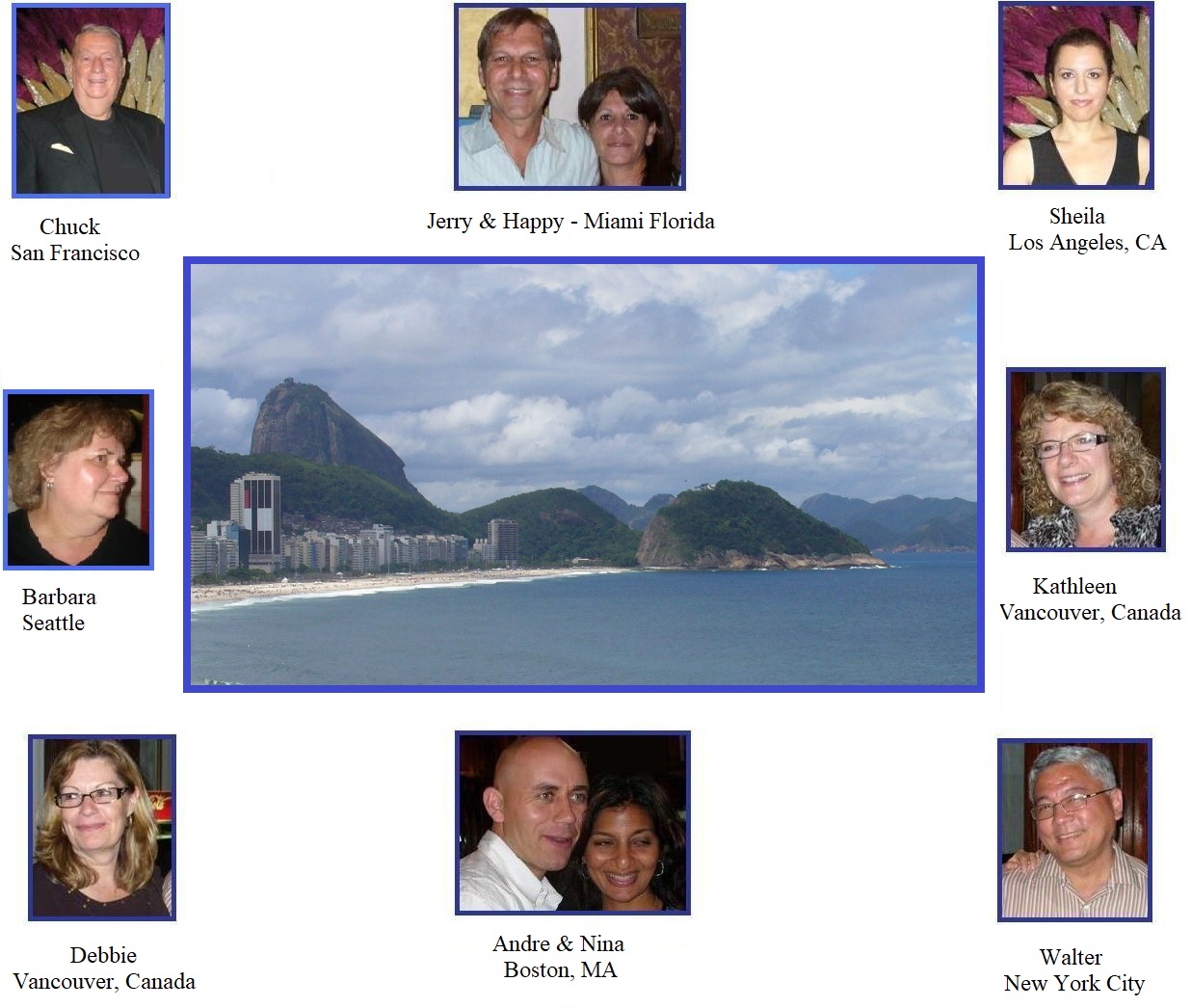 Talk about being lucky to have such a wonderful group on our tour!
---
---
---
&nbspFirst Day in Rio de Janeiro - October 30, 2009
We landed in Rio de Janeiro Brazil at 9:50 A.M. and a transfer to the Hotel Debret on the Copacabana. Our guide was very nice and gave us a nice tour from the airport to Copacabana beach.

The first thing we saw were the huge slums next to the airport, one to three story houses made of blocks and on a small dirt area by the freeway bypass, goats were trying to graze on a few weeds.

We were tired but decided to take the ferry across to another island to see the city as the sun set. We took a cab and there were thousands of people getting off work to use the ferries. The city was strange by the dock, a big three story mall to shop in and a McDonald's that was very busy.

Coming back on the ferry I met ayoung man about 23 whose family was Italian and he said he worked as a masseur. He spoke Portuguese and Italian and a little English. He was very nice. We took a cab back to the hotel and went out to dinner.
View from the Hotel Restaurant and the Famous Copacabana Beach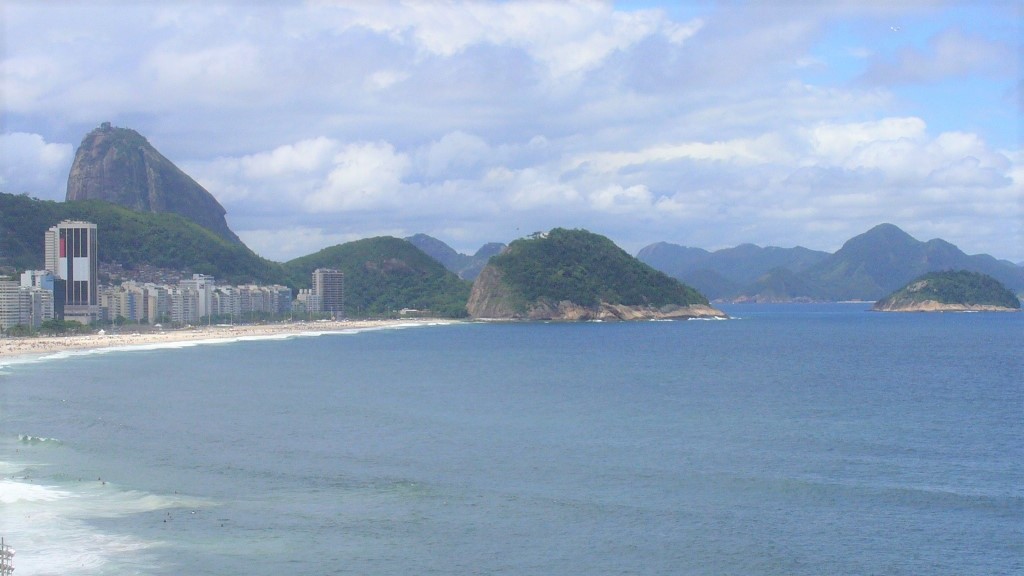 View from the Hotel - on the left is Sugar Loaf.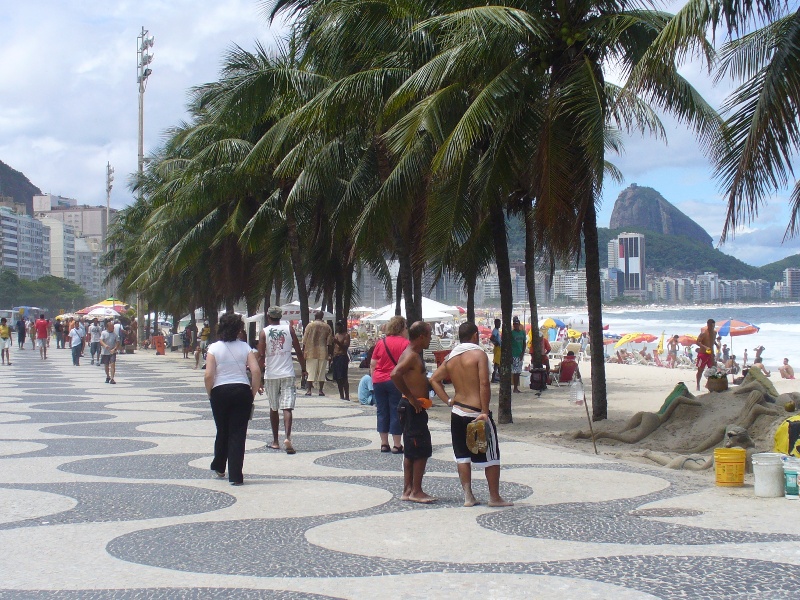 The famous terrazzo side walk along the beach and a bunch of women sunbathing in the nude - made of sand on the right side of the photo.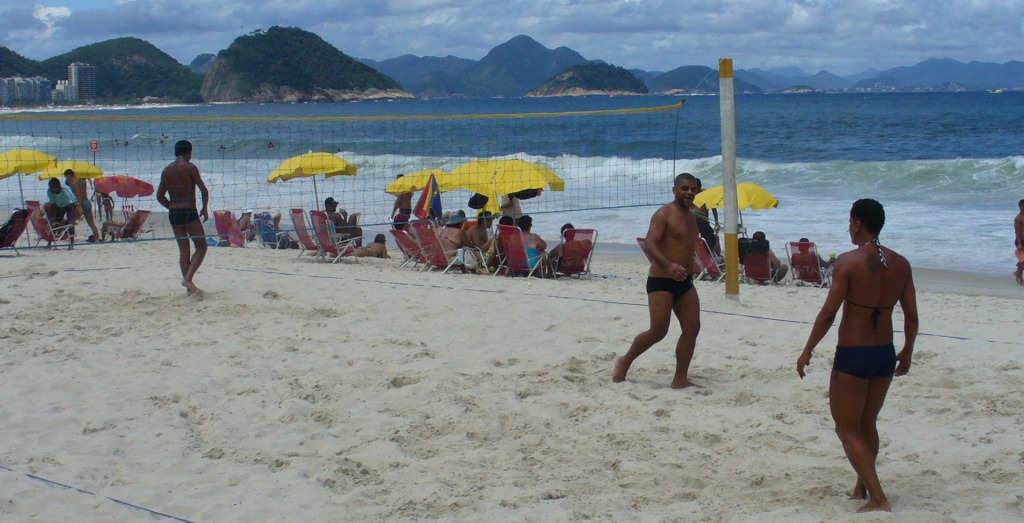 Hunky men and women playing volley ball!
Ferry to Niteroi to see a Sunset over Rio de Janeiro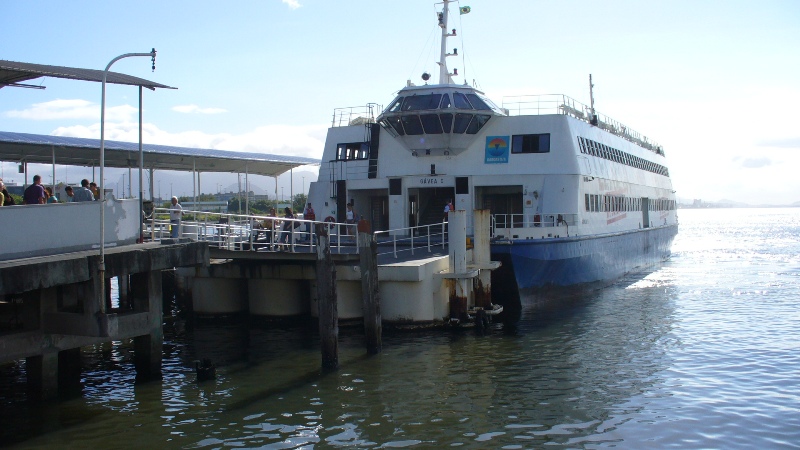 Huge crowds going home from work.
| | |
| --- | --- |
| Federal Building | Famous Native American Indian |
Making Tapioca Pancakes and a cell phone!

Fresh Fruit

Sunset over Rio de Janeiro!
---
---
---
&nbspCorcovado Mountain the Historic Center and Dinner - October 31, 2009
This morning we take the train to the top of the Corcovado Mountain and the 12 story statue of Christ. We met the rest of the tour group and instantly became friends.

In the afternoon Barbara, Sheila and I took a trip on the subway to the center of town and visited the historic center on a hill and took a yellow trolley back to the botanical gardens and a bus back to the hotel.

Later we had a drink and then even later we had the Brazil special dinner the slaves used to eat, all the parts of a pig the Portuguese didn't eat. It had pork, beans, greasy gravy and side dishes of a green, rice, a white powder that tasted like saw dust. Not very tasty but we did try the native dish even if we were unsure of what we were eating!
Pargue Nacional da Tijuca Rio de Janeiro - Corcovado & Cristos Statue
Space.

View from Sugar Loaf

Closer View

Tram to the top of the mountain.

Entertainment along the way.

Chuck overlooking the city of Rio!

12 Story Christ
| | |
| --- | --- |
| Clouds and Christ | View of Rio with the fog flowing in! |
Historic Section called Santa Teresa
Space.

Tram to the top of the hill to the oldest district in Rio!

Chuck checking it out.

Sheila, squeezed in!

I was hanging on for dear life!

Great views

Part of the old town.

The harbor and hills in the back ground.

A cafe with coffee and meals and a great Samba band.

We enjoyed hearing the band and watching the locals dance.

The maintenance man had a good laugh as we took his photo!

I decided it was time for a beer!

Sheila looking cool!
---
---
---
&nbsp Sugar Loaf Mountain - Rio by Night - November 01, 2009
Today the group decided to go to Sugar Loaf Mountain on our own. It was perfect viewing and we took many photos.

We left around one P.M. and to our surprise, a huge gay parade was just starting by our hotel but unfortunately, it rained but they still had a huge crowd and floats. We went down for an hour and took photos and then went to the 12th floor of the hotel, the restaurant was surrounded with windows and we sat and had coffee and watched the parade begin and the music.

This evening we had a tour of "Rio by Night' and a barbecue dinner with a samba show. The food in Rio was not very good but the dinner did have some good meats and salads.

But the Samba Show was excellent and was about two hours long with many acts and costume changes.
Sugar Loaf Mountain
Space.

Gondola to the top of the first mountain.

Second Gondola to Sugar Loaf!

Barbara, Happy, Jerry, Chuck, Nina and Andre!

Copacabana and our hotel to the left!

Great bays to have homes and boat docks.

Chuck with Barbara and Happy taking photos!

Great view of the city.
Rio de Janeiro Gay Parade!
Space.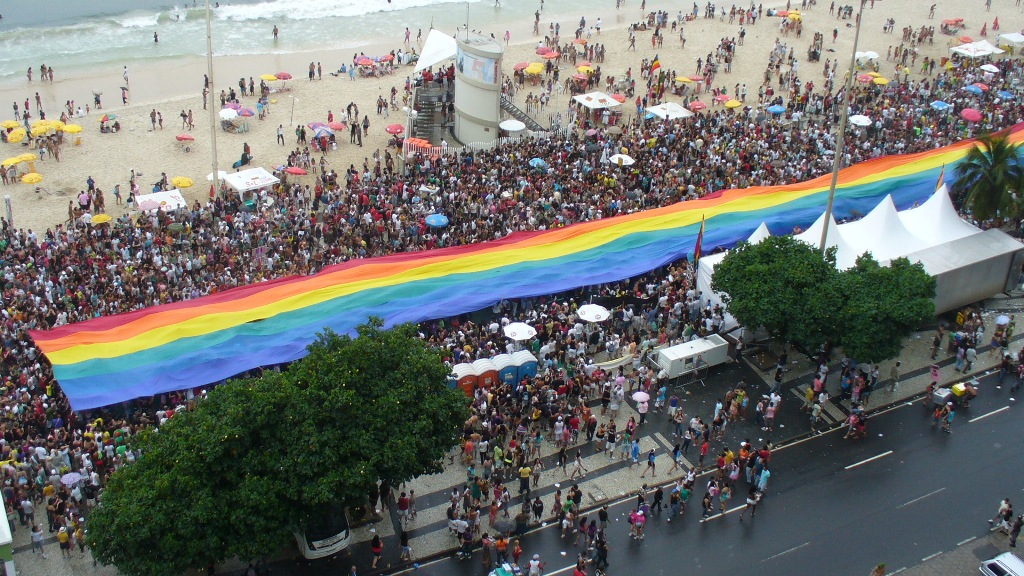 Talk about a big gay rainbow flag!
The parade continued even though it was raining!

Tarps protected the dancing!

---

Everyone had a good laugh when I tell them this story.

About seven of us went to the parade after we had toured Sugar Loaf.

We were walking along and I asked Jerry to take my photo with the 'drag' queens. He thought that was funny and the rest watched as he took the photo.

I turned to the one on my right and said: "I'm from San Francisco!"

'She' said:

"I love Castro!"

Jerry gave us the strangest look and I finally realized what was wrong. I told him, NO, these drag queens don't love Fidel Castro, they love Castro Street in San Francisco, the so called 'gay' district.

Well we all had a good laugh about that!

Unless Fidel likes to dress up at night and we aren't aware of it. One never knows, does one!
---
| | |
| --- | --- |
| One of many hot numbers. | But we never figured out what it said on his back but who cared! |
---
Rio de Janeiro at Night - Dinner and Samba
Space.

Sheila and Chuck enjoying the Samba Show!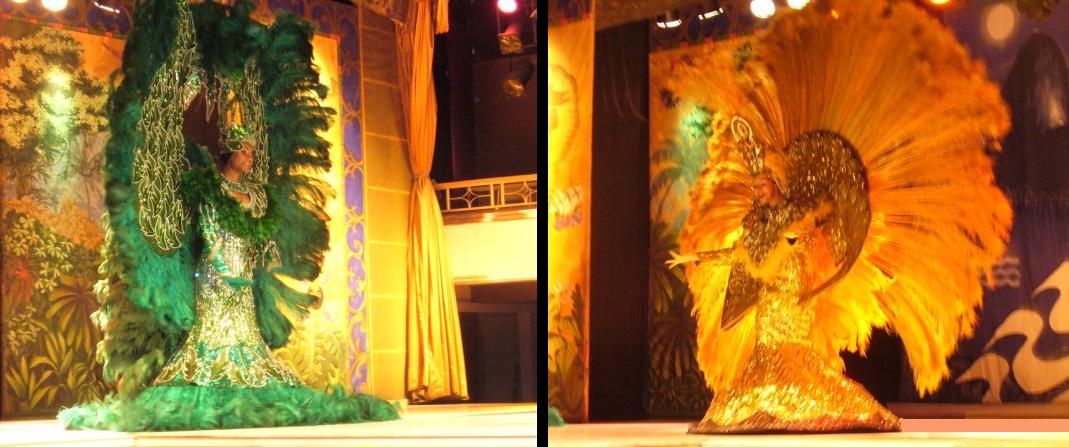 Unbelievable Carnival Costumes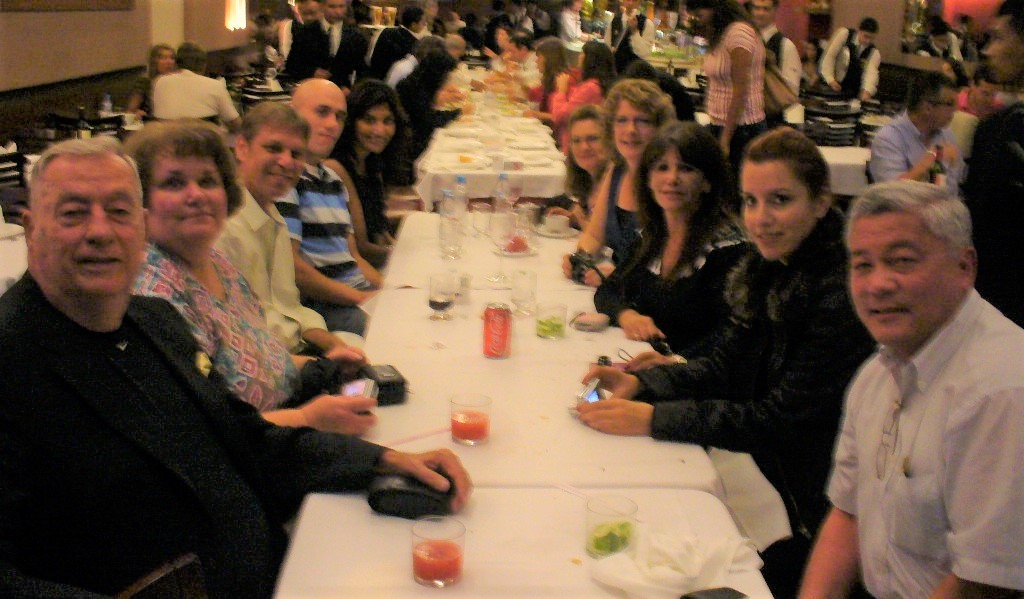 Cocktails at dinner before the show - Chuck, Barbara, Jerry, Andre, Nina, Debbie, Kathleen, Happy, Sheila and Walter!
---
---
---
Check out my website for the rest of our trips we took this time to South America.

This webpage details our first stop in Rio de Janeiro on October 30, 2009.

The we flew to Iguaçu Falls on November 02, 2009, and transfered to Hotel Rafain Centro.

On November 04, 2009, we flew to Buenos Aires for a few days.

On November 07, 2009, we took the ferry to Colonia del Sacrement, Uruguay.
---
---
---
| | | | | |
| --- | --- | --- | --- | --- |
| Created on: 2009.11.05 | --- | | --- | Updated on: 2020.10.07 |
---
---
---