---
---
As you can see, I have traveled all over the world and at times, tried to coordinate my birthday with a new country or city to visit. Since my birthday is on February 4th, many places I would like to visit are too cold so it would be difficult to travel and take photos. I decided to try some place where the weather might warm enough to enjoy my birthday. Maybe lots of champagne will be needed!

---
| | | |
| --- | --- | --- |
| Itinerary for Portugal | Histories of Portugal/Lisbon/Porto | Photos |
---
Trip Planning - Itinerary
I have added the Travel Agency and my friends contact information if you want a qualified agent to setup a trip in the future. She has setup trips for me to Austria and Morocco and all were wonderful experiences! Here is a link to the Portugal Itinerary that Viviane set up for me.
---
History of Portugal, Lisbon and Porto
Click on the any of the following links to view the history of Portugal, Lisbon or Porto.
---
Photos and a Brief Overview of Each Place Visited
---
---
---
| | |
| --- | --- |
| Day 01 | Depart 4:15 pm on non-stop British Airways flight to London - Feb. 01 |

View of the San Francisco Skyline from Chuck's Apartment as he leaves for his British Airways flight.
---
| | | |
| --- | --- | --- |
| | | |
| British Airlines | Flying over North Side of San Francisco | Flying over the Bay Area! |
| | |
| --- | --- |
| Day 02 | London to Lisbon - Arriving at 6:10 p.m. and a transfer to the Hotel Vintage Lisboa - Feb. 02 |
| | | |
| --- | --- | --- |
| | | |
| Mink is Best for a Bed Spread | Beautiful Street | And two balconies to view the Street! |
| | |
| --- | --- |
| Day 03 | Continental breakfast and City Sightseeing in Lisbon - Feb. 03 |

The Marquess of Pombal Square is an important roundabout in the city of Lisbon, Portugal. It is located between the Avenida da Liberdade (Liberty Avenue) and the Eduardo VII Park in the former parish of Coração de Jesus and in the quarter of Santo António. The square is the radiating point for various important avenues: Liberdade, Duque de Loulé and Fontes Pereira de Melo, as well as the streets Braamcamp and Joaquim António de Aguiar.

Its name is a reference to Sebastião José de Carvalho e Melo, 1st Marquess of Pombal, 1st Count of Oeiras, the mighty prime-minister who ruled Portugal from 1750 to 1777. In the middle of the roundabout there is a large column dedicated to him, built between 1917 and 1934 and created by Adães Bermudes, António Couto and Francisco Santos. A bronze statue of the Marquess is on the top, with a lion - symbol of power - by his side. The Marquess is shown looking towards the Baixa Pombalina, the area of Lisbon that was rebuilt under his direction after the disastrous 1755 Lisbon earthquake.

The Campo Pequeno Bullring is the bull ring of Lisbon, Portugal. It is located in the Campo Pequeno Square, by the Avenida da República. After a profound renovation, it re-opened as a multi-event venue in 2006, designed to be used for various events apart from bull fighting. It hosts a range of live acts and has seen many famous bands perform there. It includes an underground shopping centre, restaurants and a parking lot.

Lisbon's bullring was built between 1890 and 1892 under the supervision of Portuguese architect António José Dias da Silva. His design was inspired by the bullring of Madrid, by Emilio Rodriguez Ayuso, later demolished. The style is the neo-Mudéjar, a Romantic style inspired by the old Arab architecture from Iberia. Lisbon's new bull ring replaced an old one, located in the Campo de Santana.
The Águas Livres Aqueduct - "Aqueduct of the Free Waters", is a historic aqueduct in the city of Lisbon, Portugal. It is one of the most remarkable examples of 18th-century Portuguese engineering. The main course of the aqueduct covers 18 km, but the whole network of canals extends through nearly 58 km. but isn't used any more.

Everyone told me this was an exact copy of the Golden Gate Bridge. I said I don't think so, ours is Art Deco!

The Vasco da Gama Bridge is a cable-stayed bridge flanked by viaducts and rangeviews that spans the Tagus River in Parque das Nações in Lisbon, capital of Portugal. It is the longest bridge in Europe (including viaducts), with a total length of 17.2 kilometres (10.7 mi), including 0.8 kilometres (0.50 mi) for the main bridge, 11.5 kilometres (7.1 mi) in viaducts, and 4.8 kilometres (3.0 mi) in dedicated access roads. Its purpose is to alleviate the congestion on Lisbon's other bridge (25 de Abril Bridge), and to join previously unconnected motorways radiating from Lisbon.

Belém Tower or the Tower of St Vincent is a fortified tower located in the civil parish of Santa Maria de Belém in the municipality of Lisbon, Portugal. It is a UNESCO World Heritage Site (along with the nearby Jerónimos Monastery) because of the significant role it played in the Portuguese maritime discoveries of the era of the Age of Discoveries. The tower was commissioned by King John II to be part of a defense system at the mouth of the Tagus river and a ceremonial gateway to Lisbon.
| | |
| --- | --- |
| Day 04 | Ten Hour Day trip to Obidos, Sitio, Nezare and Fatima - Feb 04 - 76th Birthday |
Obidos
The name "Óbidos" probably derives from the Latin term oppidum, meaning "citadel", or "fortified city". The municipality had its origin in an early Roman settlement near the foothills of an elevated escarpment.
---
Alcobaça - Alcobaça Monastery

The Alcobaça Monastery is one of the first foundations of the Cistercian Order in Portugal. It was founded in 1153 as a gift to Bernard of Clairvaux, shortly before his death, from the first Portuguese King, Afonso Henriques, to commemorate his victory over the Moors at Santarém in March 1147. The foundation of the monastery was part of the strategy by Afonso Henriques to consolidate his authority in the new kingdom and promote the colonisation of areas recently taken from Moorish hands during the Reconquista.

A Prince was in love with a woman from another province. His father the King, refused his request to marry her as her brothers would become part of the royal family. The Princess had three of his children and eventually at around 57, was murdered. When the King died and the Prince became King he went to the grave and held his hand on it and married her! But none of her children or relatives every were part of the royal family.
---
El Sitio, Nazaré
Nazaré is a town and a municipality in subregion Oeste and Leiria District, in Portugal. It is one of the most popular seaside resorts in the Silver Coast/Costa de Prata, Portugal.

We stopped at this restaurant and had a great Fish Luncheon. Eight of us were at one table, a couple from Boston, husband from Cape Verde and his wife from Angola! Another couple was from London, she from India and he from Shri Lanka. And also three women from northern Brazil. I was celebrating my 76th birthday so lots of wine with lunch!
---
Batalah Monastery
| | |
| --- | --- |
| | |
The Monastery of Batalha (Portuguese: Mosteiro da Batalha), literally the Monastery of the Battle, is a Dominican convent in the civil parish of Batalha, in the district of Leiria, in the Centro Region region of Portugal. Originally, and officially known, as the Monastery of Saint Mary of the Victory (Portuguese: Mosteiro de Santa Maria da Vitória), it was erected in commemoration of the 1385 Battle of Aljubarrota, and would serve as the burial church of the 15th-Century Aviz dynasty of Portuguese royals. It is one of the best and original examples of Late Gothic architecture in Portugal, intermingled with the Manueline style.

As Capelas Imperfeitas (The Unfinished Chapels) remain as a testimony of the fact that the monastery was never actually finished. They form a separate octagonal structure tacked on the choir of the church (via a retrochoir) and only accessible from the outside. It was commissioned in 1437 by King Edward of Portugal ("Dom Duarte", d.1438) as a second royal mausoleum for himself and his descendants. But he and his queen Eleanor of Aragon are the only ones buried here (Eleanor died in exile in Toledo in 1445, her remains were only translated here in 1456).
---
Fátima Shrine
Our Lady of Fátima (Portuguese: Nossa Senhora de Fátima, formally known as Our Lady of the Holy Rosary of Fatima Nossa Senhora do Rosário de Fátima European Portuguese: is a Roman Catholic title of the Blessed Virgin Mary based on apparitions reported to have been experienced by three shepherd children at Fátima. The three children were Lúcia Santos and her cousins Jacinta and Francisco Marto. A newer church was built on the hill opposite the Shrine of Fátima but I can never understand why they build such ugle new churches.
---
Hotel Vintage Birthday Gift
I came home from a long tour and there were two glasses of port, four deserts and strawberries. Here I am on the roof top cocktail lounge enjoying the view and having a long talk with the bartender.
---
| | |
| --- | --- |
| Day 05 | Continental breakfast and a morning massage, then an afternoon half day trip to Sintra and Estorial - Feb. 05 |
Massage and Green Tea
My travel agent Viviane gave me a massage as a gift and by this time I really needed it. I went to bed the night before and passed out. My massage was at 10:30 A.M. and I woke up and it was 11:00 A.M. I had slept almost 12 hours! How did this happen? The phone rang and asked when I was coming down? So off to the massage area and after they gave me a tray to take to my room with a snack and green tea.
---
Cascais
Cascais is a coastal town and a municipality in Portugal, 30 kilometres (19 miles) west of Lisbon. It is a cosmopolitan suburb of the Portuguese capital and one of the richest municipalities in Portugal. Nowadays, it is a popular vacation spot for both Portuguese and foreign tourists. It is located on the Estoril Coast (named after Estoril, a town in the municipality), in the Greater Lisbon subregion.
---
Sintra National Palace
Sintra is a resort town in the foothills of Portugal's Sintra Mountains, near the capital of Lisbon. A longtime royal sanctuary, its forested terrain is studded with pastel-colored villas and palaces. The Moorish- and Manueline-style Sintra National Palace is distinguished by its dramatic twin chimneys and elaborate tilework. The hilltop 19th-century Pena National Palace is known for its whimsical design and sweeping views.

The Sintra National Palace, also called Town Palace is located in the town of Sintra, in the Lisbon District of Portugal. It is a present-day historic house museum.
Sintra National Palace
---
Sintra National Palace Kitchen
The palace kitchen was something I had never seen before in my travels. There are two kitchens, each about 25 feet across and about five stories high in the shape of a funnel. At the top are several small windows and a hole for the smoke and heat to escape. In the middle are spits to roast such things as deer or pigs and they say the worst job in the palace is to sit for six or more hours turning the meat on the spit. Your arms give out and your face and front of your body burns with the heat. The black cabinet is used to heat dishes and keep food warm and the embers from the spit are put into the container at the bottom. The pots are huge and it is hard to think the kitchen staff cooking for several hundred royals every day, three times a day.
| | |
| --- | --- |
| Day 06 | Continental breakfast at the hotel - Lisbon to Porto by Train - Feb.06 - Afternoon Lunch with Tapio Maki |
Lisbon - LisboaOriente Train Statioin to the Sao Bento Train Station

Transfer from the Hotel Das Artes to the LisboaOriente Train Station leaving at 10:09 A.M.

Gare do Oriente or Lisbon Orient Station is one of the main transport hubs in Lisbon, Portugal. It was designed by the Spanish architect Santiago Calatrava and built by Necso. It was finished in 1998 for the Expo '98 world's fair in Parque das Nações, where it is located. It encompasses a Lisbon Metro station, a high-speed, commuter and regional train hub, a local, national and international bus station, a shopping centre and a police station. The station bears considerable resemblance to Calatrava's earlier Allen Lambert Galleria within Toronto's Brookfield Place. Some influence from Gothic architecture can also be found.
---
Gare do Oriente Train Station
---
Hotel Das Artes
Transfer from the train station to the Hotel Das Artes at 12:45 P.M. via a taxi. IT was raining very hard!
Street View from my Hotel Room.
---
Chance Meeting with someone who has a friend in Porto!
I was having my coffee at the Asian Cafe in the museum and saw a man sitting across from me. You know me, always ready to talk to someone so I told him I had seen him there before and wondered if he lived around the area. He said he was applying for a volunteer job and we ended up talking for more than an hour. His name is Wun Choiu and lives north in Marin. We have met several times for lunch and we both are interested in physics and astronomy.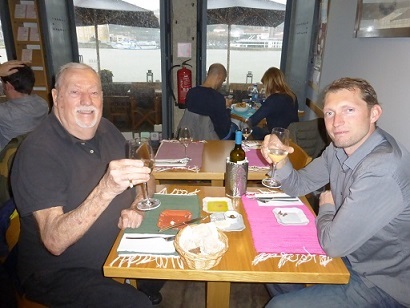 Wun worked for NASA and belongs to the International Space program and wants me to join him as a member and also write a paper to send to NASA for future endeavors in the space program. I kidding said a senior center in space would be a good idea, low or no gravity would be great for older people as there would be little stress on their bodies. I told Wun I had retired from the computer industry in 2002 so figured I was finished with work. Well so much for that!
I met a new friend in 1999 on a trip to the tip of South America, Viviane, who lived in Beverly Hills. Around 2004 she bought a senior residence in Woodland Hills and I took courses to get an Administrative License in order to run the senior residence when she was away on business or vacation trips.
Now this is such a small world, Wun said he has a good friend in Finland. I said I have been to Finland and Helsinki when on a trip to St. Petersburg Russia and a river cruise to Moscow. He said his friend Tapio was thinking about building senior housing in Porto. I said PORTO! I said I was going to travel by train to Porto from Lisbon Portugal on February 6th! Wun said I should meet his friend in Porto and discuss senior residences and maybe he could take me out to lunch when I get to the hotel in Porto around 1 P.M. The Finnish people like other northern Europeans love to fly south for the winter. When I was traveling in Turkey I saw Germans buying condos on the west coast by the Mediterranean Sea. They went there to escape the cold in northern Europe during the winter months.
I just got an email from Wun's friend, Tapio Mäki and he wants to meet me and take me to lunch!
Tapio wrote me the following on January 15th:
We could meet up at your hotel at 2pm on 6th and then go for lunch before they close 3 or 330pm. I will see the weather and plan one accordingly preferably with a nice view. It will be pleasure to meet you and welcome to Porto!
Best, Tapio Mäki
Tapio wrote me the following on January 29th:
Hi Charles,
Great, you will be at your hotel in 10-15 min from train station. I will be trying to get to hotel around 1415 to 1430 with my car … it is a bit from the river so we can drive there to eat.
Thank you, Tapio
| | |
| --- | --- |
| Day 07 | Continental breakfast & Half Day Guided Tour of Porto - Feb. 07 |
---
Porto - Campanhã Train Station and on to the Hotel Das Artes
Campanhã station is the main railway station in Porto, Portugal for non-local train services. It was opened in 1877. It has connections to the Porto Metro as well as local services around Porto. Intercity and Commuter trains are operated by Comboios de Portugal, the Portuguese national railway operator. The station is a through station, i.e. not a terminus station, allowing through running of trains from Lisbon to the north of Portugal.
The other major railway station in Porto is São Bento, the city centre terminus station (principally for local trains and trains heading north, including the Douro line).
---

---
Livraria Lello & Irmão

Livraria Lello & Irmão, also known as Livraria Chardron or simply Livraria Lello (Lello Bookstore) is a bookstore located in central Porto, Portugal. Along with Bertrand in Lisbon, it is one of the oldest bookstores in Portugal. It is frequently rated among the top bookstores in the world, placing third in lists by the Lonely Planet and The Guardian. The actual company goes back to the establishment of the "Livraria Internacional de Ernesto Chardron" in 1869, down in the Clérigos street. After the early passing of the founder at the age of 45, the firm was sold to "Lugan & Genelioux Sucessores".

In 1881, José Pinto de Sousa Lello established a bookstore in the nearby Almada street. In 1894, Mathieux Logan sold the old Chardron Library to José Lello which, holding a partnership with his brother Antonio Lello, kept Chardron with the registered name of "Sociedade José Pinto Sousa Lello & Irmão", which then would be referred to as "Livraria Lello e Irmão" (1919). The bookstore was frequented by JK Rowling, author of the Harry Potter series, when she taught English in Porto and is reported to be an inspiration for her writing.

---
Graham's PORT Cellars (locally known as "caves")
Graham's has always been a pioneer. Graham's was one of the first Port companies to invest in its own vineyards in Portugal's Douro Valley in 1890 and is now at the cutting edge of innovation in winemaking techniques. Today, five Symington cousins share responsibility for every aspect of the company and personally make the Graham's wines. They too have been involved with Port and the Douro for many generations, with ancestry dating back to the mid-17th century.
| | |
| --- | --- |
| Day 08 | Continental breakfast - Douro River Cruise - Feb.08 |
---
Douro Cruise

The Douro is one of the major rivers of the Iberian Peninsula, flowing from its source near Duruelo de la Sierra in Soria Province across northern-central Spain and Portugal to its outlet at Porto.

---
Coffee Break in Gaia

I finished my Douro River Cruise and decided to relax and have a cappucino at a local coffee shop. The young man behind the counter was so friendly and said I didn't need to pay right away, just go outside and relax.

Vila Nova de Gaia, or simply Gaia is a city and a municipality in Porto District in Norte Region, Portugal. It is located south of the city of Porto on the other side of the Douro River. The city proper had a population of 178,255 in 2001. The municipality has an area of 168.46 km². and a total population of 302,295 inhabitants (2011), making it the most populous municipality in Norte Region. Gaia together with Porto and 12 other municipalities makes up the commonly designated Porto Metropolitan Area.

It is also well known for its cellars (locally known as "caves") where the world famous Port wine is stored and aged. These cellars have become a major tourist attraction.
---
My Last Dinner in Porto

I had a brussel sprout soup with Goat Cheese Foam! Chicken breast, boiled potato and roasted carrots. And a Cappucino and a large glass of Chardonney wine!
| | |
| --- | --- |
| Feb. 09/10 | British Airways Flight - Porto to Madrid - Madrid to London - London to San Francisco - Welcome Home |
View of the evening San Francisco Skyline from Chuck's Apartment as he gets home from his British Airways flight.
---
| | | | | |
| --- | --- | --- | --- | --- |
| Departure Lounge Travel Agency | Viviane Tondeur MBA, CTC, DS | 818-268-6552 | vtondeur@departurelounge.com | |
---
If you need assistance while you are planning a vaction or on your trip, please do not hesitate to call to me.

Viviane Tondeur MBA, CTC, DS

818-268-6552

vtondeur@departurelounge.com

Mon, Feb 01 - San Francisco to London on British Airways.

Mon, Feb 02 - London to Lisbon on British Airways.

Wed, Feb 03 - City Sightseeing Lisbon - Happy Birthday!.

Thur, Feb 04 - Trip to Obidos and Fatima.

Fri, Feb 05 - Half Day trip to Somtra and Estorial.

Sat, Feb 06 - First class 10:09 a.m. train to Porto.

Sun, Feb 07 - Half Day Guided tour of Porto.

Mon, Feb 08 - Wine Tasting and River Cruise.

Tue, Feb 09 - Depart 6 am on flight via Porto to Madrid and to London.

Tue, Feb 10 - Depart London and arrive in San Francisco at 6:05 p.m. - Welcome Home!
---
---
---
Charles Walter Buntjer




San Francisco California
Created on: 2015.11.01




Updated on: 2016.07.25