Muir Woods National Monument
Muir Woods National Monument is located in Marin County, California, just 17 miles north of San Francisco. Although only 554 acres in size, the park receives nearly 1 million visitors a year. The park was established in 1908 to protect one of the last stands of old-growth redwood trees (Sequoia sempervirens) in the Bay Area. The age of trees within the park range up to 800 years and fall within a mosaic of redwood, Douglas-fir, hardwood, scrub, and grassland vegetation types. Within this fragment of old-growth habitat live several federally threatened and endangered species including northern spotted owls, coho salmon, California red-legged frogs, and steelhead trout.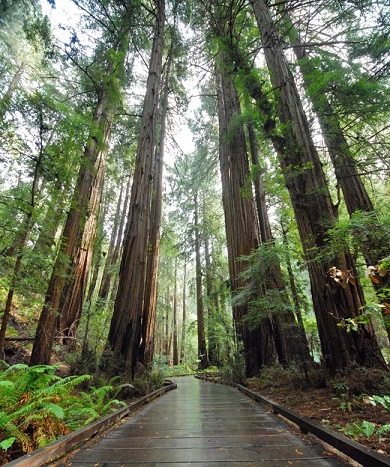 Visitors are invited to step back in time to the days of one of the earliest park advocates. Hike through the soaring redwoods and immerse yourself in the sights that inspired John Muir to be such a strong voice for the preservation and conservation of America's most special places.
Muir Woods is the first National Monument that was created solely because of a land donation from a individual. Congressman William Kent donated the land to protect redwoods, some of which are over 150 years old, from the logging industry boom. He also insisted it be named for John Muir.
Today, visitors flock to the Cathedral Grove of Muir Woods and hike through these famed woods and to see fairy ring trees - some truly remarkable sights await.
The Pacific Coast is long-famed for its temperate weather, and Muir Woods is no exception. Most times of the year, temperatures range from 40 to 70 degrees, making Muir Woods the perfect escape.
Camping is not allowed within the park, though several options are available in the area nearby. Muir Woods is a perfect retreat for hikers looking for the solitude of a redwood forest.
Due to the dense nature of the redwoods, wildlife in this park is elusive. However, intrepid visitors might be lucky enough to see a spotted oil or bobcat lurking in the trees.