---
---
| | | |
| --- | --- | --- |
| | | |
---
---
Time Line of Charles Walter Buntjer's Life
---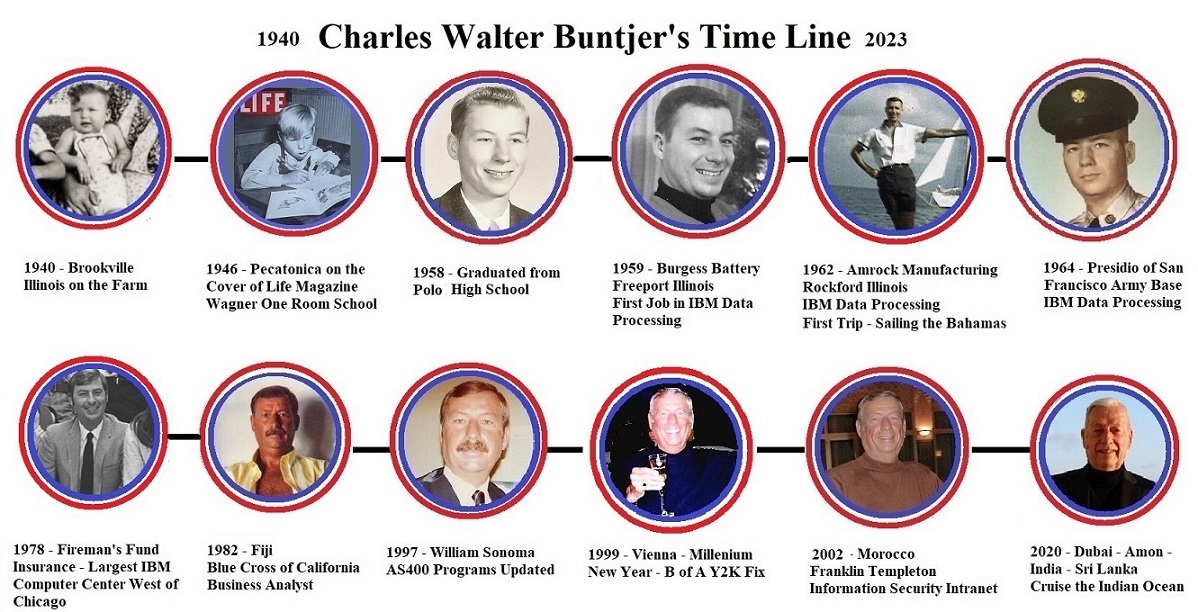 ---
---
---
---
---
Birthdays Around the World
---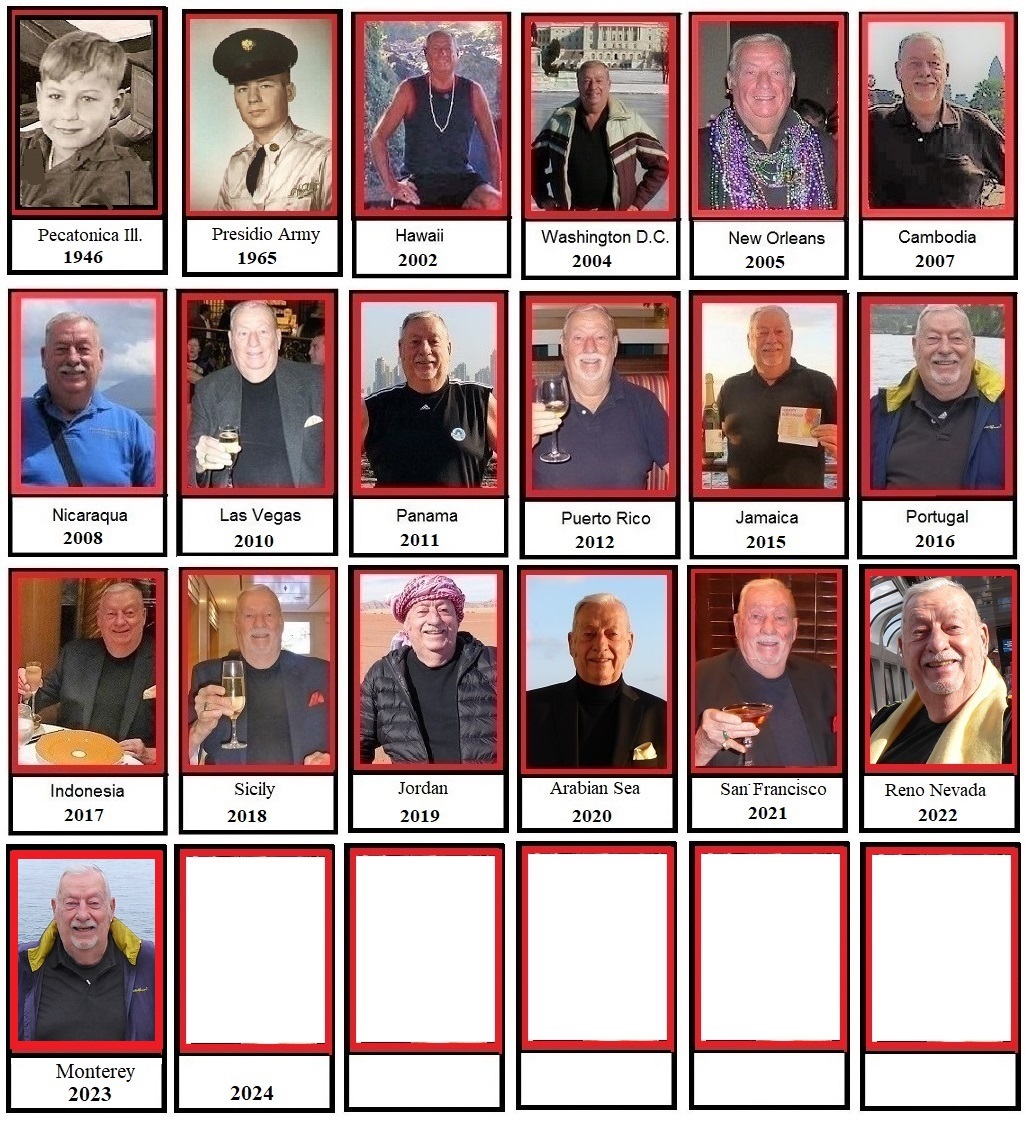 ---
---
---
Trip Planning ~ 2022/2023
---
In 2022 I celebrated my 82nd birthday on February 4th in Reno! I also did a day tour of the Muir Woods National Monument on June 14th, 2022.
I hadn't been to Monterey for almost 40 years! The last time I was there I was taking a scuba diving class at the YMCA in 1983 and we did our final class dive off the pier in Monterey!
In 1982, I was going to Egypt but due to social uprisings, my travel agent decided instead of me sitting under a palm tree in Egypt, I should sit under one in Fiji! I still hadn't taken my scuba classes so I actually didn't do any deep diving in Fiji. The water is so shallow one can just walk around the coral and see the fish, just use a face mask!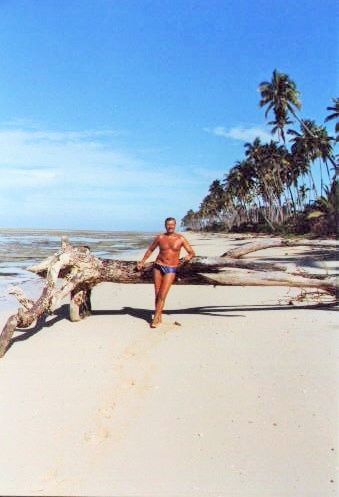 Here I am in 1961 on the Windjammer Cruise. The first trip I ever saw the ocean or swam in it! It was also my first plane ride and it was on a Pan Am 707 jet! I left the hotel in Miami and took a pusher prop plane floating in the water, to the island of Bimini where we boarded the Windjammer ship, the Polynesia. When I flew back from Miani, I took a four engine prop back to Chicago, three types of planes in one trip and all for the first time!
Note: For the first trip I took to the ocean and a cruise I bought a new camera. I think it cost quite a bit of money as I knew I was going on such an interesting trip. But as soon as we boarded the ship and started to sail, I had a few photos taken and then the camera broke. Talk about being irritated. I didn't remember that I must have taken the film to be processed and 30 years later my sister told me she found a negative of me on the Windjammer cruise at the bottom of a box of photos she had. (I think it was actually a slide as was popular at that time!) Yvonne kept everything! She took the negative and scanned it on her computer! What a find, the only photo taken of me in 1961 on the Windjammer cruise, hanging onto a rope on the stern of the ship.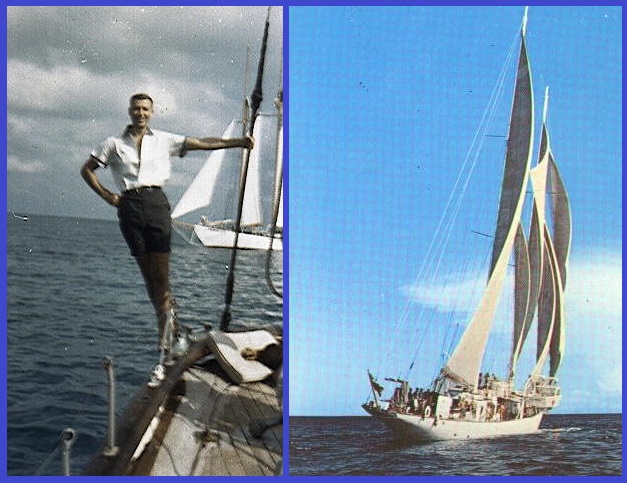 It originally was a Rockefellers yacht named the Polynesia. The boat held about 45 people and a crew of about 12. It is the world's largest stay's schooner at 151 feet long! And to top it off, we were hit by a hurricane and the ship almost hit the rocks and would have been destroyed! We later found out we were in the middle of the Bermuda Triangle! What a trip!
I first did a scuba dive in 1961 when I did my first dive off of Nassau in the Caribbean. Two men on the Windjammer Cruise were under-water demolition experts and had an extra set of scuba gear.
They asked if anyone wanted to dive with them. I said "Yes"! We dove down to about 80 feet and saw barracuda and sharks and other fish. They said I did a good job and I told them it was the first time I had ever did a dive with scuba gear!
They couldn't believe it. We dove around three times, what an experience for someone born on a farm in Illinois!
I eventually figured I needed to take the certification to dive just to be safe. I certainly learned a lot of important information about diving! Better late than too late!
Here I am in Monterey on October 23rd, 1983 with my T-Top Mustang and diving gear and my NAUI Scuba Diving Certificate!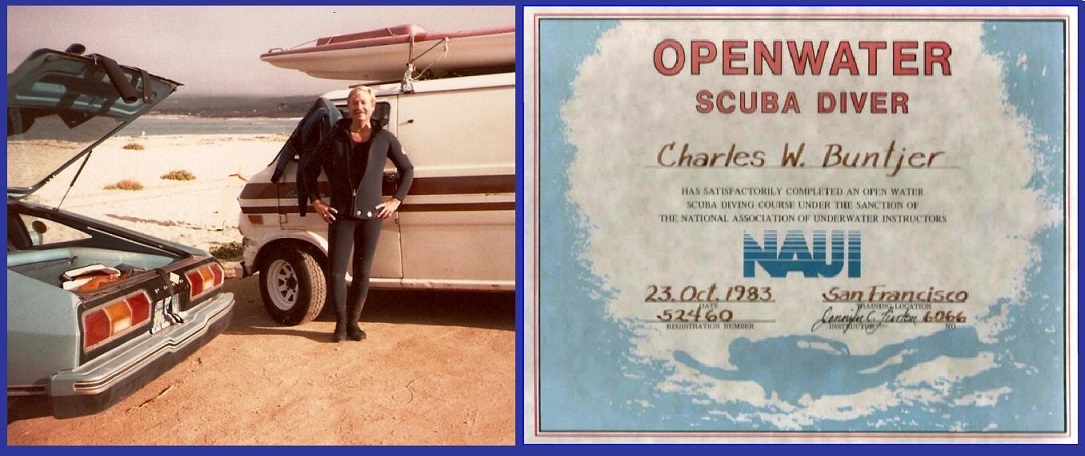 ---
---
---
---
1961 ~ Windjammer Cruise Webpage
---
If you are interested in reading about my first trip outside the U.S.A. and the Windjammer cruise I took, select the following link.

Note: The page will open in a new window.
---
---
---
Itinerary

I decided it was easier to take a bus tour from San Francisco to Monterey like I did when I took the day trip to Muir Woods.

I talked to Virginia and Naomi and asked them if instead of me taking a bus tour to Monterey and visit the Monterey Bay Aquarium and have a late lunch in Carmel, why don't we take Virginia's car and drive down to Monterey and have a nice relaxing day to celebrate my birthday.

Naomi said she hasn't been to the aquarium either so it will be a nice experience for both of us! She agreed to drive us to Monterey!
---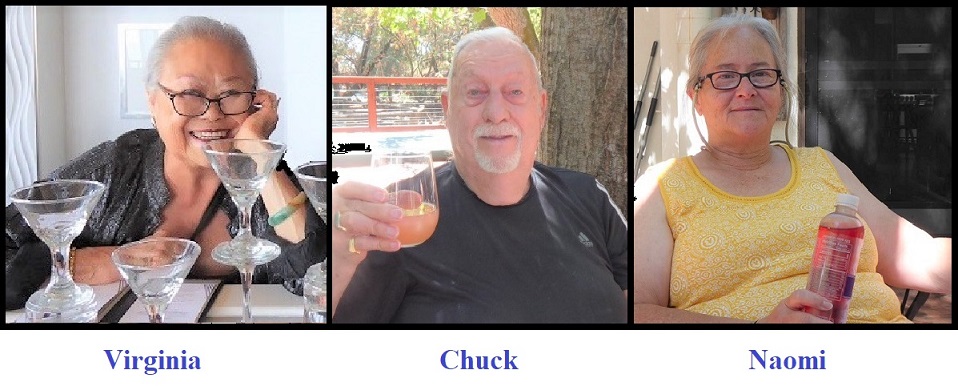 ---
---
View of San Francisco as We Left for Monterey
---
This is a view of San Francisco and the Bay Area! It was taken from my apartment at Fox Plaza on the 28th floor, a fantastic view day or night, regardless of the weather! Leaving one great location to view another one, Monterey, only 80 miles south of San Francisco. As you can see, it is very foggy and raining. Coming home around 7 p.m. we drove into a bad situation, rain and wind and crazy drivers speeding in the fast lane! Scary!

---
---
---
---
Monterey is a city located in Monterey County on the southern edge of Monterey Bay on the U.S. state of California's Central Coast. Founded on June 3, 1770, it functioned as the capital of Alta California under both Spain (1804 to 1821) and Mexico (1822 to 1846).

During this period, Monterey hosted California's first theater, public building, public library, publicly-funded school, printing-press, and newspaper. It was originally the only port of entry for all taxable goods in California. In 1846, during the Mexican-American War of 1846-1848, the United States Flag was raised over the Customs House. After Mexico ceded California to the U.S. at the end of the war, Monterey hosted California's first constitutional convention in 1849.

The city occupies a land area of 8.466 sq mi (21.93 km2) and the city hall is at 26 feet (8 m) above sea level. The 2020 census recorded a population of 30,218.

Monterey and the surrounding area have attracted artists since the late 19th-century, and many celebrated painters and writers have lived in the area. Until the 1950s there was an abundant fishery. Monterey's present-day attractions include the Monterey Bay Aquarium, Cannery Row, Fisherman's Wharf, California Roots Music and Arts Festival, and the annual Monterey Jazz Festival.
---
---
---
---
---
---
---
---
---
---
---
---
Overview of Monterey Bay Aquarium
---
The Monterey Bay Aquarium is a nonprofit public aquarium in Monterey, California. Known for its regional focus on the marine habitats of Monterey Bay, it was the first to exhibit a living kelp forest when it opened in October 1984. Its biologists have pioneered the animal husbandry of jellyfish and it was the first to successfully care for and display a great white shark.

The organization's research and conservation efforts also focus on sea otters, various birds, and tunas. Seafood Watch, a sustainable seafood advisory list published by the aquarium beginning in 1999, has influenced the discussion surrounding sustainable seafood.

Early proposals to build a public aquarium in Monterey County were not successful until a group of four marine biologists affiliated with Stanford University revisited the concept in the late 1970s. Monterey Bay Aquarium was built at the site of a defunct sardine cannery and has been recognized for its architectural achievements by the American Institute of Architects. Along with its architecture, the aquarium has won numerous awards for its exhibition of marine life, ocean conservation efforts, and educational programs.

Monterey Bay Aquarium receives around two million visitors each year. It led to the revitalization of Cannery Row, and produces hundreds of millions of dollars for the economy of Monterey County. In addition to being featured in two PBS Nature documentaries, the aquarium has appeared in film and television productions.
---
Photos of the Monterey Bay Aquarium
---
---
---
---
---
---
---
---
---
---
---
---
---
---
---
---
---
---
---
---
---
---
---
---
---
---
---
---
---
---
---

Pot of Gold at the End of the Rainbow!

---

An 83rd Year Birthday Selfie!
---
---
---
---
---
---
The name Pebble Beach was originally given to a rocky cove and beach strand, a prominent coastal segment of the Rancho Pescadero Mexican land grant that had been awarded to Fabian Barreto in 1836. Barreto died and the land went through several owners. In the 1850s, Chinese immigrants formed a series of fishing settlements along Carmel Bay including one at Stillwater Cove, next to Pebble Beach. They collected abalone and various fish. In 1860, David Jack bought the Mexican land grant, then sold it in 1880 to the Pacific Improvement Company (PIC), a consortium of The Big Four "railroad barons."

Pebble Beach is an unincorporated community on the Monterey Peninsula in Monterey County, California. The small coastal residential community of mostly single-family homes is also notable as a resort destination, and the home of the golf courses of Cypress Point Club, Monterey Peninsula Country Club, and Pebble Beach Golf Links.

The Pebble Beach Golf Links, The Inn at Spanish Bay, The Lodge at Pebble Beach and four of the eight golf courses inside the Pebble Beach community are among the local assets owned by the Pebble Beach Company. Residents pay road fees for maintenance as well as Monterey County property taxes. Application of the property tax revenues is the realm of the Pebble Beach Community Services District, a public agency that is independent of local private facilities, e.g., golf courses, with an elected Board of Directors that manages essential functions including fire protection and emergency medical services, supplemental law enforcement, wastewater collection and treatment, recycled water distribution, and garbage collection, disposal and recycling. The community's post office is named Pebble Beach, as is its identity; whereas, the U.S. Census Bureau aggregates census returns from Pebble Beach as part of the larger census-designated place of Del Monte Forest. However, residents and visitors associate and identify with the name Pebble Beach; boundaries of the Del Monte Forest extend outside of the Pebble Beach community boundaries encompassing a larger forest area that comprises the wooded parts of Monterey Peninsula.

Area open space is partly administered by the Del Monte Forest Conservancy, a non-profit organization designated by Monterey County and the California Coastal Commission to acquire and manage certain properties by conservation easement and, as well, by fee title.
---
---
---
---
---
---
---
Time Line of Charles Walter Buntjer's Life
---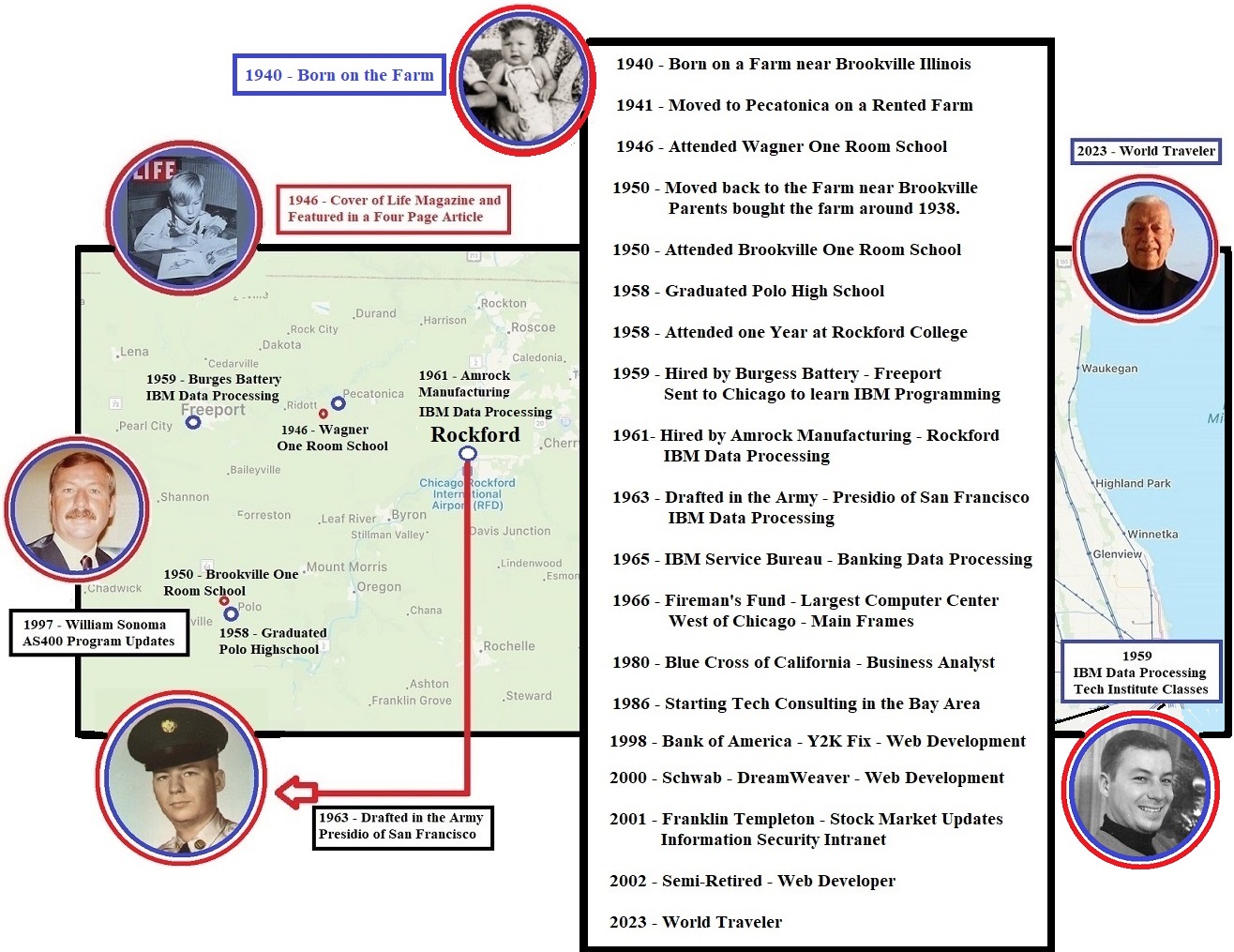 ---
---
---
San Francisco Evening View
---
This evening view of down town San Francisco was taken from my apartment at Fox Plaza on the 28th floor after I came back from the Monterey trip.

---
---
---
---