---
---
---
---
---
| | | |
| --- | --- | --- |
| | | |
---
---
---
---
---
| | | | | |
| --- | --- | --- | --- | --- |
| Birthdays | Highlights | EPIC Cruise Ship & Map | History & Itinerary Links | Photos |
---
Birthday Locations Over the Years
Here are some of the locations where I have spent my vacations over the last ten years celebrating my birthdays! I celebrated my 62nd birthday on the big Island of Hawaii and now I am celebrating my 75th birthday in Jamaica!
Chuck Buntjer's 75th Birthday in Jamaica ~ 02.04.2015
---
Virginia Yee and I just took a trip four months ago to Ireland for ten days. We had a great time and I suggested that maybe we could do something for my 75th birthday. Virginia found a good price on a cruise from Miami to the Western Caribbean, visiting Jamaica, Grand Cayman and the Mexican island of Cozumel . I could celebrate my birthday in Jamaica! We also found a great deal on American Airlines to fly to and back from Miami. A good deal all around!



| | |
| --- | --- |
| | |
---
EPIC Cruise Ship & Map of Jamaica
---
History and Itinerary Links
---

---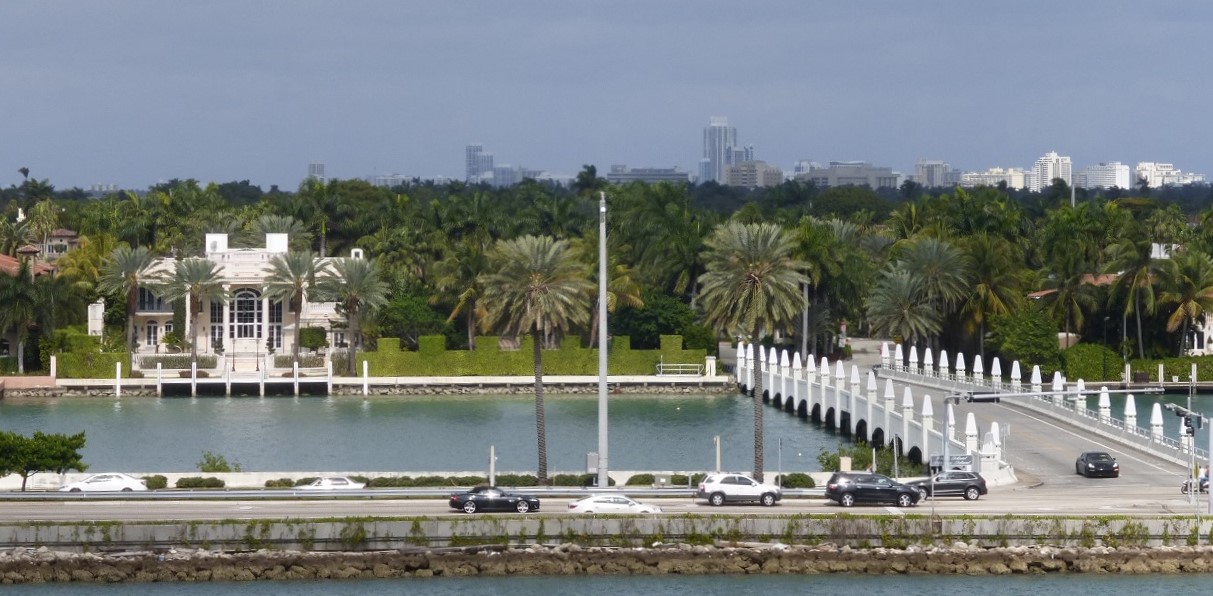 View from our balcony.
| | |
| --- | --- |
| | |
| Miami View | Water Skier following our Departure! |
| | |
| --- | --- |
| | |
| Leaving Miami - Chuck | And Virginia! |
---
Entertainment We Saw During the Cruise

Blue Man Group
Second City Comedy Club
Howling at the Moon - Dueling Pianos
Legionds of Music
Fat Cat Jazz - Manhattan Band
Comedy Hypnotism
Blue Man Group - Conversation
Martini Bar - Piano and Singer
Solo Guitarist

Norwegian Epic

The Norwegian Epic is the ship of choice for those sailing on a Mediterranean cruise or one of our many Caribbean cruises. In fact, we have literally changed the face of cruise line entertainment with the introduction of Blue Man Group at sea, and that's just the beginning.

Norwegian Epic is offering world-class performers and a new wave of accommodations - from Studios, designed and priced for the solo traveler, to the private Haven. Add more than 20 different dining options and you'll understand why this is Freestyle Cruising on a truly grand scale.

What's Included? 7 complimentary dining options, from three-course dining to endless buffets with action stations.

Entertainment day & night. Blue Man Group, Legends in Concert, live comedy, jazz club, dueling piano bar, and a wealth of clubs and lounges.

Fitness center, sports court, climbing and rappelling wall, aqua park, pools, and hot tubs. Youth programs for children ages 3-17.

Attentive room steward and complimentary room service.

Norwegian Epic Statistics

Passenger capacity: 4,100

Overall length: 1,081 feet

Cruise speed: 20.2 knots

1,753 crew members offer unparalleled service

Onboard amenities include over 20 dining, bar and lounge options, Pulse Fitness Center, Mandara Spa, two bowling alleys and more

Our Aqua Park includes three multi-story waterslides, including the 200-foot Epic Plunge, the only tube slide at sea

SVEDKA Ice Bar is one of only 14 ice bars in the world

Blue Man Group

If you think you've seen it all on a ship, we guarantee you haven't seen this. Norwegian Cruise Line is delighted to introduce Blue Man Group to a whole new audience, because for the first time ever, this popular theatrical phenomenon is coming to sea. There's never been anything like them, at least on this planet. Think vibrant light shows, comedy, lots of paint and talented Blue Men creating a completely outrageous sensory experience. It's entertainment pandemonium and it's only aboard Norwegian Epic.
---
Exterior/Interior of the Epic
| | |
| --- | --- |
| | |
| Overlooking dining, gambling and theatres. | Manattan Dining Room - Seats 600 Guests |
| | |
| --- | --- |
| | |
| Overlooking the Top Deck - Fun and Luncheons | Beautiful Lighting at Night |
| | |
| --- | --- |
| | |
| Martini Bar Entertainment | Manhattan Band - Huge Screen for Movies and so on. |
---
Ocho Rios

Ocho Rios (Spanish for "Eight Rivers") is a town in the parish of Saint Ann on the north coast of Jamaica. Just outside the city, travelers and residents can visit Columbus Park, where Columbus supposedly first came on land, and see maritime artifacts and Spanish colonial buildings. It was once a fishing village but now caters to tourists. It is a port of call for cruise ships as well as for cargo ships loading sugar, limestone, and in the past, bauxite.[citation needed] Scuba diving and other water sports are offered in the town's vicinity.

The name "Ocho Rios" is a misnomer because there are not eight rivers in the area. It is most likely a British corruption of the original Spanish name "Las Chorreras" ("the waterfalls"), a name given to the village because of the nearby Dunn's River Falls.

The north coast highway from the international airport at Montego Bay to Ocho Rios has been improved since 2000 and the journey is now an hour and forty five minutes drive. On 26 August 2011, the Jamaican government announced a $21 million revitalization plan for the resort area. The town has restaurants, night clubs in Margaritaville and Dolphin Cove, where tourists swim and interact with dolphins.

Sailing into Ocho Rios - (Eight Rivers)
| | |
| --- | --- |
| | |
| Condos and Hotels | View of the Epic from the Hill Top |
---
Best Of Ocho Rios Tour

This tour takes you to an unforgettable collection of beautiful spots in and around Ocho Rios. You'll visit the island's premier attraction, Dunn's River Falls. It's a place of unique beauty where the river cascades over a giant limestone staircase to a white sand beach and the warm Caribbean Sea. Enjoy a guided stroll through the groves of trees and plants at the Shaw Park Botanical Gardens. The manicured grounds are beautified by a reflecting pond, gazebos and a natural waterfall. Discover the lush vegetation of ferns and gigantic trees that form canopies over the roadway on your drive through Fern Gully. A final stop is made in the town for shopping before returning to the ship.
| | |
| --- | --- |
| | |
| Overlooking the Island | Village with local Art Work |
| | |
| --- | --- |
| | |
| Happy Sales Woman! | Birds, birds! |
| | |
| --- | --- |
| | |
| Taj Mahal Shopping Center | Doo-Dads |
| | |
| --- | --- |
| | |
| Tour of Private Gardens | Love Potion # 9 - If one sits on these roots! |
| | |
| --- | --- |
| | |
| Dunn's River Falls - Fresh Water from Daily Rains | Chuck and the Falls |
---
Celebrating Chuck's 75 Birthday in Jamaica
I met Mert and Marcia at Dunn's Falls - Mert gave me champagne for my birthday and I got a card from the Epic Crew!
| | |
| --- | --- |
| | |
| Celebrating in the Manhattan Restaurant with Wine of course! | Great Deserts |
| | |
| --- | --- |
| | |
| The Martini Bar | Six Martinis for $15.00 - Such a Deal! |
---
Sailing to the Grand Cayman Islands
| | |
| --- | --- |
| | |
| Casting Off! | The EPIC Cruise Ship - 4th Largest in the World! |
| | |
| --- | --- |
| | |
| Four or Five Ships dock at the same Time! | 20,000 passengers got of at the same time! |
---
---
---
---
---
| | | | | |
| --- | --- | --- | --- | --- |
| Created on: 2015.02.15 | --- | | --- | Updated on: 2020.10.13 |
---
---
---
---
---