There are four places I always wanted to visit, France, Egypt, Peru, and Italy. I now have achieved this goal and am looking forward to seeing many other sights.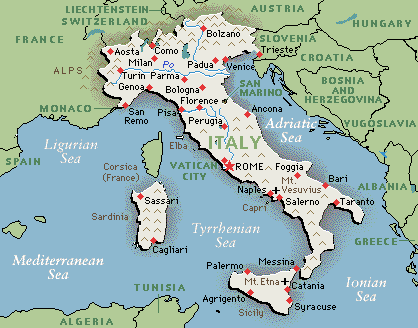 Italy is fantastic. I was surprised as I checked the map, finding out that San Francisco is on the same longitude as Northern Sicily. I also found the geographical statistics very interesting. For some reason I thought we weren't that far south of Rome. As a matter of fact, when I went to Peru, Lima which is on the west coast of South America, is directly south of Miami!
Looking out of my hotel window, I was surprised at how much the landscape looks like California along with the plants, many succulents and other varieties that love the same climate. Even though California has a great Spanish history, I couldn't help but be struck at how we had taken the best of Spanish and Italian and turned them into a California style. Along with the French influence of beautiful interiors, a wonderful place to live!
This is one of the few places I didn't have a camera. A friend gave me his camera case because he thought my camera should have extra protection! Yeah, sure. Well I parked my car in the garage and got on the plane. As we took off I realized I had left the dumb camera case and camera on the front seat of the car. Don't ask me why. Anyway, I was going to buy a camera in Italy but once there, we were so busy and I had such a good time I decided it was more fun to see everything in detail rather than taking pictures all of the time. Too much art to see in real time, not in pictures!
Click on the following menu items for more details on different places I visited and experiences I had in Italy!
---
---
---
Charles Walter Buntjer


San Francisco California
Created on: 1984


Updated on: 2015.03.25
---