---
---
---
---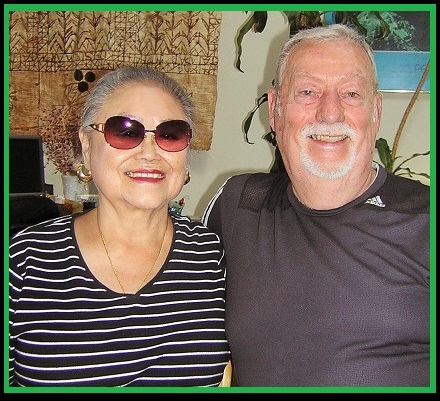 My friend Virginia and I decided to go to Ireland as neither of us had been there before. We met at the Portal World Travel agency with Jo Ann Giovannoni. Virginia knew her through a friend and I had called Jo Ann the day before to set up an appointment at ten a.m. on Tuesday, 2014.07.08. We had visited the travel agency a week before and had a brochure to review. We liked the one tour - Irish Adventure - that circled the island. We decided to add an extra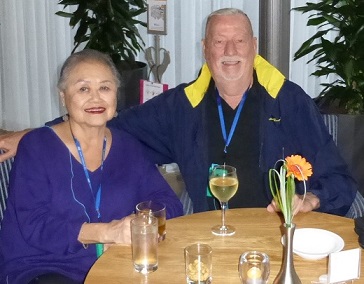 day to the eight day tour at the end as we would have an extra day in Dublin to relax before flying home. That was about $160.00 extra for the room or $80 to split the cost. Jo Ann had the tour group check the airfare but later she tried and found a flight about $100.00 less so that paid for the extra day in Dublin. The hotels are Superior or First Class and there is Breakfast and Dinner at most stops. This tour is through C-I-E Internation wth tours through Ireland, Scotland, England and Wales. The trip starts on October 14th and we will fly to New York and on to Ireland on Delta Airlines arriving on Wednesday morning, October 15th and then do an afternoon tour of Dublin.
Portal World Travel Since 1947 - Jo Ann Gionannoni - 2609 Ocean Avenue San Francisco CA. 94132 415.334.5400 On the left is a photo of us enjoying our first drink in Ireland on October 16th, 2014. And on the right, we are at the travel agency as we pick up our airline tickets and hotel and bus vouchers.
| | | |
| --- | --- | --- |
| Select this link to view the Photos | Select this link to view the Itinerary | Select this link to view the History |
The following listing details day by day, some of the places and things we saw along the way on our vacation in Ireland.
Daily Diary of Our Vacation:
.
---
Flight on - October 14: Delta Airlines - San Francisco/New York/Dublin
Leave San Francisco at 11:20 a.m. on Tuesday and arrive at the Kennedy Airport in New York at 8:00 pm. Leave Kennedy Airport at 9:46 p.m. and arriving at Dublin at 9:30 a.m. on Wednesday the 15th.
---
Day 1 - October 15: Dublin Tour & Book of Kells

The tour starts at Dublin Airport and you are transferred to your hotel. At 2:00 pm tour central Dublin to see stately Georgian houses, colorful squares, public buildings and more.

Visit Trinity College's campus to view the 8th century illuminated manuscript of the Book of Kells.

Sip a welcome drink and discuss your itinerary with your guide and will help you choose a restaurant to dine in independently.

Maldron Hole Cardiff Lane - Sir John Rogersons Quay - Dublin 2, Dublin Ireland - +353-1-643-9500
---
Day 2 - October 16: Glendalough & the town of Waterford

Leave Dublin and visit 6th century Glendalough monastic site with its round tower and church ruins, set in a picturesque valley in the Wicklow Mountains. Learn about St. Kenvin's 6th century monastery in the Glendalough Visitor Center and walk around the site to see its round tower, church ruins and Celtic crosses.

Continue your drive south to New Ross and tour the Dunbrody Famine Ship to learn about emigration.

Drive to your hotel in Waterford and, after dinner take a brief walking tour around the narrow streets of the historice city with a local guide. (B, D)

Dooley's Hotel - 30 The Quay - Waterford Co Waterford Ireland - +353-51-873-531
---
Day 3 - October 17: Waterford Crystal & Blarney Castle

Watch glass blowing and cutting at the House of Waterford Crystal and see one of a kind masterpieces.

Drive along the south coast via Dungarvan to Cobh, the last port of call for the Titanic and then go for a walking tour.

Drive to Blarney and climb the steps of Blarney Castle to kiss the "Stone of Eloquence" and shop at the Blarney Woollen Mills. ,P. Then drive through the rugged scenery to Killarney and relax before dinner. (B, D)

Castlerosse Hotel - Lower Lake - Killarney Co Kerry Ireland - +353-64-6631144
---
Day 4 - October 18: Ring of Kerry & Skellig Experience

Experience the popular Ring of Kerry tour where the road winds between mountains and coast offering scenic views at every turn. The road winds between the Macgillycuddy's Reeks Mountains on one side and the Atlantic coastline on the other.

Stop to admire breathtaking beauty and take photos. Watch trained dogs herd flocks of sheep and visit the Skellig Experience.

Drive through Killorglin and Cahirciveen and stop for a casual lunch. Cross by bridte to Valencia Island and visit the Skellig Experience to learn about the rocky islands off the end of the peninisula where monks lived in early Christian times. Stop in the pretty village of Sneem and also at Moll's Gap to panoramic mountain views.

After a pub lunch, drive around the rest of the Ring of Kerry to reach Killarney. (B, L)

Castlerosse Hotel - Lower Lake - Killarney Co Kerry Ireland - +353-64-6631144
---
Day 5 - October 19: Cliffs of Moher & Galway

Travel north from Killarney and take a ferry ride across the River Shannon Estuary.

View the awesome Cliffs of Moher rising to heights of 700 feet above the wild Atlantic swells.

Drive through the rounded limestone hills of Burren and around Galway Bay. Take a short orientation tour of Central Galway before checking in to your hotel. (B, D)

Ardilaun Hotel - Taylors Hill - Galway Co Calway Ireland - +353-91-521433
---
Day 6 - October 20: Yeats' Grave & Derry Walk

Drive north through the pilgrimage town of Knock to Sligo to view the grave of the Nobel Prize-winning poet, W. B. Yeats. Travel around Donegal Bay and through the majestic and rugged scenery of Donegal to Derry.

Take a guided walk around the medieval walls, which completely encircle the old part of the city and date from 1613 C.E. (B, D)

Everglades Hotel - Prehen Road - Derry Co Derry BT47 2PA - Northern Ireland - +44-48-71340013
---
Day 7 - October 21: Giant's Causeway & Irish Show

Visit the Giant's Causeway, enormous hexagonal columns formed by volcanic activity over 60 million years ago. Drive to Belfast for a visit to Titanic Belfast. The state-of-the-art attraction is devoted to the development and construction of the ill-fated liner that was built in the nearby docks. Continue south to Dublin city and drive to the Abbey Tavern for a farwell dinner and entertained with traditional Irish songs and step-dancing. (B, D)

Croke Park Hotel - Jone's Road - Dublin Dublin 3 Ireland - +353-1-8714444
---
Day 8 - October 22: Tour Ends - We continue for an additional day.

An extra day to tour Dublin. Use your vouchers for an independent open-top bus tour and a visit to either Guinness Storehous or the Old Jameson Distillery to lean how these nenowned products are created and enjoy a sample!

Croke Park Hotel - Jone's Road - Dublin Dublin 3 Ireland - +353-1-8714444
---
Day 9 - October 23: Depart to Airport

Leave the Croke Park Hotel - Jone's Road - Dublin Dublin 3 Ireland - +353-1-8714444 and depart from Dublin Ireland at 11:15 a.m. and landing in Kennedy Airport New York at 1:55 p.m. Leaving Kennedy Airport at 4:15 p.m. and landing at SFO San Francisco at 8:03 p.m.
---
---
---
---
| | | |
| --- | --- | --- |
| Created by Charles Walter Buntjer | | Published on 2014.07.01 |
| | | |
| --- | --- | --- |
| San Francisco California | | Revised on 2014.10.10 |