February 03rd - Second Port of Call - Semarang - Island of Java
Borobudur by Train - Nine Hour Tour - $259.95
Leave Semarang for a one-hour drive to the historical city of Ambarawa. Here you will visit the Antique Train Museum. After a brief introduction to the colonial-era locomotives, board an antique train for a ride past beautiful tropical scenery, crossing the legendary swamp of Rawapening en route to Tuntang. From there you will board a motor coach for the final trip to the inspiring temple of Borobudur—one of the most incredible creations in South East Asia. The journey from Semarang to Borobudur begins among the scenic panoramas of the Candi residential district and continues through the highlands of the interior. The scenery is framed by numerous volcanoes and is dominated by the inspiring Gunung Merapi. The inspiring Borobudur is unique among Buddhist temples, and its creation, without the use of modern engineering and technology, remains a mystery even today.
It was built by the Buddhist kings of the Sailendra Dynasty, possibly to enhance the image of Buddhism when Hinduism was growing in strength across the Indonesian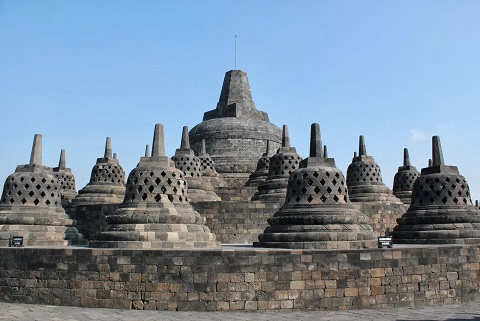 archipelago. For more than 1,000 years, it lay hidden under dense jungle vegetation. According to historical accounts, it would appear that Borobudur may have been deserted soon after its creation, when the Sailenra Dynasty was overthrown by the Hindu Majapahit Empire in AD 850. Borobudur, the largest single monument in the Southern Hemisphere, was covered by jungle until its rediscovery in 1814 by Sir Stamford Raffles. Over the next century, Borobudur was cleared and the process of restoring the two million pieces of andesite stone began. Upon arrival at the temple today, take advantage of your experienced guide's knowledge or wander through the monument at your own pace. Borobudur has perhaps the finest examples of Buddhist reliefs in the world, with each of the ten terraces symbolizing the path to Nirvana.
At the top is the Great Stupa, which towers above the other 72 stupas and statues. The view from the top is beautiful and will remain with you as one of the highlights of your visit to Southeast Asia. Afterwards, enjoy a tasty Javanese buffet lunch, served adjacent to the temple. Boarding your motor coach for the return journey will include a brief stop at the traditional Javanese handicrafts center where you'll find silver jewelry and wood arts and have time to shop. Watch a brief Wayang shadow puppet show accompanied by Mahabharata, an Indian epic. Halfway through the return trip you will stop at the Eva Coffee Plantation for refreshments before returning to the port.