Lombok is an island in West Nusa Tenggara province, Indonesia. It forms part of the chain of the Lesser Sunda Islands, with the Lombok Strait separating it from Bali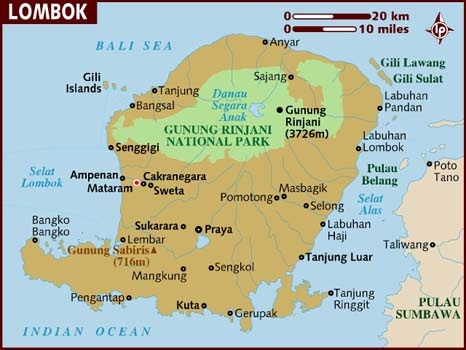 to the west and the Alas Strait between it and Sumbawa to the east. It is roughly circular, with a "tail" (Sekotong Peninsula) to the southwest, about 70 kilometres (43 miles) across and a total area of about 4,514 square kilometres (1,743 square miles). The provincial capital and largest city on the island is Mataram.
It is somewhat similar in size and density with neighboring Bali and shares some cultural heritage, but is administratively part of Nusa Tenggara Barat along with sparsely populated Sumbawa. It is surrounded by a number of smaller islands locally called Gili.
The island was home to some 3.17 million Indonesians as recorded in the decennial 2010 census; the latest estimate (for January 2014) gives the population as 3,311,044.
Water Resources
Areas in southern Lombok Island were classified as arid and prone to water shortages due to low rainfall and lack of water sources. On May 2011, grounbreaking ceremony has done to initial the Pandanduri dam construction which will span about 430 hectares and cost estimated Rp.800 billion ($92.8 million) to accommodate about 25.7 million cubic meters of water and be able to irrigate 10,350 hectares of farmland. The project would be finished by the next five years.
---
---
---
Charles Walter Buntjer


San Francisco California
Created on: 2016.03.11


Published on: 2017.01.28
---