---
---
| | | | | |
| --- | --- | --- | --- | --- |
| Trip Planning | Travel Agent | Histories of - Idaho - Boise | Yee's Reunion | Photos taken in Idaho |
---
Virginia asked me if I would drive her car to Boise Idaho and attend their family reunion over the Fouth of July!

I have driven many times on trips for her and enjoy driving as I rarely do it anymore.

We talked about perhaps, going on after the reunion to Glacier National Park. It is a long ways north to the top edge of Idaho but when would I ever be there again?

We will drive halfway to Boise and stay at a hotel and then on to Boise. Our other plans currently are up in the air!

Here we are after our last trip in May, going on a Transatlantic Crossing on the Queen Mary II from Southampton to New York City.
---
Reunion Plannning by Grant Yee
On Thursday, June 6, 2019 at 2:14 pm Grant Yee
wrote to Virginia Yee:

It looks like everyone will be here by July 4. May I suggest since we have birthdays for me, Marilyn and Andre in July we celebrate our birthdays as well as the Fourth on that day with grilled hamburgers and hot dogs and sides with ice cream and cake. That evening you can join Cynthia on Simplot Hill and watch the fire works.

On the 6th, Friday we may consider the family meal and invite the Quong family members. Maybe we could each do one of mom's favorite dishes for old times sake ie. garlic fried chicken, black bean sauce spareribs, sweet and sour spareribs, moms fried rice, shrimp egg foo young, cashew chicken or whatever dish you liked best.

Saturday maybe we could go to Boyd's for a sparerib BBQ. Maybe in the morning we could do a shoot with those interested in shooting my guns as well as Bryans' Boise has changed a lot and maybe you may want to wander downtown and have lunch there, Also the Nature Center and World Center for Birds of Prey. Or maybe go fishing with me and Andre in my new boat, a Lund. Any ideas?

Grant Yee

We are also having a BBQ at Cynthias Saturday, July 6 that you are invited to. All activities planned for Friday and Saturday start at 4 pm and by the time everything gets done we can start food at 5 pm. Boyd will furnish BBQ Spareribs and James will supply brisket. I will provide Boston Baked Beans.

---
We talked about staying in Reno but I have been there so many times, why not stay in a different location. Perhaps Winnemucca Nevada, just over the state line?

Winnemucca is the only incorporated city in and is the county seat of Humboldt County, Nevada, United States. As of the 2010 census, the city had a total population of 7,396, up 3.1 percent from the 2000 census figure of 7,174. Interstate 80 passes through the city, where it meets U.S. Route 95.

The town was named for the 19th-century Chief Winnemucca of the local Northern Paiute tribe, who traditionally lived in this area. He and his band had a camp near here. Winnemucca, loosely translated, means "one moccasin." The chief's daughter, Sarah Winnemucca, was an advocate for education and fair treatment of the Paiute and Shoshone tribes in the area. Their family all learned to speak English, and Sarah worked as an interpreter, scout and messenger for the United States Army during the Bannock War of 1878. In 1883 Sarah Winnemucca published the first autobiography written by a Native American woman based on hundreds of lectures she'd given in the Northeast and mid-Atlantic. It has been described as "one of the most enduring ethno-historical books written by an American Indian."

On September 16, 1868, the Central Pacific Railroad reached Winnemucca, and was officially opened on October 1 of that year. It was on the First Transcontinental Railroad. It was part of the transcontinental line.

Basque immigrants worked as sheep-herders starting in the mid-19th century. In honor of this heritage, Winnemucca hosts an annual Basque Festival.

On September 19, 1900, Butch Cassidy's gang robbed the First National Bank of Winnemucca of $32,640.

Winnemucca's brothel district, while smaller now than in the 1980s, is known as "The Line" or "The Ring Circle", based on the layout of the street where the brothels are located. Sex workers in the town must register their vehicles with the local police.

According to a billboard along State Route 140 (the "Winnemucca to the Sea Highway"), Winnemucca styles itself "The City of Paved Streets". Winnemucca is home to the Buckaroo Hall of Fame and Heritage Museum. It is also the headquarters of the Flawedcast Network.
---
Driving Directions to Boise Idaho
Here are maps of possible routes to travel from the City to Boise and perhaps a stay overnight in Winnemucca Nevada for a different view of the towns we will visit along the way!
.......................Read More........................
---
A History of the State of Idaho
Idaho was one of the last areas in the lower 48 states of the US to be explored by people of European descent. The Lewis and Clark expedition entered present-day Idaho on August 12, 1805, at Lemhi Pass. It is believed that the first "European descent" expedition to enter southern Idaho was by a group led in 1811 and 1812 by Wilson Price Hunt, which navigated the Snake River while attempting to blaze an all-water trail westward from St. Louis, Missouri, to Astoria, Oregon. At that time, approximately 8,000 Native Americans lived in the region.

Fur trading led to the first significant incursion of Europeans in the region. Andrew Henry of the Missouri Fur Company first entered the Snake River plateau in 1810. He built Fort Henry on Henry's Fork on the upper Snake River, near modern St. Anthony, Idaho. However, this first American fur post west of the Rocky Mountains was abandoned the following spring.
---
My Personal Travel Agent - Setting up trips to Morocco, Portugal, Sicily and many other destinations. A top Travel Consultant.
My travel agent always has good suggestions as to what to see and how to accomplish the desired destination with the greatest of ease!

Please contact Viviane Tondeur for help in setting up trips and getting the best deals possible. Check her out!
.......................Read More........................
---
| | |
| --- | --- |
| Leaving San Francisco | Day 1 - June 30th - San Francisco to Boise Idaho |
---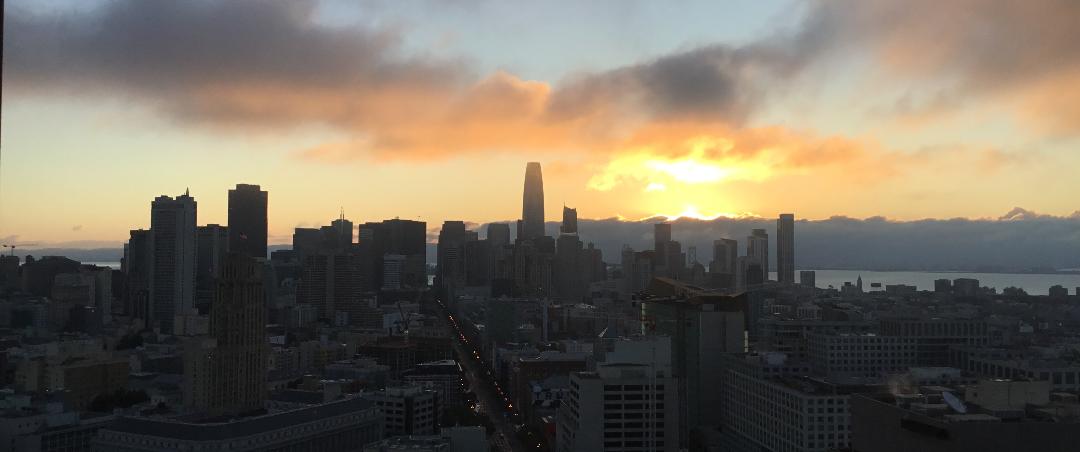 ---
The view of San Francisco from Chuck's apartment early in the morning before we leave for Idaho!
---
---
| | |
| --- | --- |
| To Winnemucca | Day 1 - June 30th - San Francisco to Truckee (Donners Pass) Reno and on to Winnemucca and the Santa Fee Inn |
Donner Party
The Donner Party (sometimes called the Donner–Reed Party) was a group of American pioneers who migrated to California in a wagon train from the Midwest. Delayed by a series of mishaps, they spent the winter of 1846–47 snowbound in the Sierra Nevada. Some of the migrants resorted to cannibalism to survive, eating the bodies of those who had succumbed to starvation and sickness.

The Donner Party departed Missouri on the Oregon Trail in the spring of 1846, behind many other pioneer families who were attempting to make the same overland trip. The journey west usually took between four and six months, but the Donner Party was slowed after electing to follow a new route called the Hastings Cutoff, which bypassed established trails and instead crossed Utah's Wasatch Mountains and the Great Salt Lake Desert. The desolate and rugged terrain, and the difficulties they later encountered while traveling along the Humboldt River in present-day Nevada, resulted in the loss of many cattle and wagons, and divisions soon formed within the group.

By early November, the migrants had reached the Sierra Nevada but became trapped by an early, heavy snowfall near Truckee Lake (now Donner Lake) high in the mountains. Their food supplies ran dangerously low, and in mid-December some of the group set out on foot to obtain help. Rescuers from California attempted to reach the migrants, but the first relief party did not arrive until the middle of February 1847, almost four months after the wagon train became trapped. Of the 87 members of the party, only 48 survived the ordeal. Historians have described the episode as one of the most spectacular tragedies in California history, and in the entire record of American westward migration.

Town of Truckee

Truckee's existence began in 1863 as Gray's Station, named for Joseph Gray's Roadhouse on the Trans-Sierra wagon road. A Blacksmith named Samuel S. Coburn was there almost from the beginning, and by 1866 the area was known as Coburn's Station. The Central Pacific Railroad selected Truckee as the name of its railroad station by August 1867, even though the tracks would not reach the station until a year later in 1868. It was renamed Truckee after a Paiute chief, whose assumed Paiute name was Tru-ki-zo. He was the father of Chief Winnemucca and grandfather of Sarah Winnemucca. The first Europeans who came to cross the Sierra Nevada encountered his tribe. The friendly chief rode toward them yelling, "Tro-kay!", which is Paiute for "Everything is all right". The unaware travelers assumed he was yelling his name. Chief Truckee later served as a guide for John C. Frémont.
---
---
| | |
| --- | --- |
| To Boise | Day 2 - June 31st - Winnemucca to Boise |
Southern Idaho
As you can see, the land is very dry and rugged in southern Idaho. From Reno on it is almost desert with lots of irrigation. We saw a lot of scrub and wondered about the tumble weed and were told that the scrub has almost wiped out the tumble weed. Invasive I guess!
---
---
| | |
| --- | --- |
| First Street Sign | Day 2 - June 31st - Chicken Dinner Road |
Outskirts of Boise
Hugh Lamb and Ada Hamilton (see photo) want to set the record straight. It was no mysterious stranger who served the meal for which Chicken Dinner Road was named. It was their mother. A story published last Tuesday in the Idaho Press-Tribune relating several different rumors of how the rural Canyon County road got its name was, "The most ridiculous thing I ever heard of," said Lamb. Lamb, 87, and Hamilton, 83, grew up in a two-story farmhouse on Chicken Dinner Road between Karcher and Homedale roads. Their parents, Morris B. and Laura Lamb were close friends of Idaho Gov. C. Ben Ross and his wife, but were not themselves involved in politics, they said.

"They were good friends. (The Rosses) had been out to the folks' place many times," said Hamilton. On one occasion in the 1930s their mother went to Boise and personally invited the governor and his wife out to the farm for dinner. "Our mother was noted for her fried chicken, apple pie and hot rolls," said Hamilton. About that same time Laura Lamb remarked to the governor about the poor condition of the road. "It was just full of pot holes. It wasn't even graded," said Lamb.

Their mother's entreaty to the governor wasn't ignored. Hamilton said the governor told her mother, "Laura, if you get that road graded and graveled, I'll see to it it's oiled." With that, Laura Lamb approached the Canyon County commissioners and they agreed. Once the road was graded, their mother telephoned the governor to remind him of his promise. 'It was the very next day after she called that they oiled the road," recalled Hamilton.

Ironically, it may have been vandals who actually dubbed the road, "Chicken Dinner." "The day after Halloween momma went out to get the mail and came back as mad as a wet hen," said Hamilton. Someone had painted the words, "Lamb's Chicken Dinner Avenue," in big, bright letters on the freshly-oiled road, Lamb said. "They were big old yellow letters that would knock your eyes out," remarked Hamilton.

School children riding the school bus took up the chant, "Chicken Dinner, Chicken Dinner," as they passed the house. The name stuck.

PETA - An insult to Chickens Everywhere!

Of course PETA got into trouble when telling everyone it was bad form to call a road Chicken Dinner as it is an insult to chickens. Excuse me, don't they have any other things to worry about? Just Asking!
---
---
| | |
| --- | --- |
| Boise | Day 2 - June 31st - History of Boise Idaho |
Boise
Boise Idaho: Accounts differ regarding the name's origin. One account credits Capt. B.L.E. Bonneville of the U.S. Army as its source. After trekking for weeks through dry and rough terrain, his exploration party reached an overlook with a view of the Boise River Valley. The place where they stood is called Bonneville Point, located on the Oregon Trail east of the city. According to the story, a French-speaking guide, overwhelmed by the sight of the verdant river, yelled "Les bois! Les bois!" ("The woods! The woods!")—and the name stuck.

The name may instead derive from earlier mountain men who named the river that flows through it. In the 1820s, French Canadian fur trappers set trap lines in the vicinity. Set in a high-desert area, the tree-lined valley of the Boise River became a distinct landmark, an oasis dominated by cottonwood trees. They called this "La rivière boisée", which means "the wooded river."
---
| | |
| --- | --- |
| Lunch & Dinner | Day 3 - July 01st - Prepared by Grant |
Pork Belly
It was Grant's birthday but he took us out for lunch at a local Korean Restaurant and perpared pork belly on the grill at our table! His ex-wife Marilyn, joined us for the meal.
---
| | |
| --- | --- |
| Marilyn's Birthday | Day 04 - July 2nd - Marilyn's Birthday |
Chicken and Beef Kabobs
Grant, Ilya, Cynthia, Marilyn, Virginia, Andre and Tina. Of course there is Virginia and Chuck with drinks as usual!
---
| | |
| --- | --- |
| Cleaning Fish | Day 5 - July 03rd - Grant - Explaining how to clean a fish! |
Something Fishy
Grant told me no one in the City knows how to clean a fish. I told him I get on a bus in downtown San Francisco and men get on with their fishing gear and go to the bay everyday to fish. I use to go fishing for many years when I first came to the City. He was surprised! Just because we live in the City doesn't mean we don't know things. I am sure there are a lot of new people moving to Boise that have never fished or hunted in their life. There are lots of complaints that 'liberal' people are moving in and things are changing. Well I guess one just has to get use to it. There are changes all over the world, not just in Boise!
---
| | |
| --- | --- |
| Ontario - Wingers | Day 5 - July 03rd - Boyd - Dinner at Wingers - Owner and Manager |
Wingers
The Yee family own and operate the restaurant. Boyd manages the restaurant. It is located in Ontario, Oregon. It is about 30 miles west of Boise, just over the state line!
---
---
---
| | | |
| --- | --- | --- |
| | 4th of July, 2019, in Boise - Yee's Family Reunion | |
---
---
| | |
| --- | --- |
| Yee's Family Tree | A overview of the Yee FAMILY TREE. |
---
---
| | |
| --- | --- |
| July 4th - 5th - 6th | Days 6/7/8 - 4th of July - July 5th and July 6th - Cynthia hosted the events for three days at her home! |
Grants daughter hosted three days of activites at her home.

July 4th - Cyntia's home - Hamburger and Basque Chorizo (Sausage) - Fireworks
July 5th - Cyntia's home - Family members making their mother's favorite dishes.
July 6th - Cyntia's home - Barbecue
---
---
Grant always had a good laugh about Virginia and myself. At the parties that his daughter hosted, he was over heard telling people that was his sister Virginia and her "boyfriend" Chuck! Marilyn thought we needed to take a photo of us to show me with a harem. We actually should have had ten woman around me but two is better than none! We were celebrating Marilyn's birthday as well as Grant and Boyd! Grant's birthday is July 1st, Marilyn is July 2nd and Boyd is on June 3rd.
---
| | |
| --- | --- |
| Birds of Prey | Day 8 - July 06th - World Center for Birds of Prey |
Breeding California Condors for Release
The World Center for Birds of Prey in Boise, Idaho, is the headquarters for The Peregrine Fund, an international non-profit organization founded in 1970 that conserves endangered raptors around the world.

Built 35 years ago in 1984 the World Center for Birds of Prey is located on 580 acres (2.3 km2) on a hilltop overlooking Boise, south of the airport and east of Kuna. The campus consists of the business offices of The Peregrine Fund, breeding facilities for endangered raptors, the Velma Morrison Interpretive Center, and the Herrick Collections Building, which houses a large research library and the Archives of Falconry.

The Peregrine Fund is known for its worldwide conservation and recovery efforts of rare and endangered raptors. The organization's first recovery effort focused on the peregrine falcon, which was facing extinction due to the widespread use of the chemical DDT. The peregrine falcon was removed from the U.S. Endangered Species list in 1999 at an international celebration held in Boise.
---
| | |
| --- | --- |
| Boise Depot | Day 9 - July 07th - Boise Depot (Train Station) |
Virginia took the train in 1956 to Denver to go to college at the University of Colorado at Boulder!
The Boise Depot is a former train station in Boise, Idaho, United States. It was built in 1925 by the Union Pacific Railroad. In 1990 MK-Morrison Knudsen purchased the depot and renovated it to pristine condition. In 1996, the City of Boise took it over and opened it for tours and special events. It is open to the public on Sunday and Monday from 11:00 am to 5:00 pm.

Following the construction of the depot, service by Union Pacific's Portland Rose began with service between Chicago, Illinois and Portland, Oregon. Union Pacific discontinued the Portland Rose (along with all its passenger rail service) on May 1, 1971, the day Amtrak began operating.

Amtrak (the National Railroad Passenger Corporation) began service to the station in 1977 with the Pioneer,[6] which originally provided service between Salt Lake City, Utah and Seattle, Washington, but was eventually extended further east and provided daily service from Chicago, Illinois to Seattle. Originally the next eastbound stop on the Pioneer was in Mountain Home,[6] but that station was dropped as a stop in 1981, so the next eastbound stop was in Shoshone. The next westbound stop was in Nampa.

The Boise Depot was listed on the National Register of Historic Places on August 7, 1974, as the Union Pacific Mainline Depot.[8] The last passenger train to use the depot was the Pioneer, which ended service in 1997.
---
| | |
| --- | --- |
| Boise State Museum | Day 9 - July 07th - Boise State Museum and Rose Garden |
The Museum space includes:
Galleries devoted to the vast landscapes and stories of Idaho told geographically through North, Central, and South Idaho
A gallery that chronicles Idaho's geologic origins, while presenting the origin stories of Idaho's five federally recognized tribes
Boomtown Gallery, a space designed for children to interact and play while learning along the way
History Lab, where people can learn history by practicing it themselves
Stories from Idaho, an exhibition on individuals who have made an impact on Idaho's history that invites visitors to see themselves as part of the story
Classroom space that can be used for programming private meetings and events
M Store featuring locally-produced products and an array of items that incorporate themes represented throughout the Museum
A Community Room event space which can host public and private events
---
| | |
| --- | --- |
| Picking Crew | Day 9 - July 07th - Grants Apricot Trees |
Cheap Day Labor
Grant decided that as long as he had Sarah, Lindsay and the two boys, Thomas and Lucas, visiting from Glasgow Scotland, they might as well get up on the ladder and pick the few apricots that were ripe. Grant said the bee population had declined and most of his and the neighbor's fruit trees did not bear fruit this year. It was interesting that the apricot trees seemed to bear more fruit than the apples or other trees. Grant had to have a friend come in with a hive of bees to see if they would produce a queen bee and next year, pollinate the trees and so on that need to be pollinated.

Virginia and I made out, we were told to take as many apricots as possible and for the next four days or so, had freshly ripened apricots to eat as we drove to Glacier National Park and viewed other points of interest!
---
| | |
| --- | --- |
| Buster and Botox | Day 9 - July 07th - Chuck's dogs from 1946 to 2019 |
Dog Days
Botox is beginning his retirement and stays in quite a bit. He does get out to do his thing but is in the house a lot. I went out walking every morning early to beat the heat and if I didn't make my Fitbit 10,000 steps for the day, I took Botox out and did a few quick steps around the house and Botox got to go out and sniff everything! After a few days he was my newest best friend! Grant said Botox secured the house when he was gone but I had to laugh, I walked up to the front door after a long walk and no barking. Did Botox know it was me or was I just too quiet!

Here I am in 1945 with my favorite dog Buster and favorite cats, sitting on a bale of staw on our farm near Pecatonica Illinois! And next is my new best friend Botox in 2019, who lives in Boise Idaho. Grant answered an email from Virginia and he said to Tell Chuck Botox said Hello!

So here is a time difference of 74 years! TIme flies when having fun!
---
| | |
| --- | --- |
| Craters of the Moon | Day 10 - July 08th - Craters of the Moon |
Craters of the Moon National Monument and Preserve is a U.S. National Monument and national preserve in the Snake River Plain in central Idaho. It is along US 20 (concurrent with US 93 and US 26), between the small towns of Arco and Carey, at an average elevation of 5,900 feet (1,800 m) above sea level. The protected area's features are volcanic and represent one of the best-preserved flood basalt areas in the continental United States.

The Monument was established on May 2, 1924. In November 2000, a presidential proclamation by President Clinton greatly expanded the Monument area. The National Park Service portions of the expanded Monument were designated as Craters of the Moon National Preserve in August 2002. It lies in parts of Blaine, Butte, Lincoln, Minidoka, and Power counties. The area is managed cooperatively by the National Park Service and the Bureau of Land Management (BLM).

The Monument and Preserve encompass three major lava fields and about 400 square miles (1,000 km2) of sagebrush steppe grasslands to cover a total area of 1,117 square miles (2,893 km2). The Monument alone covers 53,571 acres (21,679 ha). All three lava fields lie along the Great Rift of Idaho, with some of the best examples of open rift cracks in the world, including the deepest known on Earth at 800 feet (240 m). There are excellent examples of almost every variety of basaltic lava, as well as tree molds (cavities left by lava-incinerated trees), lava tubes (a type of cave), and many other volcanic features
---

---
---
---
---
| | |
| --- | --- |
| Surprise Visit 2019.07.24 | Sarah, Lindsay and their sons visited me on the 28th floor of my apartment! |
---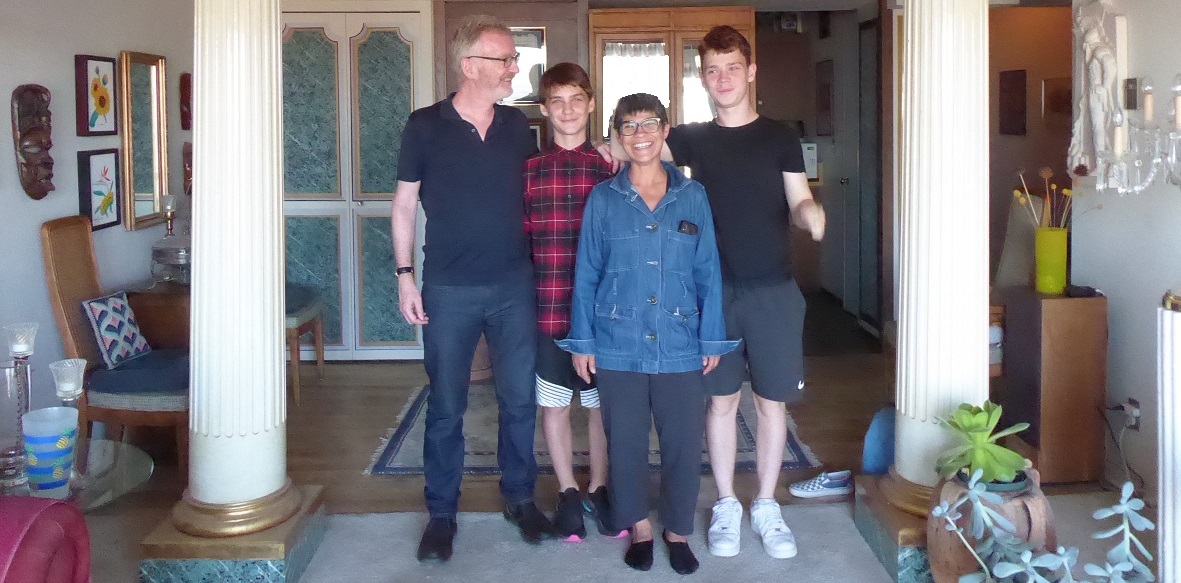 ---
Sarah, Lindsay, Thomas and Lucas were nervous when looking over the balcony on the 28th floor!
---

---
Chuck and Lindsay, Lucas, Sarah and Thomas. They wanted to see the columns!

Thomas took this photo with his smart phone using the timer!
---
---

---
The view of San Francisco from Chuck's apartment that did impress the family from Scotland!
---
---
| | | | | |
| --- | --- | --- | --- | --- |
| Created on: 2019.06.02 | --- | | --- | Updated on: 2019.07.27 |
---
---
---