---

Space.
I traveled all over northern China in 1997 and included the Hong Kong and Macau trip in it even though this trip was taken five years earlier. So I decided to put on the Macau and Hong Kong trips on separate links with the photos I took in each place! So this is a high light of the trip as far as I can remember in 2008! Only 16 years later!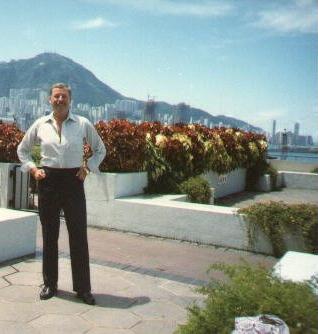 One day I saw an ad in the paper to fly to Hong Kong for a week, airfare, top hotel, breakfast, a day tour of Hong Kong and Victoria Island, all for the price of $999.00! Such a deal, who could resist! So off I flew on Singapore Airlines to visit Hong Kong and Macau.
I think the reason I picked this trip was due to Great Britain negotiating with China on the return of Hong Kong to the central government. I landed and was picked up and taken to the biggest hotel in Kowloon on Nathan Road. The first morning I had breakfast on the top floor overlooking the city
and the waiter gave me a London Times with all the goings on for the negotiations.
A friend in San Francisco said he had a good friend in Hong Kong who worked for China Airlines so I looked him up and he and his friends took me around the area and at night, took me to Victoria Island and the latest Disco Bar that was the in place. We drank and danced and had a great time. We also went to other bars but I had to laugh as most of the people in them were speaking with an Australian accent!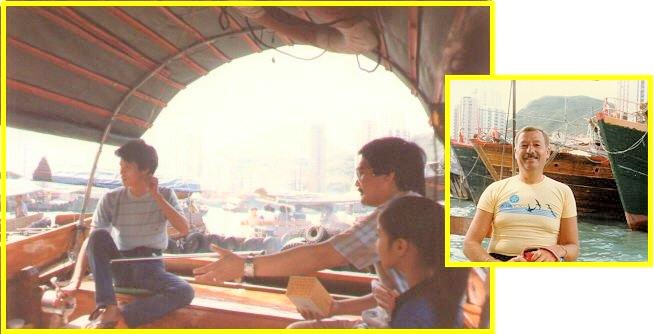 I took a day trip around Victoria Island and sat next to a Middle Eastern woman, very beautiful. We had a great time going around with the guide checking out the island and the great view from the top of the highest hill! Check out the photos and the fantastic views of the harbor.
I also took the Star Ferry to the island and it was then, 5 cents! Such a deal. I walked all around and admired the new high rises going up all over. They were just starting building the Bank of China, then the tallest building in Hong Kong at that point. It is covered in glass and is suppose to look like a bunch of bamboo stalks tied together.
Then one day I took a day tour to Macau and was told the house wives of rich men are usually bored and take the ferry, or the hover craft or the high speed hydrofoil and spend the day gambling. Then come home in time to see their husbands come home from a hard days work! Sounds good to me! Check out the link for Macau!
One day I took the new subway system around Kowloon. It is great but, I stayed on too long and ended up at the edge of Kowloon. I got off and walked around and knew I was lost. I was the only non-Asian there! Then I had trouble finding the subway entrance again. Finally I found it and flew down the stairs and back downtown to my hotel. I didn't make that mistake again.
All in all, I had a great time and the weather was fantastic, around 75 to 80 and the only rain was on the way back from Macau, a horrible rain storm that one man from India said was like a monsoon! The sky turned green and the rain fell in buckets! The ride back on the hover craft was very rocky and I guess sometimes they don't run if the weather is too rough. Luckily we made it back in good time and then the sun came out again!
I few back and stopped for a few hours in Hawaii and the airport there was great, you could walk around in gardens and enjoy a break before the final flight to San Francisco!
I am reformatting this web page in 2020 and is there a big difference in the skyline of San Francisco, 50 to 70 story towers, offices and high end condos! My camera didn't take panoramic photos so I had to piece together several photos to make one! Times have changed!
---
1992 Skyline of San Francisco!
---

Space.
---
Singapore Airlines to Hawaii and Hong Kong
---
| | |
| --- | --- |
| | |
| The Big Top | Flying over Hawaii! |
| | |
| One of the largest hotels in Hong Kong! | View from the roof top restaurant where I had breakfast every day! |
---
The New Harbor Walk Way and Condos
---
| | |
| --- | --- |
| | |
| A new harbor walk way miles long | New Condos and Shops |
| | |
| Chinese Cultural Show | Dancing Girls |
---
Chuck on the Hong Kong Water Front
---
| | | |
| --- | --- | --- |
| | | |
| Skyline from the Harbor | Chuck on the Harbor | Nathan Road! |
---
Star Ferry to Victoria Island
---
Arriving at the Harbor

Taking off!

Mostly Asians!
---
New High Rises on Victoria Island
---
Great Sky Line

New Modern Building.

New Condos

Older part of the Island
---
More Buildings and a Fabulous View
---
| | |
| --- | --- |
| | |
| My favorite - King Kee Furniture! | Downtown traffic! |
| | |
| --- | --- |
| | |
| Panoramic Photo | Chuck Overlooking the Island! |
---
Visiting a Pagoda and Temple
---
| | | |
| --- | --- | --- |
| | | |
| Long Walk to the Top | Chuck at the Temple | Great Stone Work |
---
Touring Hong Kong Harbor
---
Several of us took a private tour.

Old and New!

Space.

Boats People Lived On!

High Rise and Low Rise!
---
Last Night in Hong Kong
---
| | |
| --- | --- |
| | |
| My Hotel Entrance. | Twilight on the Last Evening! |
| | |
| Flying out of Hong Kong | Flying Over Hawaii! |
---
Trip to Macau - Funny Experience!
---
Note: The Macau Trip is on another web page! But this is what happened when I decided to go from Hong Kong to Macau on a hover craft!

One day in Hong Kong I decided to take a day trip to Macau, an outpost of Portugal. I was going to take the hover craft to Macau and was told to wait at seven a.m. at a certain spot in the lobby to be picked up to be driven to the harbor. The lobby seemed as large as a football field and was almost completely empty. Suddenly a Chinese woman about 75 years of age came along and stood right next to me and kind of shoved me. Well, I thought, what's with her. I kind of pushed back and she got even closer.

Those pushy Chinese!

She finally looked at me and asked, "Is this the spot where I can get picked up to go to Macua?" I said, "Yes!"

She then said, "Where do you live?"

I was smart, 'Twin Peaks'! So much for that conversation.

She said, "No kidding, I live in an apartment on 'Diamond Heights' on the next hill and I probably can see your house from my bedroom window!" We both cracked up, had a hug and decided we had to stick together for the rest of the day as we were neighbors. As we left for the harbor two of her granddaughters came along and had to laugh as they didn't have dates but their grandmother obviously did! A great time was had by all.
---
---
Charles Walter Buntjer


San Francisco California
Created on: 1992


Updated on: 2020.10.27
---
---