| | | |
| --- | --- | --- |
| | | |
I have always wanted to go to the Netherlands (Holland), especially to see the tulip festival that is celebrated every spring. It is suppose to be a fabulous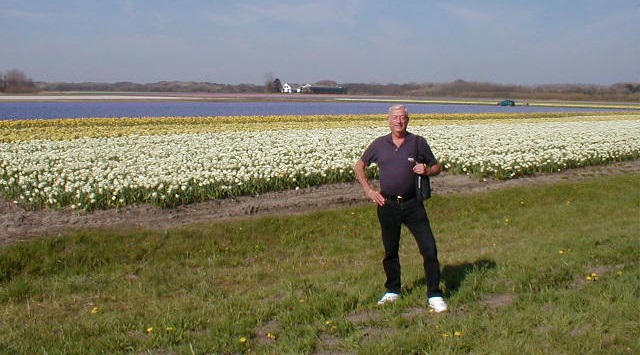 time to visit and my friend Gail in Encino, southern California, has setup a trip for me on one of the river boats touring Holland.
She will be going on the same seven day Uniworld guided tour and has booked me in an upgraded cabin so we should have a great time seeing Holland. Check out the facts about the Netherlands along with a map!
One reason I want to go is the fact that my sister found a letter I wrote over 50 years ago to a friend in Holland and at the age of 13. Frans was a pen pal and we started to write in 1946 but I lost contact with Frans and his family in 1953. Check out the letter for an interesting look at my early life on the farm in Illinois, my picture appearing on Life Magazine which started our friendship, and my search (successful), to find Frans after 51 years!
You can read about my adventures and check out each link in the following dissertation or ---
Click on this link ~ Netherlands Photo ~ and view the photos in sequence without reading about my trip!
Day 1, Saturday & Day 2, Sunday – April 11, 2004 - Amsterdam & the "River Countess"
Passengers with Uniworld group air were transferred to the River Countess, a beautiful boat and a great crew. The remainder of day was at leisure.
Day 3, Monday – April 12, 2004 – Amsterdam & Hoorn
We started our tour with a panoramic city tour of Amsterdam. Amsterdam has over 700,000 inhabitants and the canals were begun in the 14th century. The 17th century canals are lined with picturesque gabled houses that are a trademark of the city. Amsterdam is also renowned for the magnificent museums, beautiful flowers and bicycles.
During lunch cruise out of Amsterdam and across the Ijsselmeer to Hoorn, a city with a long maritime history. We then spent the afternoon and evening at leisure in Hoorn to shop or visit the Westfries museum.
As we were walking along Gail suddenly said, "Look at the sign on that cafe by the tavern! It almost looks like your last name - Bruintje!" So I took a picture and wanted to talk to the owners but the cafe was closed. Something for me to investigate sometime. Our guide Magdeline, told me she thought Buntjer was a Dutch name. I told that to Dagmar, our receptionist on the ship and she said, "Your name is German, and that is that! I am German and you are German!" Excuse me!
Day 4, Tuesday – April 13, 2004 – North Holland & Zaanse Schans
This province includes a visit to a working cheese farm where you may sample some of the famous produce. I actually did buy some guoda cheese at the Henri Willig Cheese Farm and Specialty Shop. We were given a talk on how the cheese is made by a man in a Dutch outfit and Wooden Shoes! We took a guided tour through Edam, with quaint brick houses and enjoyed free time in Volendam, a traditional Dutch village.
Now I have to explain something. Everyone on the ship thought Gail and I were an item! They kept saying, "Those two will be engaged by the end of the trip, or even perhaps, will be getting married! Excuse me! So Gail and I had champagne every night and sat on a love seat in the lounge and said sweet 'nothings', and I mean nothings to each other. We were so cute! It got to the point when we came into the lounge, the staff was ready to bring over the ice bucket and champagne, we were very good customers! Then Ms. Germanic/Dutch Magdeline said to me on the wooden shoe tour, "Stand in those two big wooden shoes and I will get into the other pair. Have your friend take our picture!" So Gail took our picture and Ms. Germanic/Dutch said to me, "Vee look like two farm girls!" Excuse me again! You can't fool those Germanic types, can you. Then Gail and I got in the Big wooden shoe and as our picture was being taken, the group came around the corner and smiled, of course, the cute in love couple were sitting in the big shoe together! So goes life! Check out Gail and Chuck sitting in a wooden shoe!
In the afternoon after visiting the open-air museum where we saw how wooden shoes were made we saw the famous windmills of Zaanse Schans.
It was spectacular with the flat fields and goats, sheep, and all kinds of birds wondering around.
Day 5, Wednesday – April 14, 2004 – Arnhem
Visit the Kroller-Muller Museum, sister museum to the Van Gogh in Amsterdam. The museum is located in Holland's largest park, de Hoge Veluwe, and houses a large collection of late 19th and 20th century artists including over 200 paintings and drawings by Van Gogh. This afternoon cruise from Nijmegen to the city of Heusden. This quaint Dutch town has been restored to its original appearance, complete with city walls and windmills. We enjoyed a late afternoon tour of the town and spend a free evening overnight in Heusden. Of note, our tour guide was named Jan and he was very funny. His English was a little off due to the fact he hadn't spoken it too much lately. He would say a phrase, stop, and I would tell him the word he wanted to use. He finally got to the point when he finished a sentence, to fill out the description, he would say, and blah, blah, blah! We all laughed all the way through the tour. Here I am with our famous tour guide Jan Blah Blah, not a very Dutch name if I say so myself!
Day 6, Thursday – April 15, 2004 – Rotterdam – Schoonhoven
We cruised from Heusden to Rotterdam, one of Europe's largest ports. This is where I met my friend Frans at the terminal named Tropicana in Rotterdam. See the link about the letter at the beginning of this page for a full explanation of our meeting and trip around Delft and visit to their home! Delft is known for its blue and white pottery while Gouda is famous for it's cheese. Frans said I needed to buy something to remember our meeting and my trip to the Netherlands so I bought a piece of Delft porcelain and had a picture taken of the actual artist that painted the piece! Frans and his wife Yvonne then took me to the ship in Schoonhoven where I spent the night after an unforgettable evening at the Captains Table for dinner. You must read the following as it details how I found my invitation to the Captains Table, how Gail and I were invited to the Captains Table and then how we were chastised by a woman and the reason we sat at the Captains Table! An excellent story of jealousy over which we had no control what so ever! After the fact, Gail and I had to have a good laugh about people and their desires!
Day 7, Friday – April 16, 2004 – The Hague – Keukenhof
Depart the ship for a scenic motor coach ride through the Dutch country side to The Hague. The Hague is often called the greenest city because of its many parks. The Hague is home to some impressive royal residences and the seat of the International Court of Justice.
The highlight is an excursion to the Keukenhof Bulb Gardens. Here you will find the largest floral bulb display in the world. We had the greatest time in the garden. The temperature was around 70 degrees, 20 centigrade, and perfect for walking and taking pictures.
This link has about 20 pictures taken in the Keukenhof garden, but it is well worth the time to view the fantastic colors of the tulips and other flowering bulbs!
Day 8, Saturday – April 17, 2004 – Amsterdam – A free day!
Spend the last day at leisure in Amsterdam. Stroll along the cities canals, visit one of the fine museums. Of course we had to visit the Red Light district and Gail and I told everyone, it looks just like San Francisco and LA! Of course they all thought, they are from California! Check out Chuck in front of one of the numerous 'coffee' houses or clubs where one can buy what ever one wants except coffee! This evening, we did the Dutch experience with a candle light cruise of Amsterdam, (No candle!), the perfect end to a Dutch vacation!
Day 9, Sunday – April 18, 2004 – Amsterdam – United States of America
We disembark and were transferred to the airport for the flight home.
All in all, another fantastic vacation with many lovely sights and many nice people!