I have been to Hawaii many times and stayed on Oahu, Maui and Kawai. I have yet to go to the big island and want to someday when there is a big eruption! I always enjoy Honolulu for a few days and used to enjoy Maui but they both are getting too crowded as are many places in the world.
The last time I went to Kauai, my favorite island, I stayed at Poi Pooh beach on the other end of the island at the Sheraton. Please see the map for a view of the layout of the islands and a history of all the islands.
The Sheraton is a beautiful hotel but it is away from everything and luckily I had rented a jeep for the week. A wise investment. People who didn't have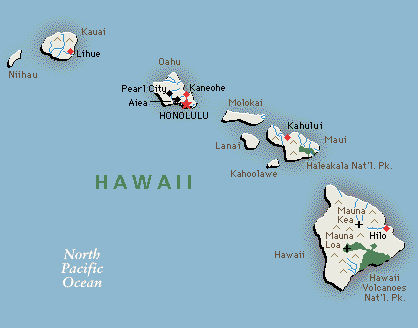 transportation were at the mercy of the hotels and their prices for meals and other amenities. I could drive into town for a native meal for around six to 10 dollars. Breakfast at the hotel was $30 to $50 and dinner was out of sight. I don't mind paying that once in a while but not everyday. Also, you miss out on the local customs and people if you only stay at the hotels.
I had driven completely around Kauai and one day I decided to explore off the beaten path. I was with a friend and we saw a pair of tracks through a sugar cane field. I followed it and there was this fantastic beach with no one but Hawaiians and their children picnicking. Well, this is the place to be. I instantly got out my mask and fins and sat on the beach to put them on. The Hawaiians looked at me like I was crazy. I gave them a look back! What I didn't notice at first was there weren't any people in the water. So Mr. Know it All walked into the water and just then this wave about 15 feet high towered over me and then attempted to pull me out to sea. The shore was very steep and went down very deep very quickly. Obviously the beach might be good for surfing but not wading. I sat down and tried to hang onto the sand as I was dragged out. I managed to hang on until the wave disappeared and I crawled back to shore. Of course when I stood up my trunks had so much sand in them that they slid down to my knees and I stood there like a fool. Afraid to go back in the water to clean up and feeling foolish standing there, I decided the best policy was to shake out my trunks, pull them up and act normal, whatever that means. The Hawaiians were nice about it, they all looked the other way like I didn't exist and of course my friend just sat there and shook his head. Another exciting experience by Chuck.
We went to the other end of the island where South Pacific was filmed. So beautiful. There is an old Hawaiian trail along the mountains and shore that was built over 500 years ago. We hiked about five kilometers along it. I'm not sure how long this is going to last as people had those big tough hiking boots on and they were cutting everything up. The water falls from the rain on top of the mountains run over the path and with the boots cutting up the rock and dirt, the water is going to erode everything. We saw wild orchards and the little beaches are just wonderful. If you have time and like to hike you can go along this path and camp out. Would be a wonderful way to spend a few days.
Decided to go to the Waimea Canyon, the Grand Canyon of Hawaii. Drove to the top and there is a ranger station and visitor's center. You can walk around and enjoy the scenery but since I had a jeep we could stop anywhere and enjoy the view. The canyon is very impressive and shouldn't be missed.
The drive to Poi Pooh beach is interesting as there is/was a half mile of huge trees that bordered the road and their branches interlocked forming a completely enclosed area. It was fun driving through it during the day or evening. A few weeks after I was there a terrible hurricane hit the island and the hotels on Poi Pooh beach and the trees were flattened! A woman who lives in Hawaii told me the trees have re-grown and I think the hotels have been rebuilt twice since I have been there due to storms!
One evening I had walked down the beach a long ways and found a spot that I liked. Large lava rocks piled up where I could dance around on them and enjoy myself. No one around. One evening I was dancing around and there was a Hawaiian with a long pole pushing around the rocks. He tried to ignore me but I had to know what he was doing. He looked at me, obviously a tourist, and said the he was octopus hunting, lifted the stones and if one jumped out, he grabbed it. Said there were really big ones under the rocks I was jumping around on. I then jumped off the rocks in about two seconds and he cracked up. I'm really not afraid of octopus but that statement did startle me! After he laughed I thought, tough luck and got back on the rocks and jumped around some more. He then showed me his catch and thought better of me when I could handle the octopus and not act like a howie!
That's why I like Hawaii, always something happening! Aloha until next time.


---
---
---
Charles Walter Buntjer


San Francisco California
Created on: 1968


Updated on: 2015.04.29
---