We left Los Angeles on Finair and it was a wonderful flight considering the problems I have encountered on other airlines. The food and service was great. A dinner flight, first cocktails and or'duerves, (caviar and salmon) all in coach, then white wine and a salad, then red wine and a meat course, then desert and coffee and brandy! Didn't want to get off. We landed about seven a.m. and off to the hotel. King size beds and great service. The weather was about 75 degrees and we couldn't wait to walk around the city. We wondered w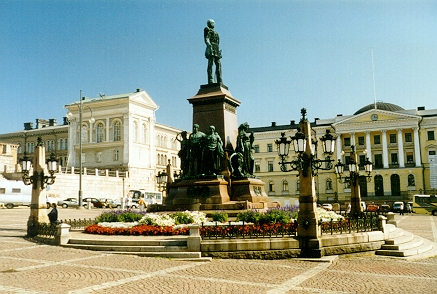 hy no one was out, the side walk cafes were empty. Someone looked at their watch and said, you know it is only ten a.m. in the morning. We had lost our sense of time since leaving L.A.
The town is small and we walked around the entire downtown within about six hours. The harbor is especially interesting, the big cruise ships are docked there and a beautiful farmers market is very active. We thought the prices were high but we were told when you only have four months or so to grow things, produce becomes expensive.
I met two people on the plane, one from Walnut Creek and the other from Concord, both just about 30 miles from the City. Carol is an accountant and Paul is a geologist. We found out we were on the same tour of Russia and we hit it off immediately. We all love to travel and after a few days in Russia we were know as "Those Three", together most of the time!
There were coffee shops and beer and wine shops with outdoor seating all over and by noon the streets and cafes were full of Locals! So much for wondering where every one was. We were told that many people that far north become extremely depressed during the long, dark, cold winter and take advantage of the sun when ever possible. I've heard that the latest fad is sunshine bars where a type of sun lamps are placed in the ceilings to create a longer day light which is beneficial both psychologically and physically!
We had dinner at the hotel but by that time we were so tired we all went to bed. That hot shower and king size bed was wonderful after a ten hour flight and a full day of hiking around Helsinki. A good nights sleep and off to the airport the next morning for a short flight to St. Petersburg and the boat.
History of Helsinki
Helsinki is known as the "Daughter of the Baltic." It is the Baltic that Helsinki owes its fortunes, weather, and perhaps architecture to. It was founded in 1550 by King Gusta Vasa of Sweden-Finland to compete with the Tallinn, whose port was controlled by the Hanseatic League. The first city erected on the mouth of the Vantaa River was a few miles northeast of Helsinki. The king ordered the citizens to move from other towns to Helsinki but proved to be unpopular and the harbor was poorly situated and shallow. The city languished for a century until a visiting governor general recommended it be moved to the sea. In 1640 the second site was picked and called Kruununhaka and the citizens again forced to move. The town began to grow as a fishing port but the Russian Empire was stirring, especially against Sweden. After battling the Great Famine in 1697, the Great Northern War between 1700 and 1721, and the Great Plague in 1710, Helsinki was reduced to ashes and the population to 150 hardy souls!
In 1746 Sweden built the Suomenlinna Fortress which saved Helsinki. This construction brought wealthy merchants who built there - still many houses were turf-roofed and the streets unpaved.
Russian money and German architectural building were poured into Helsinki and the city began to prosper even more around 1850. By 1900 Helsinki was a new place, in half a century the city had grown from 20,000 to 100,000, a new railroad, gasworks, electricity and water mains were all laid down. Finland became independent in 1917 and more Finnish functionalism replace Jugend (the German version of Art Nouveau) as Helsinki's predominate architectural style.
The city was bombed during World War II but regained it's position and now has some 900,000 occupants as of 2000.
---
---
---
Charles Walter Buntjer


San Francisco California
Created on: 1996.10.22


Updated on: 2015.03.25
---