| | |
| --- | --- |
| --- | |
Short History of the Filoli Gardens
Filoli is an outstanding example of the Anglo-American gardening style reintroducing Italian formality, that was pioneered at the end of the nineteenth century by Edwin Lutyens and Gertrude Jekyll in British gardens and exemplified in the U.S. by designs of Charles A. Platt and Beatrix Farrand.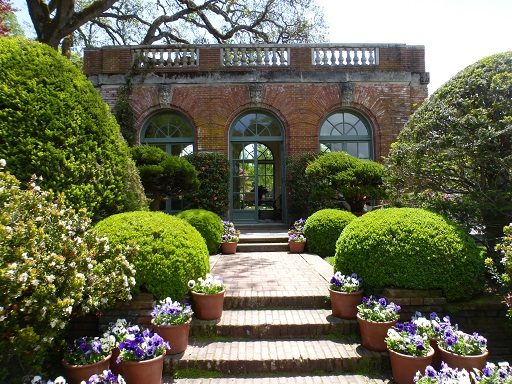 The gardens extend southeast of the house running up an easy slope. The sunken garden is the first of four main rooms; the rectangular pool at its center that houses hardy and tropical water lilies is flanked by twin panels of lawn and two olive trees, within the hedge of clipped Japanese yew. The walled garden consists of a series of enclosures, including the rose window design outlined in clipped box
After it was acquired by the National Trust for Historic Preservation in 1975, Filoli has been open for public tours. Attractions include self-guided tours, guided tours, and nature hikes. The formal gardens include several areas, including the Wedding Place, especially designed for Berenice Roth's wedding. Lurline and Berenice both had their wedding receptions at Filoli, but Berenice's wedding is the only one that has ever taken place at Filoli. The largest gardens are working gardens for the production of cut flowers for the mansion and for the growing of some vegetables.
| | |
| --- | --- |
| --- | |