---
---
---
---
---
---
---
---
| | |
| --- | --- |
| | |
---
---

---
Isla Cozumel ~ Mexico

Isla Cozumel, Mexico's largest island is located in the western Caribbean, 12 miles off the coastline of the Yucatan Peninsula, about 45 miles south of Cancun.

Archeologists believe that the Maya people first settled Cozumel in the early part of the 1st millennium AD. Across the island today, a scattering of Maya ruins of the Post-Classic period remain.

Hernan Cortes, a Spanish explorer, arrived here in the early 16th century with a small fleet. At the time, an estimated 40,000 Mayans lived on the island.

And like all other islands in the Caribbean, Europeans brought disease with them, and diseases like smallpox devastated the population. In fact, by 1570 only a few dozen Maya were left alive on Cozumel.

All but deserted, the island became a convenient hideout for Caribbean pirates for a time. During the ongoing wars on the Yucatan Peninsula during the late 19th century, some native Maya on the mainland resettled here in an attempt to escape Spanish control.

All but ignored for the next century, or so, Jacques Cousteau, the French explorer came to Cozumel in 1960, and discovered the beauty of Palancar Reef, the coral reefs off the southwestern coastline of Cozumel.

Consequently, the government of Mexico established the Cozumel Reefs National Marine Park, which helped to protect the marine life within the park boundaries, and today scuba diving is still one of Cozumel's primary attractions.

In 1996, a deepwater pier for cruise ships was constructed. It has been enlarged a few times, and Cozumel is now a regular stop on the Caribbean cruise ship circuit.

Famed for its numerous Maya ruins, pristine reefs and diving venues, sandy beaches, duty-free shopping and perfect weather, Cozumel is a significant tourist destination.

From Cozumel (by ferry or airplane), there's easy access to the many attractions of the Yucatan Peninsula, including Cancun, Chichen Itza and Tulum.

Here I am in 1984 visiting the Yucatan Peninsula, the cities of Cancun and Merida, the Mayan ruins of Chichen Itza and Tulum.
---

---
Sailing into Cozumel - Rough Seas
The night before the wind came up and it rained as we sailed to Cozumel. The wind was strong and the Captain told us the ship was slowing down and we would get into Cozumel at least two hours late, noon instead of 10 a.m. It took us quite a while to dock as we had to get a permit to dock and we finally got off around one p.m. The ship did stay later because of the weather problems but the snorkeling and some other activities were canceled due to the wind! So off we went to shop and have a cocktail.
---
Photos of Cozumel from the Deck of the Epic
| | |
| --- | --- |
| | |
| The Epic docked very close to the other Ship! | Chuck and Virginia Viewing Cozumel. |
---
Photos of the Shopping Area
---
Virginia and Chuck - Cocktail Time
| | |
| --- | --- |
| | |
| Virginia and Froggie! | Enjoying our Afternoon Cocktail at Hooters! |
---
The second day on our cruise we came 'home' and on the bed was the cutest doggie made of towels! We loved it.

The next day a Crab (or a frog), then a seal. We started to put our 'children' on the sofa at the front door.

We found our fantastic cabin steward, Rey, was making us these great animals.

Virginia told me our family was growing and we ended up moving our 'children' around and cracking up, lots of laughs.

We invited Rey in to see our kids on the sofa and Virginia said we had, Eeny - Meeny - Miny and we needed Moe and Moe! So we got a penguin and an elephant.

We decided these were the best children we would ever have, no muss or fuss. You can tell we are single!

We did have one surprise, the morning we were getting ready to leave we saw we had a stranger hanging on the closet door?

A monkey! Now whoes child was that? Was Virginia keeping a secret I didn't know about? We knew it couldn't be ours as it didn't fit in with our family! Did we adopt? So confusing!
---
---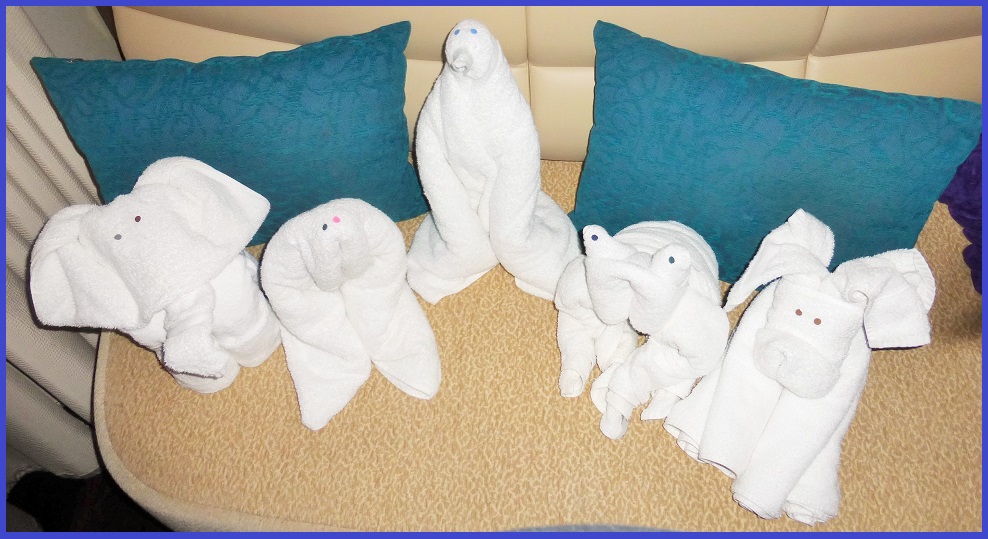 Our family grew as we sailed aboard the Epic!
| | |
| --- | --- |
| | |
| Our first child - Mr. Doggie | Our second child - Ms. Seal |
| | |
| --- | --- |
| | |
| Our third child - Crabbie | Our fourth - Ms. Penguin |
| | |
| --- | --- |
| | |
| Our fifth child - Mr. Elephant | Who let the Monkey in? This must be an orphan! |
---
A Few Stories About the Trip:
We were leaving the Epic on Sunday morning around 9:00 a.m. to go through customs and then to the warehouse where the luggage was stored. Saturday afternoon Virginia and I went to the Customer Services Desk and got our luggage tags. These tags are colored coded with the time one wants to depart the ship the next morning. We took purple as it was the later time, packed our bags later and put on the tags. Then later on Saturday evening we put the bags outside our door to be picked up before 7:00 a.m.
As we were leaving the crew was having a good laugh. We asked what was so funny? They said this was a first. A wife was irritated with her husband and told him to pack his things so their bags could go outside the cabin door instead of screwing around as usual. He finally packed and then got into bed. They woke up Sunday morning and he took a shower and she got dressed. He was standing there after the shower in his underwear and just staring off in space. She asked him why he wasn't getting dressed? He just shook his head and said he packed all his things, clothes, shoes, you name it! He only had his shorts and of course, the luggage was gone.
So the crew had to find him pants and a shirt to get through customs and out to find his luggage. He then could find a bathroom to change into his own clothes. We all had a good laugh about that!
---
Exciting Flight from Los Angelas!
An Exciting Flight Back from Miami and Los Angelas:

We took off from Miami on time and landed in Los Angelas around 4:00 p.m. I had seen on the weather channel before we left the ship, there was a lot of bad weather on the west coast. So we began to board the plane around 6:30 p.m. and was to arrive in San Francisco just a few minutes after 8:00 p.m. We sat on the plane for ten or more minutes and suddenly the pilot said it was too windy to fly into the City. We sat there for half an hour and then the pilot said it would be another hour before we could take off. Many got off and went back to the terminal but Virginia and I stayed on as we had the whole rows to ourselves.

After an hour and a half we were ready to take off. We sat on the runway for half an hour. Finally we took off and got to San Francisco within an hour but then we had to circle almost an hour due to the rain and wind. The planes had to stay 20 miles apart!

Finally we went in for a landing. The plane seemed fine until we got closer to the runway. Suddenly the plane started to shake all over! We hit the ground and bounced about 15 feet in the air. Hit the runway again and bounced about ten feet! The pilot hit the brakes and reversed the jets and we screeched to a halt! The passengers all clapped and thanked the pilot for a safe landing!

By then it was after 11:00 p.m. We got our luggage and Virginia had a friend pick her up and offered me a ride home. So nice of her! I got home by midnight but it took over three extra hours to get home. All I can say though, it is better to happen at the end of the trip instead of before and worrying about getting to Miami and the ship on time!
---
---
---
| | | | | |
| --- | --- | --- | --- | --- |
| Created on: 2014.12.10 | --- | | --- | Updated on: 2020.10.13 |
---
---
---