We departed for Monteverde, the "Green Mountain," high in the Tilaran Mountain Range, early in the morning from Arenal. It was a good thing we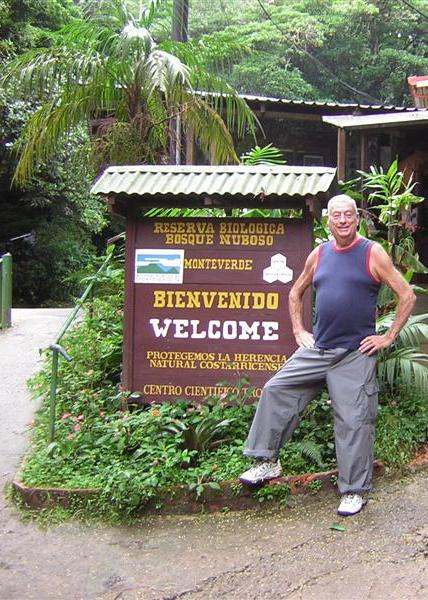 did as we got lost on the horrible roads. The signs were of no help. The roads were covered with sharp rocks, huge holes full of water and red lava mud all over. We bounced, slid, and kept looking for signs to help us. Even people along the road gave us bad information as to how to get to a specific place! A sign would point straight ahead and after either a block or ten miles, it didn't matter, suddenly the road ended in a fork and no sign as to which one to take. Of course we took the wrong one! Even Monteverde is covered with mud. The main street is about two blocks long and is paved. Every where else it is mud. Mud, mud, and more mud.
After shopping on the main street we decided to go back to the hotel. Barbara suddenly said something like a large black cat ran by the car into the jungle! The animal we found out was a Coati (coatimundi). It was the larger Costa Rican coati (like Barbara said - as big as a dog but appeared all black in the dark and headlights. It had a really long tail, as long or longer than it's body, that was kinked up at the end in the last 5-6 inches). They avoid the daylight. Coatimundis range in body length from 13-27 inches, including the head; the tail, which is generally held upright, is as long as the body. Being arboreal (tree dwelling), they live in the canopies of the rainforest jungle. Adult coati weigh between 15 and 25 lbs. So Barbara got to see something rare to see while I was watching the pot holes in the road! So goes life!
We did have coffee and a desert at the world famous Stella's Bakery & Coffee Shop. Talk about good deserts!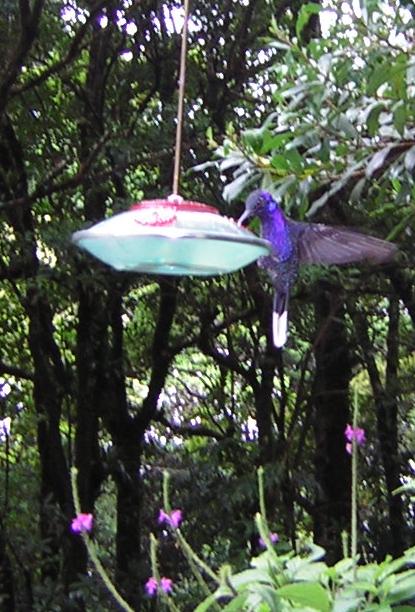 Apple pies and everything else one could want. They are at: tobiwall@racsa.co.cr or at P.O. Box 245655, Monteverde, Costa Rica. Phone is 506.645.5560.
We did go to the jungle but were surprised as it was mostly ferns and trees, duh, but nothing that we hadn't seen anyplace else. There also was a lack of many animals, some howler monkeys and a crab! There were very few birds but at the ranger station was a humming bird sanctuary and there were dozens of hummingbirds, all flying around the feeders and talk about colorful. Some were very large and a perfect purple color. We sat for a long time enjoying the view!
We did some shopping and then to bed as we had a long drive ahead of us to Manuel Antonio. A ranger told us the road might be bad from Hurricane Stan as the radio indicated there were big pot holes in the Pan American Highway. Well yes, there were huge pot holes. Four feet by two feet by one foot deep!