On Thursday, December 4th, 2008 at 1:30 P.M., I have a meeting with the lead doctor at the University of California Medical Center at 400 Parnassus, 7th floor. Dr.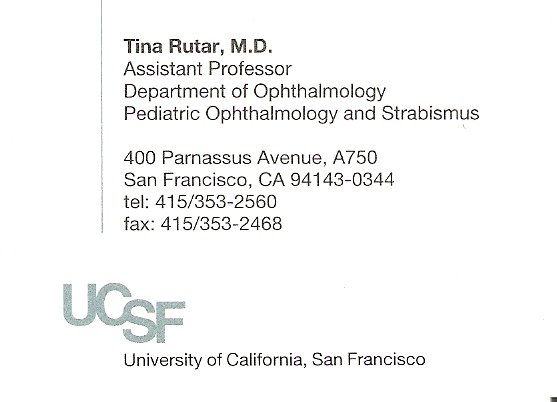 Rutar is going to test my eyes and the muscles that control their placement to see if this is the problem with my double vision.
First the assistant spent an hour with me doing test and dilating my eyes, naturally! She did multiple tests for vision, pressure, mobility of eyes and so on.
Then Dr. Rutar came in and did more testing and said my eyes were almost 20/20 and there didn't seem to be any lesions in the brain. She said there could be problems perhaps, with the thyroid, or an infection or Palsy of the eye muscles. Still she said but for a small degeneration on one eye in one spot due to age, my eyes looked fine and said she would order tests for the thyroid and so on.
She also said it is good I will see Dr. McCauley who is a specialist in neurology - optometerists.
I will meet McCauley on the 19th. of December and also have another MRI with dye on the same day to ensure I don't have any type of inflammation on the brain!