---
---
---
Chuck Buntjer

Press Correspondant for a Radio Station
---
1984
~ I became a Press Correspondant for a Radio Station Covering Current Events in my Spare Time!
---
---
Press Correspondant
When I was working at Blue Cross as a business analyst in Oakland, I became friends with Tim. One day he asked me if I would like to work part time for him during my off hours as a business analyst at Blue Cross as a radio announcer and reporter! I was surprised, as I didn't know he had anything to do with the radio or reporting. He said I would get a press pass and attend private movie showings before anyone else and I would review them and give a two or three minute expose about them on the air! I would also do previews of the latest books in the market along with interviewing notable people in the area.

He said his operation was just a one-man operation but had affiliates in London and surrounding areas, New York area and Australia! They actually were pirate ships off the shores of countries, out of the territorial waters, transmitting radio entertainment and political news! He would tape the reviews or interviews on a weekly basis and send to the affiliates around the world. I was amazed and asked, "Why me?" He said I was good at talking to people and also had a good speaking voice and would sound good on the radio. Well who am I to discourage someone who said that about me! I

, of course, said, "Yes!"

So suddenly I was a reporter with press credentials and started to go to private movie showings in the evenings. It was interesting as most people never knew some of the office buildings in San Francisco had private screening rooms with huge individual cushioned seats to watch the movies along with a glass of wine! I also reviewed the latest books, mostly published about Hollywood celebrities and movies.

Gay Parade - First Time Reported World Wide

Our biggest splash was the first time the Gay Parade had been presented on the radio in many places around the world!

I attended the first Gay Parade in 1972. There were 2,000 marchers and about 15,000 spectators. This photo is in front of the main doors of our City Hall. When I did the reporting in 1984 there were large bleachers in front of City Hall for the dignitaries to sit including our Senator and his wife that I was lucky enough to interview!

We first had to setup how we were going to spend the day of the Gay Parade doing interviews and formatting the programs. Audio tapes would be sent to the various pirate radeo stations around the world. Tim said I needed to go to the initial meetings to see how the parade logistics were going to setup a smooth running parade.

I started to attend the meetings in various locations around Castro Street. After attending some of the initial meetings I had to laugh. I wasn't suppose to say anything as I was the reporter but eventually I did say something.

Most of the people running the meetings were women. There were few men and they started to complain, "Why are there almost all women and no Gay Men, it wasn't right!" Finally I had to say something. I said, "The men were all at the gay bars cruising and drinking. If they wanted to be included they needed to attend the meetings and not complain about the attendance or who was at the core meetings to set up the parade parameters!"

We started the Gay Parade radio setup for interviews and formatting the program at five AM and worked until after eight PM. We ran all over interviewing people and our biggest catch was on the podium in front of city hall.

There was our Senator giving a speech and Tim and I grabbed him after his speech and he was kind enough to give us an interview. His wife thought the entire parade and interview were good for a laugh and said they had a wonderful time watching the parade and meeting so many nice people.

This show was very popular in London and Australia!

Tim said he did get some comments from the affiliates as to who was that 'man' with the deep commanding voice! We had a good laugh about that!

Tim decided after several years that the time and money needed to maintain a private radio commentary was too high to continue! So my career as a radio personality was over!
---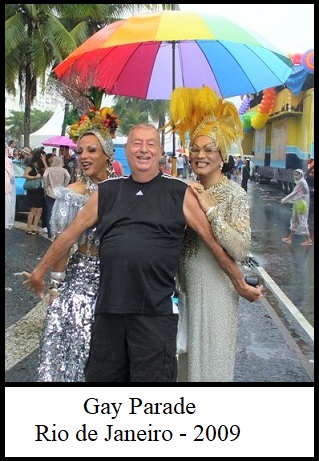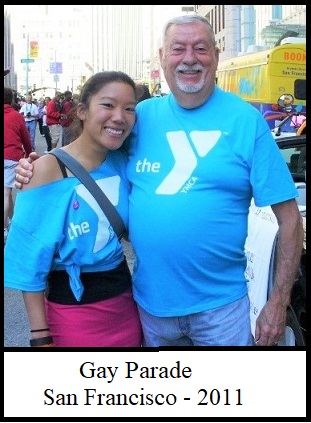 Rio de Janeiro Gay Parade!
Everyone had a good laugh when I tell them this story. About seven of us went to the parade after we had toured Sugar Loaf. We were walking along and I asked Jerry to take my photo with the 'drag' queens. He thought that was funny and the rest watched as he took the photo. I turned to the one on my right and said: "I'm from San Francisco!"

'She' said: I love Castro!"

Jerry gave us the strangest look and I finally realized what was wrong. I told him, NO, these drag queens don't love Fidel Castro, they love Castro Street in San Francisco, the so called 'gay' district. Well we all had a good laugh about that!

I said unless Fidel likes to dress up at night and we aren't aware of it. One never knows, does one!
San Francisco Gay Parade!
I have attended many of the parades beginning with the first one many years ago. One of the last ones I actually was part of the parade was in 2011. I was working out at the Central YMCA in San Francisco. I met Karma when I started to attend some of her exercise classes. We hit it off and I always said she was my young Asian Girl Friend. She said I was her Old Man Boy Friend!

She decided we should go to the Gay Parade so we met downtown at the beginning of the parade. A friend of hers had a Mustang convertible and asked if anyone would like to ride in the back? I, being then, 71, thought I should ride in the car but before I could even get close, Karma pushed me aside and sat on the back of the seat. Off we went, she waved at the crowd like Queen Elizabeth while I had to run or walk fast along side the convertible. I was not amused as the streets are dangerous, metal tracks for the buses to run on plus huge grates for air flow for the under ground bus and subway systems. I walked about two miles or more. Need I say more! By the way, Karma is not my younger Asian Girl Friend as she now is over 30 years old by a lot! Still love her though!
Besides Tech Jobs - Other Oportunities
It is interesting how many different things I ended up doing over the years. In between contracts in the technology business, if I had enough time, I would take classes for various endeavors.

Scuba Diving License: One time I got my scuba diving license after I had actually dove in the Caribbean, Fiji, Thailand, Mexico and off the coast of California. Better late than never!

Realtor's License: One year I had time and ended up finishing two months of studying to get a Realtor's License. I took the classes and then paid for a one day crash course that garanteed I would pass the test. There were 200 people taking the test, two hours long. I sat down and took the test and said I was leaving. The instructor said I had to leave my things if I was going to the bathroom or a smoke break. I said I was finished and then heard a gasp. What, you are finished. Two weeks later I got my realtor's license! I was actually in the process of selling a million dollar house on top of Twin Peaks but before the sale went through, I was asked to go work at a software company in Sunnyvale. The money was too good to give up and the contract was for almost two years with benefits!

Adminstrative License: After I retired my friend Viviane, in Beverly Hills, asked me to get an Adminstrative License to run a senior residence she bought in Woodland Hills. I would fly down to run the business when she went on business or vacation trips!

I had to take a test every two years to keep the license active. I usually flew down three or more times a year and when Viviane returned from her travels, we usually treated ourselves by going to the Beverly Hills Hotel for lunch or visit the Getty Musuem.

Partner's for Peace: I also became active in a dance group, Partner's for Peace in the 1990s. We did exibitions all over the bay area. My specialty was West Coast Swing! Many exhibitons were fund raisers for breast cancer, AIDS and other diseases.

Central YMCA Board: I served on the Central YMCA Board and eventually became the President until the Y was closed down. I also became a teacher for seniors, doing yoga and exercise classes.

Painting in Oils: I started painting still lifes and landscapes around 2006. I have been in various exhibitions, the VA Hospital and art galleries around the City.

Photography: I love traveling around the world and have taken many shots over the years in places such as France, Russia, China, Fiji, Jordan, Morocco, Indonesia, Dubai, Italy and many other locations.

I am sure I have done other exciting things over the years that I haven't written about. So much to do, so little time!
---
---
| | | | | |
| --- | --- | --- | --- | --- |
| Created on: 2020.10.11 | --- | | --- | Updated on: 2020.10.12 |
---