This is the only photo I have of myself and sister and mother. It was probably taken with a box camera in 1940 when we lived on a farm in Polo Illinois. We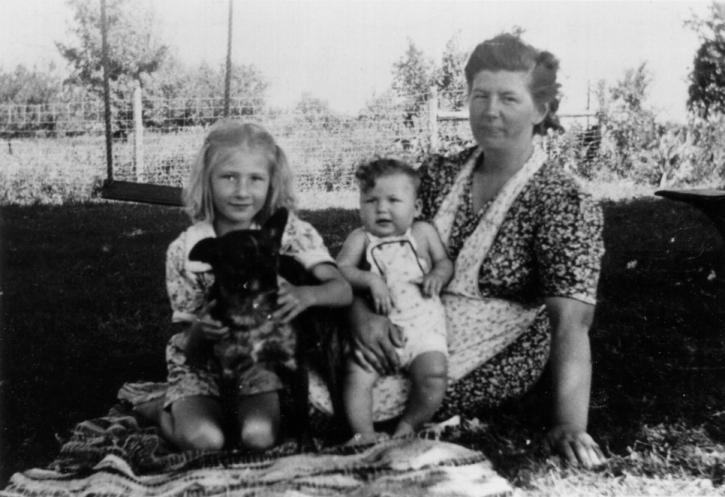 eventually bought the farm and also rented and worked a large 500 acre farm near Pecatonica Illinois. In the late 1940s we built a new barn and completely renovated the house on the farm near Polo and moved back there. My sister said I weighted 10 and one half pounds!
I remember our farm near Pecatonica. When I was four years old I had a burst appendix. I was chasing my sister around the yard and suddenly felt sick to my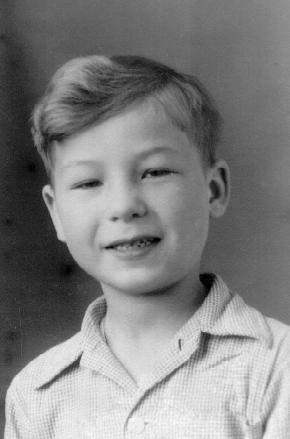 stomach. I lay on the couch for several days and finally went to the doctor in Pecatonica. He said I had a stomach ache and should go home and stay still. Well I was in horrible pain and they took me to Freeport and there found out I had peritonitis from the burst appendix.
They operated and I was unconscious for two weeks. They thought I would die but in the mean time, penicillin had been brought in from Chicago and I was one of the first to receive this type of treatment and it saved my life. I remember having to be in a wheelchair as I was so weak.
Mother and father took me home and put me in their big bed downstairs and told me to behave, as they had to go work outside in the fields. Yvonne was at our one room school and I, of course, after a few hours, wanted something so tried to get out of bed and fell on the floor. I couldn't get up and lay there for a long time. Mother came in and did I get it. "Why are you on the floor and not in bed?" Well of course I didn't mind!
But soon I was up and about. I remember us going to the oats field near the house and we had a combine drawn by horses. It cut the oats and put it in sheaves.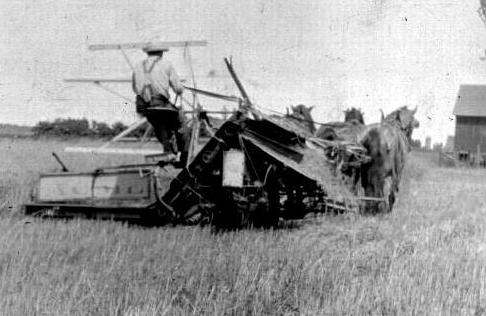 We followed it and place the sheaves in bunch with one laid flat on top of each bunch in case of rain. There was a hollow post by the gate and every spring there was a blue bird family that used the post for a nest. I checked that nest for years and then one time, the post fell apart and always worried about where the blue birds went. Funny!
I was lucky as my mother Edna, and sister Yvonne, always stayed up late on Easter eve and boiled eggs and dipped them in dye to make me a surprise. When I was around four I got up and was excited, "Did anyone see the Easter Rabbit?" I think one time my father said he was seen in the haymow! So up I went into the barn and found a big nest of straw with eggs and chocolate bunnies and yellow chicken treats. I was impressed. What a bunny! When I was five I was told someone had seen the rabbit somewhere in the front yard. Hmmmm, I said, maybe under the lilac trees. Yes, there was a fantastic nest under the lilac bushes heavy with spring leaves. The next year on Easter eve I heard a noise in the kitchen late at night. I got up, half asleep, and opened the kitchen door. Mother and sister had a most surprised look on their faces and told me to go back to bed. I began to wonder why there were hard-boiled eggs all over. Oh, oh, something is wrong. So later I was walking to the one room school I went to with my two first grade classmates, Carol Neuberger and Marilyn Ball. I made some comment about the Easter Bunny and seeing the eggs actually came from my family. Carol looked at Marilyn and then announced, "Yes, isn't it interesting, the Easter Bunny is a lie and so is Santa Clause!" Well excuse me, I was devastated, first the Easter Bunny and now Santa Clause. Marilyn said, "Yes, I found out a long time ago!" Well I didn't want to appear too dumb so I said, "Yes, who would believe in either one of them." And that was the end of my child hood fantasies as far as the holidays were concerned!
I remember going to school when I was six years old, walking the mile or so. In the spring there was a hill covered with stones, an outcropping that was created by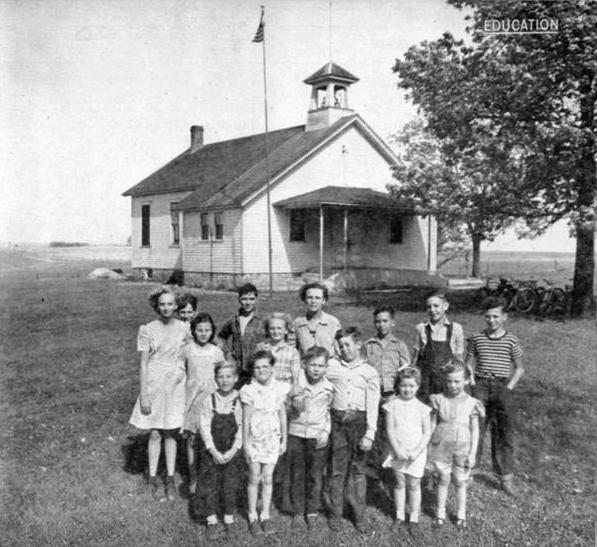 glaciers half way to the school. In the early spring when the snow was just about to melt, the hillside would be covered with little green leaves and beautiful purple flowers blooming in the cold snow, like Alpine flowers. I always broke off a bunch and took them to school to Ms. Erna Myers. I always wondered how many pupils did that for her. One time I was walking home and a horrible blizzard hit. I was about half way home and I could barely see the road, the snow was coming down so fast. A car stopped and a man rolled down the window, "Get in and I will give you a ride home!" I said no way and ran off the road into a snow bank. He finally gave up and I finally got home, frozen to death. And guess what happened, my parents were mad and asked why I didn't take the offer! Excuse me. I told them they had told me never to get into a car of a stranger. They explained it was the corn man who came in the early spring sell corn seed to use in seeded the fields for the corn crop. He did come once a year so I should have known him. Yes, I was six and should have known the seed salesman! I don't think so!
I also had the 'hots' for Carol Neuberger and every afternoon after school Carol, Marilyn, and I would walk home together to a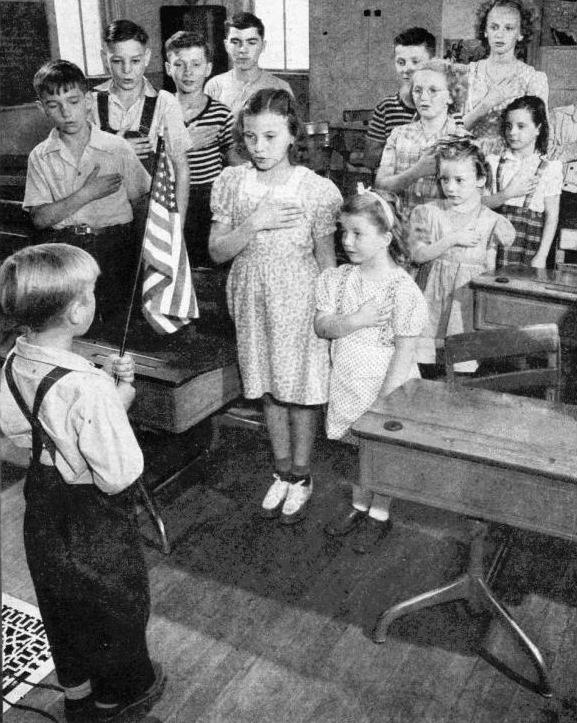 split in the road. They continued on one direction and I in the other. Well Carol's father worked in town and they had a cute little white house. Marilyn was on the farm like I was so she obviously was not my type. When we would get to the corner, I would push Marilyn away and give Carol a kiss and then rush off home. The woman in the house on the corner would see us and call my mother to say, "You son is at it again!" I'm not sure what my mother said!
Here I am holding the flag for morning Pledge of Allegiance and Carol is in front row on the right - so cute!
One day at school, Ms. Myers saw me doing something I should have been doing. Hard to believe! She came over with the ruler and smacked my hand very hard and it hurt! I was pissed! I thought I was going to fix her! I stomped home and went into the house and announced to my parents what had happened. I assumed, wrongly, Ms. Myers was going to get it. My parents just stood there and then my father said I should go out in the front yard and cut off a nice fresh green branch off the lilac tree. I thought that was strange. Then thought, I am in trouble! They snapped that green branch around my ankles and backside and it stung like hell. They sat me down and told me I minded them at home and Ms. Myers at school or.... Else! I learned my lesson and after that I kept my mouth shut if I got in trouble at school!
The boys on the next farm, Le Roy and Donald were friends of mine and Le Roy was in the seventh grade and Don in the fourth grade or so I believe and I was in second grade. Le Roy was big for his age and tough. One day he told Ms. Myers off! She was about 110 pounds if that. He stood by his desk acting smart and she came along and took him by his ear and yanked it very hard and then proceeded to put him in the closet and locked the door and told him to shape up or else. Well the rest of us were in shock. He was big and butch. Suddenly we heard a muffled noise. Then we heard crying like a baby! After about 15 minutes or longer, she opened the door and there was Le Roy, crying his eyes out and all bent over. Ms. Myers took him by his ear again and walked him to his desk, sat him down and told him to shape up and that was that. We all were impressed and didn't give her much trouble after that!
My mother was so busy working on the farm and keeping up the house but we always went to the PTA meetings at the little one room school with about 12 students! For one meeting she made an Angel Food cake, my favorite. She drizzled a sugared frosting all over it. I loved that cake. She told me to behave as it was going to the PTA meeting. Well I decided to see if it met the standards of a cake and pinched off a piece inside the hole. Yum! Then took some more off, and more off inside. So off we went to the meeting after the chores were done. The women put all the goodies on the table and my mother was proud of the cake. Everyone was standing around as she cut the cake. She got the strangest look on her face and everyone had a good laugh. The first piece cut out had a big part of it picked out on the inside half and one could see the cake had a big hole in it. She was not amused. I fortunately, don't remember what was said afterwards!
My sister Yvonne said she remembered men coming to hunt from Chicago and it frightened her when she was little. My experiences were very different. On autumn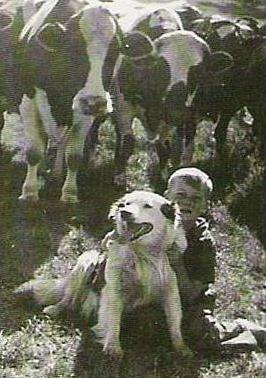 morning in the late 1940s there was a knock on the kitchen door. Two African American men were standing there and asked my father if it would be all right to go hunting on our farm if they were careful. Walter laughed and said most people parked their cars in the brush by the road and sneaked over the fence to hunt, sometimes shooting a cow or steer or what ever moved! The men laughed and said they knew a cow from a pheasant! Daddy said he was pleased they asked and said it was fine but.... they hadn't better shoot a milk cow! Later that day they came back with about 14 pheasants. They gave us several even though our father said no. They came back the next year and had a big bottle of wine for us. They said they fermented it in their basement! The third year they came with two of their boys my age, around seven or eight. They went hunting and I played with the two boys, showing them the animals and then having a great time playing in the haymow. Our parents never said anything about them being 'black' so I wasn't even aware of the fact. I don't believe they ever came back and we were sorry and hoped they were all right. Talk about being taught a good lesson about being liberal and not being racist!
One winter evening after our chores were finished and the full moon had come out over the snow covered fields, my father asked if I wanted to go with him in the truck to check on our steers I believe. We drove to the middle of the farm and onto a high hill where there was an Indian (Native American) Mound. He saw something and high in a branch of a tree was a huge snow owl. The owl was fantastic with the full moon shining on it. What a sight!
The owners of the farm we were renting near Pecatonica were two sisters and a brother from Germany - they came around 1880 and may have gotten a land grant for the farms. They had a huge house built around 1906 and I loved visiting there. They were Annie, Gusty, and Bill Brinkman. Annie was the 'boss' and Gusty was sweet and kind. Bill was always working doing something and I think he just liked to keep away from the house! The house had a beautiful dining room with cherry furniture, a great table, chairs and buffet - furniture from Marshall Field's in Chicago my sister says. They also had a den/library and in it were bookcases with glass doors and inside were encyclopedias, I think from the turn of the 19th century. Fantastic etchings of long gone animals and so on. One Christmas Eve Bill asked us to get ready and wear lots of warm cloths. We thought this was strange. He had gone into his barn and there were harnesses for his two big workhorses. The harnesses were covered with large brass bells and he hitched up the horses to a large sleigh that I didn't even know he had. We all got into the sleigh and Bill drove us all around the meadow between the two houses. It was clear and cold with a full moon and the snow sparkled. What a sight, the horses breath in the cold air, the sparkling snow and the bells chiming as we road along. What a memory.
One summer I was playing with matches (My sister told me she also loved to 'set' fires in 'safe' locations!), behind the house in the old orchard where the trees had fallen down and were rotting. Plus there was a lot of dry grass all over the area. For some reason that I certainly don't remember why, I started a 'little' fire by the rotting tree stump. Suddenly the grass caught on fire and there were flames all over. I ran around but couldn't stop the fire. I screamed and luckily someone heard me. All I remember was my father running over to put out the fire. In the mean time I ran to the house. Next thing, my father made a beeline to the house with sparks coming out of his eyes! Yuck! I ran.... Fast..... Faster...... Across the road and through the meadow to the Brinkman's house. Fast as a bullet, but my father was just as fast. He got in the truck and flew down the road, turned the corner and up the Brinkman drive way. In the mean time I had flown up to the house and on the back porch were Annie and Gusty. They saw I had terror written all over my face. I screamed and crawled under the porch. My father ran over to them and yelled out, "Where is that ......?" They just sat there rocking away and tired not to say anything. My beady little eyes were peaking out of the dark under the porch and father saw me and I flew out from under the porch and back across the meadow and to our house but, my father was in the truck and we met at the same time, in front of our house. For some strange reason, I just cannot remember what happened to me then. Probably better to forget! I, of course, was mad about it and waited for a few weeks and then guess what? I got my farmer's matches and walked a mile into a plowed cornfield, looked around and dug a hole and put some grass in it and lit it and danced around it! Such a bad boy! I said to my self, "So there, I'll show you all!" But I did learn one thing, I never lit a fire again that I couldn't control. So I did learn a valuable lesson and the farm buildings were saved!
I also remember one Saturday night after chores we went to a neighbor's house across the river from the Brinkman's house. It was around nine P.M. which was late and I wondered what was up. It was a shivery for the daughter, something I had never heard of and it was the only one that happened in the area for a long time. Perhaps it was the last one ever in the area, as those things all seemed to vanish after World War II. Some young couple from two farms had gotten married and the bride's family had the shivery for them - the Winch family I believe. Everyone in the surrounding countryside was invited and there was lots of dancing and singing and drinking. This went on to very late in the night but I didn't last too long and that was my only memory. I wonder today how many people actually experienced this sort of celebration!
When I was around five or so, we would all get in the car on Saturday evening after chores and drive to a little town named Ridott! I think it had 50 or so people living there. There was a General Store with the pickle barrels and so on and they would block off the main street and put up a small screen and show a movie. Right in the middle of the street! We then found there was a bigger screen in German Valley! This town was a little bigger than Ridott and the main grocery store was in a two-story building. Beside the store was a big grassy lot and the wall of the store was two stories high. The movies on Saturday night here were actually very large due to the large blank wall. This was a great way to spend a summer Saturday evening, shopping and then relaxing on the grass with snacks watching a movie! This all disappeared soon after the war and we then went to the movie theatre in Pecatonica!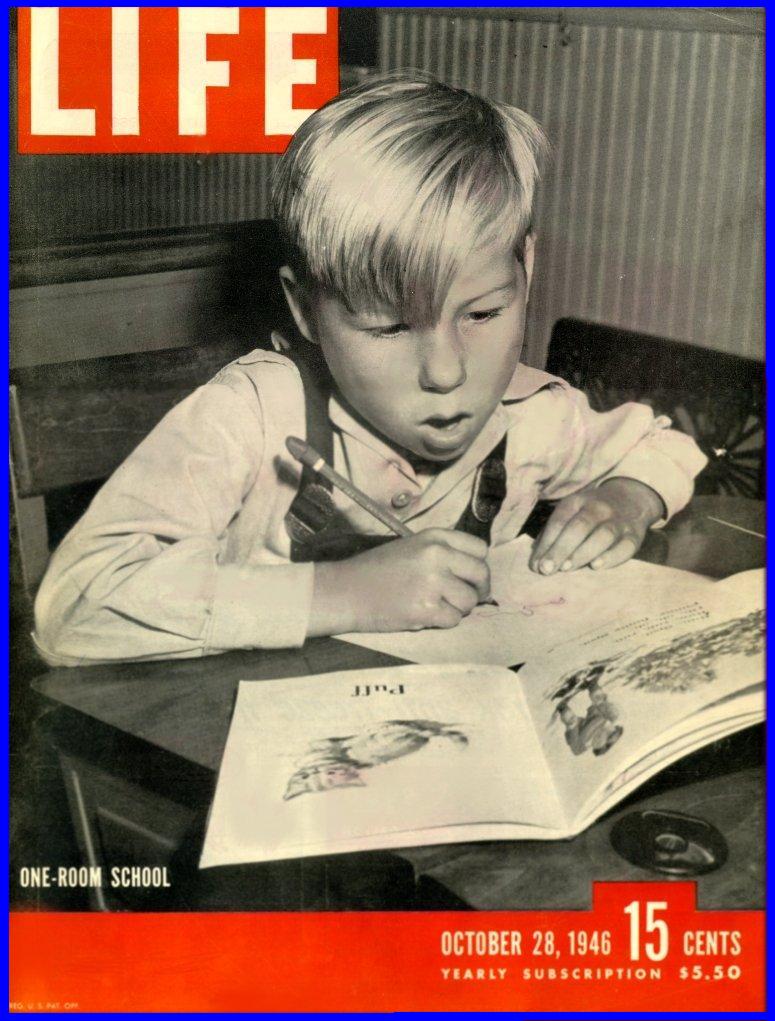 When I was six years old I went to my first grade class with Carol and Marilyn in 1946. Little did I know within the year I would be famous worldwide! Life Magazine had hired photographers and writers to canvas the United States and find the perfect one room school house to represent the country and what the military had been fighting for - Mother and Apple Pie! Life Magazine picked the one room school I went to. We children didn't realize what was going on and eventually we didn't notice the photographer taking photos of our daily routine. Eventually in the fall of 1946, Life Magazine appeared with my photo on the front cover. There were about six pages of photos and I was in most of them. In one picture I was holding the flag for morning the Pledge of Allegiance and in another I was calculating the size of the Easter Bunnies tail along with Carol and Marilyn! I received over 5,000 letters and presents from around the world and today after over 60 years, I am still in contact with one man, Frans, in the Netherlands!
The farm buildings were built on a high hill due to the spring flooding every year. About half a mile from us was another large hill with an Indian Mound on the top. It was very big, about 40 feet or more tall and in the front, or south side was a platform or a ceremonial area. It was about 15 feet by 30 feet but probably was larger years ago. I always went up there and wondered what was done on this ledge. Archeologists came along one time and asked our father is they could dig up the mound to study the history of the native Indians and he said no. Leave the bodies alone as they probably died from chicken pox or measles given to them by the settlers. At the bottom of the hill were a swamp and a small pond. The Johnson boys, who lived on the next farm and I, went swimming there in the summer. They were Le Roy and Donald and Leroy was about 12 years old and Don was maybe nine and I was around seven. We were told the Indians had dug the dirt from the swamp to build the mound and it filled with water. The swamp was very strange; every spring there would be thousands of wild tiger lilies blooming. There were very strange humps of land there, about a foot or so high and about a foot across. They were very tough and covered with grass and in-between was murky water! We used to dance around on the tops of the mounds to get across the swamp!
The railroad that ran through our farm was built on a man made ridge about ten feet high in some areas. The train could run even when the area was flooded. I remember one spring the entire low lands were covered with water. One night when it was dark, we heard a horn, very strange sound. We rushed out and there in the night was a huge train all lit up with a dome car! Our father rode his horse down to the tracks and found out the train was the City of San Francisco! The City of Los Angeles also ran on the tracks due to the main line being down from the flooding! Little did I know within 20 years I would be living in San Francisco and visiting Los Angeles.
In the meantime our aunt and uncle, Bennie and Francis Buntjer, were running our farm near Polo. They lived there until 1949 or so and then Bennie move to Rock Falls to work and we moved back to Polo from Pecatonica and built a huge new barn with war bonds. It probably was the last big barn build out of wood in the area as the next generation of barns was made of metal. We also remodeled the house and the cost for each was around $20,000.00. Not too bad for two people without much of an education!
I transferred to a school in Brookville, a very small village next to our farm near Polo after we moved back to our farm. Can you imagine, it also was a one room school! So all of my grade school education was in a one room school!