Yvonne Burt/Buntjer's Recollections of early events from 1939 and Beyond!

(Notations in red were made by Chuck Buntjer himself! Just to add a little more to my sister's memoirs!)

1950
1947
My sister wrote: It was the summer of 1939, one Sunday afternoon in July. We were standing in the yard on the Farm in Northern Illinois by a little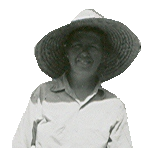 green house. My mother fell off the pump platform and sprained her ankle. At that time, I didn't know it was because she was pregnant!
Later that afternoon my dad put me on Silver, our horse, and sent me down the road to gather up and bring home the milk cows for milking.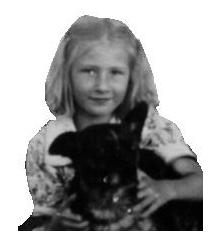 In those days there was little if any traffic on the roads and when the farmers were short of pasture, would let the cows eat the grass along the road side. Several dogs began to follow me and as a I was turning the cows home, several neighbors drove up with their dogs and the dogs got into a terrible fight. Silver bolted and I ended up under her, she then ran over the top of me stepping on my right foot. My elbow hit the gravel road and the neighbors picked me up and drove me home. I think I was partially knocked out! Well, that made two of us laid up!
I couldn't use my arm for two months, or walk. My dad carried me outside to the toilet and put me on the seat! Then stood outside and waited for me to finish, no doctors then!
I learned in the fall I was to have a brother or sister, due around Christmas! I remember pacing the floor on Christmas Eve as it seemed my mother was in labor. But no, not that night! Not until February 4th, and there was lots of snow! They had plowed the roads open, just in case and we

had no phone either! My dad went to the neighbors around eight PM and called the doctor. He arrived and 'the' baby was delivered at 11 PM that night. He was a real beauty, had curly black hair, rosy cheeks and weight in at 10 and 1/2 pounds!
I got to hold him when he was about 30 minutes old! I was never jealous, I thought this was the greatest thing! Our little dog Scrappy was also excited. He was the one dog my mother would let in the house. Scrappy would go and check the basket every time he came in to see that Charles was all right! I think the farm we were on was owned by a Mrs. Beck, as far as I can remember.
The next farm where we moved was owned by a lady in Chicago and she lost it due to the depression years and we bought it from John Hancock Life Insurance. The farm was paid off in 1944. I remember we drove to Rockford Illinois and Charles and I sat in the car while mother and father went into the Nelson Hotel to get the deed of sale. The Western Union was a block away and who would have thought in six years I would be working there after I left home. At that time Rockford and Western Union seemed like a foreign land!
In the fall of 1940, when it was time to pick corn , I stayed home to baby sit. I learned how to make formula from cow's milk and so on!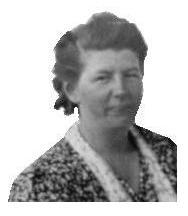 We moved from the farm near Polo Illinois to Pecatonica in 1942 to rent a 500 acre farm! About February Charles developed paralysis in his arm. It just hung there and we took him to the doctor. Mother was upset as Polio was so prevalent. She and the doctor though Charles had Polio! Three days later it went away! We were so relieved, late one evening mother went to look at Charles and his arm was raised above his head so we knew the crisis was over!
One day when Chuck was about two years old, the hired man yelled that Chuck was on top of the straw-stack, stark naked. Charles went through a spell of taking his clothes off. I did the same when I was two so it might be hereditary!
In 1943 Charles decided to play with matches, he was about 3 and 1/2 years old. He went to the old orchard behind the farm buildings and started an old stump on fire. Soon the fire spread in the dry grass. He tried to put it out but then fled the scene! We looked all over for him. We were worried he had gone to the river and drowned. Well, no, he had run down the hill to the neighbors and hid under the porch as they rocked away. Two sisters you know! Father chased him from under the porch and he ran back home across the fields faster than father could drive the car! They met at the house but no one can remember what transpired then, a spanking perhaps! (This event I remember very clearly! I was scared to death and doubt anyone had ever run so fast. The sisters sitting on the porch knew something was up as I screamed and dove under the porch as my father drove up their drive way yelling, "Where is that so and so son of mine?" They were worried and just sat and rocked away!)
Also that summer evening he got out of the front yard gate. The gate was closed with wire to stop him from getting out. He was on his tip toes and got one end of the wire caught in his eye. The wire was stuck under the skin by the corner of the nose! Mother had to hold him up and finally pulled the wire out leaving a small cut there.
Also Charles once threw a match down the toilet hole in our outdoors "out-house" and caught all the Sears papers (we used the catalogue for toilet paper), in the hole on fire! I of course, being the older one, had to run and get buckets of water to throw down the hole to put out the fire, not a pretty smell! (We had to use the outdoor 'John' when it was 20 below zero, not a pretty sight or fun to do. I always took 'farmers' matches to light rolled up papers to try and keep warm while doing the deed. Yes, life was so much fun on the farm, especially in the freezing winters! Our house had a coal furnace in the basement and in the winter, I would put my blankets on the big floor registers and sleep there to keep warm. I don't know if my sister ever did that!)
In date February of 1944, one Friday afternoon, we had the rugs out on the cloths line and were beating them with the rug beater! Charles was running and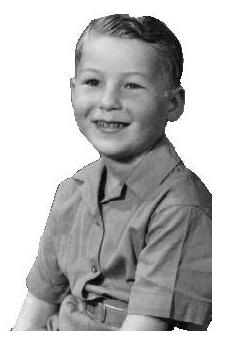 chasing around. He suddenly disappeared and we found him in the house on the couch lying down.
(I remember my sister and I playing a game with the rug beater and she was chasing me around the rugs hanging on the cloths lines outside the house. We were having a great time as I screamed and ran from big sister! Suddenly my stomach hurt so bad and I went into the living room and laid down. I thought was going to die. Everyone said, just lie there and you will get over it. Life on the farm. I almost died because of that episode.)
We called the doctor on Saturday and he said it was the flu. Charles was worse on Sunday, so bad the Doctor came out and said it was burst appendix! They carried him out that afternoon to Freeport, (he was unconscious at the time). The doctor called his son who was a surgeon in Rockford and he rushed to the hospital in Freeport to do the surgery! By Monday afternoon they called father that I was so ill I would probably die! Mother was sitting with me all the time. We got there and he was full of needles, his whole body was turning black! He was in a coma until sometime on Friday A.M. Father would bring me to our aunt Fay's house in Freeport and I would sleep there while he went to the hospital. Charles was in the hospital for two weeks. The head nun took such good care of him, Charles called her "The Lady with the Bells!". The noise was her rosary clanking as she walked!
(Chuck wrote the following on his Chuck's Life web pages: I found out later, penicillin had just been sent to Chicago in 1944 after being used in the Pacific war zone with miraculous results! The penicillin was rushed to the St. Francis hospital and given to me just in time. I was so weak I was in a wheel chair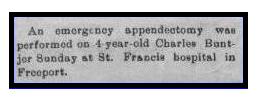 for weeks, too weak to walk. I remember coming home and having to stay in bed. Yvonne of course, was in school and my parents told my I had to stay in bed as they had to go out and work the farm. I, of course, knew better so I tried to get out of bed to get something. My sister said I wanted a stuffed animal on the dresser so that was why I tired to get up! I fell on the floor and that was that. I couldn't get up so laid there for a few hours. My mother came back to check up and of course, there I was. Well no sympathy for me! She just got me up and back in bed. She figured I probably had learned my lesson! So here is the news item, in the local newspaper, it seems awfully small for such a major operation and almost the death of me!)
A few weeks before this we had driven to Geneva Illinois to visit our aunt and uncle, Liz and Tony, at their restaurant. It was called the Fox Valley Cafe! We drove on Route #2 and saw the big Blackhawk Monument that sits on the hill across the Rock River! While Chuck was in a coma in the hospital, he kept talking about the Indian he had seen! (I do remember that as a matter of fact!)
I remember the morning that daddy came to Faye's and said Charles had awakened and looked like he might make it! He was in pediatrics and you had to be 14 years old to get in so I fixed up a lot, make-up and so on, to get in to see him!
It then was near Easter and I never saw so many Easter Baskets and stuffed toys. Everyone in the family seemed to remember him!
Of course it is all over his web site, the time he was on Life Magazine, the cover and four or so pages inside, with him as the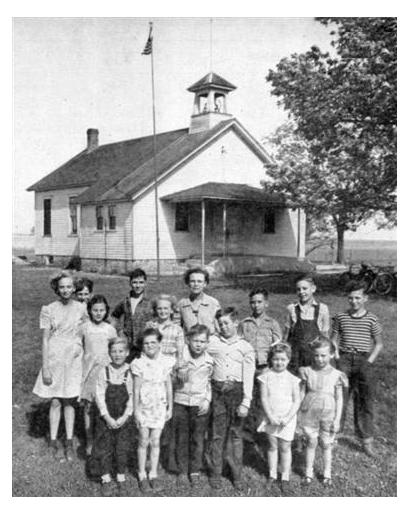 focal point! I always told Chuck if I was still in the one room school, I would have been on the cover, not him! But I graduated from the one room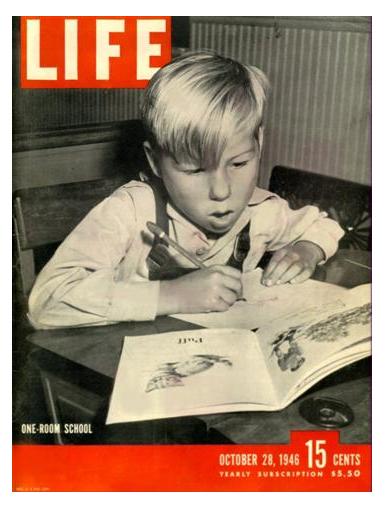 school the year before so no dice!
Miss Erna Meyer was our teacher and we didn't appreciate her then but we do now! She was strict but we knew our lessons! We were figuring fractions in our Fifth Grade.
We had a black-board on legs and I started teaching chuck on it when he was three years old. He could write the alphabet, say the numbers and write his name before going to first grade! I think that helped him as our mother helped me and I started first grade when I was five years old!
We really had some good times on the farm. At Pecatonica we would have Thanksgiving Eve dinner with the Brinkman's, whose farm, we were renting - 50 acres! Then we would have Xmas at our house and New Years at their house. We also had fourth of July at their house. (I used to sneak under the bed in the guest bedroom and see if there was a box of fireworks. One time I took a new pail my father had bought and put a firecracker on the top of it and lit it. It was so hot it burned a hole right through the bottom and we both had a fit!. Then we were so dumb, the first time we did a rocket, we stuck the wooden s
take on he rocket into the ground and lit it. So, the rocket blasted away but couldn't fly away so there was just a big burned spot in the grass!)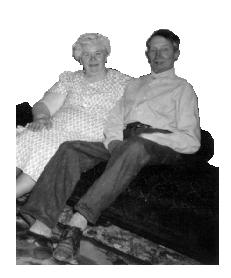 On Christmas Day we would go to our Grandmother Anna Peterson's house at noon with all the family on my mothers side. It was 50 miles away at their Pearl City farm and there would be about 25 people there. The photo on the right is of Anna and Martin Peterson. (I always remember us driving on the road and turning off onto a gravel road and going down a long hill to their house. My aunt and uncle Johnny Peterson lived down a private road on the farm by a creek where we boys has good times playing in the water catching crayfish. Our grandparents house was beside the road.)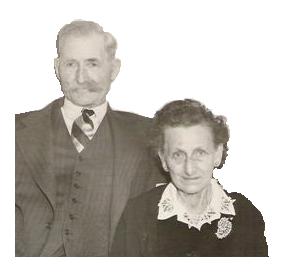 After visiting our Peterson Grandparents, we would rush home, do the chores, and drive to our Grandmother Buntjer's house, about 30 miles. The photo on the left was taken our grandparents in 1951 at their 50th wedding anniversary - John J and Rena Buntjer. There would be about 60 members of the family on my fathers side. That was about the only time our Grandmother used the living room. There was one big floor register in there and our Grandpa Buntjer would fire up the furnace, usually too much and our Aunt Faye would scream it was way to hot in there. All the kids called Grandpa "Pop".
What a time, so many people and we would draw names for the next Xmas. Aunt Faye's husband, George Copoulos, always found out who had my name and exchanged names so I always got a special present even though there was a money limit! Also, sometimes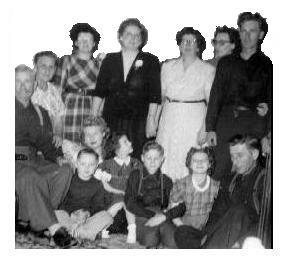 our Aunt Liz would come to the car when we left and have presents for us. We so special. The photo on the right is at our gathering at the Buntjer's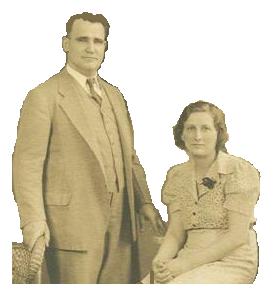 house. Grandmother and Grandfather Buntjer are the two on the left of the photo. Our father is in the lower right of the photo and mother is the one in the white dress and glasses! (Aunt Liz and Tony were my idols as a young boy as seem on the left. They lived in town, had a fabulous apartment in a building they owned. They also had numerous hotels and cafes and on and on. I thought some day I would be sophisticated also!)
I also bought Charles a pair of electric diesel engines that cost me $40.00 - that was 2/3rds of a week salary then for me.
In 1950 Charles was swinging on the gym bar at the one room school house and the other person on the bar let go when Charles was in the air. He had a broken wrist but never complained. In a few weeks we saw the arm was crooked and he went to the hospital to re-break it. (Well I remember lying there and the nurse asked if it was my left leg, then if it was the right leg. I said "No, it is my left arm!", that didn't make me feel too secure! I don't know if sis knew that!).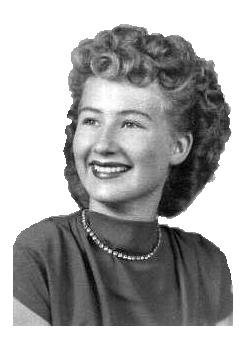 Then Charles got Chicken Pox and it was a mess under the cast. I came home for the week-end from Rockford and caught the Chicken Pox at 18! So no work for two weeks!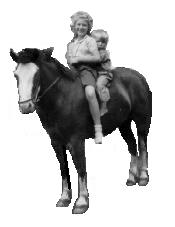 Daddy bought a pony for Chuck when we were in Pecatonica but he never took to riding like I did. The pony was spotted brown and white. He looked like our horse Queenie! Queenie took to him and she thought he was her colt and looked after him like she was his mother. (I hate to spoil this story but I ride a great deal on the farm near Polo. But the farm in Pecatonica had over 200 acres of woods, a river, an Indian Mound to ride around in. Polo only had the road and the pasture to ride in. We even rode in the rodeo in Pecatonica a few times plus we went on trail rides also! Here I am hanging on for dear life with my favorite sister!)
The family then moved back to the farm they owned in Polo after completely remodeling the house. They also built a new barn, all very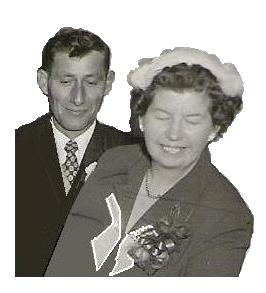 spiffy! Our mother then became ill and we found out she had cancer. She lived long enough to enjoy the new house and see me get married. This photo of our parents was taken at my wedding!
Around 1958 Chuck lived with us in Rockford on Buckingham Drive for about a year and a half. He was 18 and went to Rockford College for a year and then got a job in the computer industry and shared an apartment with another fellow. One evening a man took him water skiing and he had never done that before. He did a great job but got tired and didn't know how to fall down. Finally he fell onto the rope and it almost tore his arm off. Then entire skin on his right arm, from the wrist to the elbow, was peeled off and blood flowed copiously! (I was so mad at the man and myself but I decided to get up and finish skiing back to the house where we started. I figured if I didn't, I would never get in the water again. Such nerve!) Chuck called the house and I knew something was wrong. He came over and I poured a bottle of peroxide onto the entire arm, it hurt like you know what, but, he didn't get an infection in it! A muscle in his inner arm snapped off and went into his wrist where he still has a lump of muscle. (I eventually went to a doctor and he said as long as I could move my fingers, I was all right. The only way to get rid of the big muscle bulge on my wrist was to have plastic surgery. Well it 50 years since that happened so I guess it will never happen!)
In 1963 Chuck got a nice letter from Uncle San stating he was drafted! He did his basic training in Fort Knox Kentucky. He was the guide on,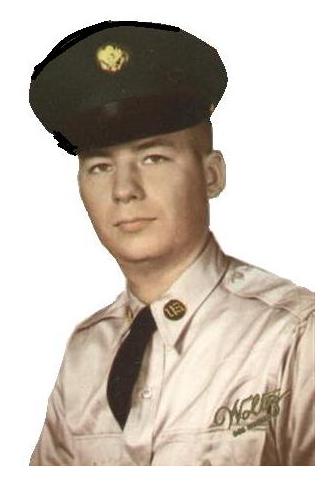 carrying the flag and marching the feet off the rest of the men.
(I had left the office of Amrock and for some reason stopped at a local bar for a drink. The Television was on and they announced that Cuba had missals off our shore, only 90 miles away from Florida! Little did I know within a few weeks I would be called up and that event would change my life forever! Amrock, a manufacturer of cabinet fasteners, had a very up-to-date computer center and were extremely unhappy that was I was being drafted! They even held my job open for a long time after I was out of the service. The manager even talked to my sister about me coming back! Well guess what, I was never going to leave San Francisco or California ever!)
He was the top shot and won an award for that plus they wanted him to go to OCS to become an officer. Instead, he found out through the grape vine that he was to be sent to the Presidio in San Francisco as a computer supervisor in a building next to the Golden Gate Bridge.
Daddy and our step-mother Rose drove to Rockford, then to O'Hare Airport In Chicago to pick up Chuck when he returned from basic training. That was a feat for our father as he never traveled far from home.
When Chuck left the service in 1965 he disappeared for six months. We didn't know where he was. He was in San Francisco but we were all worried sick about him but he finally contacted us. (I think my sister left out the best part. I was living at the Monroe Apartments, Breakfast and dinner included. It was on Sacramento Street. She contacted the police and one evening I was told someone was there to see me. The Chief of Police, Cahill! My gosh, the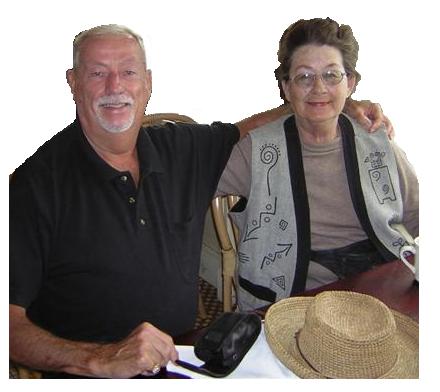 Chief of Police tracked me down and personally came after work to see me and tell me it would be 'nice' to call home! You can see how small San Francisco was at that point in time!)
So that is some of the experience I remember growing up with my younger brother Charles. Check out the rest of Chuck's Life on his web site!
So here we are in 2006, I am visiting my brother Charles and we are having brunch at the Cliff House overlooking the Pacific Ocean. Who would have thought this 60 years ago!