| | | |
| --- | --- | --- |
| Click this picture to enlarge it and read the history of the wall! | The Great Wall of China | |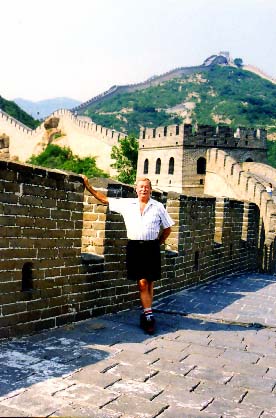 AsI approached the Great Wall I saw several blocks of shops selling all kinds of souvenirs. Everything you never wanted. I and several friends escaped the shops and walked to the wall. There beside the wall which is at least 50 feet high and miles long is a street sign. It of course states "Up the Great Wall", like we couldn't see it! Then we heard a lot of screaming and laughing. At the entrance was a sedan chair in red with two men carrying it. They gave rides for a price. Inside was a German woman about 28. She had a big balloon under her dress so she looked pregnant. Her boy friend, dressed in a gingham dress, combat boots, and a leather World War I flyers helmet, was taking her picture. There were four other Germans and they all were crazy.
We decided it was time to tackle the wall! After the first half mile there was hardly a soul on the wall. Three of us decided to see how far we could go. Signs all over stating that the wall was a national treasure and not to ruin it. The Chinese didn't seem to care. One man around 60, was sitting there carving his name into the wall. We three were irritated and the woman with us, a Chinese American let him have it. He acted like he didn't understand her. She knew the language though. Anyway, he just sat there and looked at the wall. Every once in a while he would look up and after we had gone over the next hill, he scratched his name all over the wall. When we came back we had to laugh as it looked like all the Chinese were scratching their names and what ever all over the wall. So much for history!
We met a Chinese soldier and a student who was going to a technical school and when they found out we were from San Francisco, they had to have a picture of all of us together to show their friends. Both were about 24 years old and we though they were old friends but they said they had just met. People all over the world get excited when you say you're from California. They all want to come here!
We were lucky as it was smoggy and 100 degrees in Beijing but here it was about 75 degrees, a breeze, and blue skies. Hated to go back. The drive was very nice into the mountains, curving roads along the edge of the mountains, great views, but down below we could see a freeway being built, looked like six lanes that would cut right through the valley to the wall. Of course this will ruin the beautiful drive and get that many more tourists there in less time for more shopping.