| | | |
| --- | --- | --- |
| | | |
I must admit at first that this wasn't one of my favorite trips in the course of my travels but that was due to the extreme hot weather and air pollution. We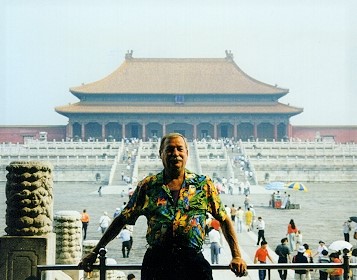 went in June and it already was a hundred degrees on some days.

This is unpleasant regardless of where you travel. So make sure you pick a time of the year when it is a little cooler. Please see the map for the topography and the geographical statistics for China.

China was Hot and Humid in June. The water and air was so polluted that by the end of the trip some people just couldn't take it any more. The Yangtze River is almost dead. It used to be a major bird nesting area but we only saw one or two birds a day.

The crew on the ships threw all of their garbage off the back of the ships. As we went further north the air became worse. Beijing is equivalent to smoking three packs of cigarettes a day just by walking around.

But the good things about China are:
the The Three Gorges on the Yangtze,
the Terra-cotta Warriors in Xi'an,
the Great Wall of China outside of Beijing.
the wonderful food we had everyday and
the wonderful people on the tour!
---
Click on this link to view some of the photos taken during my trip around China!
---
The other great thing about our tour was the Travel Agency and our Tour Guide, Marie. She made the trip a joy, making sure everything happened on schedule and the service was of top quality! Check with Marie about trips to China and Vietnam and mention my name, 'Chuck Buntjer'!
I also had been in Hong Kong about ten years ago while the British and Chinese were negotiating the treaty to return it to China. I had a funny experience while visiting there which you can read about by clicking on Hong Kong.
Space.
Read on for more details on different places I visited and experiences I had in China:
Space
---
---
---
Charles Walter Buntjer


San Francisco California
Created on: 1997.07.15


Updated on: 2016.04.22
---