---
Well it has been almost two years since my last vacation which was to China. I have been working for NationsBanc Montgomery Securities doing Y2K testing and contingency plans just in case the fixes don't work!

Also a lot of reverse engineering on a lot of old applications so that has been a lot of fun. Now it is time for a long over due vacation.

I saw a trip to Tierra del Fuego in the Wednesday afternoon paper where I usually get very good trips that are off the beaten path and at reasonable rates.

At first I didn't know if my reservations were going to be in effect as I didn't hear from the travel agent for two weeks and after four phone calls. Needless to say I was irritated until Marcelo explained what had happened. Read on for the nightmare when Peruvian Airlines went suddenly out of business!
---
Peruvian Airlines is Defunct!

---

I had called my travel agent four times in the last two weeks and Marcelo did not return me calls. The woman who answered said he was having problems with three tour groups but was making sure I was getting a good deal on my extension to Easter Island. I was getting irritated as I didn't know how much the extension was going to cost and even if I would go. So I called a fifth time and got the same response. I said I wanted some conformation or else. She said he would call back as soon as he got off the phone. He got me a terrific deal on the flight, round trip from Santiago to Easter Island, almost 4,000 miles for $550.00. Not bad, plus a hotel, day and a half tour of island and a day to myself, breakfast included. He said he would tell me what happened when I came in and paid.

Travel Agency - March 12, 1999

So the same afternoon I went to the agency to pay for my extension to Easter Island. Marcelo said he had three groups trying to go to Peru and up to Macchu Picchu. He said after everything was setup, Peru Airlines went under from poor management. Figure this out, a state run monopoly where you have to fly everywhere due to lack of roads. Cuzco and Iquitos are heavily traveled and I can't imagine how the airlines could go out of business unless graft was at an all time high. Anyway, Marcelo said the following:

One group finally cancelled out.

When the second group got to Lima the luggage had disappeared and the airlines had no idea where it went! Marcelo indicated the entire group went shopping in Lima and was trying to buy clothes to finish the trip.

The third group was stranded in Sacramento of all places. United Airlines had stopped there and through some mix up, didn't get them to the L. A. Airport on time so they missed their plane to Lima.

Poor Marcelo, he said he booked me on an early flight to L. A. on Friday morning, 9:25 AM, as he was worried about the airlines schedule and wanted to be sure I had time to make the flight to Santiago in order to connect with Punta Arenas. Well we will see what happens! I ended up flying on LANChile Airlines to Chile, the tip of Chile to the boat, back to Santiago, on to Easter Island, back to Santiago and on to LA and San Francisco!
Anyway, as I was contemplating going to Chile I stopped at one of my favorite coffee shops, the Roastery, in the San Francisco Center at Powell and Market where the cable car turn around is. That was about six months ago and as I was reading the paper I saw an older couple at the next table. Being personable, I started talking to them. They are from Santiago Chile and most of their children live there. We have become friends over time. We always kid each other as we are the 'Coffee for Three Club' in San Francisco!
They want me to visit one of their nieces, Elsa, that lives in Santiago as I pass through to Easter Island. Her husband, Elgardo, is in the computer business and they think we will have a lot to talk about. I did get to meet them and stayed for a few days in Santiago!
---
Overview of my Time in Santiago
---
Here I am in Santiago on Saturday afternoon before the rest of the trip, ending up on Easter Island of all places!

I was picked up at the airport and taken to the Fundador Hotel, half a block off the main drag called O'Higgins! I was right next to the San Francisco Plaza hotel which made getting around easy as I knew I couldn't get lost too easily. The hotel was very nice but smoking is allowed everywhere and I was given a free drink and the bar was so smokey, a family was in there, father and mother both smoked and their little children could hardly breath!

The smog is so bad in Santiago that the doctors warn people that it is better not to jog as your lungs will be in worse shape than if you sit around the house! There are 12,000 buses without any smog control. Santiago has terrible smog and you can see it from one of the following photos taken from the highest hills in the city, Parque Metropolitano. In the middle of this the electricity went out.

There is a water crisis and very little rain has fallen for several years. The hydro-electricity can't produce enough power for the region so different areas of the city have blackouts during each twenty four hours. We sat there for about an hour with some candles to light the bar. The woman at the desk said it was better to stay in the lounge as there were emergency lights in the lobby but not in the rooms. I was lucky I was in the lobby and not in the shower or something! I asked about the water and she just laughed, said she was a native and wouldn't drink the water as it was so full of minerals it wasn't healthy to drink it.

Surprisingly, everywhere we went they were watering yards and washing cars like there wasn't a shortage. Seemed strange after California went through this problem. At one time the government had asked Japan if they could take an atomic bomb and blow up one of the mountains that surround the city so the air could blow away. Sounds familiar, don't fix the problem, let it blow away to someone else. Then they worried it might change the climate too much and ruin the farming so for the time being this has been set aside although I don't believe the world community would stand for atomic bombs being used instead of some other type of explosives!

I was picked up by Elgardo on Sunday morning along with his youngest daughter and we took a drive around the city. We went to the top of a hill where we could view the city but as you can see by the picture, it was too smoggy to see much.

It is actually a very nice city with wide boulevards and many side streets turned into plazas for people to walk in and to shop. The subway system seems to work all right and is very easy to use. There is a station half a block from the Fundador Hotel. We happened to see a group of Chilean Folk Singers and stayed for a while to hear them play and sing. They had guitars and a harp and I was told their music is very soul or heart felt where as the southern music is much more vigorous due to the climate.

We then went to the house where Elsa had prepared a very nice luncheon for us. She has three daughters and all are polite and very active. I also met Guido's sister-in-law who lives in a small house in the back of the larger house. Elgardo laughed and told me his mother-in-law lived in his back yard. She laughed when I met her and asked if all Americans were so tall and big! I forget I am six feet tall and about 185 pounds, everyone else there was about five foot eight, or shorter. After a great lunch we left for the hotel and as we drove up to the door the tour guide pulled up to take me to the airport. Lots of kisses and hugs and I was off to Easter Island!

Important: I met a couple on Easter Island that was staying at the same hotel I was at on Saturday night. They took the same flight to the island that I did. They said they had eaten dinner and around 10:00 PM decided to walk to O'Higgins and back for some fresh air, that is half a block. They got to the main street and about five different men approached them and asked for the time. They knew something was up so they turned to go back to the hotel, one man grabbed his arms behind him, the rest frisked him and ripped her purse off her arm. She was left with only the strap in her hand! Nither one was hurt but they were psychologically shook up. He had no money and she only had a new ring she bought in Puenta Arenas and her reading glasses but this is a word to the wise, umless you take a cab or it is day time, don't wonder around.

One couple from Zimbabwe said they took a bus from Rio de Janiero to Buenos Aries and didn't feel safe until they were in southern Argentina and Chile. I also met a young man from Phoenix. He is 23 and said his family had moved there fifteen years ago from Rio because of the robberies. His father is in Rio doing business and has been robbed twice on the bus in the last six months. He said the new tactic is to sit by someone, stick a sharp knife in their ribs and demand their money, any noise and you are skewered! His father is a native and he isn't even safe so be very careful when traveling there. I have been told to only go to Rio for two days or so and to take a tour group to the main sights. Everyone I talked to said Rio is so beautiful but so dangerous, too bad for Brazil.
Often referred to as Cerro San Cristobal (the name of the largest of the three hills that make up the park), this is a forested public park rising more than 200 meters above the hustle and bustle of Santiago. It is one the city's prominent landmarks, crowned with a huge 14 meter statue of the Virgin Mary. A funicular takes you directly to the top, and a gondola (teleférico) spans across two of the highest points for an impressive view of the city and the Andes. For the more energetic, the Cerro has a network of dirt trails, and a steep and winding road which goes to the top. There is a pool, zoo, gift shops, snack bars, and a fine restaurant to visit as well. The forested hill is a popular spot for running, mountain biking, and family outings. To access the park, take Metro Line 1 to Station Baquedano and head across the river on Pio Nono until the street ends at the base of the wooded hill.. This entrance is open between 8 AM and 10 PM. The Pedro De Valdivia Norte entrance (via Metro Line 1) is open between 8 AM and 12 midnight. For more information about the park call (562) 777 6666.
---
9:00 a.m. Smog in Downtown Santiago
---

---
Downtown Santiago
---

Here is the map of lower Patagonia - Tierra del Fuego - and the route the cruise ship, the M/V Terra Australis traversed through the fjords, glaciers, and other wonders along the way.

Please click on the following links to view information about Chile: The geographical statistics for Chile and the statistics for Tierra del Fuego.

Discovery of Tierra del Fuego

Hernado de Magellan's sailed in 1519 towards the Finis Terrae and adventured into the strait that bears his name.

This is the region where the American continent breaks into pieces, submerging itself into the sea that in 1577 the English corsair Francis Drake had to navigate through during one of the most exciting episodes of his trip around the world. This is an area of wooded mountains, deep valleys pierced by channels and fiords, with islands of virgin vegetation, where the Coastal Mountain Ranges disappear under the sea and only the majestic Cordillera de los Andes remain.

This is the place that astounded Charles Darwin in 1831, who on board the Beagle, was making one of the most renowned trips in history. The Patagonia was an important site for his research which would give rise to a large portion of the ideas that would shake the world's scientific notions of natural selection.
Expedition Cruise of the M/V Terra Autralis
Sailing on the expedition cruise of the Terra Australis allows one to become immersed in the magic and fantasy of the southern most scenery of the American continent.

Our adventure begins on Saturday, the 2nd of April, 1999 in the Chilean city of Punta Arenas. It only carries 114 passengers and we started our seven day journey with a welcome dinner and introduction to the crew, then castoff to cruise through the Tierra del Fuego islands which included the Strait of Magellan and the Beagle Channel around the island of Tierra del Fuego. Of course as soon as we were seated at our respective dining room table the 'Table Politics' began as we sorted out which people we wanted to sit with!
T
he first night I was seated at a table with seven others and we got to know each other. While talking I checked out the other tables and there were two young men sitting at that table and they didn't look too happy. Someone at my table asked about them and I said they must be on their honeymoon! Everyone laughed. Then I noticed a woman at another table, Viviane, and thought she might be interesting to talk to. So we got together and indicated that we would like to be together so after a few days the table seating arrangements were changed and we were all together at the same table.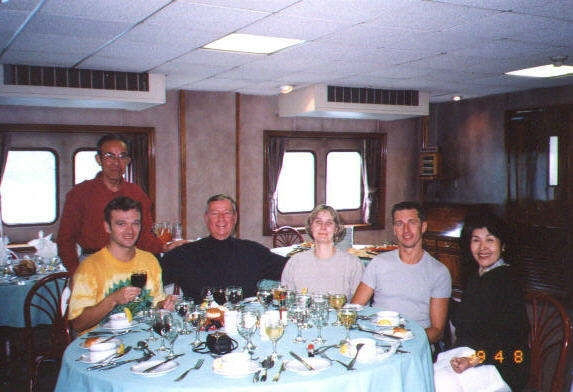 The men were from Belgium and the older one, Mark, works for the embassy. He originally was stationed in New Delhi but now is in Santiago. Joost, his friend, teaches French after he gets up around noon each day. Poor dear, one does need ones beauty sleep! Vivian lives in Beverly Hills with her two sons and there were three others at the table from Japan who didn't understand much English. The first night I talked away for half an hour and Mark indicated that all they ever did was nod their head and say 'Yes - yes' but didn't know what was being said. That didn't stop me from talking. We also met a couple from Panama, Christin and Evan and they joined our little clique! He is a radiologist and is paying off his college loan by doing a term in the army. They will be moving to Phoenix and since my sister lives in Tucson, I can visit both of them.
Anyway, we had a great time on the tour. We partied every night and went on many excursions together. One night we had to dress up which I hate, it was a costume party. Mark put a crown on my head and then turned it upside down. That was better, looked like a motor cycle hat with lots of glitter on the brim! Kristin had braids and a hat and her husband, Ian, took pictures of the two of us.
Ian also had a video camera and the next day Kristin said she went into the room and he had tears running down his face from watching what he had taped. It was of me doing a lip-sync of Olivia Newton John singing a song from Grease while dancing around like crazy. So now everyone had to see this tape and it was a big hit. I didn't know I could move my hips so much at my age! We tried to get Kristin and Viviane to dance but they just wanted to watch. I laughed because it was the first time there were more men than women that wanted to dance! Mark and Joost had their gear on from different places they had been, Mark in his 'Florence of Arabia' outfit and Joost in his Indian pajama outfit!
---
---

Dancing Fools

---

Belgium Boys!
---
---
On April 3rd we sail the Admiralty Fjord and Brooks Bay with the center of attention the Darwin Mountain Range. We then have a safety drill with life jackets just to be safe!
---
Darwin Mountain Range
---

---
April 4th found us anchored next to the Agostini Fjord where we could take pictures of the Serrano glacier that dislodges from the Darwin Mountain Range.
---
Fantastic Glaciers!
---

---
My new Friend Viviane!
---
| | |
| --- | --- |
| Space. | |
We then took a zodiac boat and had an up close look at the Serrano glacier and also had a beach side whiskey on the rocks - made with Millenary ice! Our first toast to the new millennium! We then sailed through the Magdalena and Cockburn channels.

The sailing continued on April 5th through the Beagle Channel and the Avenue of Glaciers along with the help of our trusty Navigator!
---
Our trusty Zodiac boats that ferried us all over the lands!
---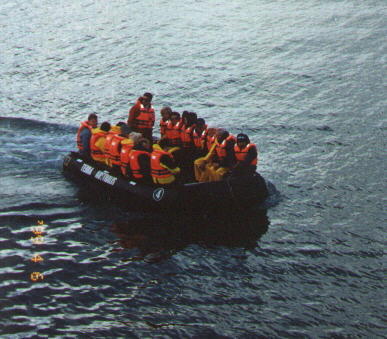 ---
Close up to a Glacier!
---

---
Our trusty Navigator!
---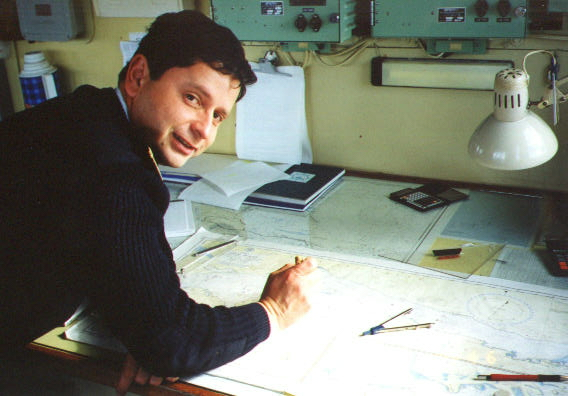 ---
Next we disembarked for a horseback ride through the hills surrounding a deserted ranch, the Yendegaian Estate. There were around 20 of us on the horse back ride. Since Viviane and I were excellant horse back riders, we helped lead the group. The other 18 or so were all French men and had a lot of attitude. Viviane and I decided to treat them to a fun ride, we rode ahead very fast, the hooves of the horses threw mud up in the air all over them!

To top it off, the owner of the horses, a man with his wife and two sons, all so nice, asked for a tip. They said they had about four months to grow crops and then were locked down for half the year! The French men talked and talked to each other, finally one of them gave the man a few dollars! For 18 riders! Viviane and I were mad, we did give the man a big tip and he was so thankful!
---
Trail Ride on a Chilean Ranch ~ I got the 'biggest' horse for some reason!
---
---
Then we arrived at Puerto Williams , the southernmost city in the world! There a bunch of us found the local 'Yacht Club' and partied the night away until we had to leave in order to catch the ship to Ushuaia!
---
Fort Williams
---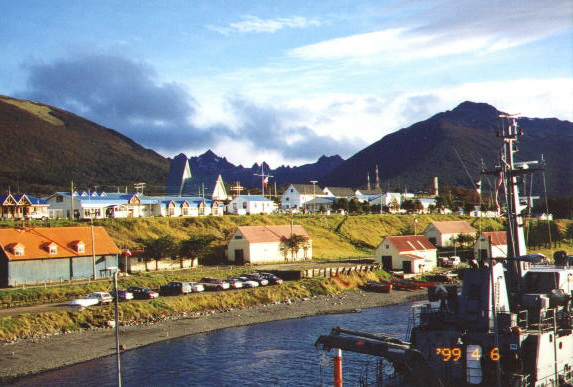 We docked at a beach with a lot of stones! We were dressed for cool and wet weather. The woman guide made friends with Viviane and myself. She told us she went to Monterey near San Francisco to get a degree in biology. She said we were Californians and had been around! She suggested I might want to lead half the group on a hike while she took the less adventurous on a beach hike. I, of course, said yes. I lead the group, we went half way up the mountain, jumped over the stream and back down the other side. It was wet and muddy plus lots of dead trees to climb around. What a hike. Lots of bitching!

When we got back the guide asked where did Chuck take you? Lots of grumpy people. He took us to the top and then had us jump over the stream and back down in slippery mud! She cracked up and said she couldn't belive I lead them up there. She said now they were going to call the hike I took them on as:

"Chuck's Falls"
---
---

Chuck - The Guide from Hell!

---

Viviane - What are you Doing?
---
When we got back from the hike, we saw tables set up with whiskeys and other drinks for us. We did laugh as they said the chunk of ice in my drink was a million years old. It was such a big chunk of ice it almost didn't go into the glass! I, of course, had to pose with the million year old ice!
---
Whiskey toast with a million year old ice cube!
---
---
---
---
Overview of the Next Half of the Cruise
---
Read about it on the Argentina Webpage!
On Wednesday the 6th, we docked in Argentina at the remote city of Ushuaia where there again are several alternatives in visiting the area. We decided to take the train and visit the Tierra del Fuego Park in Argentina. See the Argentina link for some great pictures of the park! Some people like myself, did the entire trip from Chile to Argentina and back again. Others only did a one way trip so we picked up some new passengers who would take a very short, two day trip.
We left Ushuais Argentina and on Thursday the 7th, we and sailed to the Garibaldi glacier and then through the Brecknock, O'Brien, Whaler, and Occasion channels.
On Friday the 8th, we arrived at Fort Bulnes, founded in 1843 to take possession of the Strait of Magellan, and then onto Bienvenido Mounumento Natural "Los Pinquinos" Park, where there is one of the biggest penguin colonies in the southern hemisphere.
That evening a farewell dinner for all and on Saturday a ride to the airport and Santiago where my adventure would continue there and in Easter Island!
A team of multilingual guides accompanied us in our daily excursions throughout the journey, giving lectures on the history, geography, flora and fauna of the area, as well as setting up activities and evening parties on board the ship.
Space.
---
---
---