Here I am in Victoria, my only stay in Canada and it is just a few hours from where I live! As stated before, if you spend at least one night in a country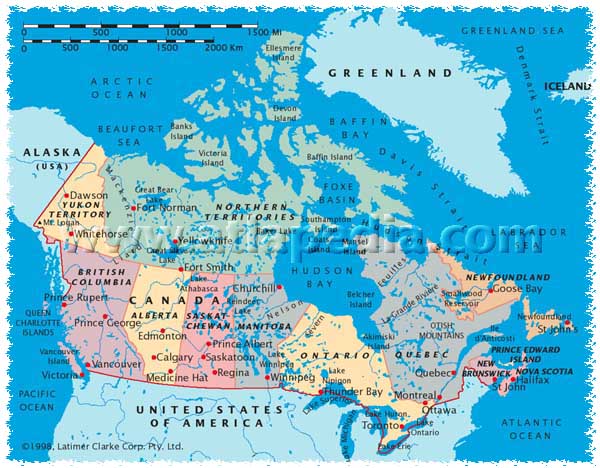 or have your passport signed and travel around for a day, you qualify as being in the country. This and Argentina are two of my examples. I spent two days in each country and one night so they qualify so to speak! Please see the map and the geographical statistics for Canada.

This story starts at Boole and Babbage, a software company in Sunnyvale. I was on contract there and had gone to Thailand on the first year of contracting and the second year I was on contract I worked on a project with about 30 others. When this project was finished the president of the company was so happy that he took the entire crew plus each one could take a friend if they wanted to, or a wife or husband. So the group was composed of about 50 people and all expenses were paid by the company. We flew to Vancouver on Friday afternoon and then took several small planes to Victoria. The weather was fantastic, early spring and the water and the islands stood out so clearly. We landed in Victoria and went to our hotel to relax and then go out to dinner.

The next day we went to the Buchart Gardens outside of the city which is a beautiful sight. The gardens are built in an old stone quarry and are delightful.

We spent the afternoon running around, went to the local museum with a lot of west coast native art and artifacs. We then went to the famous Victoria Hotel for tea in the famous dining room.

That evening we had a huge sit down dinner and entertainment and all the wine and champagne we could drink as a group having done a great job.

The next day we relaxed and just slept late and then did a walking tour of Victoria. A beautiful weekend paid in full by Boole and Babbage - What more could an employee ask for?

Then back to San Francisco on Sunday evening and a good nights sleep before going back to work on Monday!

PS: There was a stink about a contractor going on the trip, of course that was me, not being a full time employee. My manager and the president were irritated and told people that everyone on the project had given their all and had worked sometimes, 16 hours a day to complete the project on time so there had better not be any complaining about the bonus trip for the unit. Talk about the good old days!