This will be my second trip to Argentina. The first time was in the spring of 1999 when I took a cruise from Chile to Argentina though the Magellan Straits. We landed in the town of Ushuaia, one of the farthest southern cities in the world. We spent a day touring the Pargue Nacional Tierra del Fuego.
Here I am at the end of the trans-continental American Highway in April of 1999. As the sign indicates, Buenos Aires is 3,063 kilometers away and Alaska is 17,518 kilometers away!
Buenos Aires Overview:
This complex, energetic, and seductive port city, which stretches south-to-north along the Rio de la Plata, has been the gateway to Argentina for centuries.
Portenos, as the multinational people of Buenos Aires are known, possess an elaborate and rich cultural identity. They value their European heritage highly--Italian and German names outnumber Spanish, and the lifestyle and architecture are markedly more European than any other in South America.
One of the world's finest opera houses, the Teatro Colon, flourishes here on the plains alongside the river. Portenos are intensely involved in the life and culture of their city, and they will gladly share the secrets of Buenos Aires if you lend an ear and relate your own stories in return.
---
---
---
November 04, 2009: It was suppose to be a m
orning flight to Buenos Aries and transfer to the Viasio Hotel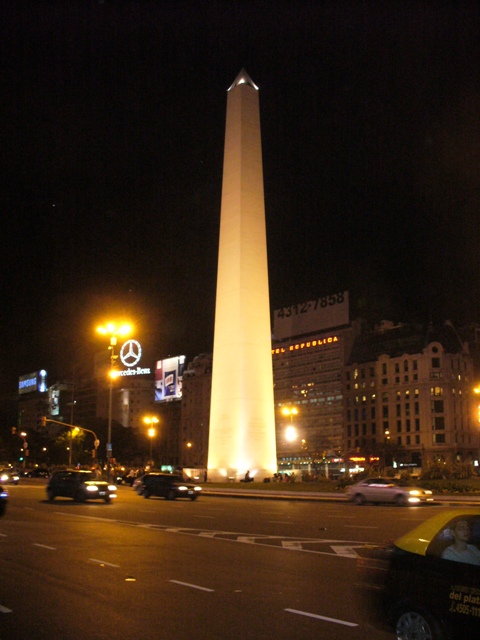 but the tour agency screwed us up and we ended up on a two P.M. flight and got into the city late in the afternoon.

The hotel was very nice after the horrible one in Rio

and we just walked around the area to check out the stores.

That evening we found a great place to eat, all kinds of meat on a grill, salads, deserts and so on, all you could eat, $7.00 U.S. dollars, such a deal. We also found an ice cream place on the main boulevard and sat at the side walk tables and watched the sun set.

We then took some photos at night and I got a good one of the Obelisk lit up in the middle of the main street.

About 11 P.M. that night Barbara and I were talking and the phone rang. It was Jerry, he told Barbara he and Happy were still in Iguaçu Falls. We thought he was kidding. He wasn't. The tour company had screwed up their flight and they ended up having to miss the tour the next morning of the city. Barbara tried to have the tour company change our city tour from nine to ten A.M. the next day but it wouldn't have mattered as Jerry and Happy didn't get in until almost noon.
First Day In Buenos Aires
Evening sets in and the buildings light up.

This was a favorite shopping area in the evening.

Many street corners had tango exhibitions - but they did want money!

We found a great cafe with locals and great coffee!
---
---
---
November 05, 2009: So the group took the m

orning tour of Buenos Aries, and the Plaza de Mayo, La Boca with out Jerry and Happy.

We walked all over the area taking photos of the buildings and the streets and especially liked the shopping area with the colorful buildings. Our guide said many immigrants worked years ago worked on construction and took home the paint left over in a can.

Thus they painted a door one color and maybe one wall on color and another one another color. We also saw tango exhibitions and gauchos dancers plus bands and artists working.

We visited the same buffet restaurant again as the food was so good and watched the tango dancers and shopped for tango shoes for Sheila!
Morning Tour of Buenos Aries
Space.

The widest and longest boulevard in the world!

The 20 story obelisk taken the first night we were in Buenos Aries!
Many old European style buildings at times mixed in with the modern glass towers!
| | |
| --- | --- |
| | |
| The city has many parks and many dog walkers! | Shops galore! |
Quaint shopping area called Caminito in the La Boca section
A great place to shop and eat and just enjoy the entertainment!

Great restaurants out doors.

Barbara, Debbie, Kathleen and Chuck acting up!

The gaucho Dancers.

We saw many men and women doing the no move pose in many forms!

Tango exhibitions in front of many cafes, so nice to see up close!

We loved the colorful stores.

And the baby cloths hanging from the second story balcony!
---
---
---
November 06, 2009: Today we took a train to Tigre and took a boat ride around the area along with lunch. Debbie and Kathleen from Vancouver saw us in the morning and asked if they could go along. Of course we said.
We had a nice train ride with the locals and found a nice boat to relax on and see the sights plus have a nice lunch.
Coming back I stopped for two minutes at a bank to get some pesos and come out and no one was around. I checked all over and finally went to the train station just in case and went to check a car to see if they might have gotten on. The door slammed shut and I was off to Buenos Aries with out them.
I walked back to the hotel and relaxed in bed and an hour later Barbara came in and we had a good laugh as I said I got caught in the train and couldn't get out. She said they asked a man at the station if they saw me and he said no as he always knows a foreigner. Ha, he didn't recognize me as I knew where to buy the ticket and how to get on the right train!
This evening we went to a fantastic Dinner and Tango show. The dinner composed of huge steaks the way one wanted it, French Fried potatoes, a nice salad and desert plus, all the wine one wanted, bottled water and good coffee.
Afterwards we took some photos and Kathleen and I went to the shop and tried on the Tango hats and did a Tango number and had Jerry take our photo.
Andre wanted me to Tango with Jerry so they all could take our photo, I said I don't think so even though Jerry was available! Excuse me!
Train to Tigre
Buenos Aires Train Station to Tigre!

As you can see, Tigre is very clean and relaxing.

There are boats all over the area for personal use or for vacationers to rent!

Our boat for lunch and a relaxing cruise.

Kathleen and Chuck and of course, wine!

This is a favorite place for people in Buenos Aries to have a vacation and weekend home, only 45 minutes by train or even quicker by car!
Fantastic Dinner & Tango Show
| | |
| --- | --- |
| | |
| The dinner and the Tango show were spectacular! | Can you believe it, Kathleen and Chuck acting up again! |
| | |
| Debbie, Walter and Kathleen | Sheila, Jerry and Happy |
| | |
| Andre and Nina | Great steaks, potatoes, salads and deserts plus all the wine one could drink! |
---
---
---
| | | | | |
| --- | --- | --- | --- | --- |
| Created on: 2009.11.04 | --- | | --- | Updated on: 2020.10.06 |
---
---
---