| | | |
| --- | --- | --- |
| | | |
November 1999: Viviane, whom I met on the trip in the spring of 1999 to Chile and Argentina and she had planned a millennium trip to Vienna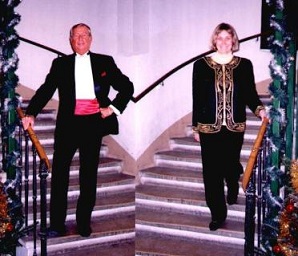 Austria with a side trip perhaps, to Budapest Hungary!
She hadn't found anyone to go with so she called me by chance. "Would you like to go to Vienna for the Millennium New Year?" she asked.
Yes!" was my instant answer as I was consulting on the Y2K fix for Banc of America Securities and wanted to get away for a few weeks.
I think she was surprised at my quick response! So we currently have our airline tickets on Air France to fly to Paris where we will change planes and fly on to Vienna where we also have made hotel reservations in the heart of the city, five minutes away from all the sights at the Pension Shermin!
Here is a map of Austria, a map of downtown Vienna and also a current listing of the statistics for Austria.
And, 'Yes!', it finally happened, we did go to Vienna and Budapest and had a most wonderful time, read on for our travel experiences on our Millennium New Years trip!
---
---
---
<! ---------------------------------------------------------> 27 Dec - Monday: We were suppose to depart San Francisco or Los Angeles on Air France, Viviane from LAX around seven and me from SFO around 6:30 PM - of course I was worried as usual that there wouldn't be any excitement on our trip. I was sitting in the SFO airport and met a young man named Ed in the computer business and we exchanged names and he said that they were paging my name at the counter. I laughed at him but they were calling me, a message from LAX and Viviane stating that her flight would be three or four hours late so I should do what I had to do! So I figured we were not going to meet in Paris but in Vienna. Little did I know what would happen!
---
---
---
28 Dec - Tuesday: Well I arrived at the Paris Charles de Gaulle for my connecting flight to Vienna and Ed the computer guy said there was Air France personnel standing at the walk way with a sign with my name on it!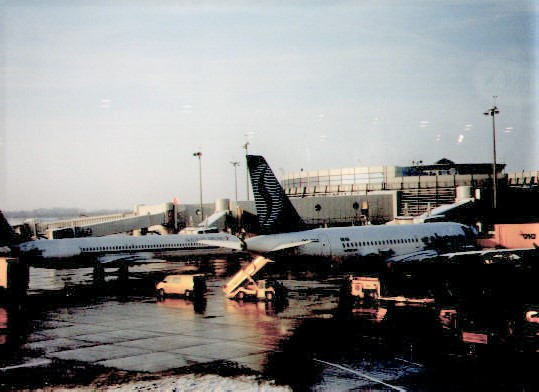 We had to laugh as he gave me the same message from Viviane that I had gotten in SFO. I asked him about my flight and he said he only delivered messages. So I had only about 40 minutes to catch my plane and no one was there to help me get to the other terminal. I was irritated but eventually found my own way and had about 15 minutes to catch the plane. I checked the board and every flight from de Gaulle was being canceled. Just great, I got on the plane, about 40 of us only, and took off. Two hours later we were over Vienna and guess what, we couldn't land as there was a terrible blizzard. The landing lights came on and it was scary. The pilot said they were trying to clean the run way off as all other airports had been closed down. It was around eight PM and there was so much snow the run way lights were almost hidden. We circled for over half an hour and then set down and skidded around on the run way but stopped successfully! Then we got to the walk way and it got stuck in the snow so they had to take shovels and clear out the area to bring it to the plane. I got off and wondered around and found 'our' ride and he was mad. He had waited three hours and had wished my flight would have been canceled so he could have gone home! Well excuse me! I left a message for Viviane and said I was going to the Pension and she could take a cab when ever she got in. Well I guess it was around four and I woke up and there was a lump in bed, "Viviane?" I asked. She laughed and said she didn't even get a welcome hug as I was sound asleep. So we hugged and chatted about our flying experiences, she was worried as there were around 5,000 pieces of luggage in the Paris airport and Viviane had her casuals on, will she get her cloths, and will I get my tuxedo or will we look like vagabonds over the Millennium New Year, that is the question. I had sent my tuxedo and accessories to the Shermin Hotel by Fed Ex and it arrived on Monday and the clerk refused it. He sent it back because he said my name wasn't on it, a lie! I had plastered my name and Viviane's and the hotel name all over the box. I was tired and irritated and told them they had better get the box from Fed Ex so I had my tuxedo to wear, especially as it was brand new with lots of flashy crystal buttons and a rhinestone bow tie.
---
---
---
29 Dec - Wednesday: We got up around eight, Viviane had about four hours of sleep, and we had breakfast and then to the performance of Spanish Riding School at the Hofburg (Imperial Palace) at ten AM. We got a perfect place to stand at the end of the display field as you can see from this picture.
Then we went for coffee at Cafe Europe in the main pedestrian shopping street, did a Karntner Strasse and walked around the shopping streets and visited St. Stephan Cathedra with the rooftop view of Vienna.
---
---
---
| | | |
| --- | --- | --- |
| Imperial Palace | Spanish Riding School | St Stephan Catheral |
---
---
---
Roof Top View of Vienna - 1999
---
---
---
---
Then lunch at typical restaurant with the one-minute candle (goulash soup). The waiter took our picture an lit the candle and as soon as he clicked the button he pinched the candle out! He had to save it for the evening dinner meal! We had to laugh about that a lot!

Then an afternoon guided tour of the State Opera House

. I did have a funny experience that happened at the Opera House. I told Viviane that I knew the guide and she had a laugh about that. Sure you do! Well watch this. I said to him, "Hi, didn't I see you on the flight from Paris to Vienna yesterday?" He almost had a heart attack and did say he had been across the aisle from me but wouldn't say anything else. Viviane thought that was funny. This evening a performance of Fledermaus at Volksoper (in clunky shoes) as our luggage hadn't arrived yet! Finally a midnight snack in smoke-filled cafe near the Shermin Pension. Well all I had to say was if this was going to be a typical day I was going to be pooped after seven days!
---
---
| | |
| --- | --- |
| One Candle for Lunch - We are so Special! | State Opera House |
---
---
---
---
---
---
30 Dec - Thursday: Slept until 12 noon -our bags arrived and the owner was more excited than we were. She woke us with breakfast in bed! Word had gotten around the pension that our luggage had arrived! Then to the Metro to Sudbahnhof train station for tickets to Budapest and a walk to the Belvedere Palace and gardens, Stadtpark with Strauss statue, lunch at Hotel Imperial (did we tip the waiter ?) as Viviane assured me the tip was included just as in France and Belgium - I wasn't too sure about that but she was handling the tipping it seemed and who am I to question a European!
---
| | |
| --- | --- |
| | Chuck and the Belvedere Palace |
---
| | |
| --- | --- |
| Play it again Strauss! | Strauss Statue |
---
---
Walked along the Ring Street back to hotel Evening bus tour to Grinzing village for typical dinner with local white wine and performance of popular melodies, operettas, waltzes, etc... and later that evening, Champagne on top of Coblenz Hill with a fantastic view over Vienna
---
| | |
| --- | --- |
| Grinzing village - Operettas and Dances | Finishing the Evening with Champagne on Coblenz Hill! |
---
---
Our hotel was centrally located and we had to laugh as the undergound was about two block away and was called KarlsPlatz or Charle's Place which was easy for me to remember. There were many shops underground and a small cafe that we found where the major drug dealers, we were told on New Years Eve, do their dealings. There were a lot of young people there doing strange things with their noses so we knew we were not in the right spot as far as partying goes. Champagne is our drug and that is in moderation!
---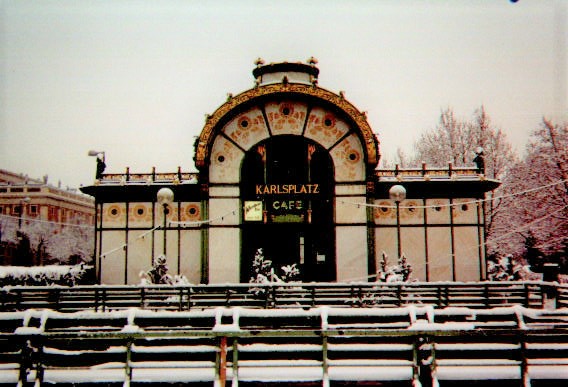 KarlsPlatz or Charle's Place - Easy to Remember - Charles!
---
---
---
---
---
31 Dec - Friday (New Year's Eve): Looking for flowers to give to pension owners, we happened upon the daily produce/flower market at Nashmarkt (no antiques today - only Saturdays). Checked out all the buildings lining the street including famous Majolica House , and Theater an der Wien where we will be seeing the Mozart performance on Sunday afternoon, a walk in old city center and ride in a horse carriage (fiaker). We saw the famous Freyung Passage (covered gallery kind of like in Milan) and then lunch at cafe in Herrengasse (more goulash soup). We walked through the Ring Street gallery, Vienna's version of the shopping mall and dinner at the Schwarzenberg Cafe with a no smoking area, hurray! Checked out arts and crafts fair at Karlskirche (Charles Church) and then back to the hotel.
---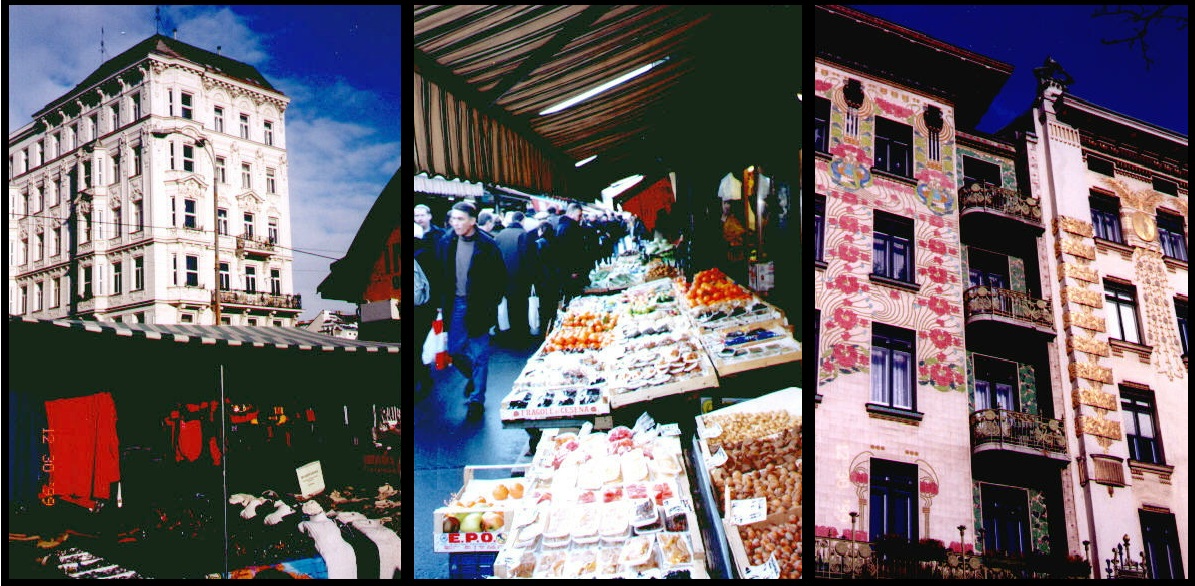 Flowers - Produce - Majolica House
---
| | |
| --- | --- |
| Secession Museum | Horse and Carriage |
It was time to get dressed up for New Year's Eve, namely Chuck & Viviane all dressed up and a lot of places to go and be seen! Started at City Hall (Rathaus) where the stage is set with orchestra and waltz performers. An enormous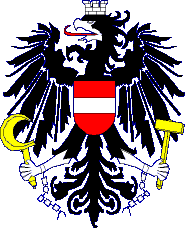 crowd dancing and pushing towards Burgtheater and streets leading to cathedral and a stop for champagne at the American Bar and another stop for champagne at another bar With 15 minutes to spare, dashed to Karlskirche, grabbed a champagne and toasted the new millennium where we met people around one of the many fire barrels .
---
| | |
| --- | --- |
| Chuck - Millenium New Year 1999/2000 | Viviane - Millenium New Year 1999/2000 |
---
---
| | |
| --- | --- |
| Enormous Crowds on the Streets! | Late at Night - Warming up at a Barrel of Fire! |
---
---
---
Note: I forgot to tell you about my famous Millennium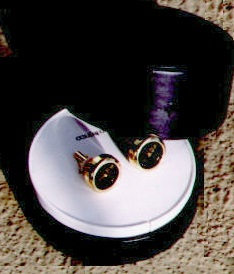 Watch Cuff Links I bought especially for the Millennium New Year celebration.
I saw them at my local jewelry store and almost didn't buy them as I thought them kind of expensive.
Each is a small gold watch with a black background and gold hands and numerals.
I wore them on New Years Eve and one watch was set to Vienna time and the other to West Coast time so we could celebrate New Years Eve in Vienna by my left wrist and nine hours later, the West Coast New Years Eve at breakfast.
So now I have an item I could put in a Millennium time capsule as I sure I was one of only a selected few that had watches on my wrists as cuff links!
---
---
---
Note: As Viviane and I worked the stores, she saw a counter with lots of crystal pieces and told me about friends of hers that collected Swarovski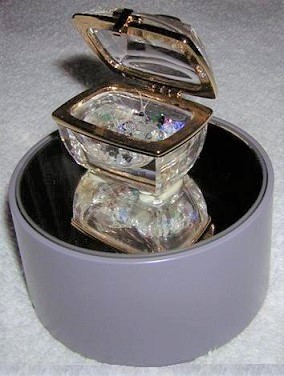 Crystal.
I wasn't really interested but she convinced me that is one thing one buys in Vienna.
It is a small crystal box and when I got home I filled it with small crystals of many colors!
Viviane also told me about one piece she really liked, love birds on a branch. Well after I got home I eventually bought the Love Birds.
Then I bought a crystal parrot, blue birds, a crane and on and on.
Eventually I ended up with about 12 Swarovski birds and decided that was enough. Sometimes I do go to the Swarovski store but then notice the price for the new bird collection, $500.00 or more! I think I have enough crystal for the time being!
---
---
---
---
01 January 2000 - Saturday: Breakfast at the pension Shermin with our champagne and then off to the Ferris Wheel at the Prater (hazy and cold), Freud Museum in the Berggasse.
| | | |
| --- | --- | --- |
| Breakfast at the Shermin | Ferris Wheel at the Prater | Freud Museum in the Berggasse. |
---
| | | |
| --- | --- | --- |
| Ticket for a Therapy Session? | Doc. Sigm. Freud Wasn't In? | Viviane - Ready for the Couch! |
---
That eveing we went to the New Year's concert at the Imperial Palace (It was snowing when we went to the concert.)
---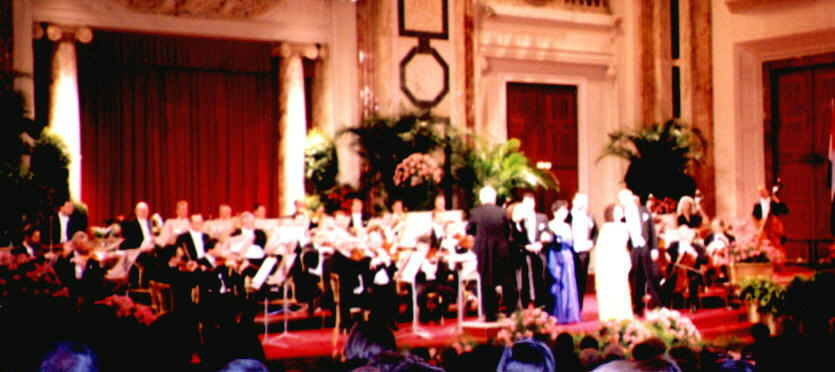 New Year's Concert at the Imperial Palace
---
---
---
---
---
02 Jan - Sunday: Vienna Boys Choir at Hofburg Chapel performing Joseph Hayden music and closing with Silent Night.
---

Vienna Boys Choir at Hofburg Chapel performing Joseph Hayden
---
Then we had coffee and pastry at the Cafe Central located in the covered gallery (the cafe had a popular 'No' smoking area) and then a walk around in the snow.
---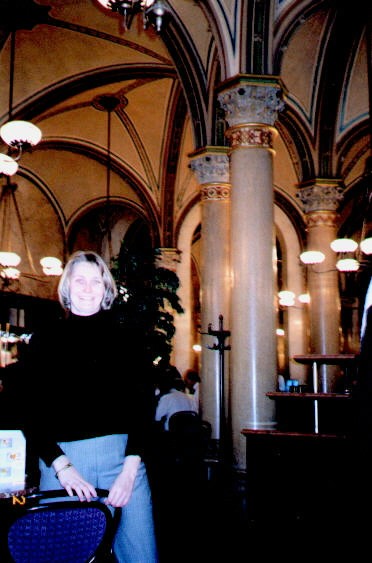 Central Cafe for Coffee?
---
There was a big snow storm in the early morning hours and it was so beautiful with about five inches of fresh snow, this is me at the local metro station and also a view of our favorite church just two blocks from the hotel. It really felt like the winter holidays now! Then we were cold and had Onion Soup in the cafe of the metro station.
---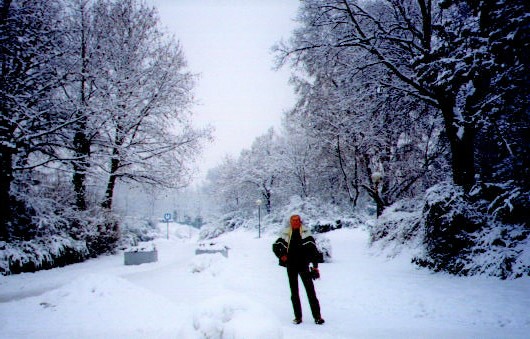 Chuck in the Snow!
---
Church Next to our Hotel.
---
A fantastic performance of Mozart in Theater an der Wien, the most popular musical in Europe at this time. Then dinner at the Imperial Hotel again! I asked the waiter if tipping was the same as in France and he said "No!" Viviane was stunned and said she was embarrassed to go back to the other restaurant as we had eaten there two times in our fine dress and the last time she tipped him about 20 cents in spare shilling change! No wonder he looked really cross as he picked up the tip. I suggested we go back and give him at least a 100 shillings or eight dollars for the two nights we ate there but Viviane decided it would be too embarrassing to go back and she tipped the waiter at the Imperial a big tip to make up for the faux pas! I still thought we should have gone back and tipped him but it is too late to cry over untipped waiters!
---
---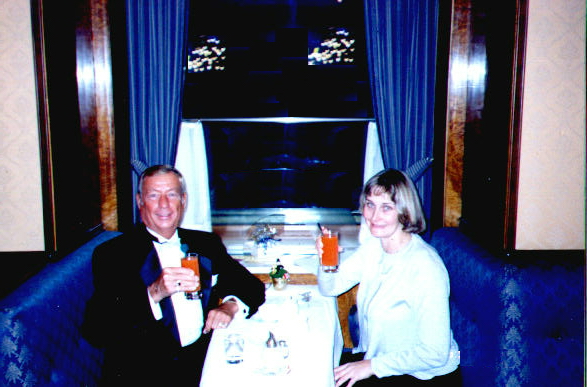 Then dinner at Imperial Hotel again!
---
---
---
03 Jan - Monday: We did a quick train ride to Budapest for a city tour. We hired a cab and drove all over and came back that evening on the Orient Express (Moscow!) Read about it on my Hungary Web Page!
---
---
---
04 Jan - Tuesday: Well the flight back was much better, my plane in Paris was about 15 minutes late taking off as there were two people with bad passports and they took off their luggage before departure. We also had to wait about 15 minutes coming into SFO as the traffic was heavy so we circled over Santa Rosa, about 60 miles north of San Francisco. I landed at 5:30, was home at six and had unpacked by 6:30. Got on the internet and wrote everyone I had arrived back safe and sound!
---

---
---
---
---
05 Jan - Wednesday: The next day I took my pictures in and had them back by four in the afternoon so I felt like the trip and the millennium was over with and perhaps had never happened! 'Mon Dieu' as I repeatedly said during the trip, so European. Viviane just shook her head each time I said that!
---
---
---
Conclusion: So all in all, we had a most wonderful millennium holiday and New Years in Vienna, what more could one ask for!
---
---
---
Point of Interest! 1869 - The World's first official prepaid postcards were issued by the Austrian Post Office and I sent out about 35 post cards from Vienna.